Schwarber in 2-hole for Cubs; Rizzo cleanup
Santana back at designated hitter, leading off for Tribe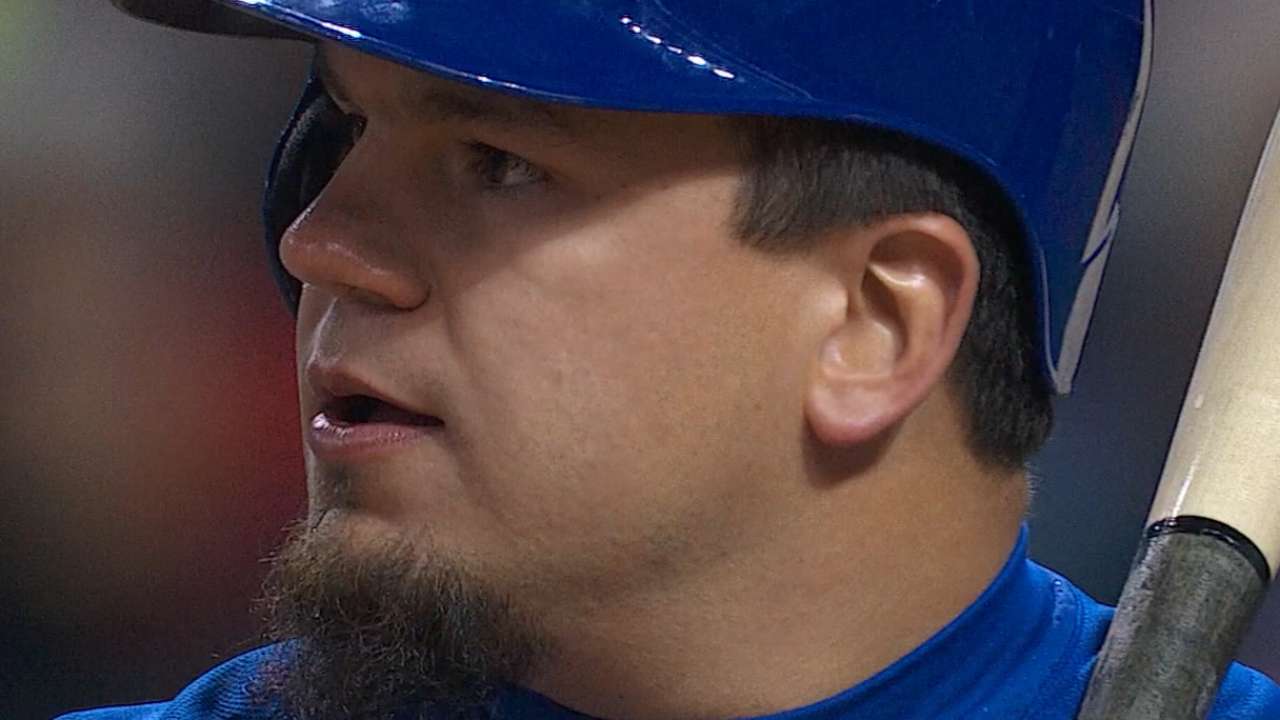 CLEVELAND -- Kyle Schwarber may not be able to play in the field but he has been getting on base, so manager Joe Maddon moved him up to the No. 2 spot in the Cubs' lineup for Game 6 of the World Series against the Indians tonight at Progressive Field.
Schwarber, who was unable to start in any of the three games at Wrigley Field, has three hits and two walks so far in the Series. He tore two ligaments in his left knee in the third game of the season and was not medically cleared to play in the field, so he has been limited to being the designated hitter. Schwarber batted fifth in Games 1 and 2 in Cleveland, going 3-for-7 with a double and two RBIs.
Jake Arrieta will make his fourth postseason road start, which is tied for the most by any pitcher in a single postseason. It's the most by any Cubs pitcher, topping Kerry Wood's three postseason road starts in 2003.
The Indians' pitchers have been tough, combining for a 1.84 ERA in the five games so far. The Cubs are batting .210 in the World Series and have been outhomered, 5-2.
Chicago's lineup features five players under the age of 25: Kris Bryant (24), Schwarber (23), Javier Baez (23), Willson Contreras (24) and Addison Russell (22).
Cleveland is going with its standard lineup against right-handers as it looks to close out the series behind righty Josh Tomlin.
Back at Progressive Field and with the DH, Carlos Santana is leading off with Mike Napoli at first base and hitting cleanup. The Tribe' outfield alignment is Coco Crisp in left, Tyler Naquin in center and Lonnie Chisenhall in right.
"I actually thought I knew what I wanted to do," Indians manager Terry Francona said. "We tell the players so much that one of our big goals or challenges is to be who we are. This is kind of who we are. I don't want to start trying to pull stuff out of a hat. These are the guys that we've been playing.
"Plus, it gives us some balance on our bench. If they bring in a lefty, we have some things we can do. If we want to be in a running situation, we have things we can do. I think Coco's at-bats have been pretty good, too."
CUBS
Dexter Fowler, CF
Kyle Schwarber, DH
Kris Bryant, 3B
Anthony Rizzo, 1B
Ben Zobrist, LF
Addison Russell, SS
Willson Contreras, C
Jason Heyward, RF
Javier Baez, 2B
Jake Arrieta, P
INDIANS
Carlos Santana, DH
Jason Kipnis, 2B
Francisco Lindor, SS
Mike Napoli, 1B
Jose Ramirez, 3B
Lonnie Chisenhall, RF
Coco Crisp, LF
Tyler Naquin, CF
Roberto Perez, C
Josh Tomlin, P
Carrie Muskat has covered the Cubs since 1987, and for MLB.com since 2001. She writes a blog, Muskat Ramblings. You can follow her on Twitter @CarrieMuskat and listen to her podcast. This story was not subject to the approval of Major League Baseball or its clubs.