MLB.com Columnist
Barry M. Bloom
Ross merits consideration for Game 6 start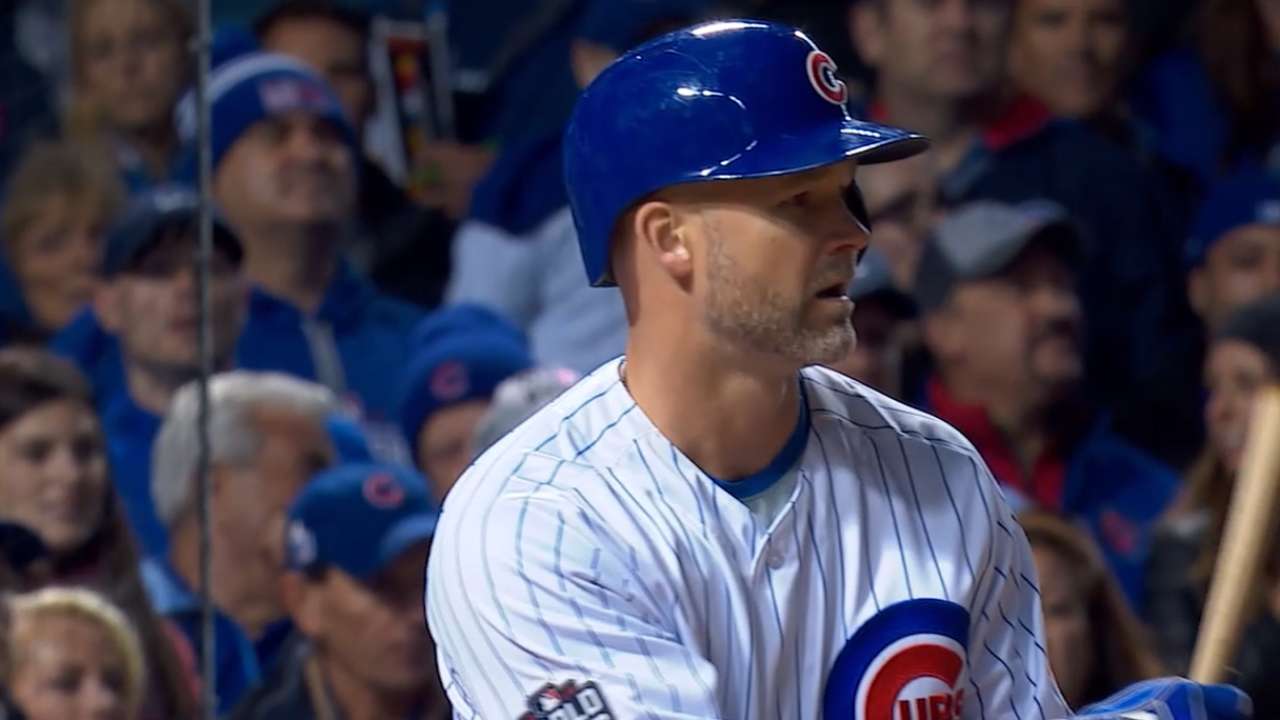 CLEVELAND -- Thus far in the World Series, Cubs catcher David Ross has only started when his good friend Jon Lester was slated to pitch.
Manager Joe Maddon said on Monday night during a conference call that he expects to maintain that approach. So barring a hurricane or similar surprise, Willson Contreras will catch Jake Arrieta in Game 6 on Tuesday night and Kyle Hendricks in a possible winner-take-all Game 7 on Wednesday night at Progressive Field.
The Indians lead the best-of-seven series, 3-2, and are in a strong position to clinch their first World Series victory since 1948. The Cubs haven't won since 1908.
Maddon is one of baseball's best managers, but in this case, perhaps he should reconsider. Ross is the spiritual leader of the team, and he could provide a lift if given the chance to start behind the plate rather than pinch-hit in the final games of his career.
• Shop for Cubs World Series and NL champs gear
"You never know," Maddon said when asked how he might use Ross. "You can see how the games play out. There's also Jonny Lester in the bullpen. And you'd have to make a decision on how you want to utilize that. If you actually put Jonny in the game, who do you want catching Jon in that moment?"
Ross is not only the team's inspirational favorite, but he has produced, throwing out Francisco Lindor trying to steal second on Lester and knocking in the game-deciding run with a sacrifice fly on Sunday night in Chicago's 3-2, Game 5 win at Wrigley Field.
That's the only RBI contributed by the three Cubs catchers during the first five games of the series. Ross, Contreras and Miguel Montero are a combined 2-for-21.
Contreras, who has started the three non-Lester games, is 1-for-14 with a double. Montero has been relegated to a pinch-hitting role and is 0-for-3. Ross is 1-for-4 with that crucial sac fly.
The offensive slump by the catchers is emblematic of the team's overall problems at the plate. The Cubs are a fastball-hitting team, and every Indians pitcher is feeding them a diet of breaking balls. Javier Baez, 3-for-21 with no extra-base hits and no RBIs, is so flummoxed he's swinging at changeups that dive toward his feet.
Consequently, the Cubs are batting .210 with only two homers and 10 runs scored in the series. They have been shut out twice and have posted a crooked number in two of the first 45 innings, both times in games they won when Trevor Bauer started.
That doesn't seem like it's going to change in the next two games. Indians manager Terry Francona isn't about to alter his approach. So who would you rather have? A kid behind the plate who was brought up from the Minors for the first time this season and appeared in 76 games, or a veteran of 15 seasons who played on a World Series-winning Red Sox team as recently as three years ago?
Ross not only gives the Cubs an inspirational and spiritual edge, he has the experiential advantage, too. Talk about situational hitting -- when the Cubs needed a fly ball with the bases loaded and one out in a three-run sixth on Sunday, Ross delivered on a 2-2 pitch.
Asked about the offensive drought of his catchers, Maddon said, "I don't worry about it, quite frankly."
"They've been great all year," he added. "In the postseason our catchers have done a great job. Among the three of them, they've been very instrumental at getting us to this point. I think it's a function of Cleveland pitching [more] than anything our catchers are lacking."
No kidding. And that's just the point. Put a guy in there who won't lurch at an outside curveball. Think outside the box. No chance?
"There's a lot of little subplots going on, but for right now, Willson's done a great job. He caught Jake well in Cleveland a couple of days ago. And he's done a great job pretty much catching Kyle during the second half.
"You'll see Willie tomorrow."
Hopefully, for the Cubs there will be a Wednesday.
Barry M. Bloom is a national reporter for MLB.com and writes an MLBlog, Boomskie on Baseball. Follow @boomskie on Twitter. This story was not subject to the approval of Major League Baseball or its clubs.