Focused Chapman gets the job done for Cubs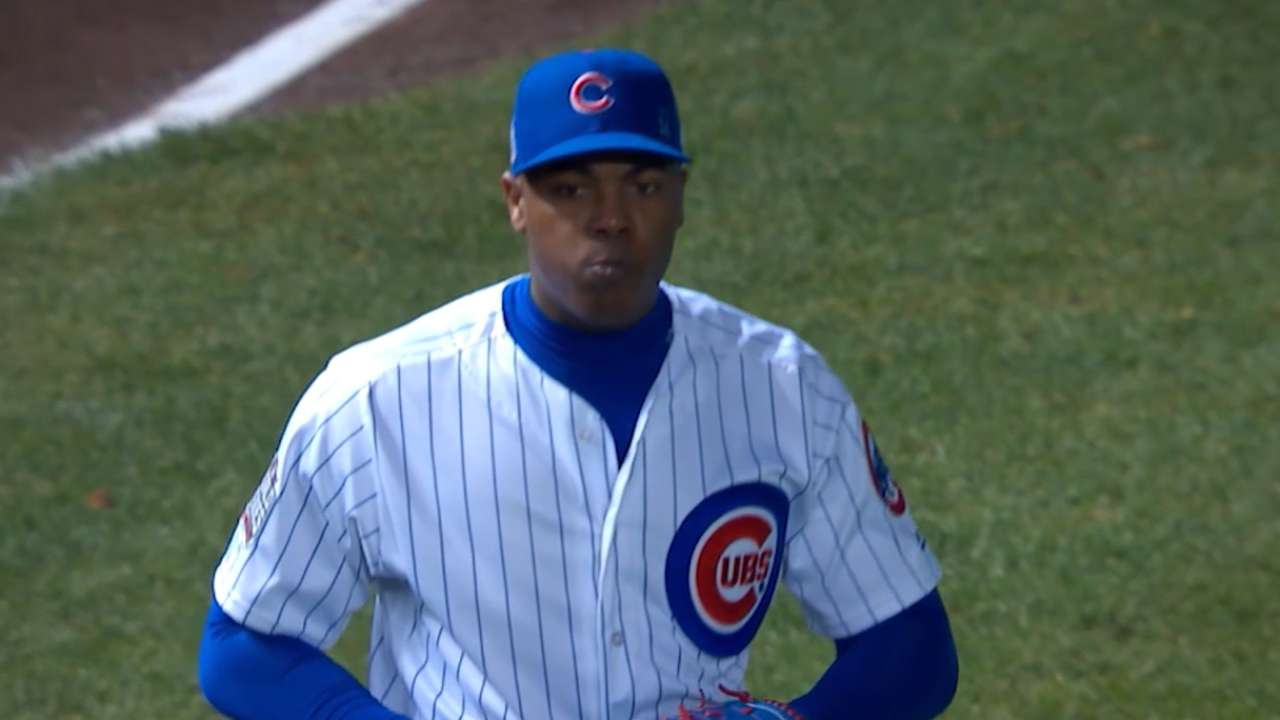 CLEVELAND -- Three days before he became the latest Major League reliever to defy modern convention, recording eight outs in the Cubs' World Series Game 5 victory over the Indians, Aroldis Chapman took the field.
If not for his electric-red high-top sneakers, Chapman would have been invisible, jogging out to the far left corner of Wrigley Field for a game of catch. He paused briefly for a quick conversation, then a photo with an old acquaintance. Otherwise, Chapman went about his work, not saying more than a word or two to anyone. When his throwing session was done, he paused not for interviews or attention on his way back to the clubhouse.
It may as well have been mid-June.
• Shop for Cubs World Series and NL champs gear
Back on the field, more than a dozen cameras chased glimpses of Kyle Schwarber -- would he play the field at Wrigley? would he ride the bench? -- wherever he went. Across the way, reporters from around baseball asked Indians reliever Andrew Miller for the umpteenth time how he's able to stretch his abilities in October. Chapman stayed quiet.
"I don't think he wants all that attention," Cubs bullpen coach Lester Strode said. "That's my opinion. He comes in, he loves the game, he loves doing what he does. He has a routine that he goes through each and every day and he doesn't get away from it. If there's something that someone asks of him or needs from him, he's very professional and does what he needs to do, and not get out of his day-to-day routine."
That is what made Chapman's Game 5 performance -- 2 2/3 innings, one hit, four strikeouts, 19 pitches of at least 100 mph -- so unexpected. Unlike Miller, who has a history of this sort of thing, Chapman is a creature of habit. A creature of routine. A three-out pitcher in a modern baseball construct that caters to that sort of thing.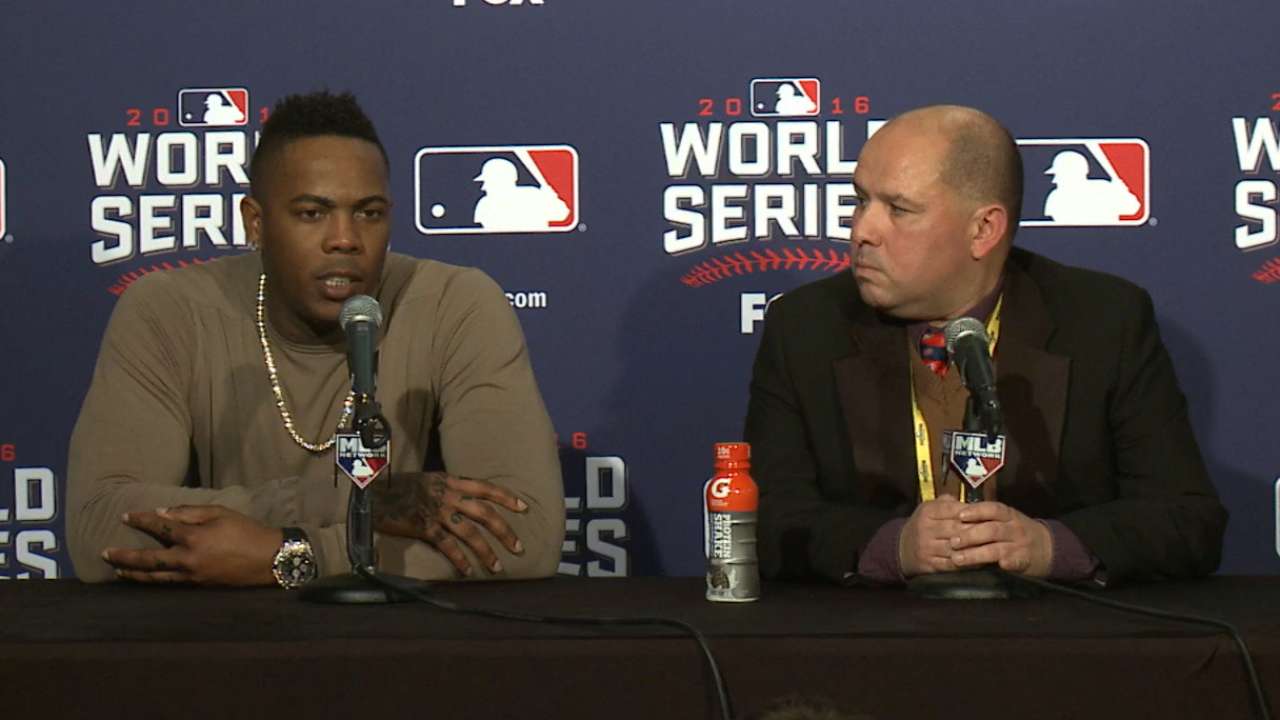 "I'm always prepared for the ninth inning," Chapman said through an interpreter. "That's my job. I understand that. But I always appreciate it if they let me know that I'm going to pitch more than the ninth inning. That's fine with me."
Given his druthers, however, Chapman would take the workload without the attention. Keeping a low profile throughout his career, Chapman has particularly done so since returning from a suspension for violating Major League Baseball's Joint Domestic Violence, Sexual Assault and Child Abuse Policy earlier this year.
Even beyond that, Chapman doesn't draw attention for the simple reason that what he's doing, by his standards, is not all that unusual. Entering Game 5, Chapman's 2.61 postseason ERA was not an outlier for him, nor were his 14 strikeouts in 10 1/3 innings. That's who Chapman has been for the past seven years with the Reds, Yankees and Cubs.
"I just think the expectations based upon what he's been doing over the years," Strode said, "everybody is not totally surprised about his velocity and what he's accomplishing throughout the course of this whole season -- including the postseason."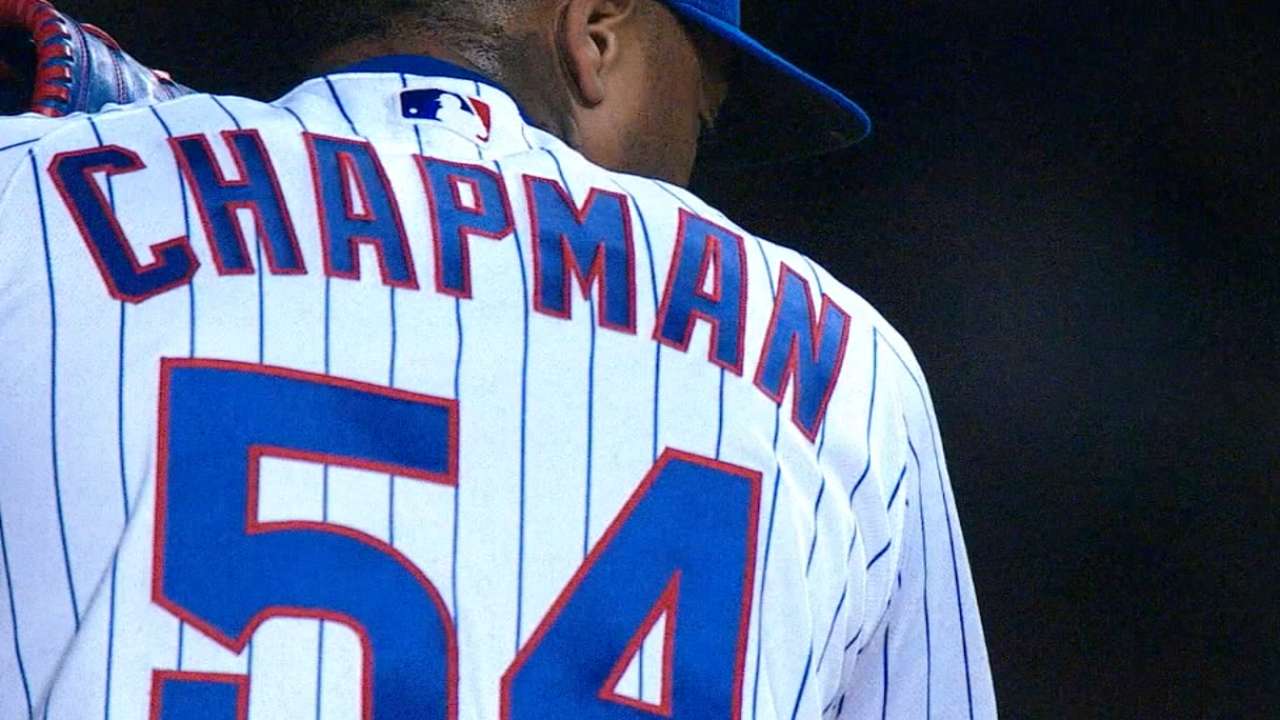 If there were a surprise, it occurred in Game 5, after Chapman began warming with no outs in the seventh inning. Teammate Kris Bryant called the left-hander's performance "exactly why we got him," even if he had no prior history of doing what he did. For their part, the Indians weren't shocked.
"Nobody's ever just run into the bat rack when Chapman comes into the game," Cleveland manager Terry Francona said. "I can guarantee you that."
Now the question becomes how Chapman will handle the final two games of this World Series, should they win Game 6 to force a winner-take-all Game 7. Before Sunday, Chapman had never recorded more than seven outs in a game. His pitch count of 42 fell two short of a career high. So considering Chapman's historical usage -- an inning here, an inning there -- it is worth wondering how he might respond.
Worth wondering, for the Cubs, but not exactly worth worrying.
"He's a pretty strong guy," manager Joe Maddon said. "Beyond that, I don't think we've overused him to this point. ... We'll take what he can give us and then continue to work forward from there."
Anthony DiComo has been a reporter for MLB.com since 2008. Follow him on Twitter @AnthonyDiComo and Facebook, and listen to his podcast. This story was not subject to the approval of Major League Baseball or its clubs.