Solid in field, Heyward turning it around at plate
Cubs right fielder has three hits in past two WS games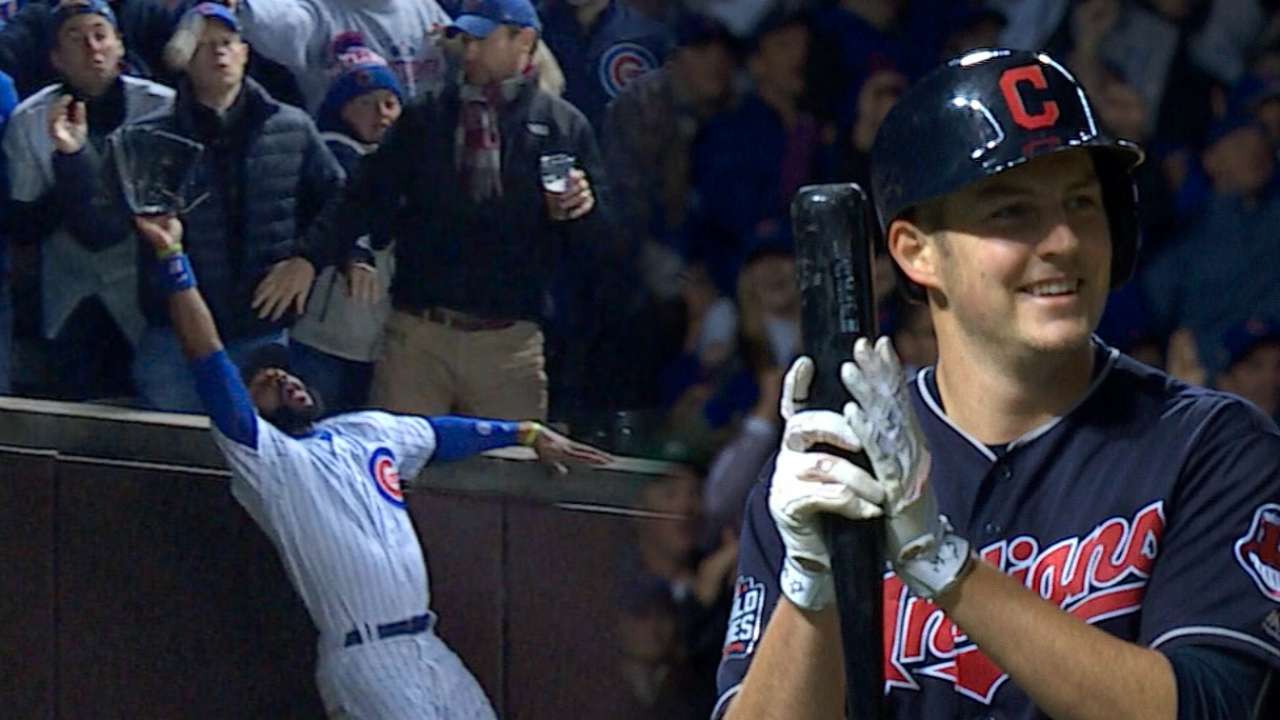 CHICAGO -- After a subpar regular season and postseason that had him out of the Cubs' starting lineup for the first three games of the World Series, Jason Heyward has shown some flashes of production.
In back-to-back starts in right field, Heyward produced much more competitive at-bats. He collected two hits in Game 4 and another in Game 5. Of the Cubs' 10 hardest-hit balls this Series as tracked by Statcast™, Heyward owns two of the top four and three of the top 10.
If the Cubs are going to complete a World Series comeback despite trailing three games to two entering Game 6 on Tuesday night, Heyward can still be a key factor.
"We're just having fun with it, that's kind of it," Heyward said. "It's a unique situation, it's a fun situation. We've still got games to play."
• Shop for Cubs World Series and NL champs gear
During Game 5, he made a highlight-reel catch to show why he is still an elite defender.
In the third inning, Indians pitcher Trevor Bauer lifted a foul popup that appeared headed for the stands down the right-field line. Heyward gave chase and leaped onto the wall, but the crosswinds at Wrigley Field pushed the ball back into the field of play. Heyward had the awareness to adjust and the athleticism to jump off the wall and extend over his head to secure the grab.
Thanks to a first step of 0.17 seconds, Heyward covered 53.8 feet with a 93.5 percent route efficiency, as measured by Statcast™.
"I know it looked cool; I was just trying to catch the ball," Heyward said.
Heyward's strong play of late was also a payoff for Cubs manager Joe Maddon, who has continued to start some players for their defensive abilities even though the Cubs have at times been starved for offense during the Series.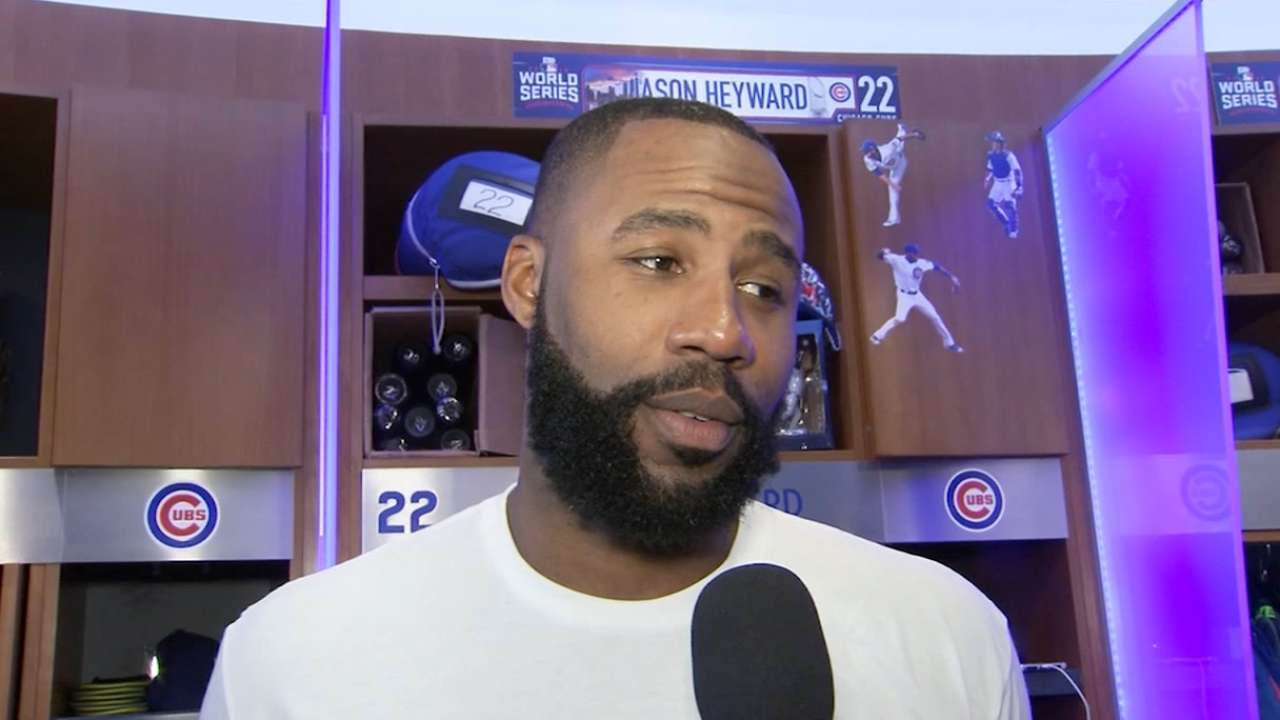 "I love counterintuitive," Maddon said with a smile. "I love it, man."
Maddon met with Heyward about not starting him during the first three games and praised Heyward's understanding of the situation. Heyward said the meeting was not necessary, realizing Maddon's desire to pencil in the lineup that gave the Cubs the best chance to win.
Maddon acknowledged that during the offseason, Heyward -- who signed an eight-year, $184 million free-agent contract last offseason -- will meet with some of the organization's hitting coaches to make adjustments or simply overhaul his swing. But recently, the Cubs have seen some encouraging signs from Heyward that may prove crucial as they try to win the championship.
"He definitely also needs time to shut 'er down," Maddon said. "I don't believe in the 12-month thing, especially for a guy that's been playing as much or as often as he has. It's more mentally draining than it is physically, ever. So probably shut it down, think it through, come back, and then get physically and mentally into it again.
"For right now, believe me, his work is outstanding. They've been working all year. He's shown spurts or signs of really coming through what he had done in the past. But for right now, pretty much just go play without overthinking it right now. Just go play and just contribute to us winning somehow."
Jamal Collier has been a reporter for MLB.com since 2014. Follow him on Twitter at @jamalcollier. This story was not subject to the approval of Major League Baseball or its clubs.