Rangers in AFL: Ibanez thriving at the plate, Trevino improving behind it
MLB Pipeline checks in on Texas' prospects in the Arizona Fall League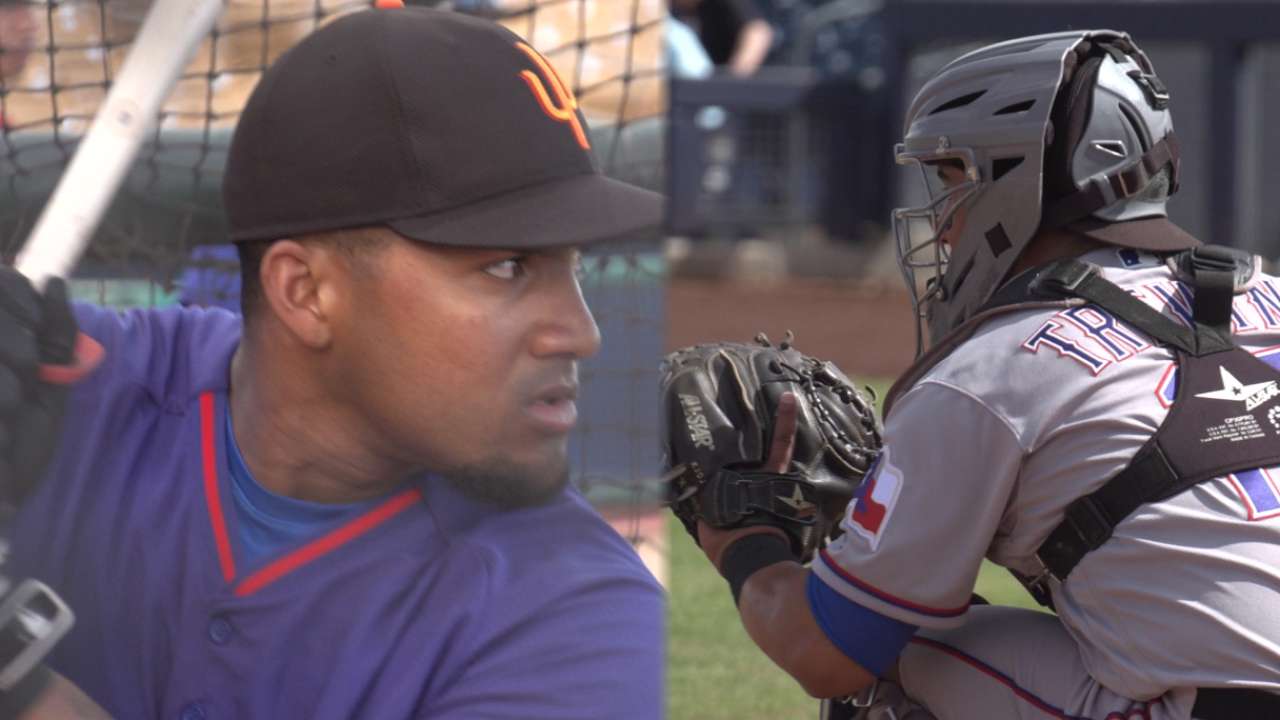 SURPRISE, Ariz. -- Andy Ibanez hit .285 in 130 games during the regular season, but despite the success in his first professional season, the 23-year-old knows he can get better offensively and is working on his swing mechanics in the Arizona Fall League.
"I would like to improve my timing when hitting the ball, many times I swing upwards and I came to improve that," Ibanez, the Rangers' No. 2 prospect said. "Try to hit more line drives."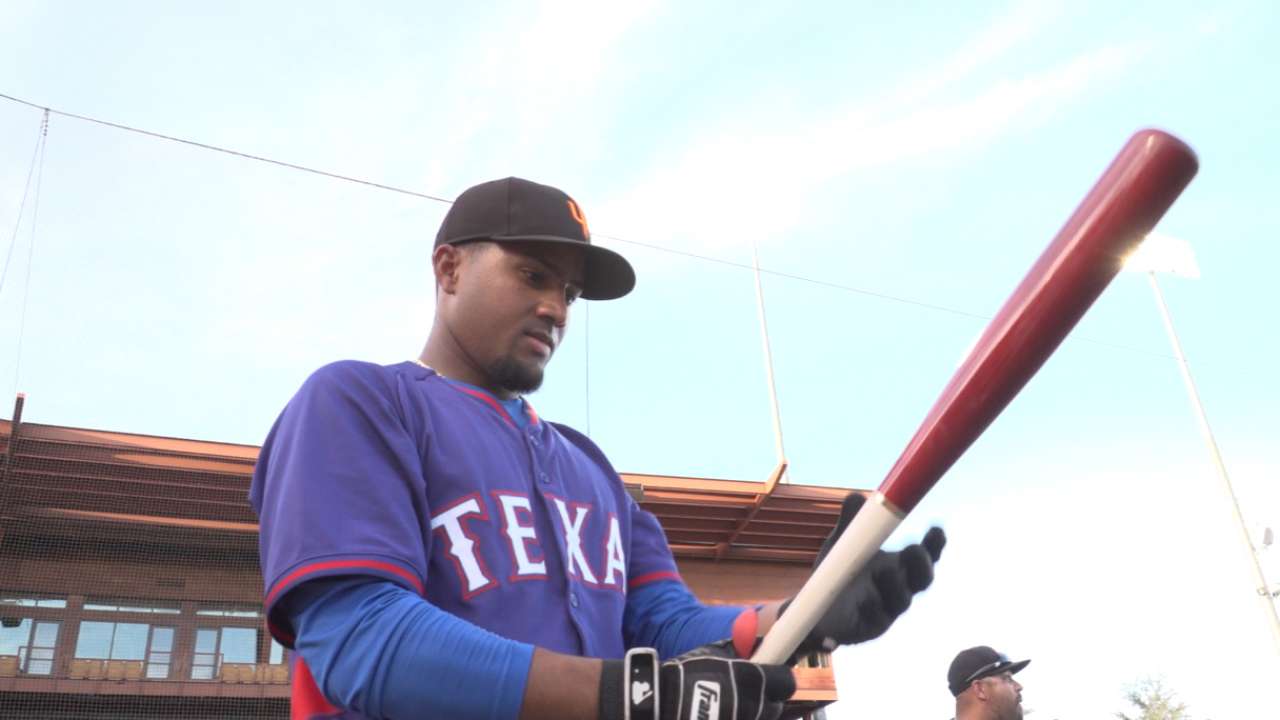 Ibanez got off to a hot start in Arizona, notching hits in each of his first five contests. Although his modest hit streak came to an end, Ibanez has continued to perform well, with his average sitting at .308 through 10 games.
While Ibanez focuses on his approach at the plate, Jose Trevino is working on his game behind the plate.
The Rangers' No. 20 prospect played all over the field in college at Oral Roberts, and it wasn't until the Rangers selected him in the sixth round of the 2014 Draft that he started catching full-time.
"I feel like it was something that just sort of fell to me," Trevino said. "I love catching now. I loved the infield when I did it. They gave me the catcher's glove and I was like, 'Dang, I don't know if I'm going to be able to do this.' But I was hoping that just getting an offseason in and become the best at it if I can."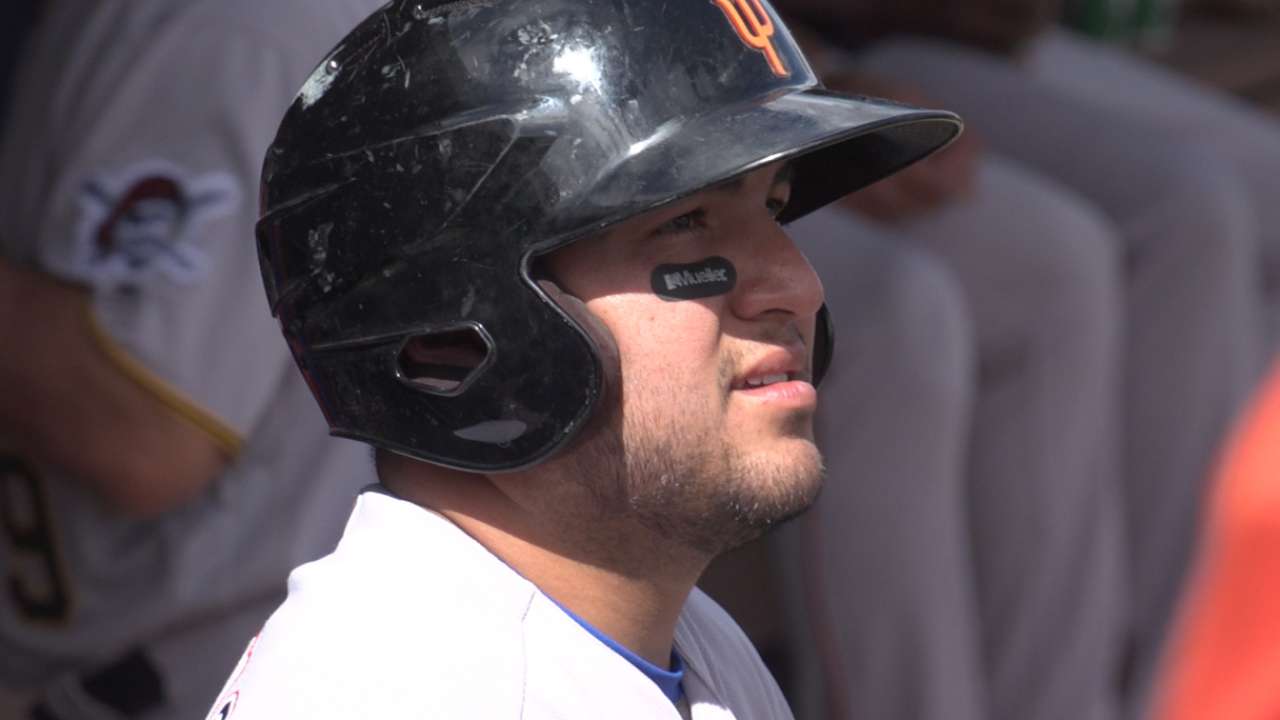 The 23-year-old has plenty of arm strength to make it as a catcher and has made significant strides with his release. After throwing out 34 percent of base stealers in 2015, Trevino threw out 48 percent of base stealers in 2016.
Rangers hitters in the Fall League
Isiah Kiner-Falefa, C
Scott Heineman, OF
After spending the bulk of his career as a middle infielder, Kiner-Falefa's transitioned to catcher in 2016. The 21-year-old caught 31 games for Double-A Frisco. Kiner-Falefa got off to a fast start and hit .283 but tailed off a bit and hit .236 in the second half of the season.
• Complete Arizona Fall League coverage
Heineman's career got off to a strong start, as he hit .303 in 134 games for Class A Advanced High Desert in 2016. The Rangers' 11th-round pick in the 2015 Draft is hitting .270 in 11 AFL games.
Rangers pitchers in the Fall League
Brett Martin, LHP
John Fasola, RHP
Reed Garrett, RHP
Shane McCain, LHP
Johan Juan, RHP
Martin, the Rangers' No. 8 prospect, pitched to a 4.41 ERA across three levels in the regular season, and after pitching just 69 1/3 innings over 17 starts, he added some more innings in the AFL. The lefty got hit around a bit in his first two starts in Arizona but seemingly found his rhythm in his last outing, giving up three hits in four scoreless innings. Martin posted a 2.89 ERA with seven strikeouts in 9 1/3 Fall League frames before being removed from the roster in early November.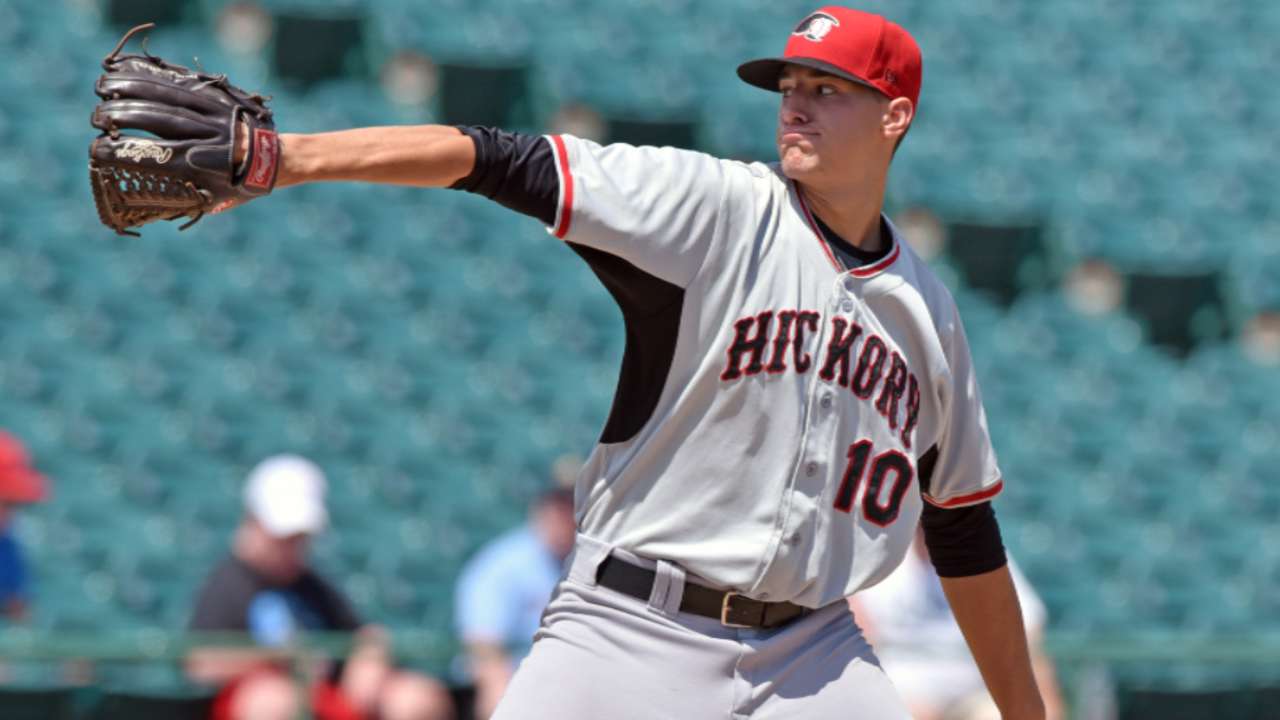 Fasola posted a 3.18 ERA in 38 games this season and pitched across three levels, working his way all the way up to Triple-A. The 6-foot-2 right-hander was named the Rangers' Minor League reliever of the month in July after posting a 1.20 ERA in 10 games. Fasola didn't allow a run in any of his final four outings this season and has carried that momentum over to the AFL, where he's pitched seven scoreless innings.
Garrett didn't have the best numbers during the regular season (4-9, 6.24 ERA), but he has been impressive in the AFL. The right-hander got hit around a bit initially, but he has turned it around with eight scoreless frames over his past two starts.
McCain has been nearly unhittable in limited action. In three scoreless AFL appearances, the left-hander has given up just two hits and struck out four. McCain spent the regular season in High Desert where he went 7-4 with a 3.39 ERA in 41 games.
Juan was a late addition to the Surprise roster after totaling 46 1/3 innings this season. The 22-year-old right-hander spent the bulk of the season with Class A Short Season Spokane but also appeared in eight games with Class A Hickory. In total, Juan posted a 3.88 ERA in 26 games, notching 38 strikeouts and 16 walks.
William Boor is a reporter for MLB.com. Follow him on Twitter at @wboor. This story was not subject to the approval of Major League Baseball or its clubs.