MLB.com Columnist
Mike Petriello
Allen allows Francona to deploy Miller in big spots
Unsung closer's 44.9 percent October strikeout rate nearly matches lefty's 46.8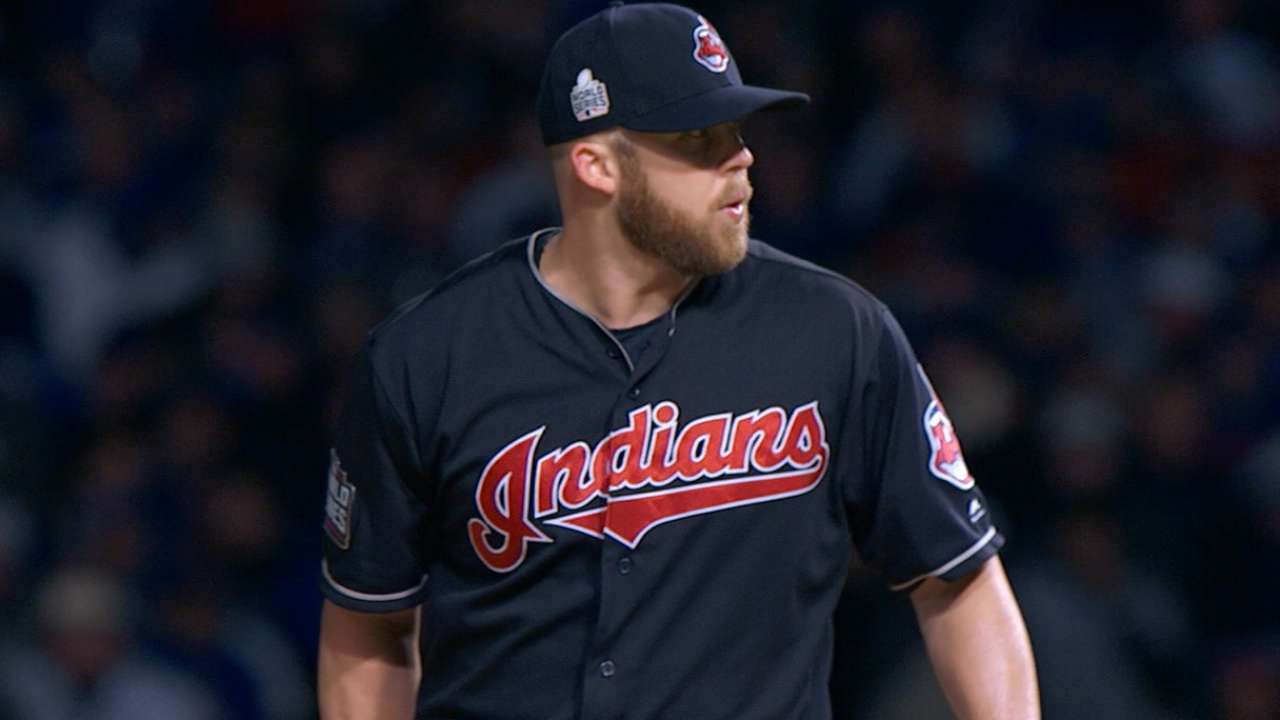 Let's agree on a simple fact about the 2016 Cleveland Indians: They probably don't get to the verge of a World Series title without the presence of Andrew Miller, who helped the club overcome a run of late-season rotation injuries with his willingness to pitch in any situation and dominate in all of them. We can agree on that, right? It's not controversial. Miller has been fantastic.
Now, let's take that argument to its logical next step: Miller couldn't be Miller if not for the presence of Cody Allen, long among baseball's most underrated relievers, standing alongside him in the bullpen. Allen allows manager Terry Francona to use Miller when and where he wants, because it's a lot easier to bring your relief ace into a game in the fifth inning when you know you still have Allen standing by. If you wanted to argue that Allen has been the most unsung hero of the postseason so far, you wouldn't be far off.
If that sounds like high praise, well, it ought to. Allen has pitched 11 2/3 innings in the playoffs, and he's allowed zero earned runs. Think about it this way; Miller is about to get a statue erected in his honor outside Progressive Field for striking out a shocking 46.8 percent of hitters he's faced in the playoffs … and yet in at least that category, he's barely outdoing Allen, who's running a 44.9 percent whiff rate of his own.
Allen has received perhaps a fraction of the attention of his more famous teammate, but he's the best reliever you don't know. Let's get to know him.
• Shop for Indians World Series and AL champs gear
He's been doing this for years, despite throwing only two pitches.
Since Allen's first full season in 2013, there have been 222 qualified relievers, and he ranks highly among them. His strikeout percentage of 32.3 percent is 10th, just behind Wade Davis. The difference between his whiff rate and walk rate of 23.1 percent is 14th, just behind David Robertson. His Fielding Independent Pitching of 2.78 is 18th, ahead of Jeurys Familia. Don't forget, before midsummer of 2015, Allen had been pitching in front of some truly wretched Cleveland defensive units. He basically had to do it himself, and he did. His success isn't new.
There's not a ton of surprises in Allen's game, because he throws a four-seam fastball about two-thirds of the time, and a knuckle-curve one-third of the time. But even when hitters know that fastball is coming, they can't do much with it. This year, 187 pitchers threw at least 500 four-seamers, and while Allen's velocity is more than fine (95 mph, 48th), his spin rate was elite (2517 rpm, 5th, behind Justin Verlander, Matt Bush, Max Scherzer and Aroldis Chapman).
High-spin fastballs tend to get swinging strikes, but while Allen's is good (.197 against), he often uses it to set up his diving curve, which he throws harder (84.7 mph) than almost anyone, and which gets top-10 results in misses-per-swing. But as the Cubs' Javier Baez found out, that high-spin high-velo fastball up can be impossible to catch up to.
He's actually been used in higher-leverage spots than Miller.
This might sound unbelievable, but it's true, with one caveat. If there's a term you've heard all month, it's "leverage," in the sense that deploying your best pitchers in a high-leverage spot is a more effective use than in low-leverage spots -- like, say, a save situation with a three-run lead. You won't be surprised to know that there's a statistic for that, and it's called Leverage Index. It accounts for the score, inning and base/out situation, and sets "neutral leverage" at 1.0, with higher numbers meaning higher leverage. Anything over 2.0 is "high leverage."
Allen's average Leverage Index so far this postseason is 2.23, higher than his regular season mark of 1.76, and it shows he's always in big spots. Miller's average playoff Leverage Index is 1.37, which is still high, but reflects the fact that he's getting valuable outs in the middle innings that don't necessarily have men on base or the game on the line.
As for the caveat, well, Miller's thrown more innings, 17 to 11 2/3, and the length adds value. Every playoff inning is important, obviously. There's just an argument to be made that Allen's have been as pressure-packed or even more so.
He could have been Miller before Miller.
"When I first got here," said Francona following Game 3, "he had been called up I think about halfway through the year the year before. And watching him pitch, I could just envision him being that swing guy, fireman, however you want to put it. A guy that comes in and you can leverage and get big outs, whether it's a left-hand hitter, right-hand hitter."
That didn't stick, obviously, as ninth-inning issues forced Allen to the closer role. It's not hard to envision him appearing like Miller has, because even before Miller was acquired, Allen made it clear he'd do what was needed.
"It's an open-door policy [with general manager Chris Antonetti]," Allen said after Game 2. "So we talked and I let him know it was one of those things that wasn't going to create any friction between any of the guys down there, possibly moving guys around. We all knew if you go get a guy like Andrew Miller or Aroldis Chapman, it's ultimately going to make your team a lot better. And we just wanted them to know that everybody was on board with it."
Words at the time, they've been backed up by actions. Cleveland doesn't get here without Miller. Miller doesn't work like this without Allen. Don't sell him short.
Mike Petriello is an analyst for MLB.com and the host of the Statcast podcast. He has previously written for ESPN Insider and FanGraphs. This story was not subject to the approval of Major League Baseball or its clubs.