MLB.com Columnist
Jonathan Mayo
Jones' three-run jack leads to Fall League win
Giants prospect hits first AFL homer in 5-4 victory
SCOTTSDALE, Ariz. -- First, the Scottsdale Scorpions used power, then they used speed. Combined, it was a recipe good enough for the last-place team in the Arizona Fall League East Division to beat the leaders of the West Division, the Peoria Javelinas, 5-4.
While the AFL is typically thought of as a hitters' league, the starting pitchers in the game had other ideas, with both the Padres' Kyle McGrath and Giants' No. 26 Chris Stratton putting up three zeroes to start the game. Stratton, making his last appearance before getting to start Saturday's Fall Stars game, did allow a run to fall behind briefly in the top of the fourth, but when McGrath exited and Brad Wieck of the Padres came in to relieve in the bottom of the inning, the Scorpions took advantage.
• Gameday
Singles by Phillies No. 13 Scott Kingery and the Yankees' Greg Bird put runners on the corners and was followed by a sacrifice fly by Giants No. 21 Hunter Cole. After Yankees No. 7 Miguel Andujar walked, Giants infielder Ryder Jones delivered his first home run of the season, a blast to right that gave Scottsdale a 4-1 lead.
"I faced the same guy a week ago and he struck me out on sliders," said Jones, who added a single in the sixth. "I was just trying to see a fastball early. If I didn't get one for a strike, I was sitting on a slider. He kind of hides it pretty well. I just sat on a slider, he threw one middle in and I was able to backspin it."
The only negative of the inning came on its final out. Mets outfielder Tim Tebow, after reaching on a fielder's choice (he had singled in his first at-bat), was thrown out trying to steal second. He came up holding his right leg and was removed from the game with a knee injury. Tebow left to be examined by doctors.
The Scorpions tacked on another run in the bottom of the fifth, thanks largely to the legs of Mets outfielder Champ Stuart. He reached when Orioles catcher Austin Wynns interfered with him when he was running to first on a bunt attempt. Stuart then stole second and third to give him three steals for the game and a league-leading eight this fall. A Kingery single to left plated Stuart and gave the Scorpions a 5-1 lead.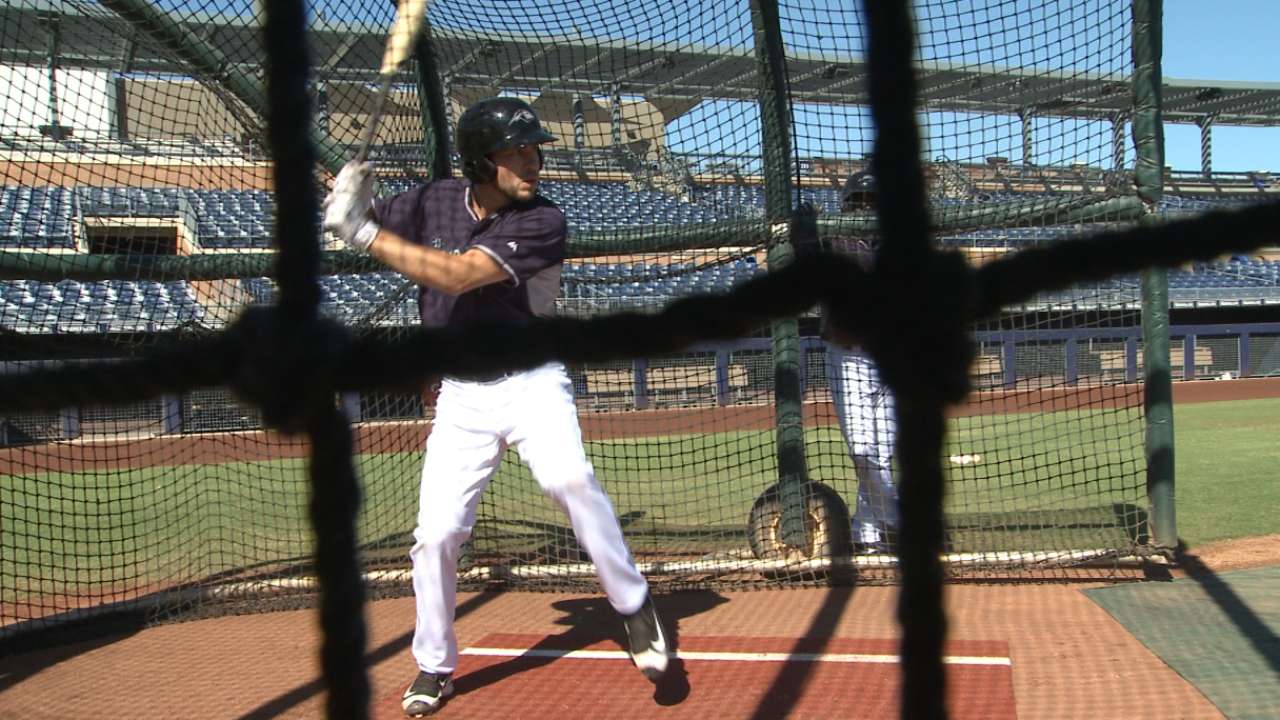 It turned out to be an important insurance run because the Javelinas scored three times off of Angels No. 8 Victor Alcantara, with Mariners No. 3 Drew Jackson driving in a run with a double and a pair of groundouts bringing in the other two runs. But Phillies relievers Jeff Singer and Miguel Nunez combined with Angels right-hander Eduardo Paredes to toss three shutout innings and shut the door, with Nunez picking up his first Fall League save.
None of it would've mattered if it hadn't been for Jones' long ball. The 2013 second-round pick has been swinging the bat well throughout the AFL season, though this was the first time he cleared the fence.
"I feel good," said Jones, who now has a .300/.333/.425 line this fall. "I'm just trying to see the ball up. First week, I was chasing a lot. You just have to be patient, see the ball up and try to drive the ball. I've hit the wall a couple of times, so I knew a couple of home runs would come. I wasn't too worried about it, but it's nice to have one instead of zero."
Jones' success at the plate for Scottsdale is really just a continuation of what he accomplished during his first year in Double-A. He set career highs in home runs and extra-base hits, among others, and was particularly productive in the second half of the Eastern League season. Being able to do that while making the jump to the upper levels and cutting down his strikeout rate is a sign that perhaps the 22-year old is starting to figure some things out.
"I was pretty disappointed to have hit just six home runs in the California League," Jones said. "You come over there and you expect to hit 20 home runs. But I swung at bad pitches. The average was OK, but I didn't drive enough balls. This year I worked a lot on seeing good pitches, getting my strikeouts down. It's just a product of… I don't know if I've gotten bigger and stronger, maybe a little bit, but it's more of a product of swinging at better pitches and knowing what pitchers are going to do to you.
"I think it was definitely more mental. Double-A is a tough league and I knew I'd have to go up there and compete. I had a good second half and saw the ball up well and was lucky enough to hit a few out."
Jones has one advantage not available to all Minor League players. His father, Billy, was the head coach at Appalachian State for four years and has a long resume of college baseball coaching. Another sign of Ryder Jones' maturity is the knowledge that he doesn't have to turn to his dad-coach every time something goes wrong. But it certainly doesn't hurt to have the ability to do so if necessary.
"When I was younger, it was like every day," Jones said about turning to his father for help. "We didn't know how to separate the father-professional player thing the first couple of years. Now it's a little bit different. I'll call him when I need help, he'll text me to see how I'm doing.
"You play so many games, you have so many at-bats, you might have 15-20 at-bats when you're just not seeing the ball well. You can't freak out. But it is really nice to have someone I can text after the game to get back on track."
Jonathan Mayo is a reporter for MLBPipeline.com. Follow him on Twitter @JonathanMayo and Facebook, and listen to him on the weekly Pipeline Podcast. This story was not subject to the approval of Major League Baseball or its clubs.