Demeritte's home run powers Salt River in rout
Braves' No. 9 prospect hits 2-run homer, triple for Rafters in 20-hit attack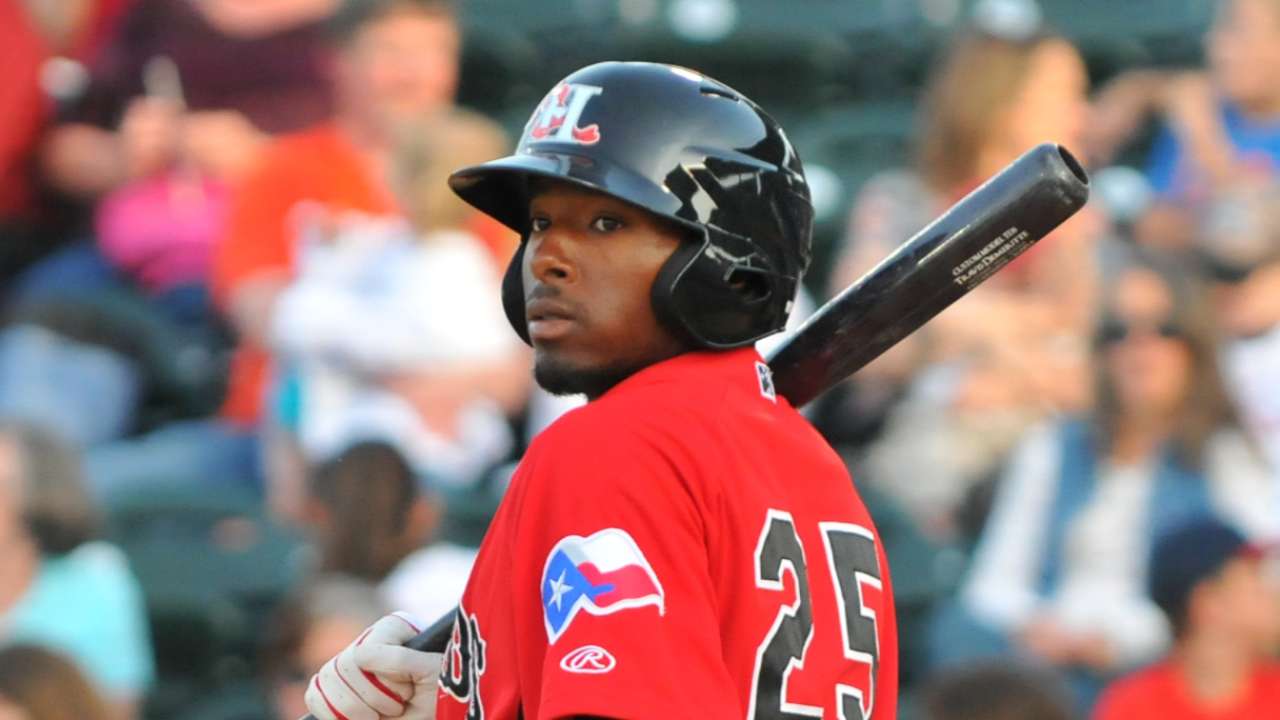 MESA, Ariz -- Travis Demeritte hit a two-run home run, tripled, scored three runs and drove in three to lead a Salt River Rafters offensive barrage in a 17-2 rout of the Mesa Solar Sox in Arizona Fall League action Monday at Sloan Park.
"It's real easy to get up on a team like that and just coast through the game but we didn't," said Demeritte, the Braves' No. 9 prospect. "We ended up tacking on some more, putting our foot on their throats and keeping it there and that's what we try to do."
Hitting in the leadoff position, Demeritte was a part of a Salt River lineup that pounded Mesa's pitching staff for 20 hits including seven extra-base hits. All nine starters collected at least one hit, and seven Rafters had multiple hits.
• Gameday
D-backs No. 11 prospect Dawel Lugo had four hits in six plate appearances for Salt River and drove in two runs while scoring twice. Left fielder Dustin Peterson (Braves' No. 18) and No. 62 overall prospect Brett Phillips (Brewers' No. 7) both notched three hits, with the latter also scoring three runs and driving in three as the Rafters snapped Mesa's four-game winning streak.
It was Demeritte who got things rolling. Coming into Monday's Halloween matchup, the 22-year-old had slashed .250/.311/.375 in 13 games, with two doubles, one triple, one homer and four RBIs.
He added to his stat sheet beginning in the top of the third inning.
A wild pitch from Miami Marlins farmhand James Buckelew moved Rafters designated hitter Christin Stewart (Tigers' No. 3) into scoring position ahead of Demeritte, who hit a line-drive triple into the gap to push across the Rafters' first run. A Phillips single brought Demeritte home and JaCoby Jones (Tigers' No. 9) followed up with a single of his own to score Phillips and extend the Rafters' lead, 3-1.
"I was just looking for a good pitch to hit," Demeritte said of his triple. "I wanted to set the tone for the team and I ended up doing so. We ended up rolling today.
"Something about seeing that leadoff man on base does something for the team, and that's what I try to be. I try to be a catalyst and help us get off to a good start."
• Braves in AFL: Demeritte, Peterson transition to new positions
He grounded out in his second at-bat in the fourth inning but connected on a two-run homer to left field, his second of the Fall League, in the top of the sixth to drive in Grayson Greiner (Tigers' No. 26) and further the scoring gap, 6-1.
Demeritte wasn't finished seeing home plate yet, though, as Lugo would bring him in on a ground-ball single to left field, putting the 17th nail in the coffin for the Solar Sox.
Originally taken by the Texas Rangers with the 30th overall pick of the first round in the 2013 Draft, Demeritte was dealt to the Braves on July 27 in exchange for pitchers Lucas Harrell and Dario Alvarez.
Overall, Demeritte, a 2016 SiriusXM All-Star Futures Game participant, hit .266/.361/.544 with 28 home runs, 70 RBIs and 17 stolen bases in 123 games between Class A Advanced High Desert and Carolina.
Meanwhile, Demeritte's confidence continues to grow with his output so far in the Arizona Fall League.
"My biggest takeaway from being here is knowing I can compete with the best," he said. "Being out here with these guys, you know you're probably going to see most of them in the big leagues next year, or the year after. It's a confidence thing for me, knowing I can play alongside these guys and play at the next level with them."
Nicole Vasquez is a senior journalism student at Arizona State University. This story is part of a partnership between MLB.com and ASU's Walter Cronkite School of Journalism and Mass Communication. This story was not subject to the approval of Major League Baseball or its clubs. This story was not subject to the approval of Major League Baseball or its clubs.