When Davis gets on, he's off to the races
After swiping three bags in Indians' Game 5 loss, outfielder hungry for more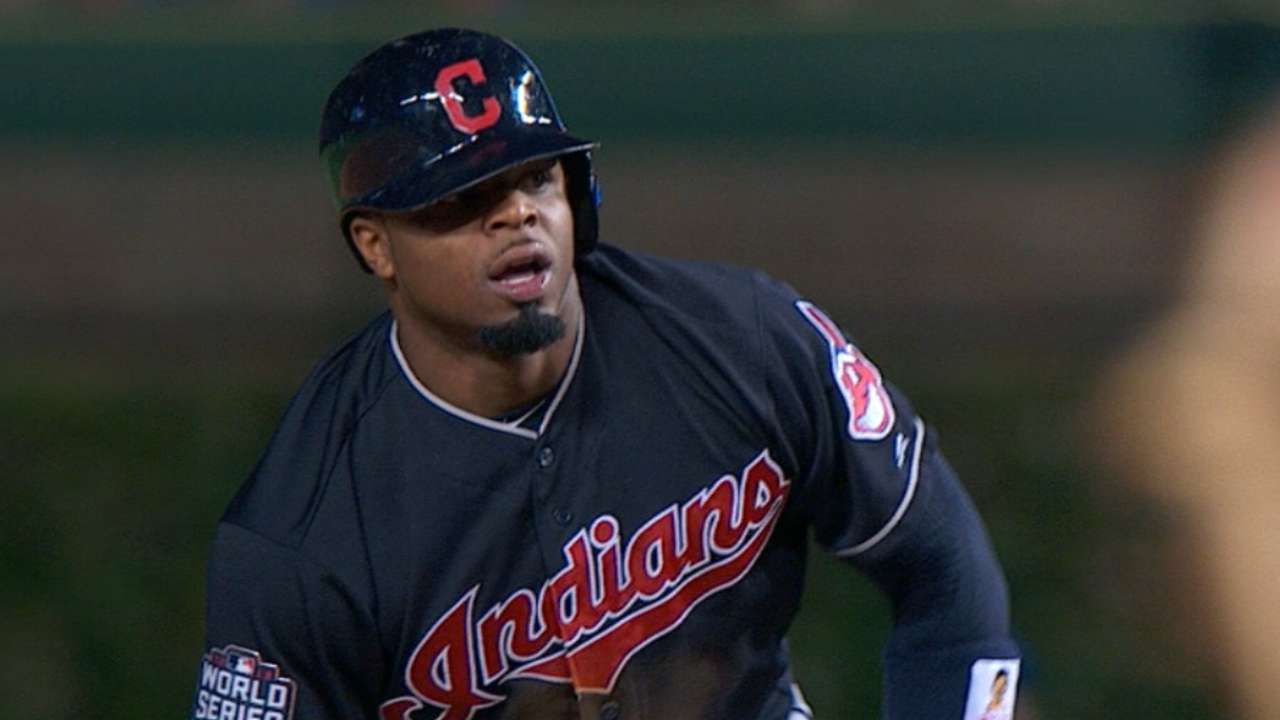 CLEVELAND -- Speedster Rajai Davis came to life in the Indians' Game 5 loss to the Cubs at Wrigley Field on Sunday evening, offering a not-so-subtle reminder of just how disruptive he can be on the basepaths.
That Davis still moves around the bags so swiftly even at age 36 is no secret. But before Sunday's game -- in which Davis rattled Cubs pitchers Jon Lester and Aroldis Chapman, swiping three bases and finishing 2-for-4 -- the postseason stage had been deprived of his agile talents as he struggled to even get on base.
The veteran outfielder entered the contest with one hit and one walk in 26 plate appearances during this postseason, having reached base a grand total of three times (he was hit by a pitch in Game 4) for a meager .115 on-base percentage. So activating his speed hasn't been an option much of this October for the Indians, who led the American League with 134 stolen bases during the regular season in large part due to Davis' efforts. He accounted for 43 of those.
"That's just part of my game," Davis said. "Get on base, get 90 feet closer. If I can get 180 feet closer, I'm going to try to do that."
• Shop for Indians World Series and AL champs gear
Playing to their strengths, the Indians found Sunday, is especially crucial against a 103-win Cubs team that counts holding baserunners as a weakness. Only the Mets yielded more stolen bases than Chicago during the regular season.
This could prove crucial in Game 6 on Tuesday at Progressive Field, where the Indians, who hold a 3-2 Series lead, could run wild en route to their first World Series title since 1948. Right-hander Jake Arrieta, who permitted 23 stolen bases during the regular season -- fourth most among National League pitchers -- will be on the mound for the Cubs. The Tribe counters with right-hander Josh Tomlin.
"I think the key is really just getting on base," Davis said. "[Arrieta] has some quick feet, but he's definitely a guy that's susceptible to the stolen base, especially if he's not making good pitches, if he's not throwing strikes. Then, as basestealers, we have to take advantage of what he gives us and be ready. As long as we're ready, and we're ready to take advantage, I think we can put some more pressure on their defense."
Indians manager Terry Francona said Monday he's still mulling over his left-field starter for Game 6; Coco Crisp has the likely edge with Arrieta throwing, but Francona has yet to rule out Davis, who could also lend him a strong weapon off the bench.
"We'll see," Francona said. "I've actually been looking at that. I think I was leaning toward Coco. It was nice to see Rajai get some hits because he hadn't been getting a lot of hits in these playoffs. Sometimes we want to be able to use his speed so much, and when he's not swinging the bat, if he's not starting, at least you can pick a spot where you can put him in for his legs."
It took until the sixth inning of Game 5 for Davis to pick up his second hit of the postseason, but once he reached base, he wasted no time stealing second. He jumped out to a nearly 20-foot lead against Lester, whose yips about throwing to first base have been well-documented. Davis scored on Francisco Lindor's two-out base hit.
A dancing Davis stole second again, this time after singling against Chapman in the eighth inning, and swiped third, too. Alas, he was stranded there as the Indians squandered an opportunity to tie the game.
"You either let me run, because I'm going to run anyways," Davis said, "or you focus on the hitter and make a good pitch. It's one or the other. Lester focused on making good pitches. And the runners run. You either do one or the other. It's tough to be so good at both."
Davis is just the fifth player in World Series history to steal three bases in one game, joining Honus Wagner, Lou Brock (twice), Willie Davis and Melvin Upton Jr.
"You could tell there was focus on Raj," teammate Mike Napoli said.
"That was great to see, because sometimes the stuff that helps you over the course of a 162-game season doesn't always come into play in the playoffs," second baseman Jason Kipnis added. "You just might not get the opportunity. Finally, he got a chance to showcase what he's been doing all year for us. Just how easily he can create runs, or at least put ourselves in a better position to score runs. He did a great job. We just didn't cash in when we needed to."
Jane Lee has been a reporter for MLB.com since 2010. This story was not subject to the approval of Major League Baseball or its clubs.