Cleveland eager to rock another title parade
Indians' final test is securing 1 win to end World Series championship drought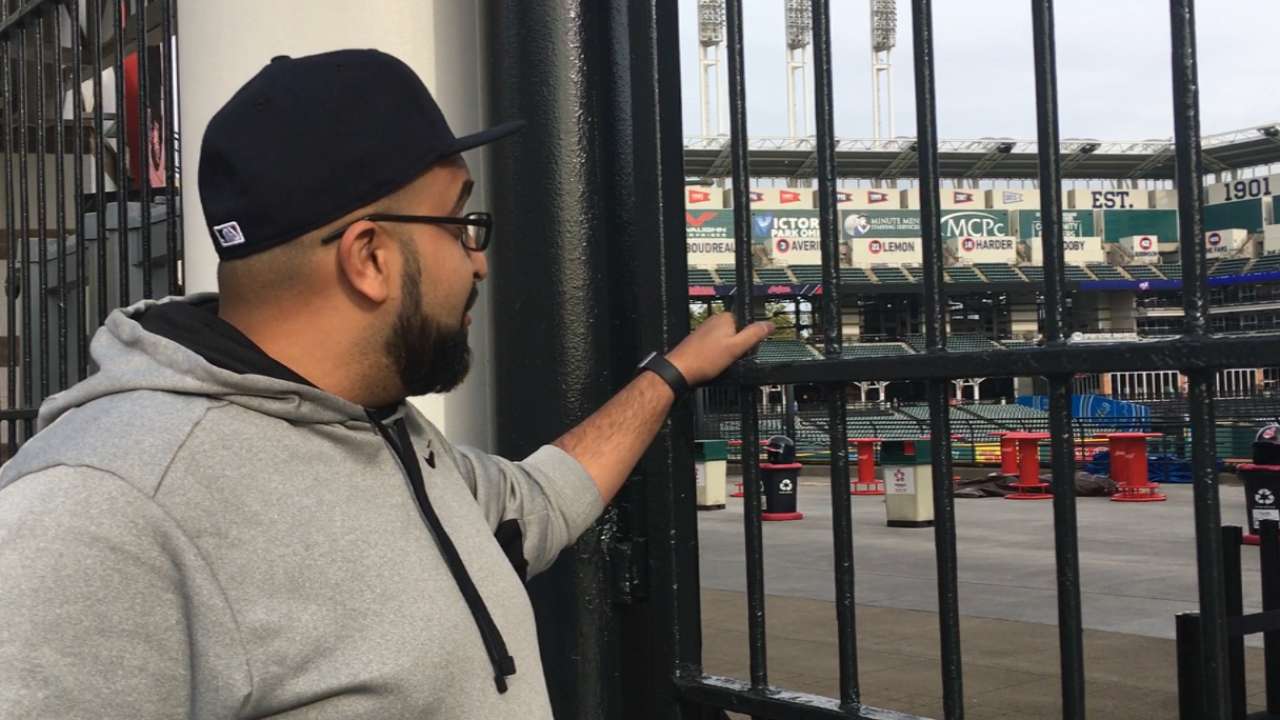 CLEVELAND -- Indians players were watching the broadcast of the Cavaliers' championship parade, because they were trying to figure out how on earth they were going to get to Progressive Field. Manager Terry Francona left his office at the stadium and ventured to the upper deck, and he watched the massive crowd forming on the streets below.
"You could see the people coming across the bridge in droves," Francona said.
That would be the Carnegie Avenue bridge, which leads right to the home-plate entrance of the Indians' home. Back in June, the Tribe's players witnessed how the city came out en mass to celebrate Cleveland's first major sports championship in 52 years. A little more than four months later, the Indians are now on the doorstep of ending the franchise's 68-year World Series drought.
In some ways, the situation is ideal. The Indians are back home, where they were one of baseball's best teams this year, and armed with a 3-2 lead on the Cubs in the Fall Classic. Putting the final period on their magical script in front of their fans would be fitting. All of that said, Chicago still presents a daunting challenge, and is poised to roll out Cy Young-caliber arms in Jake Arrieta and Kyle Hendricks if the Series goes to a Game 7.
• Shop for Indians World Series and AL champs gear
Nothing has come easy for the Indians this year. Why should that change now?
"We didn't expect to sweep these guys," said second baseman Jason Kipnis, who grew up a Cubs fan in the Chicago suburb of Northbrook, Ill. "It's a tough Series. They won the most games during the regular season. They're a great team. We've put ourselves in a fantastic position with winning two games at their place and having two chances to win one game at our place. We're a pretty good ballclub when we're here."
When the Indians clinched the American League Central, they did so at Comerica Park. When Cleveland took down Boston in the AL Division Series, the team partied inside the cramped visitors' clubhouse at Fenway Park. When the Tribe sent Toronto packing in the AL Championship Series, the corks were popped inside Rogers Centre north of the border.
Finishing this task in Cleveland would mean a lot not only for the players, but for the fans. All season, and especially in this World Series against the highly-touted Cubs, the Indians have embraced an "Us Against the World" mentality. They want to hold the final party in front of the fans who believed in them from the beginning.
"It means everything. The city wants to do it here," outfielder Rajai Davis said. "Cleveland wants to do it right here. And, to do it here is going to be something special."
Of course, the Cubs have similar goals, given their similar drought.
Chicago won 103 games in the regular season and has not won it all in 108 years. Now, the Cubs have last year's NL Cy Young Award winner (Arrieta) and one of this year's top candidates (Hendricks) lined up for Games 6 and 7, respectively. During the regular season, that duo went a combined 34-16 with a 2.63 ERA in 387 1/3 innings. In the World Series, they have yielded one run over 10 innings.
Arrieta, who will take the ball for Game 6 tonight, carried a no-hitter into the sixth inning in a Game 2 win for the Cubs at Progressive Field. The right-hander will be opposed by Indians righty Josh Tomlin, whose pinpoint command has been especially precise this postseason. In his Game 3 win at Wrigley Field, Tomlin spun 4 2/3 shutout innings, going deep enough for the Tribe's stout bullpen to take over. The 32-year-old is among the longest-tenured Indians, having spent his entire seven-year career in Cleveland, the organization that drafted him in the 19th round out of Texas Tech in 2006.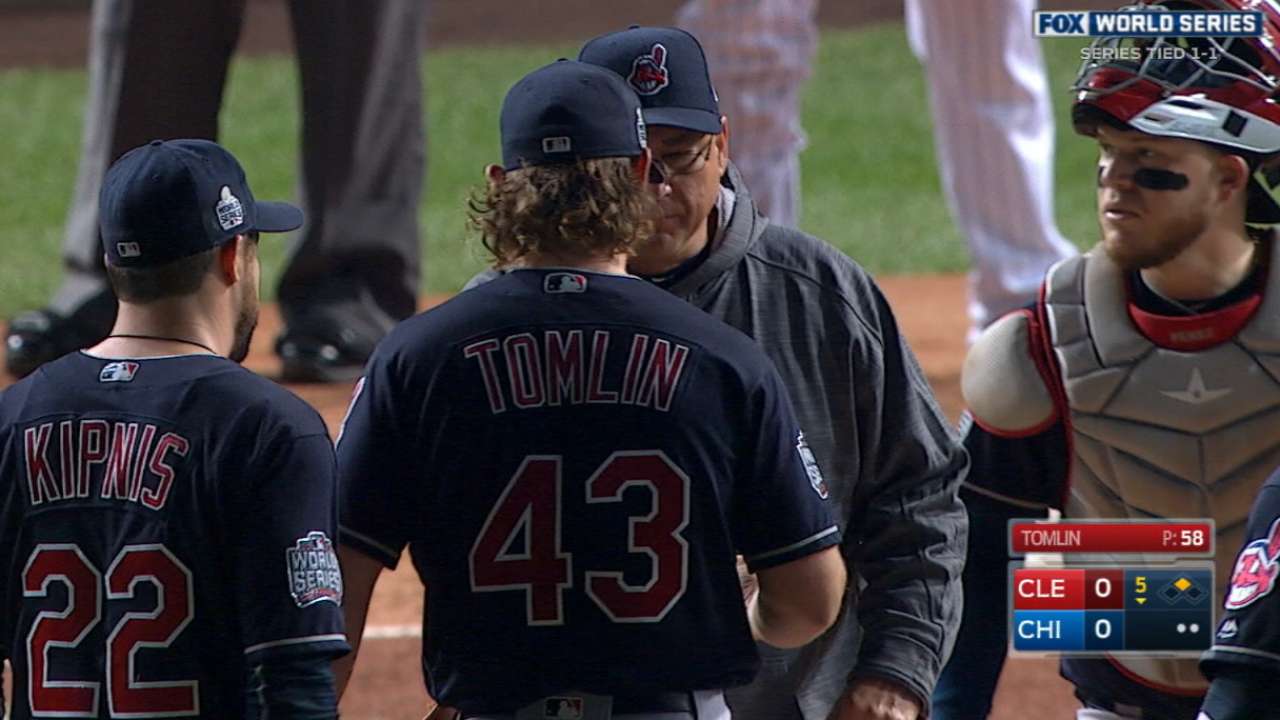 "We can only get better versus Arrieta," quipped Kipnis, referring to the Cubs starter's no-hit bid. "We've got to figure to improve on that a little bit. If you look, Tomlin's been great after losses for us. He's been pretty much our stopper. So, it's going to be a good matchup. It'll be a fun game. It'll be a tough one to win. I'm looking forward to it, though."
If the Indians do win, they will have their own parade to plan.
The players are trying not to daydream just yet.
"I don't want to think about all that," said shortstop Francisco Lindor, one of three Puerto Ricans playing in the World Series. "I want to make sure I stay in the game. I dreamed about it. Of course, I sit down and you think, 'Wow, it would be cool,' but I don't want to think about it too much."
It would be hard not to dream about it a little, though.
Back on June 22, when fans overtook Cleveland's streets, celebrating the Cavaliers' NBA title, Indians players were not sure if they could get through the crowds to prepare for that night's game against the Rays. Eventually, enough of the mob around Progressive Field cleared, allowing the Tribe to arrive and then to notch a sixth straight victory en route to a club-record 14-game win streak.
"It was hard not to get caught up in it," Francona said. The Indians skipper is no stranger to championship success. He won World Series titles with the Red Sox in 2004 and '07.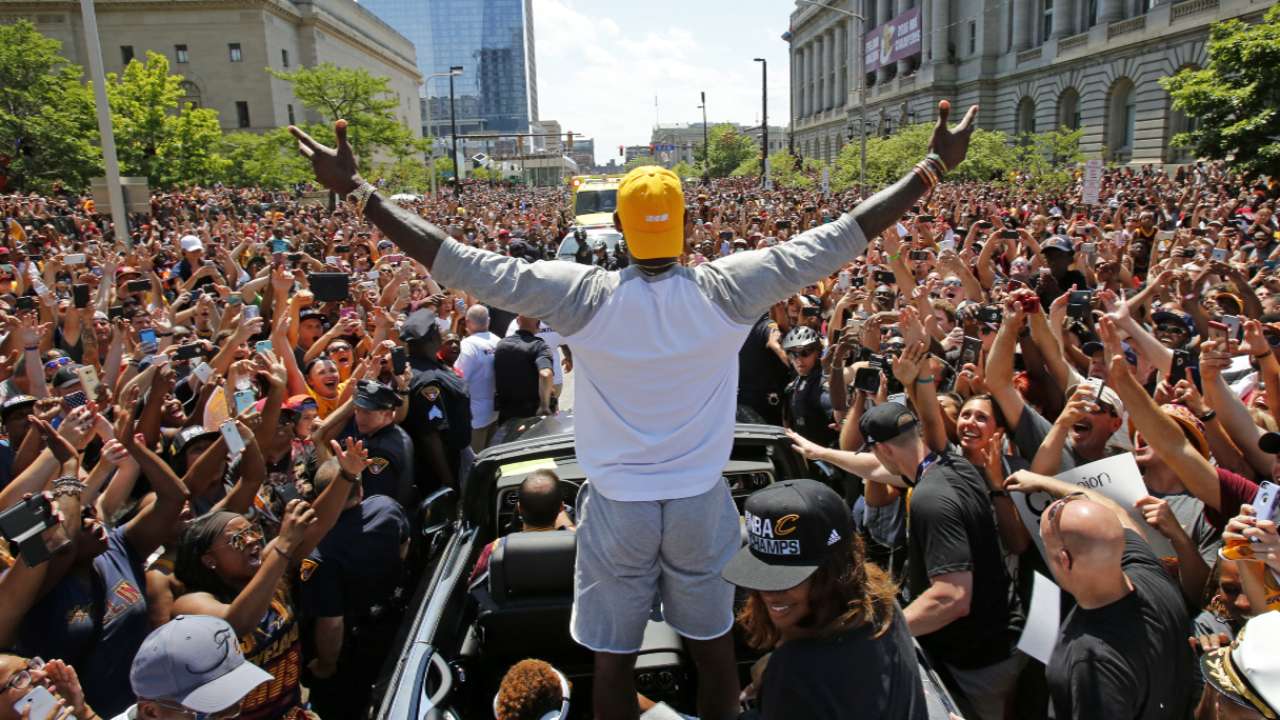 If the Indians can overcome their latest challenge, the mob scene will just take on a slightly different look.
"Red and blue instead of the wine and gold," Kipnis said. "They love their sports here. They're very supportive. They're very passionate about that. They've had it a long-time coming where they've deserved championships. These people have been waiting just as long as anybody.
"It'd be a fun time, especially for a city that hasn't had one in the longest time, to have hopefully, ideally, two in one year. This place would be nuts and rightfully so. We're looking to give them that opportunity here, hopefully, tomorrow."
Jordan Bastian has covered the Indians for MLB.com since 2011, and previously covered the Blue Jays from 2006-10. Read his blog, Major League Bastian, follow him on Twitter @MLBastian and listen to his podcast. This story was not subject to the approval of Major League Baseball or its clubs.