MLB.com Columnist
Alyson Footer
Series sparks lifelong fan's return to Cleveland
Hashmi hadn't been back to hometown since family moved to Florida in 1997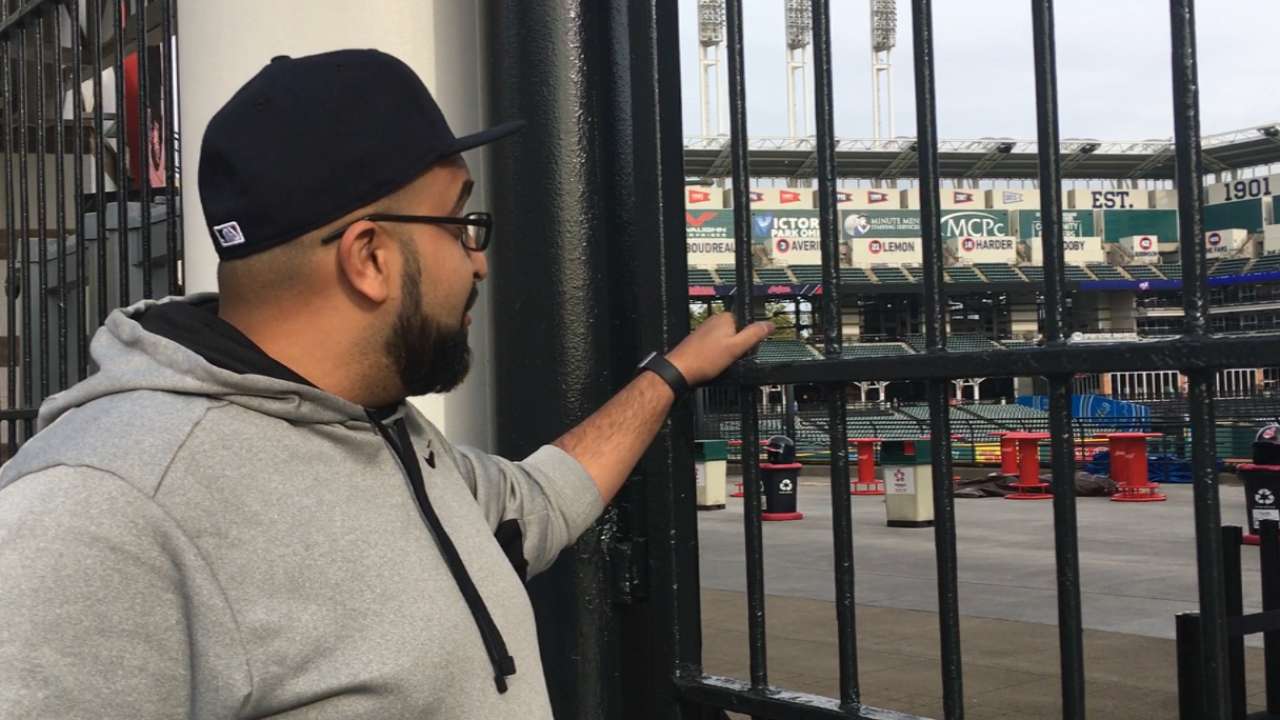 CLEVELAND -- Lifelong Indians fan Shahrooh Hashmi walked up to Progressive Field on Monday for the first time in nearly two decades, and he was struck by both the sight of the ballpark and the flood of emotions that came rushing back.
Hashmi, a native Clevelander, hadn't been back to his home city until that moment, the day before what he's hoping is a joyous World Series Game 6 for him -- and for thousands of Indians fans who have been loyal to the club their entire lives.
"It looks a little different," Hashmi said, peering through the gates in the outfield. "I feel like I don't remember as much. Back then, everything seemed so much bigger. It's beautiful."
Hashmi's family moved from Cleveland to Florida in 1997, when Hashmi was in the sixth grade. The move happened right in the middle of the World Series -- the one that the Indians eventually lost to, yes, that team in Florida, the Marlins.
• Shop for Indians World Series and AL champs gear
It was a lot to endure for a 12-year-old kid from Richmond Heights.
"I went right to Florida, and I was the only Indians fan watching those games," Hashmi said. "And we ended up losing. It was a disaster. Since then, I never had the chance to come back. I couldn't pass up the opportunity."
So after visiting family in Buffalo, Hashmi decided, on a whim, that he would drive down to Cleveland to attend the Indians' World Series parade, should it happen.
Hashmi has no tickets for the games between the Indians and Cubs, and as of his mid-afternoon visit to Progressive Field, he hadn't made any hotel arrangements. He just knew he wanted to be in Cleveland to be a part of this special time in Indians history, in his original hometown, with fellow fans who understand his passion for the Tribe.
"I was just texting some friends that I went to elementary school with on the way over while I was just walking here," Hashmi said. "The Indians were our life. That's all we did. Every day at school, there were games at 2 in the afternoon, and we'd watch them.
"I remember I used to print out the schedule for the Indians when I was in first grade, second grade, on a dot matrix printer and write down the scores. I loved the Indians."
Hashmi grew up during a golden time for the Tribe. The Indians put together a powerhouse beginning in the early 1990s, and they sold every seat at their ballpark from June 12, 1995, to April 4, 2001, compiling a 455 consecutive-regular-season-game streak.
The players from that era, mostly drafted and developed through the Tribe's farm system, define the very best of Indians' history.
"Omar Vizquel, Carlos Baerga, Sandy Alomar, Roberto Alomar, Jim Thome, Albert Belle, Kenny Lofton, Manny Ramirez, Charles Nagy, the beginning of Bartolo Colon," Hashmi said, without hesitation. "I remember the entire team. It's that crazy."
Hashmi repeated a sentiment heard many times throughout the World Series, from fan bases in both championship-starved cities.
"It's been a really, really long time," Hashmi said. "If it's been that long for me, I know there are older people that have wanted this for 60 years, 70 years. I really hope we can do it."
Alyson Footer is a national correspondent for MLB.com. Follow her on Twitter @alysonfooter. This story was not subject to the approval of Major League Baseball or its clubs.