Decisions looming on Maybin, K-Rod for Tigers
Outfielder, closer have club options for '17 as well as potential replacements in Minors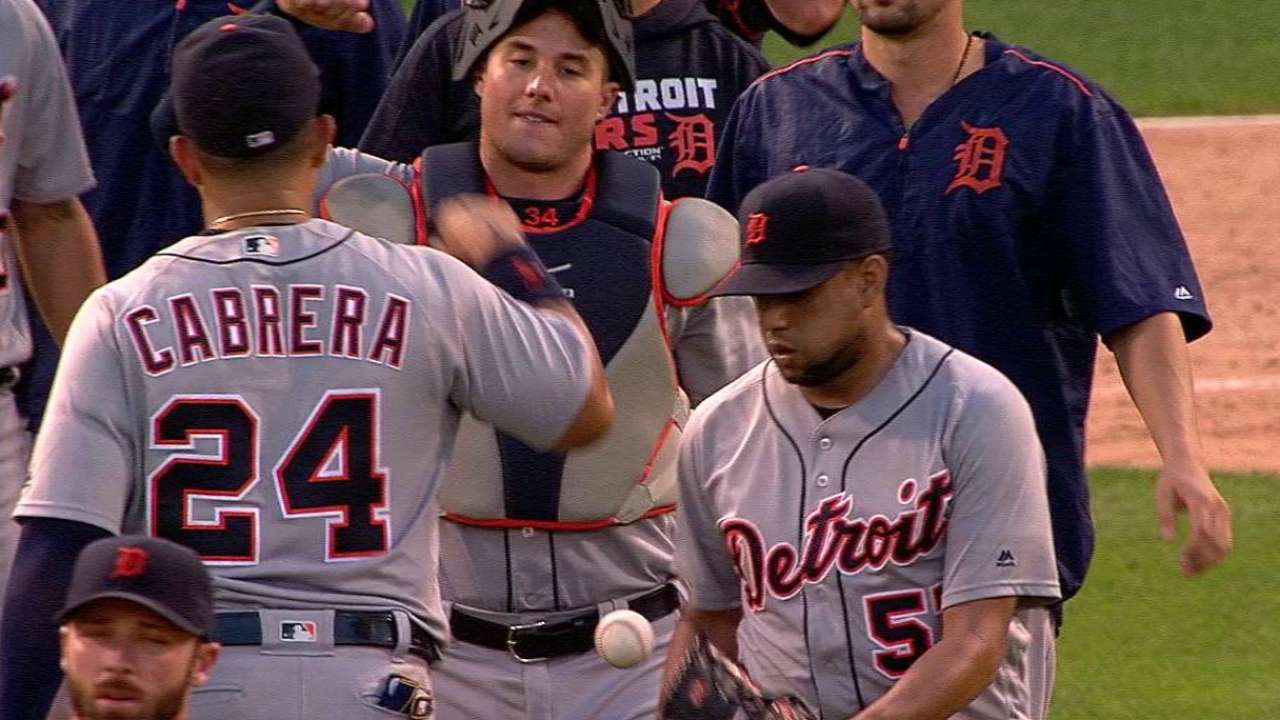 DETROIT -- At some point this week, the Hot Stove season will officially begin. When it does, the Tigers will have two big decisions to make almost immediately.
What the Tigers decide on contract options for center fielder Cameron Maybin and closer Francisco Rodriguez could say a lot about the direction they're headed.
The Tigers hold club options of $9 million (or a $1 million buyout) on Maybin and $6 million (or $2 million buyout) on Rodriguez, both of them inherited from contracts they signed with their previous clubs. That flexibility was a small part of the appeal in acquiring them, allowing the Tigers to evaluate them this past season before deciding whether to go another year.
Both had their ups and downs -- injuries for Maybin, inconsistency dogging Rodriguez at times -- but both played a role in taking Detroit's playoff hopes to the final day of the regular season. As the Tigers look to form a younger, leaner roster for the coming years, the question isn't so much whether the two are worth keeping, but whether the Tigers can embark on that movement and still afford to keep them.
It's taking time to figure out.
"We'll probably wait all the way to the final day," general manager Al Avila said at his end-of-season remarks a couple of weeks ago.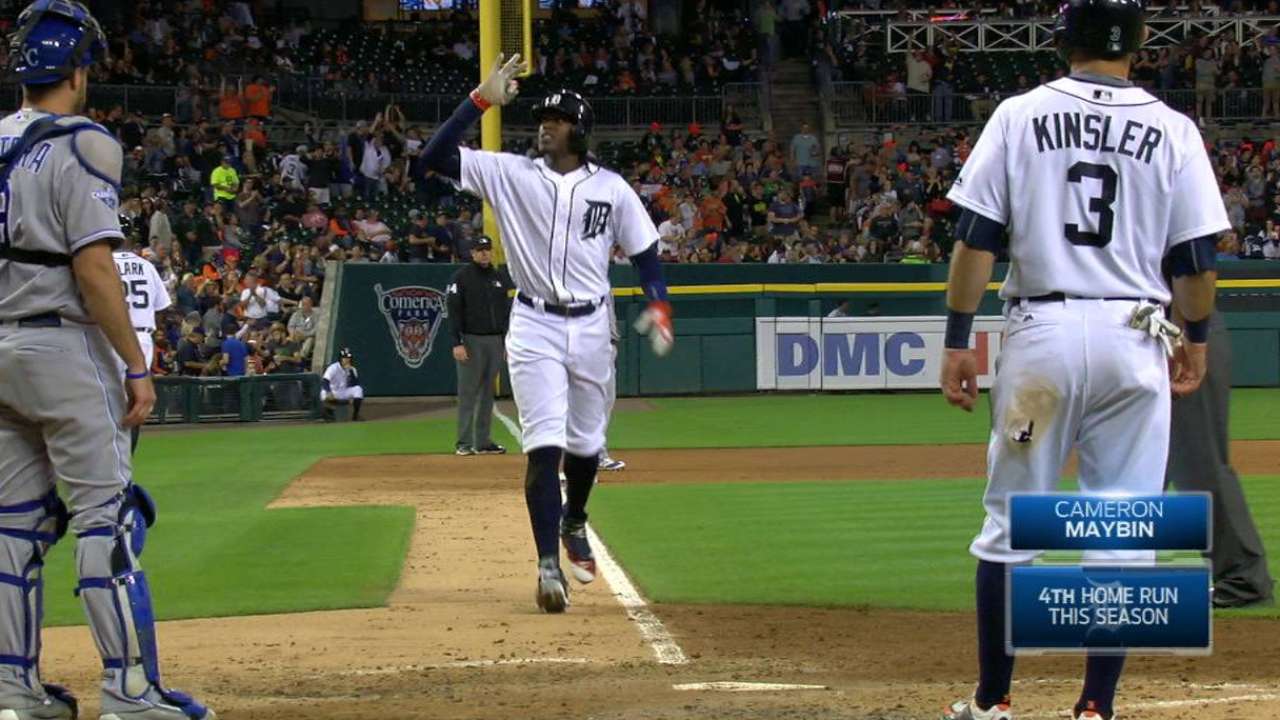 The Tigers have until three days after the World Series ends to decide. They have potential replacements in their organization for both, but they aren't sure either outfield prospect JaCoby Jones or future closer Joe Jimenez will be ready for the big leagues right away.
Though a broken wrist and sprained thumb combined to hold Maybin under 100 games for the third time in four years, his 1.9 WAR tripled the total he put up over 141 games with the Braves in 2015. He batted .315 (110-for-349) with 14 doubles, five triples, four home runs, 43 RBIs, 65 runs scored and an .801 OPS. His 15 stolen bases led the team.
Jones, the Tigers' ninth-ranked prospect according to MLB Pipeline, earned a September callup after batting .257 with a .733 OPS between Double-A Erie and Triple-A Toledo. Aside from two productive games filling in at third base upon his callup, the 24-year-old played sparingly down the stretch, batting 6-for-28 with three doubles, two RBIs and 12 strikeouts. He entered Monday batting 13-for-39 (.333) in the Arizona Fall League with three doubles, a home run and seven RBIs.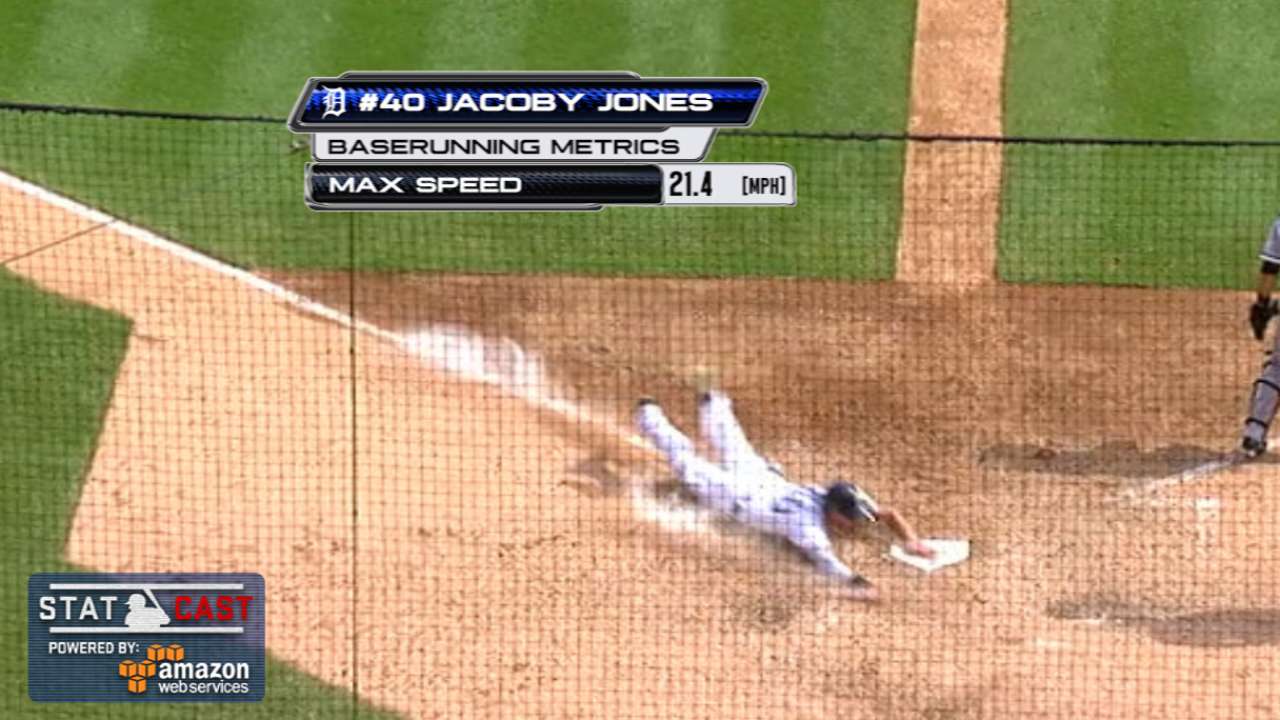 "Obviously if we decide not to pick up [Maybin's] option, we need a center fielder," Avila said two weeks back. "JaCoby Jones is a viable option. I think there are people in the organization that feel that he could use more time in Toledo. I'm of the opinion that he could use more time in Toledo.
"But if he has a strong Arizona Fall League, comes in Spring Training and really has a good spring, I can't rule out that he might not be the guy. Particularly if you can match him up with another guy that hits from the left side and can give him some days off on some tough right-handed pitchers."
Rodriguez finished second in the American League with 44 saves in 49 opportunities. The 34-year-old allowed 45 hits over 58 1/3 innings, striking out 52 batters and walking 21. He blew two saves in September, including a five-run ninth inning against the Royals on Sept. 24, but he gave up only one run over his other 15 outings from Aug. 13 on.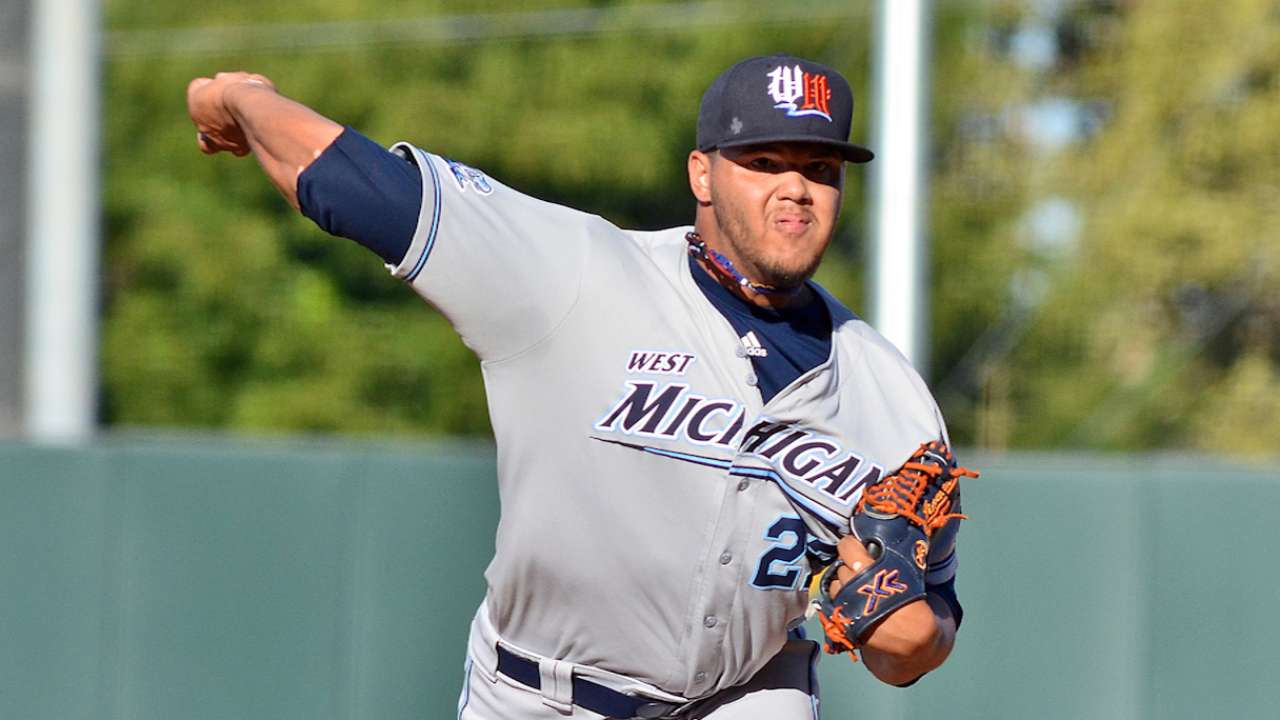 Jimenez has been seen as the closer of the future ever since his dominant 2015 season with Class A West Michigan. Detroit's fifth-ranked prospect continued that march with 30 saves over three different levels this year, though he did not get a September call to Detroit.
"I know there was a big push for him to come up here," Avila said, "but trust me that it would not have been in his best interests or our best interests. There were some things he needed to work on, in particular his slider and just his command overall.
"There are certain things that you can do in the Minor Leagues that you can't do at the big league level. When we bring [someone] up, we want to make sure that he's coming up to have success. We don't want to go through the same mistake we did with Bruce [Rondon] in the past where it just didn't work out right away. We want to be a little bit more cautious with Jimenez. In saying that, I'm hopeful that he can contribute to our success at some point in 2017."
Jason Beck has covered the Tigers for MLB.com since 2002. Read Beck's Blog, follow him on Twitter @beckjason and listen to his podcast. This story was not subject to the approval of Major League Baseball or its clubs.