MLB.com Columnist
Phil Rogers
Cubs rest assured after resting pitchers
Plan not to overwork hurlers, especially Game 6 starter Arrieta, was put in during spring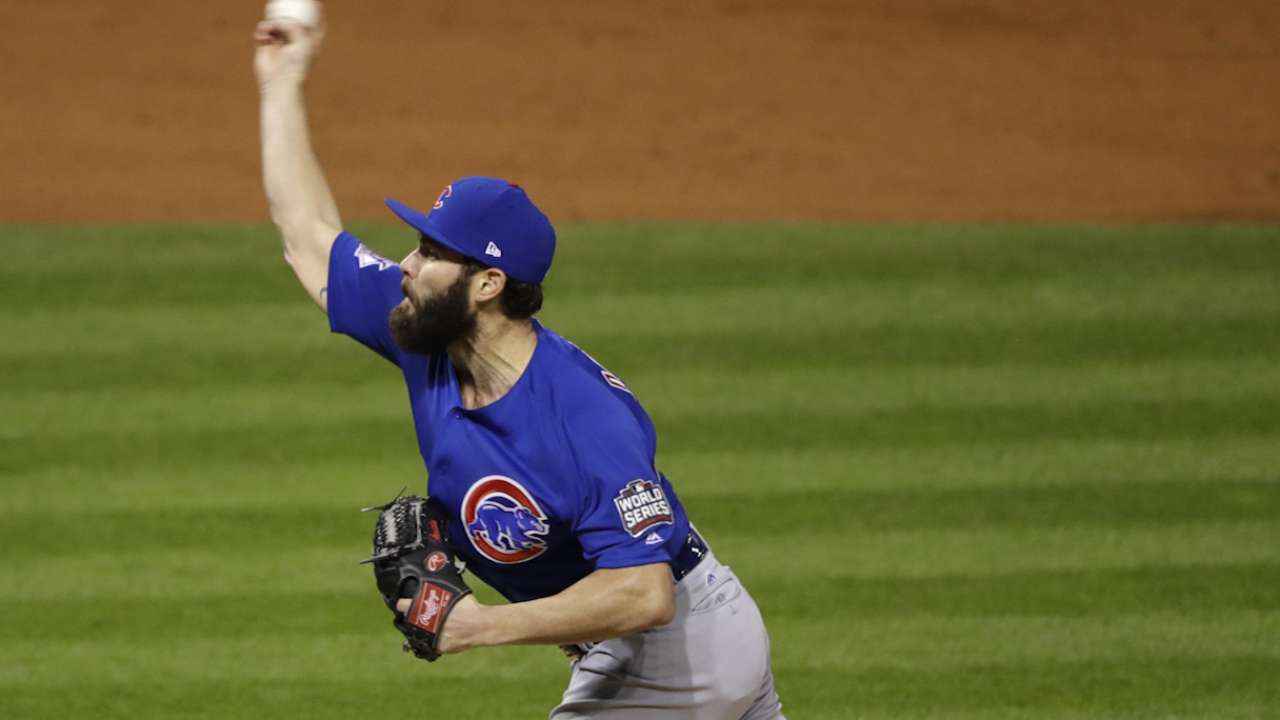 CLEVELAND -- This is Jake Arrieta's time. He's headed into the biggest start of his career, and is fueled by kale shakes, relentless cross-training and a workload that was tailored to have him in prime condition for the first November of his baseball life.
Consider the controllables fully controlled.
Arrieta carried the Cubs deep into the postseason last year, and Joe Maddon loved it. But the manager and his front office hated how the National League Cy Young Award winner seemed over-extended in his last two starts of the long ride, and they vowed not to let that happen again.

The Cubs limited the workload for Arrieta and the other starting pitchers in the second half of the season, and the rewards for that could come in the biggest games of the year.

• Shop for Cubs World Series and NL champs gear

Maddon wasn't just relieved that Aroldis Chapman preserved a 3-2 lead in Game 5 to send the World Series back to Cleveland, but hopeful that he's holding a winning hand of cards.

"We get to go with two rested starting pitchers," Maddon said, referring to Arrieta and Kyle Hendricks, in line to start Games 6 and 7.

This is no small factor.

It could prove to be huge.

And as is true for most things with Theo Epstein's Cubs, it hardly happened by accident.

Heading into Spring Training, one of the biggest questions the Cubs faced was how Arrieta's powerful arm would bounce back after throwing 248 2/3 innings in 2015. The doubts didn't last as long as the average Arizona cold front, however.

Arrieta had never thrown even 180 innings in a season before 2015. But by mid-March it was clear that the conditioning freak, who has made it fashionable for big leaguers to increase flexibility through Pilates, would be just fine.

"I'm in better shape than I've ever been in, and I'm ready for another 250 [innings]," Arrieta declared after his second outing in Spring Training.

This was music to the ears of the Cubs and their fans. But Maddon and Epstein had other ideas about the workload for Arrieta, Jon Lester and John Lackey. They wanted to cut it back significantly in the regular season, saving their arms for an extended postseason run.

"We attempted to do that from Day 1," Maddon said. "Like I've said, I had that conversation with Jake in Spring Training in the food room in Mesa the first time I saw him. We talked and I brought it right up immediately. We've been on the same page, taking him out of the games a little bit sooner."

Maddon slipped in and out of a six-man rotation from July through the end of the regular season. Mike Montgomery made five starts after being acquired from Seattle, and five starters took one turn apiece.

Arrieta's start Tuesday night will be his fourth of the postseason, 35th of the year, but he'll carry a total workload of only 214 innings into a game that will either send the Cubs to a deciding seventh game or home for the winter.

Arrieta prides himself on his ability to shoulder a major workload for his club, particularly in big moments like this, much like his idol growing up in Texas -- Nolan Ryan.

"I really liked everything about the way that he went about the game of baseball," Arrieta said. "He was intimidating, he worked hard, he was a power guy, he was a Texas guy, so that's kind of what drew me to him."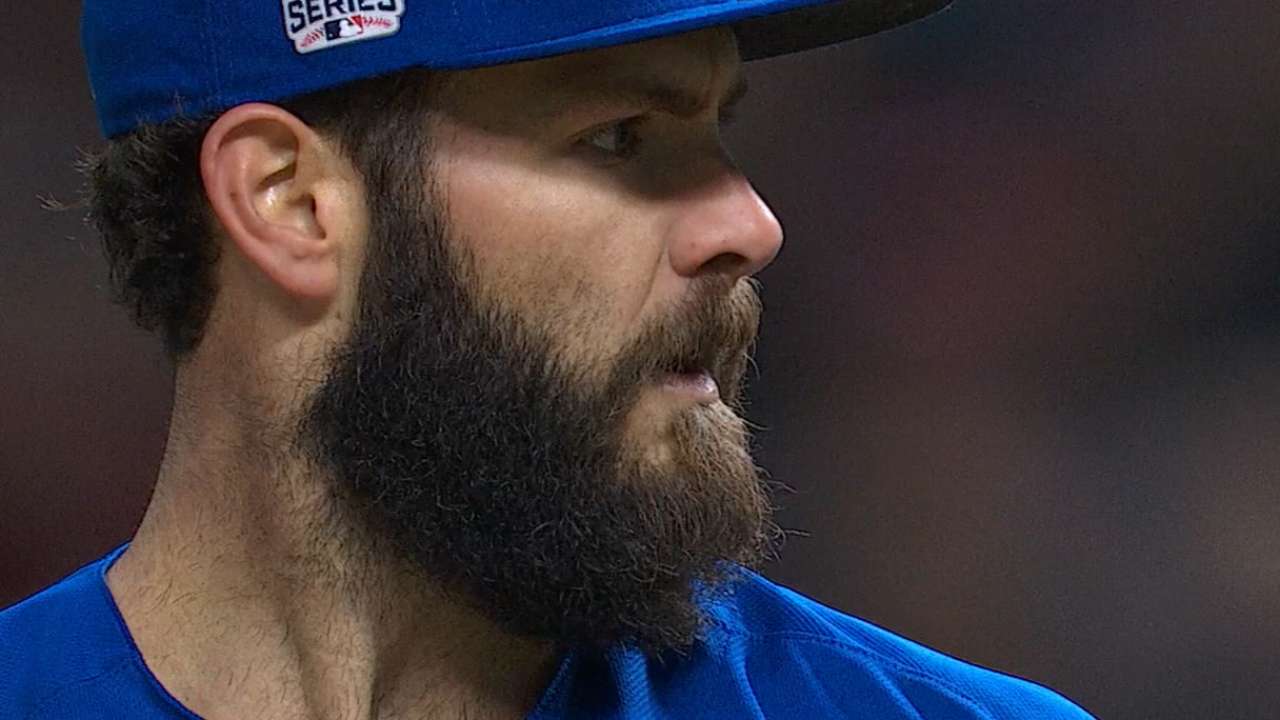 By taking a no-hitter into the sixth inning in Game 2, Arrieta hinted at having a huge performance in him, perhaps even one like his complete-game victory at Pittsburgh in the NL Wild Card Game last season. He is 1-1 with a 3.78 ERA in his three 2016 postseason starts, striking out 16 in 16 2/3 innings.
"Hopefully Jake can give us another great start like he did in Cleveland," Lester said after winning Game 5 on Sunday. "We'll see where we're at and keep going."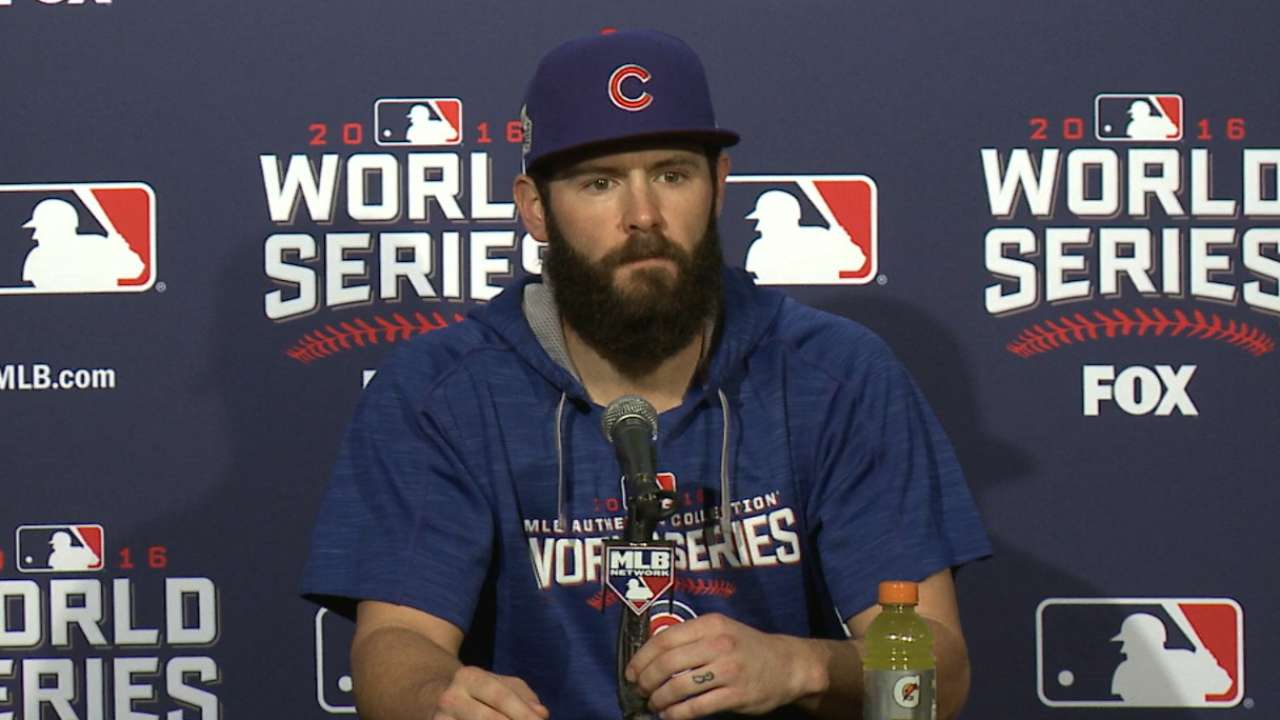 Though the Cubs trail the Indians, 3-2, they have their pitching lined up where they want it, while the injury-depleted Tribe will start Josh Tomlin on three days' rest in Game 6, and if necessary, Corey Kluber in a second consecutive short-rest start in Game 7. The Indians' ace has already thrown 245 1/3 innings, more than 30 beyond Arrieta's total.
Hendricks, who is in line to start Game 7 for the Cubs, won the NL ERA title but threw only 190 innings in the regular season. He's thrown another 20 2/3 innings in October, going 1-1 with a 1.31 ERA, but he hasn't thrown as many as 100 pitches in a start since Aug. 13.
"Jake, too," Maddon said. "We've kept him right around 100 pitches [every time out for awhile]. They really should be in good shape, good stead going into the next starts."
Lester looked shocked when Maddon pinch-hit for him in the sixth inning of Game 1 in the NL Championship Series. The veteran had given up one run in six innings, throwing only 77 pitches, but Maddon moved to increase a 3-1 lead and put the load on his bullpen, not his starter.
That scene has played out with some frequency over the last few months, with starting pitchers feeling they were pulled when they could have stayed in.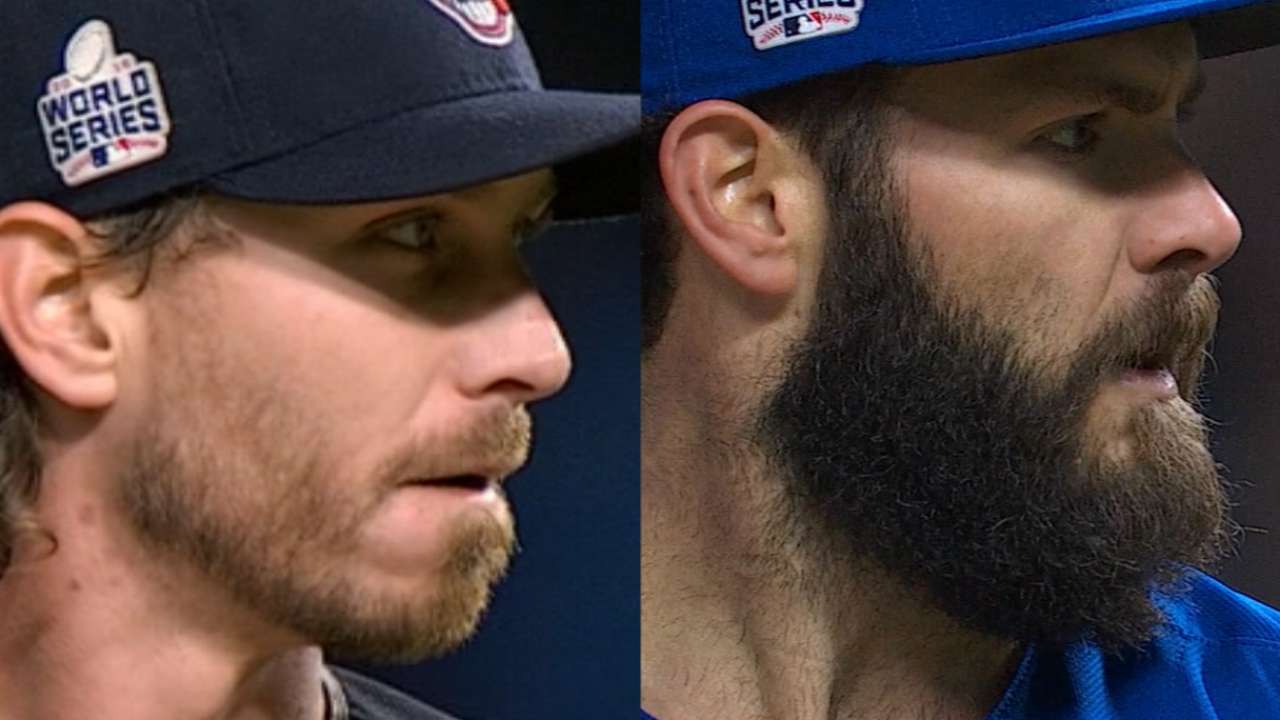 "It's always tough to rein in a thoroughbred," Maddon said earlier in October. "They all want to pitch. They all want to play. They want to throw more pitches. ... But at some point you got to know what's the right thing to do."
While Arrieta was 12-1 with an 0.75 ERA in the second half of 2015, he gave up four runs both to the Mets in the NLCS and the Cardinals in the NL Division Series -- not terrible, but disappointing. He's positioned to write a different ending to this season, and if he can, then Hendricks gets a chance to make history.
On full rest, plus a little extra.
Phil Rogers is a columnist for MLB.com. This story was not subject to the approval of Major League Baseball or its clubs.