Maddon, Cubs embracing historic opportunity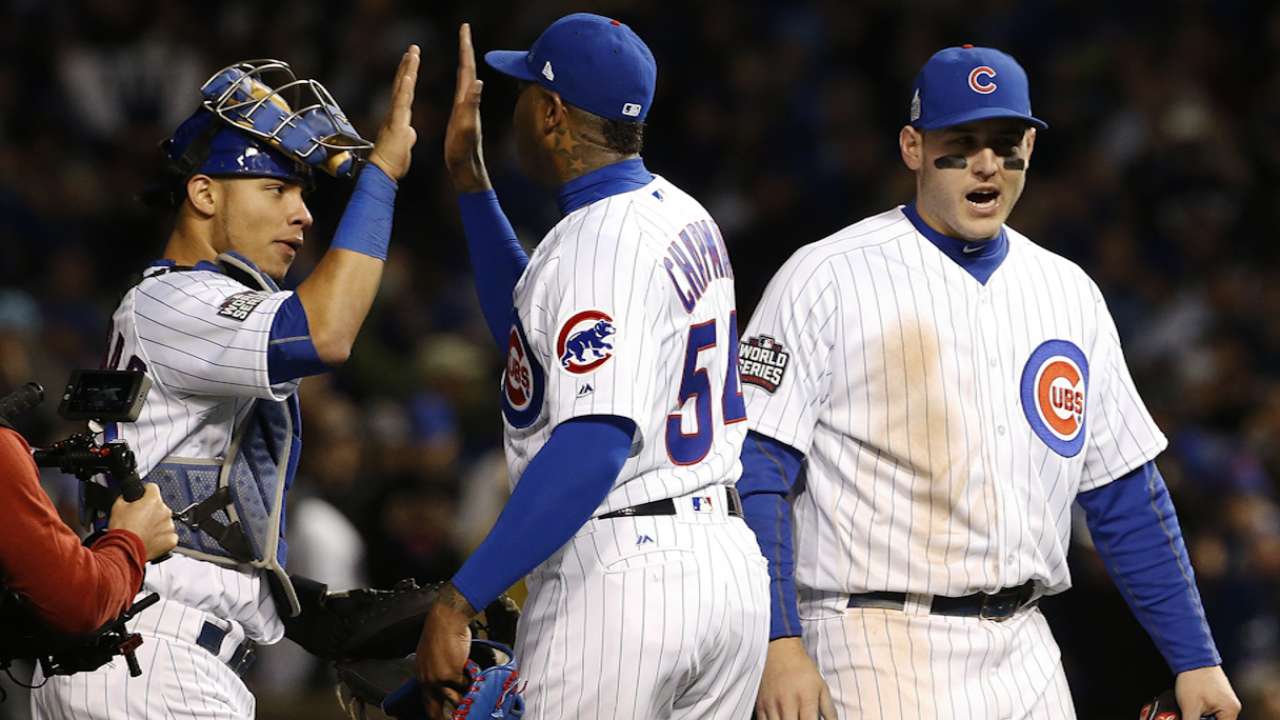 CLEVELAND -- Joe Maddon loves Halloween. If he was home in Tampa, Fla., the Cubs' manager would be handing out candy to the neighborhood kids. The team delayed its charter flight on Monday so the players could go trick-or-treating with their children, and Maddon sounded more worried about finding a wig for his costume than who plays right field. But he will be happy to be in Cleveland, where the Cubs have some unfinished business.
Chicago avoided elimination in the World Series on Sunday night with a 3-2 win over the Indians at Wrigley Field, and the best-of-seven set now shifts to Progressive Field with Game 6 on Tuesday night. The Indians still lead the Series, 3-2, but Maddon senses the momentum may have shifted.
"Getting back to Cleveland with Jake Arrieta and Kyle Hendricks rested and Kyle Schwarber back in the lineup presents itself differently," Maddon said. "I think everything changes at that point."
Arrieta (18-8, 3.10 ERA in the regular season) will start Game 6 and Hendricks (16-8, 2.13 ERA) is in line for Wednesday's Game 7 if the Cubs can extend the Series. The biggest boost will be the return of Schwarber to the lineup as the designated hitter now that the Cubs will be playing by American League rules. Schwarber is 3-for-8 so far in the World Series, his first big league game action since April 7 when he tore two ligaments in his left knee.
• Shop for Cubs World Series and NL champs gear
"It'll be nice -- especially there," Anthony Rizzo said of getting Schwarber's left-handed bat back. "It's a shorter porch to right. It'll be warmer. He'll have good at-bats and he'll be ready for them."
Indians pitchers have made it tough on the Cubs, compiling a 1.84 ERA in the five games.
"I still believe in my pitching staff," Indians shortstop Francisco Lindor said. "I still believe that we can do it."
This is the 65th time the World Series has stood at 3-2, and of the previous 64, the team with the lead has gone on to win it all in 43 instances (67.2 percent). In the four times the Cubs have trailed, 3-2, in a best-of-seven series, they've lost each series and only won Game 6 once -- in the 1945 World Series against the Tigers. Detroit won Game 7 in what was the last Fall Classic played at Wrigley Field before this year.
Squeezed in trick or treating with the family ! pic.twitter.com/LEVkl8SKo7

— Dexter Fowler (@DexterFowler) October 31, 2016
There was a feeling of euphoria among many Cubs fans at Wrigley Field after Sunday's win.
"That's your typical World Series game, 3-2 -- and it comes down to every pitch, every play made," Chicago catcher David Ross said. "It's just fun for me to be a part of this."
The Cubs are the 47th team in Major League history to win 103-plus games in a regular season. They are hoping to avoid being the 29th team with 103 wins that does not win a World Series. That list includes the 2004 Cardinals (105 wins), the '02 Yankees (103 wins), the '02 Athletics (103 wins), the '01 Mariners (116 wins) and the 1999 Braves (103 wins).
No matter what happens this week in Cleveland, Maddon says this was a successful season.
"I anticipate we're going to be able to finish this off," Maddon said. "If you don't, then you still look at the stepping stones and building blocks to get to this point. You can't tell me last year wasn't successful -- just getting to the Championship Series -- and you can't tell me this year wasn't successful, getting to the World Series.
"I'm not of that mindset that the winner take all is the successful one and the one who doesn't is not," he said. "The Dodgers were very successful this year, the Giants were very successful this year. A lot of teams were. Of course, the goal is to win it all. but there's also the building component, the culture component -- all the different things that permit you excellence on an annual basis are now in place. All those things matter."
Prior to an elimination game in the National League Championship Series last year against the Mets, Maddon brought back a magician to perform. Simon Winthrop did some tricks in the clubhouse when the team was in New York in June that year, and somehow his magic act helped spark the Cubs. However, it didn't work against the Mets, who swept the series.
Facing elimination on Sunday against the Indians, Maddon didn't feel a need for any card tricks, live animals or mariachi bands, although Rizzo did play the music from the movie "Rocky" in the home clubhouse and did some shadow boxing with teammates. Actor Bill Murray was walking around in the clubhouse before Game 4. He wasn't wearing a onesie.
In Spring Training, Maddon recognized the high expectations and wanted the players to "embrace the target."
"From Day 1, we've been engulfed, surrounded, inundated with these thoughts, and our guys have handled it great," Maddon said. "I don't think there's any Cub fan throughout the universe who would not be happy with where we're at this particular moment based on what's occurred in the last century and over the last several years. I see nothing but good."
Carrie Muskat has covered the Cubs since 1987, and for MLB.com since 2001. She writes a blog, Muskat Ramblings. You can follow her on Twitter @CarrieMuskat and listen to her podcast. This story was not subject to the approval of Major League Baseball or its clubs.