Frazier aims to improve as super-utility player
Rookie hit .301 for Pirates, but fielding multiple positions was difficult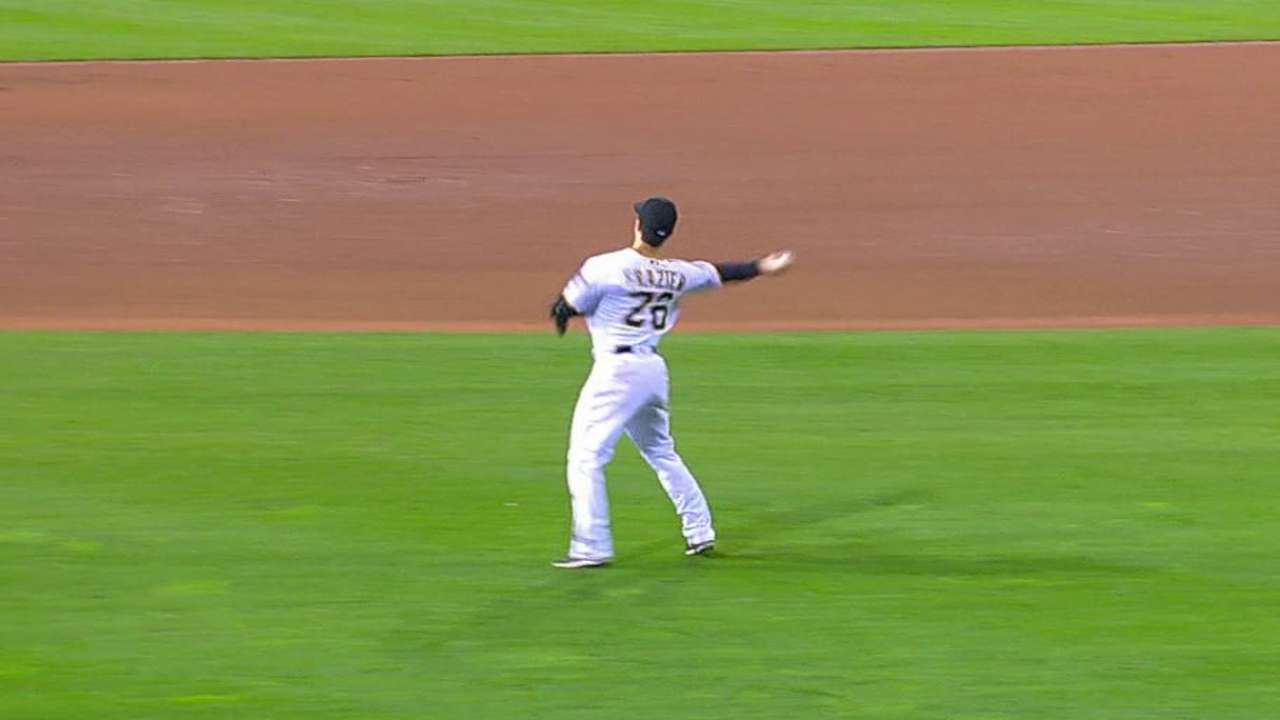 PITTSBURGH -- Adam Frazier keeps it simple at the plate. He can summarize his entire offensive approach in a few seconds with a few key phrases. "Stay inside the baseball. Stay up the middle. Don't try to pull the ball. Use the whole field."
"If you keep it simple, it lessens your chance for mistakes that can go on inside your swing and your approach," Frazier said. "The simpler it is, the better I feel."
That mentality allowed Frazier to hit .301 with a .767 OPS this year, making a smooth transition to the Majors. But the rookie found that defense in the big leagues was not so straightforward, especially not when he was fielding three positions on a regular basis and preparing to fill in everywhere else if needed.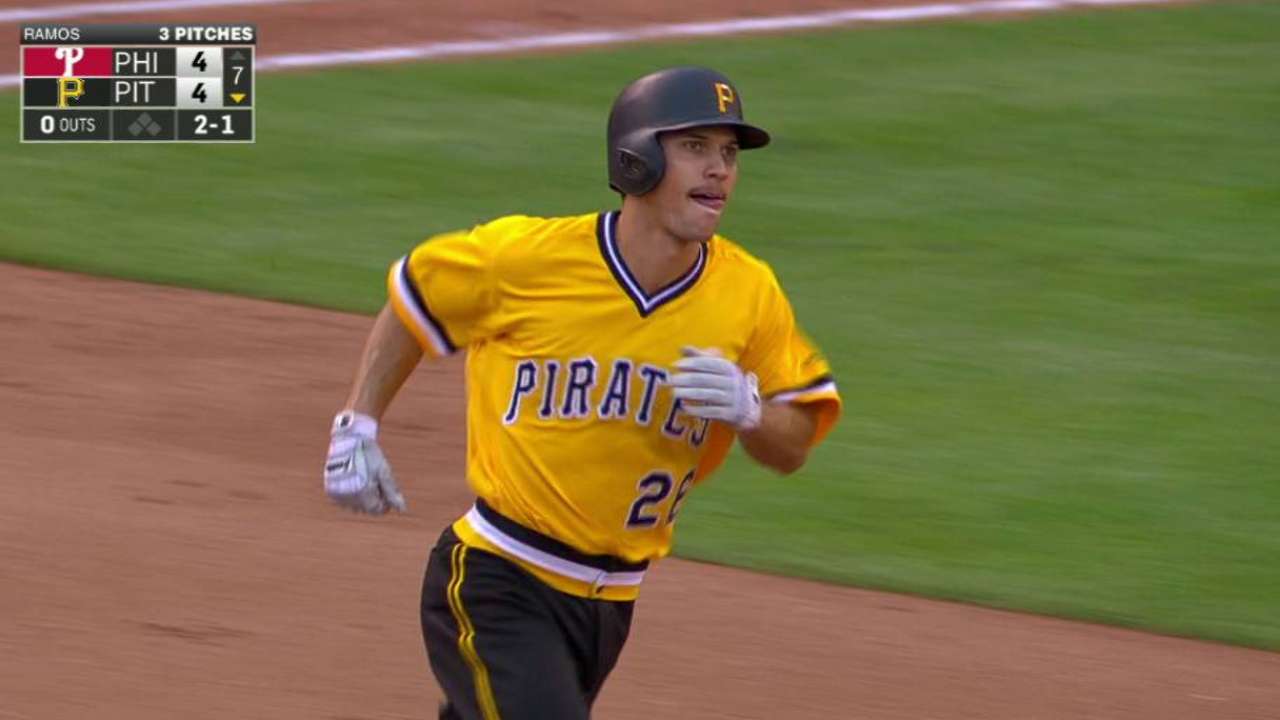 Still, the Pirates see Frazier developing into an above-average defender at multiple positions and playing a valuable super-utility role off the bench next season.
"We do," manager Clint Hurdle said, "and we're going to exhaust every opportunity to find out if we're right or not."
Though he surpassed expectations offensively, Frazier struggled at times in the field. The 24-year-old rookie committed six errors in 293 innings, posted a .933 fielding percentage and finished two runs below average, according to Defensive Runs Saved. Half of his errors came at second base, with one at third and two in the outfield.
"We've moved him around," Hurdle said. "There's the good side of that -- the versatility to be able to go around -- and also the challenge of having to spend time at all those positions instead of just sharpening up one."
Some of Frazier's defensive miscues were to be expected. He was drafted as a shortstop and added center field to his repertoire for Double-A Altoona in 2015. This year, the Pirates turned Frazier into a versatile player in the mold of Sean Rodriguez -- and that job is not as easy as Rodriguez often makes it look.
In Triple-A, Frazier played second, shortstop, left and center field. For the Pirates, he fielded six positions: second, third, short and all three outfield positions. Primarily, he manned second base and the corner-outfield spots.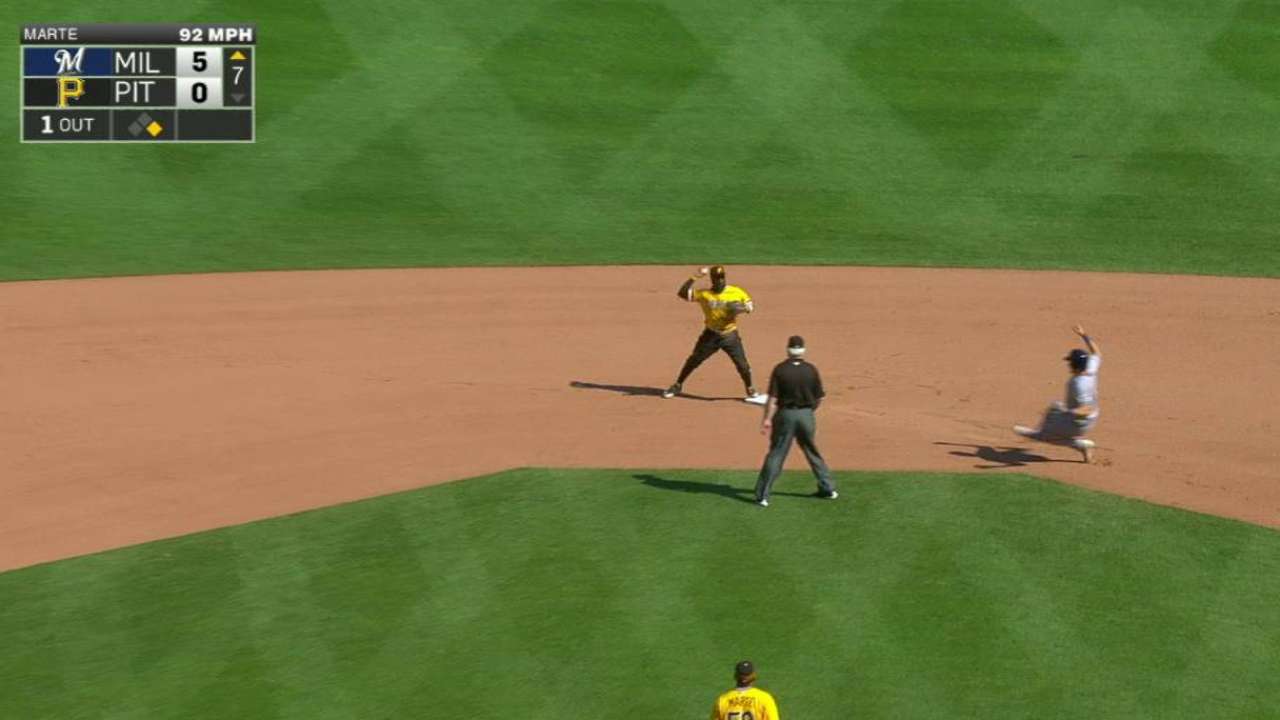 "There's some stuff I need to work on as far as being in different spots in the shift and stuff like that," Frazier said. "It's something I look forward to getting better at."
Frazier knew that would be a challenge, so he approached Rodriguez and Josh Harrison about it last spring. They told him to take his pregame work seriously, first and foremost, and he did. But words and batting-practice reps couldn't prepare Frazier for all the moving and shifting he'd have to do in the Majors, much less at multiple positions.
That, it turns out, is not so simple. But the Pirates believe Frazier eventually might make it look that way.
"I feel like I've been able to get in quality work each day in BP in the outfield and infield," Frazier said. "But probably not enough time and energy at the end of the day, where you can do that at every position that I personally have to be ready for.
"I've learned that we shift on about every hitter, so a lot of those positions aren't positions I'm used to. That's something I'm definitely going to take in on this offseason and take some pride at getting better at."
Adam Berry has covered the Pirates for MLB.com since 2015. Follow him on Twitter and Facebook, read his blog and listen to his podcast. This story was not subject to the approval of Major League Baseball or its clubs.