MLB.com Columnist
Anthony Castrovince
Hirschbeck's legacy goes beyond balls, strikes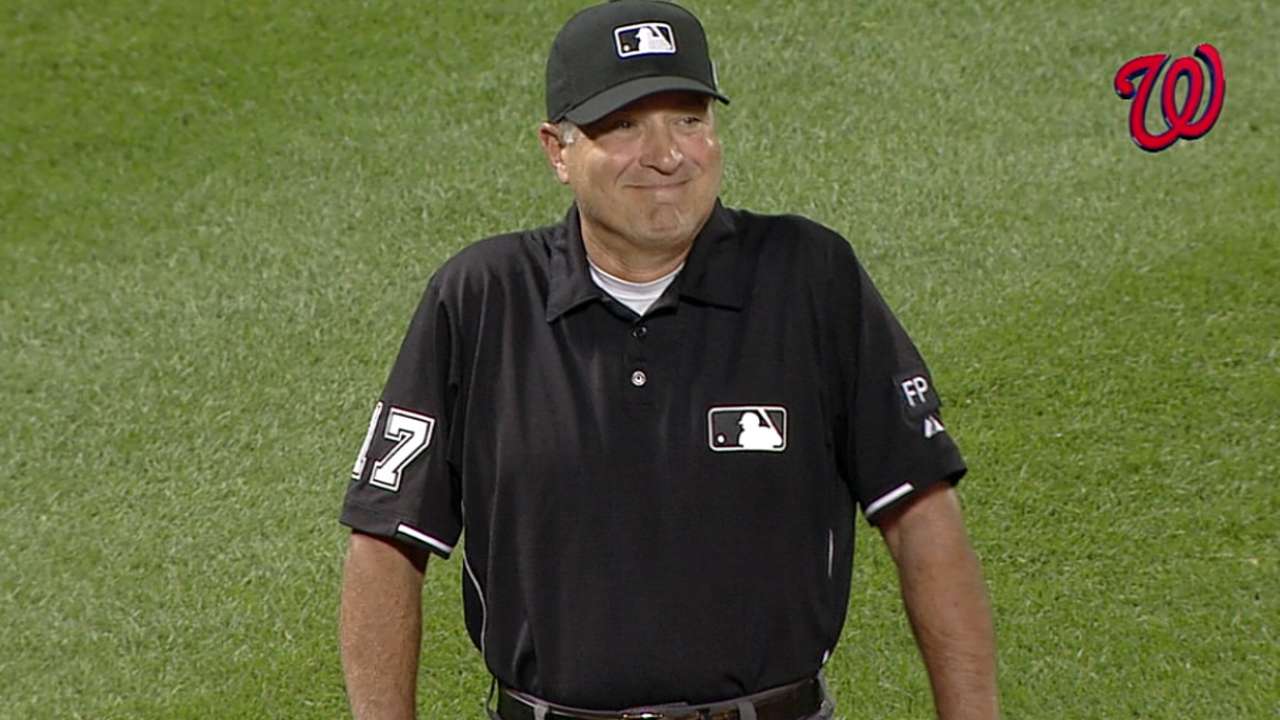 CLEVELAND -- The relationship that we witness between umpire and manager often involves confrontation. Before replay review, the two parties could argue just about anything. These days, skirmishes over balls and strikes suffice.
But in this World Series, umpire John Hirschbeck and Indians manager Terry Francona feel genuine affection for one another off the field, especially as the umpire's long career winds down to its final innings. Hirschbeck, the crew chief for this Series and the second-longest-tenured active ump in the game, is hanging up his black jacket and hat for good upon the conclusion of the Fall Classic. And though impartiality is the backbone of any assignment, Hirschbeck said Francona is one of the people he'll miss most.
"Joe Maddon has been a good friend for a very long time," Hirschbeck said. "But with Terry, it's special, because you can never forget the way he was to my son and how much my son loved Terry."
Until his death from a seizure at age 27 in April 2015, Hirschbeck's son Michael would regularly make the drive from the family's Poland, Ohio, home with his dad to serve as a bat boy at Progressive Field. He did it for every Indians manager from Mike Hargrove through Francona.
• Shop for World Series gear: Cubs | Indians
Michael had the same rare genetic disease -- adrenoleukodystrophy (ALD) -- that claimed his older brother John's life in 1993, and the baseball community has long been the supportive of the umpire whose family has endured such unimaginable grief. For virtually the entirety of his too-short life, Michael suffered from seizures that left him unable to drive a car, live on his own or work a steady job. He was dependent upon his parents and upon the baseball world that wrapped him in its arms and gave him a purpose and a passion.
"That's one of those things that people don't know in baseball that go beyond the score of the game," Francona said. "It's just hard not to think of things like that when I see John go by. I cared about Mike so much."
This is the 62-year-old Hirschbeck's fifth World Series assignment. His first also involved the Indians, in 1995. When Hirschbeck got the call from chief baseball officer Joe Torre earlier this month with the news that he had been selected as this Series' crew chief, the American League Championship Series was not yet completed. But the inclusion of the Indians -- Michael's favorite team -- meant that Hirschbeck's Fall Classic career would come full circle.
"I live in the area, so I'm glad for Cleveland," Hirschbeck said. "It was nice to see. I was happy for Cleveland, happy for the fans, happy for Ohio and happy to be home."
Soon, he'll be home for good. But if you think the tie between the umpire and this particular team have or would affect his calls, at least one independent analysis of his strike-zone calls when he was behind home plate for Game 3 concluded they proved more favorable for the Cubs than the Tribe.
Hirschbeck drew the ire of Indians fans in the Twitterverse with some of those calls, and, having done this job in some capacity ever since he was a high school kid umpiring Little League games as a part-time job, he's accustomed to being second-guessed.
"You become hardened," he said. "It bothers you when you do make a mistake. Now, everybody says, 'You can get them right all the time with replay,' but it still bothers us. You go out there and you work hard every day to do your best and then just let God handle the rest."
Of course, no discussion of Hirschbeck's career is complete without mention of the called third strike on Roberto Alomar on Sept. 27, 1996, that prompted the Hall of Fame second baseman to go ballistic and spit at the umpire's face.
Everybody remembers the incident, though not as many fans are aware of the friendship that was forged after the fact.
"I don't have any problem with people saying, 'Oh, you're the guy,'" Hirschbeck said. "I've always said this and I mean it with all my heart: If that's the worst thing he ever does with his life, he'll have led one hell of a life. It was a slip, I can always say I wish I didn't call that pitch a strike, it was too far outside. I wish it didn't happen, but things in life happen and we just have to move on and deal with them. And I have. I dealt with it a long time ago. I have no animosity. He's a friend."
Hirschbeck's heartbreaking loss of both his sons has given him proper perspective on what matters most in life. And as the umpire prepares to call it quits, he is thankful for a game that has been good to him and his family.
"I've had enough, I've done enough and I don't have any regrets or feelings negatively in any way about it," he said. "It's a good, confident, peaceful feeling. I feel very blessed."
On this, he'll get no argument from Francona.
"I'm happy for him," Francona said. "I'm glad John's doing it on his own terms."
Anthony Castrovince has been a reporter for MLB.com since 2004. Read his columns and follow him on Twitter at @Castrovince. This story was not subject to the approval of Major League Baseball or its clubs.