MLB.com Columnist
Anthony Castrovince
Tribe's ride bittersweet for Brantley, Carrasco
Francona acknowledges that injured pair still 'a big part of our team'
CLEVELAND -- It's hard to watch, if you want to know the truth.
They have smiled through the champagne celebrations while standing off to the side of the room. They have been supportive, proactive teammates, quick to offer a word of advice or a reason to laugh in a moment of high anxiety. They have admirably made the most of the frustrating fact that this Indians team has put itself a win away from a World Series title without them.
But for Michael Brantley and Carlos Carrasco, no matter what they say publicly (and Brantley, true to form, says very little), this postseason run has mixed the bitter with the sweet, and the agony of injury eats away at them.
"Inside of me, I feel destroyed," Carrasco said. "But outside, I need to continue to be the same guy I was in Spring Training and during the season, before my injury."
• Shop for Indians World Series and AL champs gear
Carrasco was hit on the hand by an Ian Kinsler comebacker on Sept. 17, breaking the fifth metacarpal and shelving him for the season.
Brantley had offseason right shoulder surgery in early November, rehabbed, played 11 games, went back on the disabled list and, because of a follow-up procedure in August, never made it back.
"I just embrace what I can right now," Brantley said. "I've dealt with [the setbacks], and it's in the past."
His teammates wonder what might have been.
"He doesn't like to miss one game, let alone 150," fellow outfielder Lonnie Chisenhall said. "We would love to have him. We might have been scary good."
It's amazing -- not just in the small-picture subplot of this postseason, but also in the big-picture outlook of this organization -- that the Indians have done what they've done this year with only the briefest of Brantley contributions and with a Carrasco season that twice was unhinged by injury (he also missed more than a month with a left hamstring strain).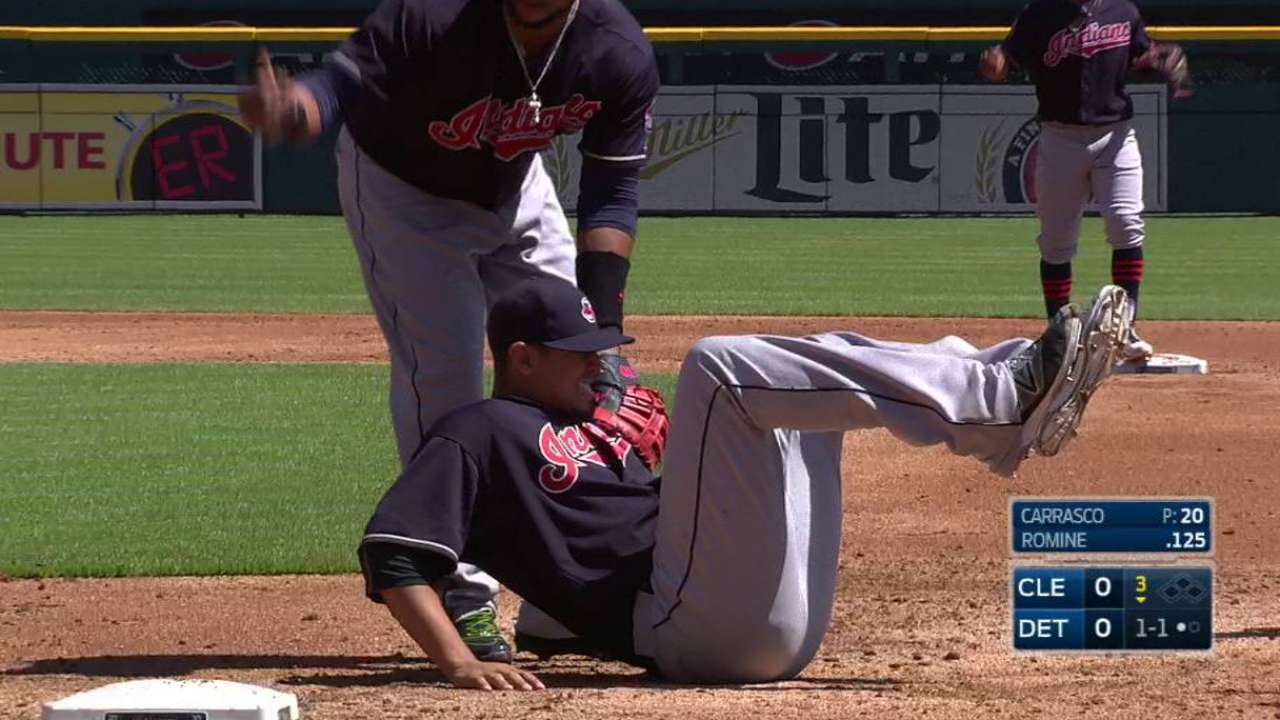 Less than a decade ago, the Indians knew their only path back to the postseason had to involve the hard-to-stomach swaps of established American League Cy Young Award winners -- and expiring assets -- CC Sabathia and Cliff Lee. The 2008 and '09 trades that sent those rotation linchpins elsewhere brought back bushels of prospect potential but only two stars that stuck. There is no CC and no Lee (and heck, not even erstwhile relief prospect C.C. Lee panned out), and Brantley and Carrasco are the last vestiges of the overhaul of the Indians' previous postseason entrant.
So back in April, you would have thought that for the Indians to get to this point of playing a Game 6 at Progressive Field with their first title in 68 years on the line, Brantley and Carrasco would have played a big part. Instead, the only contribution from Brantley's bat was that it was loaned to Corey Kluber for the pitcher's key plate appearance in the second inning in Game 4. And while Carrasco did give the Indians 146 1/3 good innings this season, he contributed neither the Cy Young-worthy stride nor the sheer October availability that was hoped for.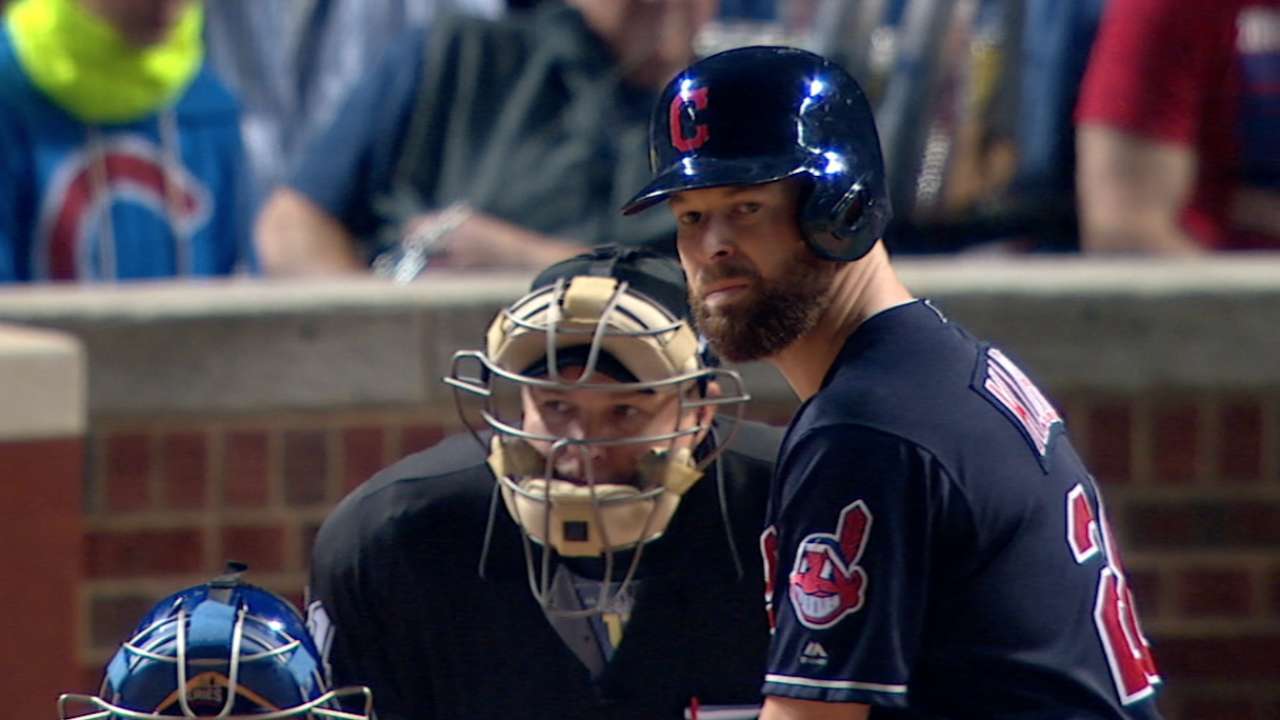 "They're a big part of our team," manager Terry Francona has said. "And we made sure that they know that, because it's hard. I bet you Brantley would cut off his shoulder if he thought he could play. But that doesn't lessen how we feel about them or their importance. It's just sometimes, guys get hurt. It's just the way the game is."
It is a credit to Francona's managerial moves and the "next-man-up" mentality that thrives in the Tribe clubhouse that the Indians have made do without their best hitter and one of their best starting pitchers. But while Brantley and Carrasco are obviously happy for their mates, they've had to come to grips with the fact that their role in this wild October ride has been an extremely limited one.
"Unfortunately, it wasn't in the cards for me," Brantley said. "But I'm here with my teammates. I get to support them and be in this great atmosphere. If I'm not physically out there playing with them, I'm in the dugout, and anything I can pick up on that I learn or feel like would help a teammate out, I just try to express it to them."
As one example, it was Brantley who immediately got in Francisco Lindor's ear when the young shortstop was caught stealing early in this Fall Classic. Brantley encouraged him not to let the setback affect his aggressiveness.
"It's hard when you're hurt," Francona said. "It's almost like there's an invisible wall that goes up, because you don't really quite share in all the frustrations, even though you care. It's just different. I've been through it. It's hard. Brant has found a way to eclipse that and still be a leader, which is not easy to do. I think it speaks volumes about him."
Carrasco describes his reduced role differently.
"Pretty much, I'm the clown on the team," he said with a smile. "So that's what I have to do for the guys. Make them laugh."
Carrasco came out of his cast during the AL Championship Series and is progressing to the point where he should begin throwing bullpen sessions in December. He ought to be ready to roll by Spring Training.
Brantley's situation is inherently more complicated, only because past prognoses and timetables associated with his recovery from the shoulder injury sustained on a dive in the outfield grass in Minneapolis in September 2015 have proven unreliable. But the Indians dismiss reports that Brantley could miss part of the 2017 season, and Brantley himself says his rehab is going well.
"I'm lifting, getting stronger," he said. "Every day, I've got a program I'm sticking to. Everything's coming along great."
This deep run has actually benefited Brantley. He was scheduled to be in Cleveland for his rehab work for the entirety of October whether or not the Indians advanced.
"The boys are making it easier on me by going this long," Brantley said, "so I can spend extra time with them."
This time is valuable for all involved, even the injured or non-rostered ones on the sidelines. Postseason teams grow from the October experience, and whether or not the Indians nail down this World Series title, Brantley and Carrasco, both of whom are under the Indians' contractual control through at least 2018, hope to be back here again.
"I think it's important that we embrace it and learn together," Brantley said. "We're still a young team that's hopefully going to stay together for a long time."
But 2016 has proven to be the Indians' time to shine. And it's absolutely difficult for Brantley and Carrasco to not be an active part of it.
Anthony Castrovince has been a reporter for MLB.com since 2004. Read his columns and follow him on Twitter at @Castrovince. This story was not subject to the approval of Major League Baseball or its clubs.