MLB.com Columnist
Jonathan Mayo
Braves in AFL: Demeritte, Peterson make transitions
MLB Pipeline checks in on Atlanta's prospects in the Arizona Fall League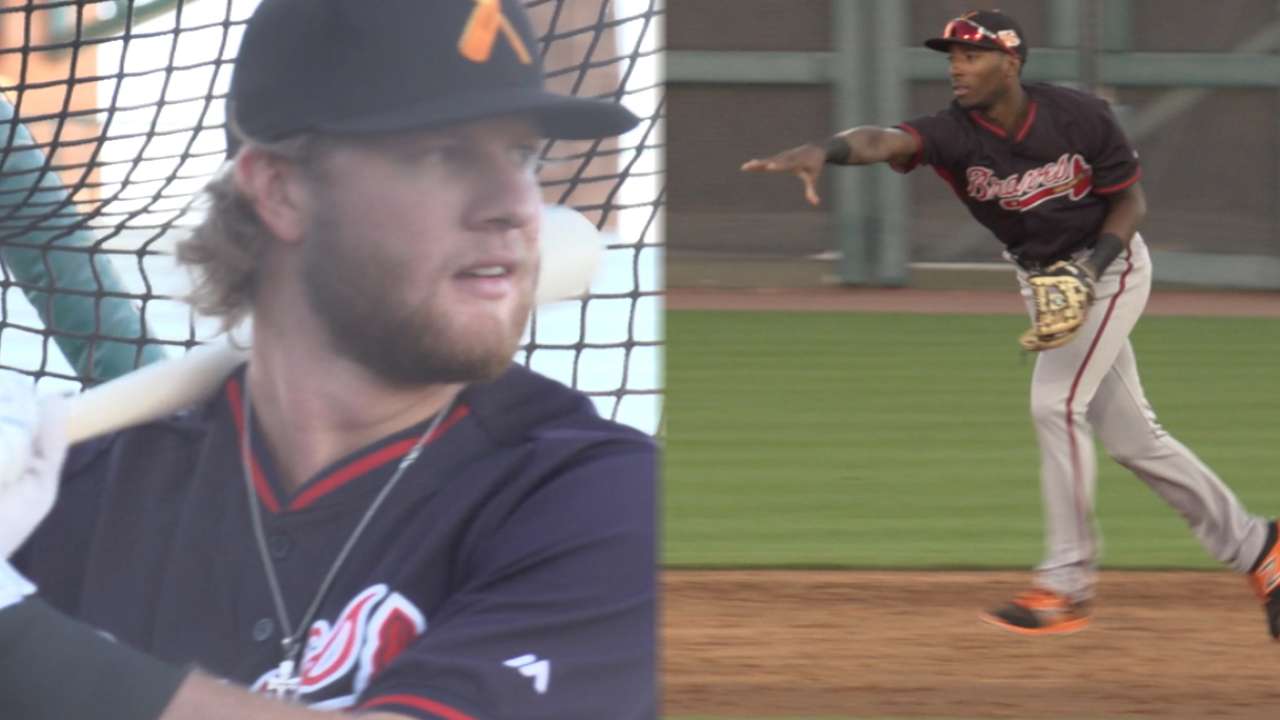 Dustin Peterson and Travis Demeritte had never played together until coming to the Arizona Fall League and playing for the Salt River Rafters. But they do have a few things in common, beyond both being on the Braves Top 30 prospects list, Demeritte at No. 9 and Peterson at No. 18.
Both are not original members of the Braves organization. They came to the system via trades, and both took place while they were still in A ball. Peterson came by way of the Justin Upton trade with the Padres in December 2014 and this AFL stint is a finishing touch to his second full season in the organization, which was a strong one in Double-A.
For Demeritte, it's a much more recent change. He was having a huge year in the California League with the Texas Rangers affiliate in High Desert, one that included a trip to the Futures Game, when he was sent to the Braves before the Trade Deadline this July in the deal for Dario Alvarez and Lucas Harrell. Even though Demeritte was returning home -- he grew up outside of Altanta -- it has taken some getting used to.
"It's kind of rough, not knowing what they expect coming into a new organization, kind of abruptly leaving my home, so to speak," Demeritte said. "I had been there for the past four years, the relationships I had established there, having to start over again was sort of a rough transition. But the Braves welcomed me with open arms and they've done everything within their power to make me feel welcome. I'm appreciative of it and glad to be home, playing for the hometown team."
• Complete Arizona Fall League coverage
Both Demeritte and Peterson have also had to learn new positions as professionals. Peterson was drafted as a third baseman and played there exclusively when he was with the Padres. Following the trade, the Braves moved him to the outfield and he's settled in as a solid left fielder. It's a move Peterson feels has helped his all-around game.
"It's been good, I enjoy it out there," Peterson said. "It's kind of freed up my hitting. I've just been having fun. Wherever they want me to play, that's where I'm going to play.
"You're out there, you kind of talk to yourself. You don't get as many balls per game as you do in the infield. It's kind of laid back and it just frees up your game. I can focus more on hitting when I'm out there, instead of having to worry about a bunt, know the bunt plays, if a guy's stealing. It's really freed me up and I like it."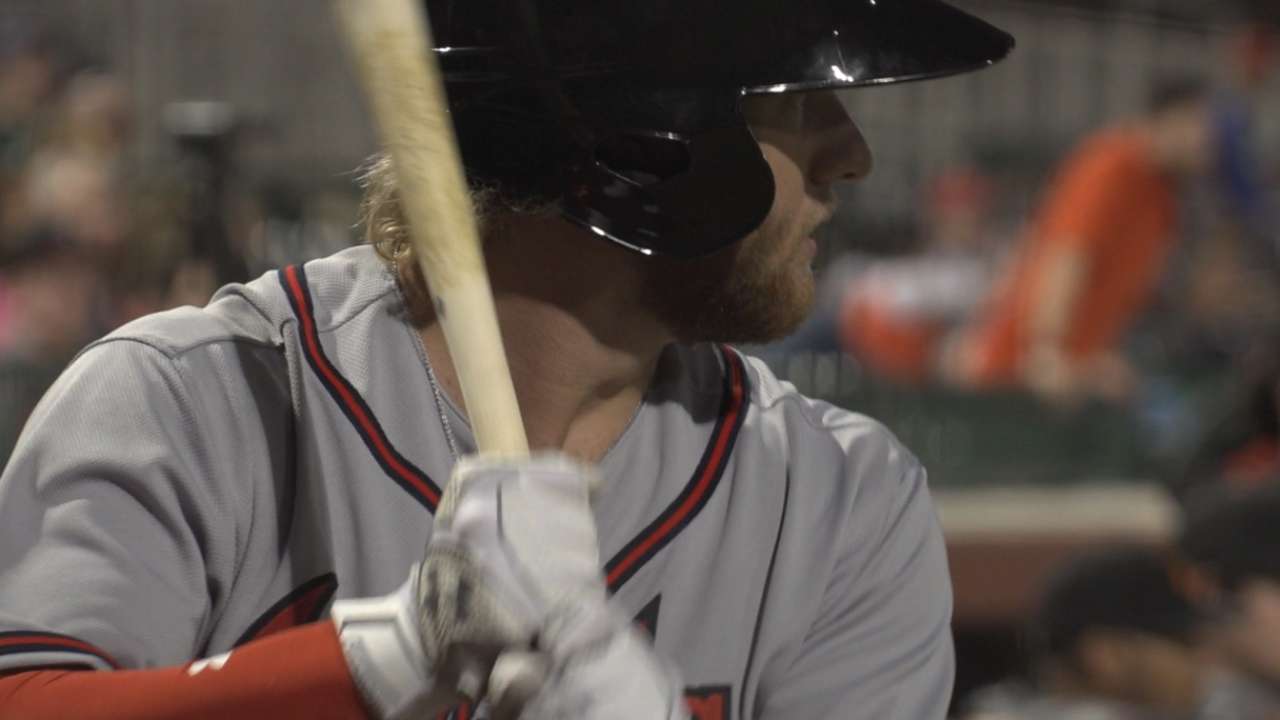 Demeritte, meanwhile, was a shortstop in high school and played there a bit during his pro debut back in 2013. There was some thought to having him play third, but with the Rangers' glut of players at the hot corner, they moved the infielder to second base. How that might work in Atlanta, with Dansby Swanson and Ozzie Albies likely up the middle for some time, will have to be addressed eventually. For now, though, Demeritte continues to work on his craft at second this fall.
"It's been pretty much an easy transition," Demeritte said. "I've played around the infield all my life, so it wasn't that difficult for me. I've embraced the challenge and I feel like I've conquered it pretty well. I feel I still have a couple of little things to work on there. For the most part, I feel pretty comfortable over there."
Peterson has continued to improve each season, with each level he reaches. He set career highs in just about every offensive category in 2016, impressive considering the leap to Double-A can often cause prospects to struggle.
"That's just my goal, to try and get better every year, try to make it to the big leagues," Peterson said. "I've been maturing as a hitter and it's all been clicking and coming along. I'm growing. Not much of a change. Starting to get some man strength, you could say."
Demeritte clearly has plenty of strength. He hit 25 home runs in the South Atlantic League in 2014, then 28 more this past season. Some may want to see that at the upper levels, away from the friendly confines of High Desert, though he did slug .476 after the trade. He knows he needs to refine his approach (175 strikeouts in 2016) as well as other aspects of his game, something he hopes to keep doing for the remaining weeks of the Fall League.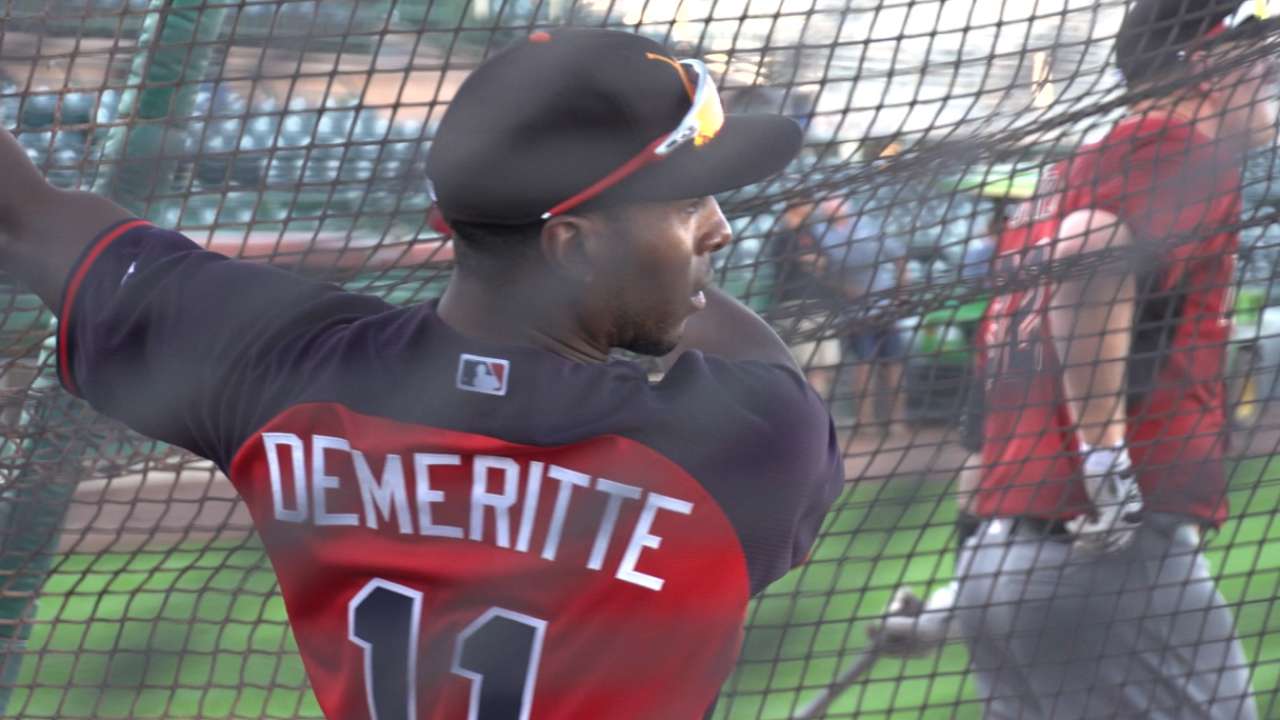 "I'm just looking to round out my game, become a more complete player," Demeritte said. "Work on stealing, getting better jumps, better reads on the basepaths. Work on finding solid contact when I'm at the plate and hitting with two strikes as well."
Braves hitters in the Fall League
Travis Demeritte, 2B
Dylan Moore, SS
Dustin Peterson, OF
Kade Scivicque, C
Initially drafted by the Texas Rangers in the seventh round of the 2015 Draft out of Central Florida, Moore was sent to the Braves in late August as part of a three-team deal with the Marlins that included Jeff Francoeur and international bonus slots. Combined, he hit 14 homers and stole 42 bases and he's played every position other than catcher. Playing mostly shortstop in the AFL, with some third base mixed in, Moore has gone 8-for-22 with a pair of homers.
When the Braves dealt Erick Aybar to the Tigers in August to make room for Dansby Swanson, they got Scivcque back as part of the return. The former LSU backstop had been a fourth-round pick in 2015 as a strong senior sign and made it up to Double-A in the Braves system by the end of the year. A strong AFL could help him hit the ground running back at that level in 2017.
Braves pitchers in the Fall League
Chris Ellis, RHP
Akeel Morris, RHP
Evan Phillips, RHP
Ellis came to the Braves from the Angels in the Andrelton Simmons deal last offseason and he pitched well in Double-A in his first season with the Braves, with a 2.75 ERA and .201 BAA, enabling him to get bumped to Triple-A in June. He struggled there, and with his command overall in 2016, finishing with a 5.4 BB/9 ratio. It's something he continued to work on with the Salt River Rafters.
Armed with one of the best changeups in the Minors, Morris was dealt from the Mets to the Braves in June in the Kelly Johnson trade. The native of the U.S. Virgin Islands pitched well for Double-A Mississippi following the trade, albeit with too high of a walk rate. He could impact Atlanta's bullpen at some point in 2017.
Phillips came to the Braves as a 17th-round pick of the 2015 Draft out of UNC Wilmington. A starter in college, he's done nothing but pitch in relief in the Braves system, using a mid-90s fastball and good slider to reach Double-A in his first full season. If he can continue to miss bats and keep the walk rate in check, he could be a middle reliever/setup man at the highest level.
Jonathan Mayo is a reporter for MLBPipeline.com. Follow him on Twitter @JonathanMayo and Facebook, and listen to him on the weekly Pipeline Podcast. This story was not subject to the approval of Major League Baseball or its clubs.