Red Sox in AFL: Kopech sharpens secondary stuff
MLB Pipeline checks in on Boston's prospects in the Arizona Fall League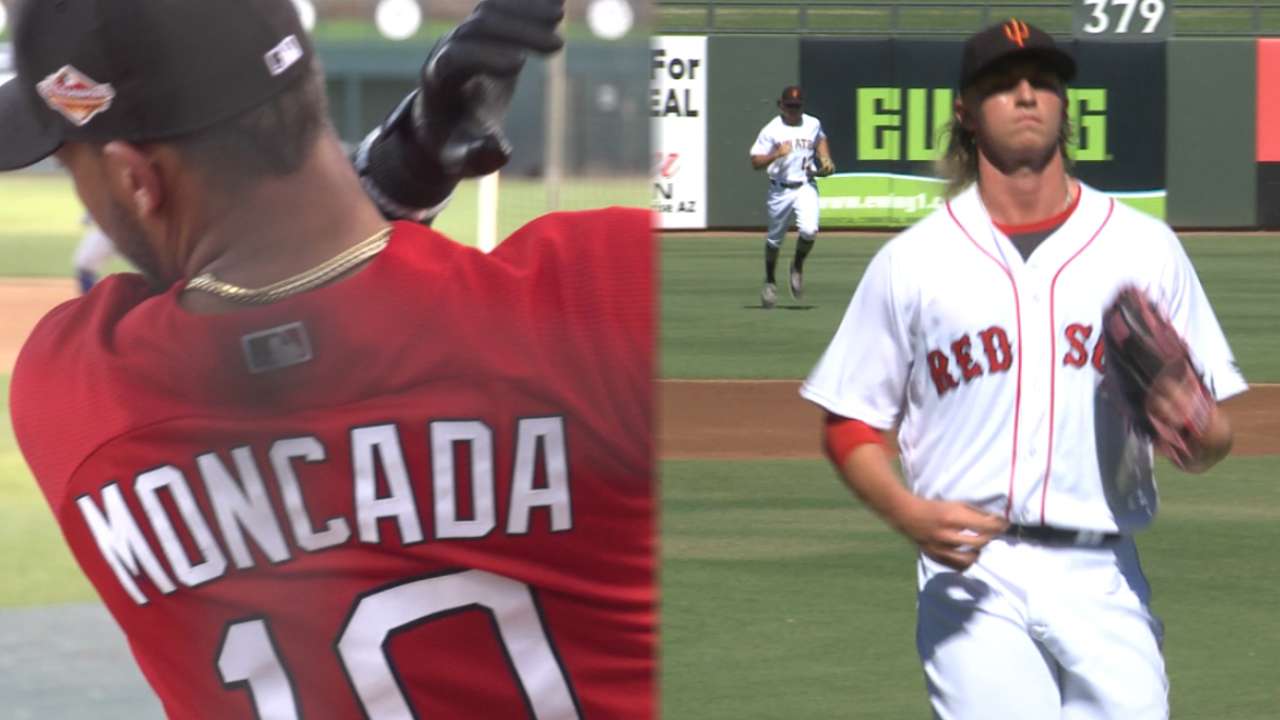 SURPRISE, Ariz. -- Michael Kopech and Yoan Moncada have each experienced highs and lows this season. The Red Sox prospects have been the talk of the baseball world and, conversely, they've each had obstacles to overcome.
Moncada, baseball's top overall prospect, hit .294 in 106 games with Class A Advanced Salem and Double-A Portland before he was called up to the Red Sox.
Although his promotion caused quite a stir, he struggled to make contact, striking out 12 times in 19 at-bats. Even so, the time spent around Major Leaguers was beneficial.
"Spending a couple of days in the big leagues was a very nice experience for me," Moncada said. "That was the dream I came looking for when I left Cuba and my dream came true. For me, it was something incredible because I was next to David Ortiz, who retired this year, next to Dustin (Pedroia) and other teammates up there."
• Complete Arizona Fall League coverage
Attempting to build off that experience, Moncada came to the Fall League looking to fine-tune the fundamentals, but his AFL stint was cut short after he sprained his left thumb.
Moncada hit .292 with a homer and three RBIs in six AFL games before the Red Sox shut him down.
While Moncada made headlines with his Major League debut, Kopech turned heads when his fastball was clocked at 105 mph in a start with Salem.
"Not too worried about the attention, to be honest," Kopech, Boston's No. 5 prospect, said. "It kind of took the numbers out of it. I hit 105 (mph), now I don't have to worry about how hard I throw, everybody's heard already. I was able to just pitch, I don't have to worry about how hard I was throwing, I think it was actually good for me."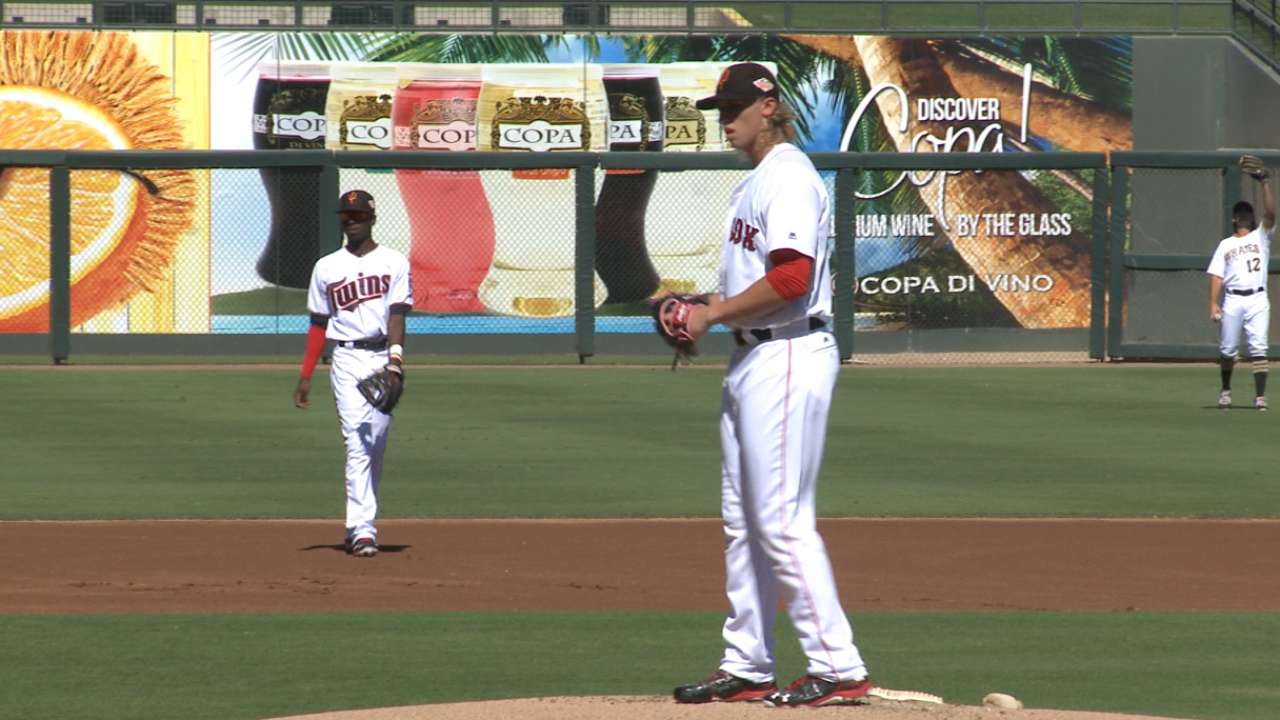 And when he focused on pitching, all went well. The right-hander, baseball's No. 67 overall prospect, went 4-1 and posted a 2.25 ERA in 11 starts with Salem. Kopech tossed just 56 1/3 innings this season because he broke his hand during an altercation in Spring Training.
The 20-year-old is making up the innings in the Arizona Fall League, where he's struck out 12 in 10 innings.
"A big thing for me has been working on my secondary stuff, change-up command has been huge, I was able to work that in today," Kopech said after his start on Oct. 15.
Red Sox hitters in the Fall League
Mauricio Dubon, SS
Danny Mars, OF
Dubon, Boston's No. 12 prospect, has been impressive offensively. The Honduran native doesn't have exceptional power, but has good bat control and hit .323 in 124 games across two levels this season. Dubon has continued to show a good approac in the AFL, hitting .293 with hits in seven of the 10 games he's played in.
Mars struggled a bit offensively in 2015, but bounced back this season, even while moving up a level. The 22-year-old hit .293 in 108 games in Salem and notched a career-high 54 RBIs.
Red Sox pitchers in the Fall League
Trey Ball LHP
Jalen Beeks, LHP
Jamie Callahan, RHP
Ball saw better results in 2016, posting a 3.84 ERA in 23 starts with Salem. The Red Sox's No. 14 prospect is a highly-projectable 6-foot-6, lefty with a low-to-mid 90s fastball and a cutter that is still developing. Ball's best off-speed pitch is his changeup.
The No. 29 prospect in Boston's system, Beeks lowered his ERA from 4.32 in 2015 to 3.87 this season. Beeks struggled a bit once he was promoted to Double-A in mid-June and despite his strong command and low 90s fastball, his future role remains unclear.
Callahan is off to a strong start in the AFL, having allowed zero runs in his six appearances. The 22-year-old transitioned to the bullpen in 2015. Walks have been an issue for Callahan, but he's also shown an ability to get strikeouts, totaling 157 in 155 innings over the past two seasons and seven in six innings so far in the Fall League.
William Boor is a reporter for MLB.com. Follow him on Twitter at @wboor. This story was not subject to the approval of Major League Baseball or its clubs.