Ross says farewell to Wrigley in style
Catcher teams with Lester to shut down Indians, adds sac fly in 3-run 4th inning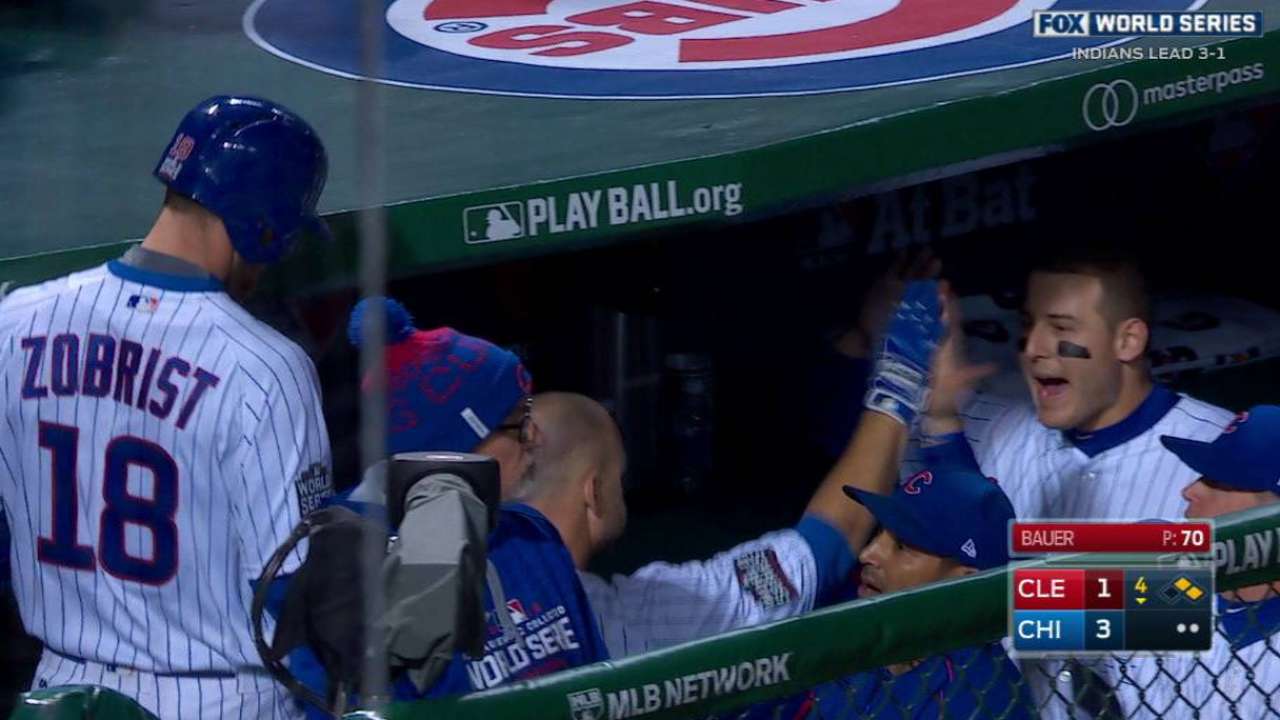 CHICAGO -- David Ross began the day of the last game he'll play at Wrigley Field feeding his 1-year-old daughter, Harper, around 4 a.m. CT. He didn't get back to sleep until a couple of hours later, and then had to entertain out-of-town friends, who were looking for the perfect bar outside Wrigley Field prior to Game 5 of the World Series on Sunday.
Ross knew he was starting against the Indians in a potential elimination game. That was natural. Jon Lester was pitching, and the two have been nearly inseparable. But this was the last time Ross and Lester would be paired together. Ross is retiring after this season, and he has tried to keep his emotions in check.
• World Series Game 6: Tuesday, 7:30 ET air time | 8 ET game time on FOX
"I'm trying to win the World Series," Ross said. "I'll have time to reflect on my career and these special moments. This is about the World Series and these guys in here."
He did his part, guiding Lester over six innings and then hitting a sacrifice fly in a three-run fourth inning that gave the Cubs the cushion they needed in a 3-2 win over the Indians, who now hold a 3-2 lead in the World Series. It was a fitting farewell.
• Shop for Cubs World Series and NL champs gear
"I've had a storybook year," Ross said. "There's so many things that have happened to me over this year. That's another cool one to get the sac fly ... and we hold on. The reason why we won is our pitching staff. They did such a good job."
Ross was on the bench when Aroldis Chapman took over for the save. But the catcher's night wasn't over. Pearl Jam singer Eddie Vedder led the Wrigley Field crowd in singing "Take Me Out to the Ball Game" during the seventh-inning stretch, and he gave a shout out to Ross.
"I've gotten to know him a little bit here, and he's a really down-to-earth, genuine human being," Ross said of Vedder, who is friends with Cubs president of baseball operations Theo Epstein. "Everybody's looking at me, saying, 'Dude, Eddie Vedder just dedicated the whole seventh-inning stretch to you.' My mind's blown away. He's just a good person to be who he is, a rock star. Everybody knows who Eddie Vedder is. To say my name is a huge compliment."
• Vedder dedicates seventh-inning stretch to Ross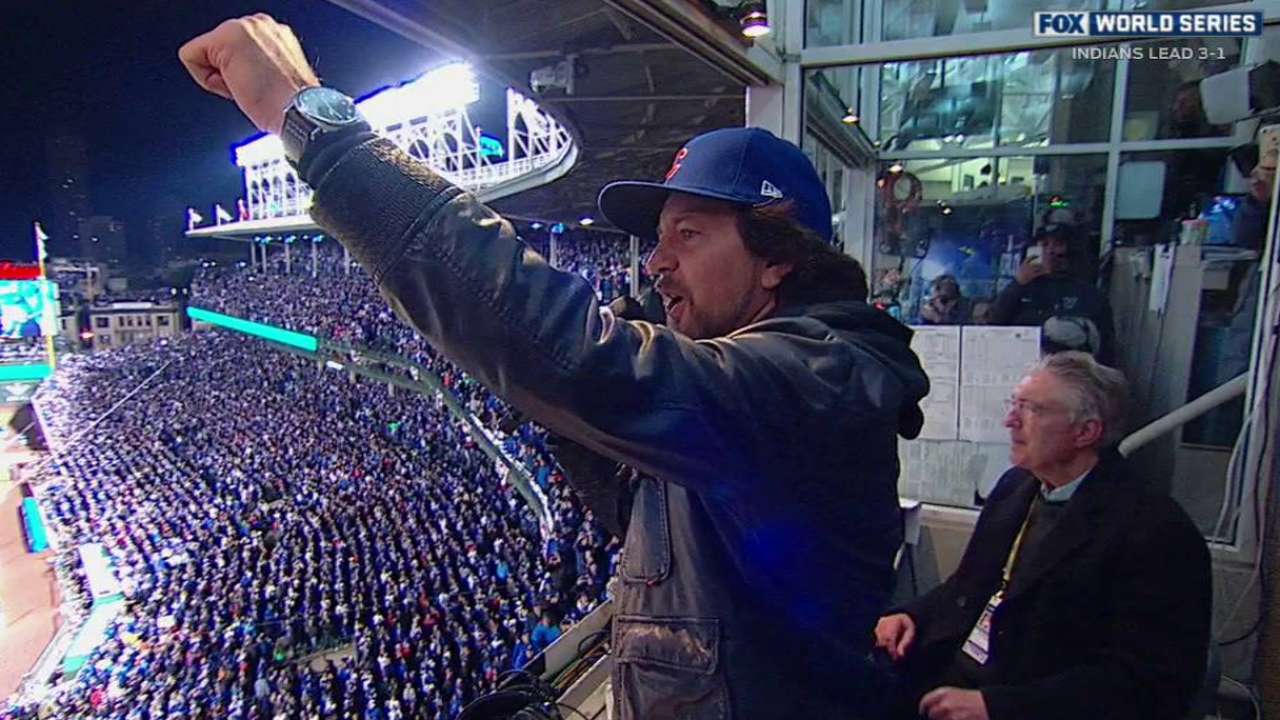 Before the game, Ross said he reflected on his career, which began in 2002 with the Dodgers and has included stops with the Pirates, Padres, Reds, Red Sox, and Braves. He inspired teammates Anthony Rizzo and Kris Bryant to create an Instagram account in Spring Training called "grandparossy_3," but they've been a little busy to update it. The last post is from six weeks ago featuring a photo of the trio in downtown Chicago.
But Ross and Lester have a bond that began in Boston, and became strong in the 2013 playoffs. Ross has caught Lester for more innings and more batters than any other catcher.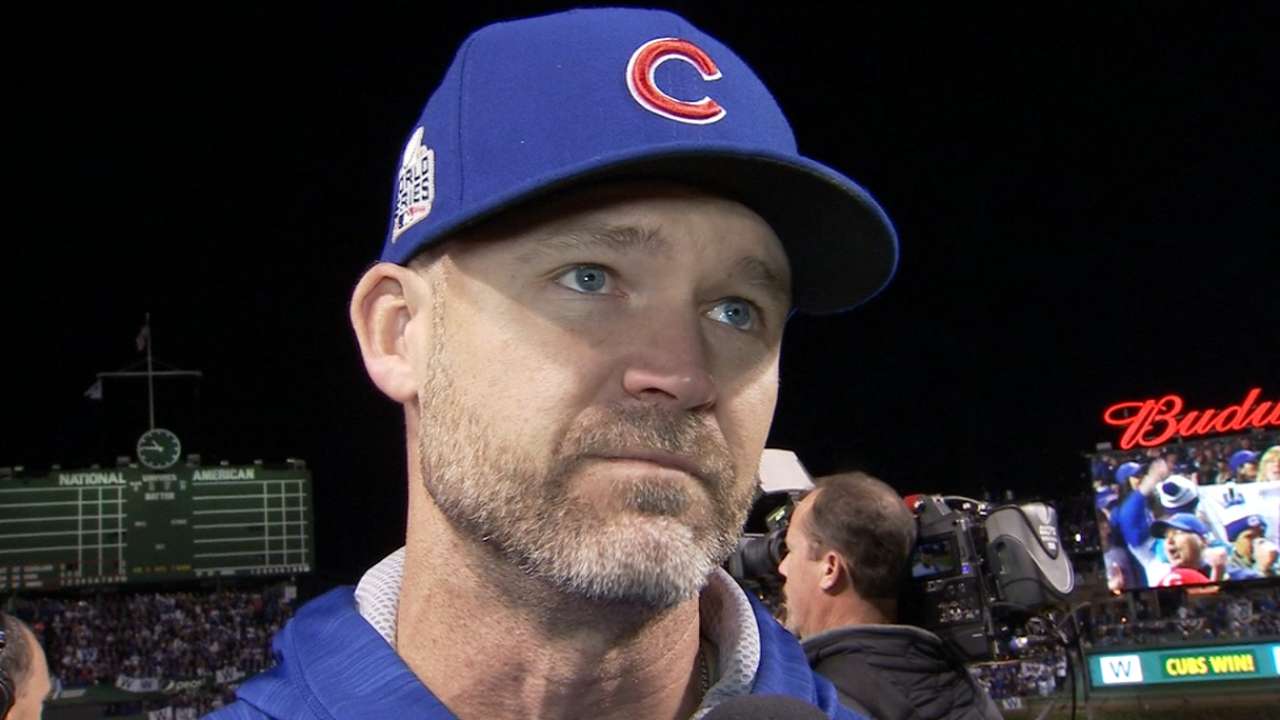 "Personally, there's not a better way to go out your last start than catching Jon Lester, who has won a World Series for me," Ross said. "To be on the stage here, my last time at Wrigley, and be catching him was a pretty amazing moment."
The two hugged in the dugout after Lester's outing was over. What did Ross say? He paused, his eyes watering. Ross looked away, and then softly answered.
"I just said I loved him, thanks for everything," Ross said. "I love him."
Carrie Muskat has covered the Cubs since 1987, and for MLB.com since 2001. She writes a blog, Muskat Ramblings. You can follow her on Twitter @CarrieMuskat and listen to her podcast. This story was not subject to the approval of Major League Baseball or its clubs.