MLB.com Columnist
Mike Bauman
Heading home, Indians remain in driver's seat
Tribe's prior resiliency, upcoming pitching show Game 5 loss won't knock club off course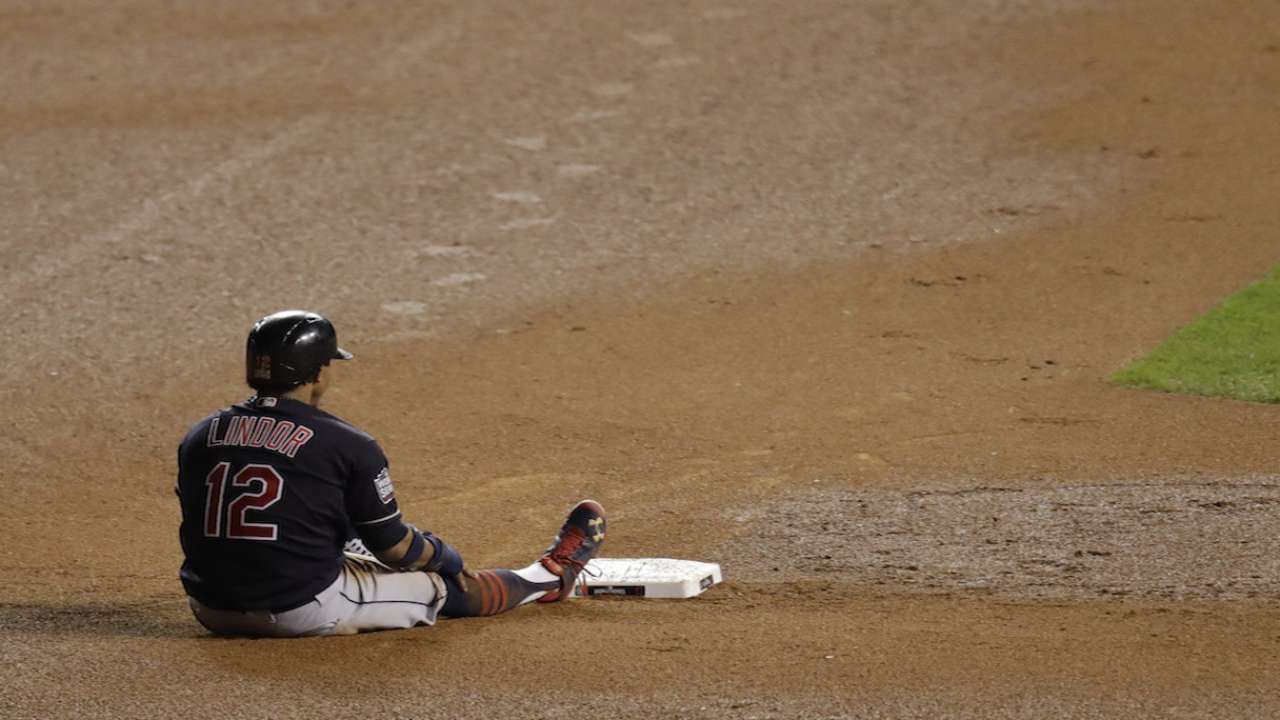 CHICAGO -- The Cleveland Indians have not been derailed. It is much more likely that they have merely been delayed.
On the brink of their first World Series championship in 68 years, the Indians dropped a 3-2 decision to the Chicago Cubs on Sunday night. That was disappointing, but on the other hand, the Tribe will take a 3-2 Series lead home to Cleveland for Game 6 on Tuesday night.
• World Series Game 6: Tuesday, 7:30 ET air time | 8 ET game time on FOX
The Cubs, who have scored only 10 runs in five games in this Series, managed to bunch three in the fourth inning off Cleveland starter Trevor Bauer. That was all they got for the entire evening, but that was one more than the Indians. Chicago took no chances, using closer Aroldis Chapman for 2 2/3 innings, the longest relief outing of his Major League career.
Here is what there is to like about the Indians' chances, beyond the obvious fact that they are ahead in the Series and will be playing at home: They have come this far behind two starting pitchers, one of whom has been pitching very well. The other one has been pitching at a level that is historically great.
• Shop for Indians World Series and AL champs gear
Josh Tomlin is the scheduled Game 6 starter. He is 2-0 with a 1.76 ERA in three starts this postseason. True, Tomlin has accumulated just 15 1/3 innings, but with the way Cleveland's bullpen has performed, long starts have not been a necessary component for this club to succeed.
If the Series goes to Game 7, the Tribe's starter would be its ace, Corey Kluber, who is 4-1 with a 0.89 ERA in five starts this postseason. This is the second-best postseason ERA for any pitcher who has made a minimum of five starts in a single postseason.
Both Tomlin and Kluber will be pitching on short rest, but manager Terry Francona has kept their pitch counts within reason. Kluber already won Game 4 on short rest. Beyond that, they're ready, willing and able take the ball.
"I think you could probably ask anybody on either team, and they're going to pitch whenever they're called upon at this point in time," Kluber said. "I mean, it's the last series of the year. It's the World Series. I think you'd be really hard-pressed to find somebody who didn't want to go out there and pitch."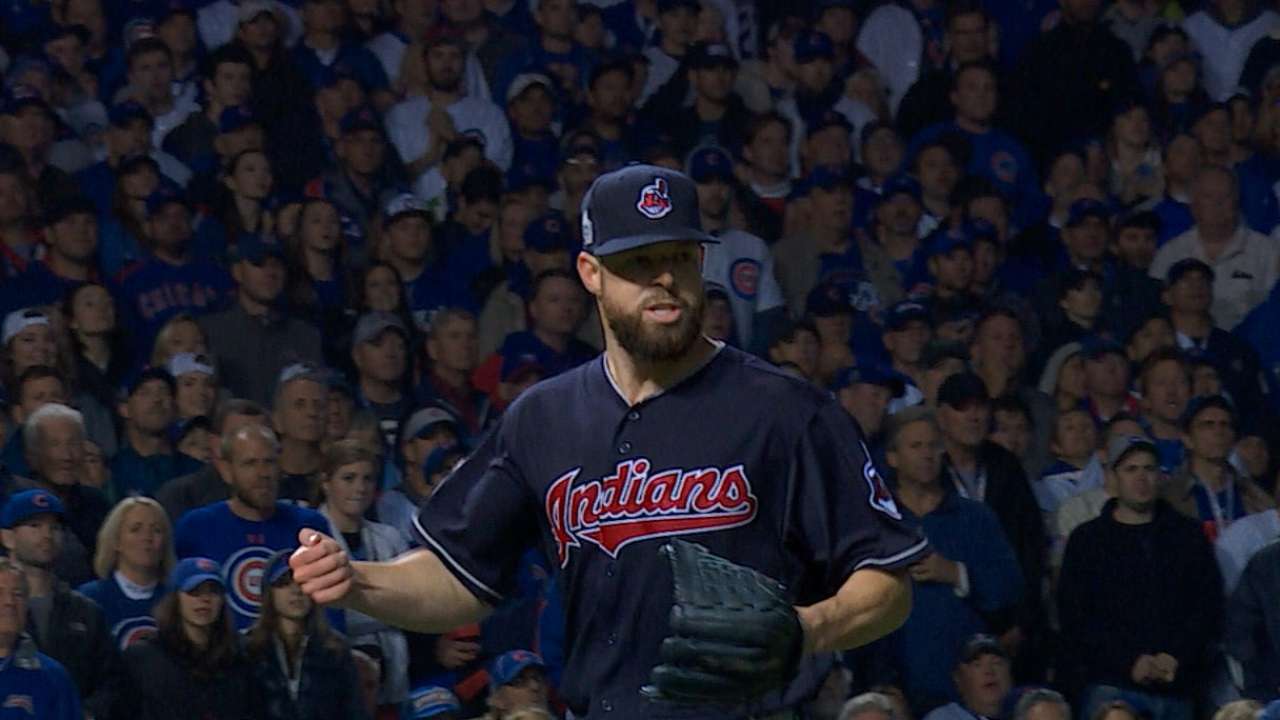 The Cubs aren't sending any chumps to the mound for the rest of the Series, either. Their scheduled Game 6 starter is the 2015 National League Cy Young Award winner, Jake Arrieta. Their Game 7 starter would be Kyle Hendricks, who led the Majors in ERA this season.
Still, the Indians have a masterful 1.84 ERA in this Series, Kluber has been the best starter on either team, and lefty reliever Andrew Miller, who has produced both quality and quantity for the Tribe, actually had a night off Sunday. Add in the off-day Monday and there is no telling how many innings Miller could pitch by Tuesday night.
The non-pitching Indians have an abiding belief in their pitching staff, as well they should. They have seen their hurlers hold down powerful lineups from Boston, Toronto and now Chicago this October.
"We still have the same pitching staff, I still believe in my pitching staff, I still believe that we can do it," shortstop Francisco Lindor said after the loss Sunday night. "We've got to play the game hard. We have to outplay them to win.
"I believe in my team. I believe in what we have. I'm looking forward to it. It should be pretty special. God willing, we're going to win."
The only member of Cleveland's abbreviated rotation who has not been outstanding is Bauer. He at least put up three scoreless innings before the Cubs reached him Sunday night.
While the Indians were conducting postgame interviews on the field in front of their dugout Sunday night, Chicago fans in the nearby grandstands were shouting at Bauer: "Bauer, we need you to pitch Game 6!" and "One more time, Bauer, one more time!"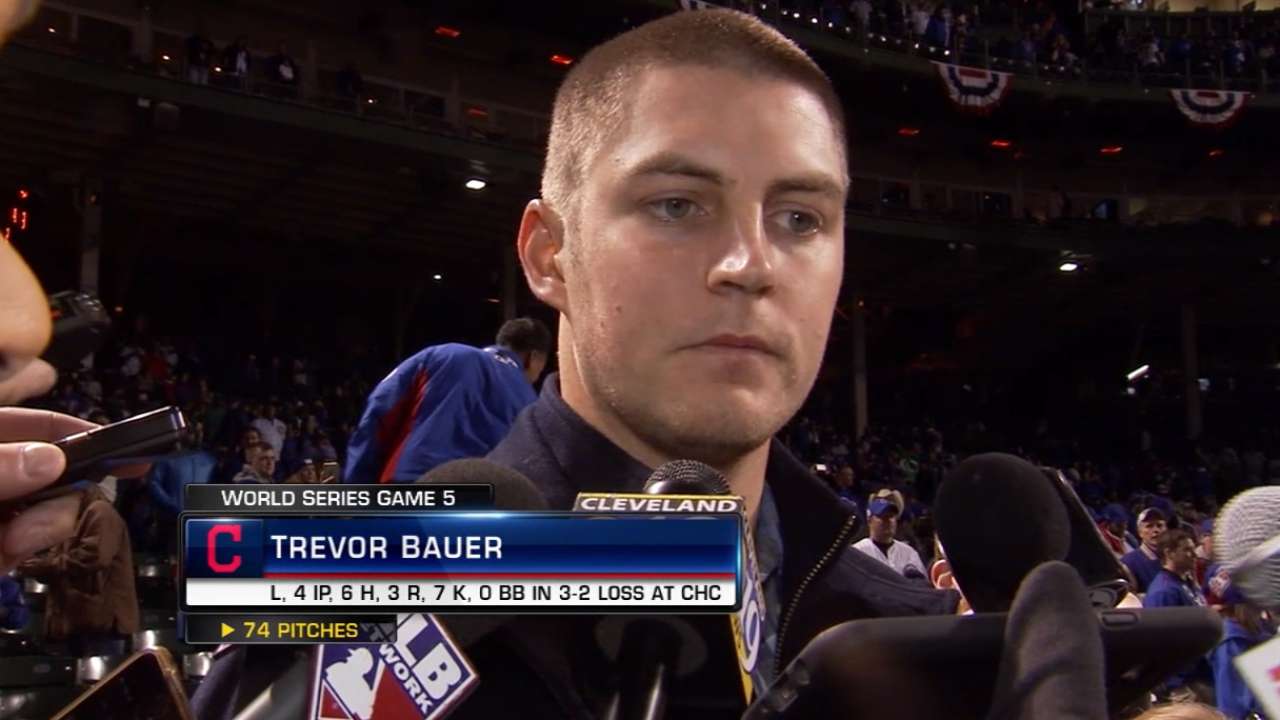 But Bauer isn't scheduled to start any more games for the Tribe in this World Series. Tomlin and Kluber, if necessary, will get those opportunities. Their work to date can only encourage Cleveland fans.
Plus, the basic, fundamental "one baseball game to play tonight" approach of Francona will not be altered. His work here has been impeccable. Francona is just one victory away from a third World Series championship as a manager, and his work in this Series demonstrates why he has succeeded at this lofty level.
Asked Sunday night for a "big-picture" view of his club's circumstances, Francona replied:
"Well, I don't know. I'm not real big picture. I think tomorrow we'll have an optional workout, but I know we need to be there for like media obligations, stuff like that. Guys will get treatments, stuff like that. And we have the good plane again, so we can fly around for a while. I don't care. Then we'll show up whatever day is the next day and see if we can beat them."
This has been a tremendous year for the Indians. Missing a major talent in Michael Brantley, missing two starting pitchers, the Tribe won its division and then won seven of eight games to become upset winners in two rounds of the postseason.
Now, on baseball's biggest stage, the Indians have won three of five from the Cubs, the team with baseball's best record. It does not seem like too much to ask for Cleveland to win one of two games at home with its most reliable starters ready to pitch.
Mike Bauman is a national columnist for MLB.com. This story was not subject to the approval of Major League Baseball or its clubs.