Game 5 win brings new hope for Cubs fans
Wrigleyville enjoying optimistic feeling once again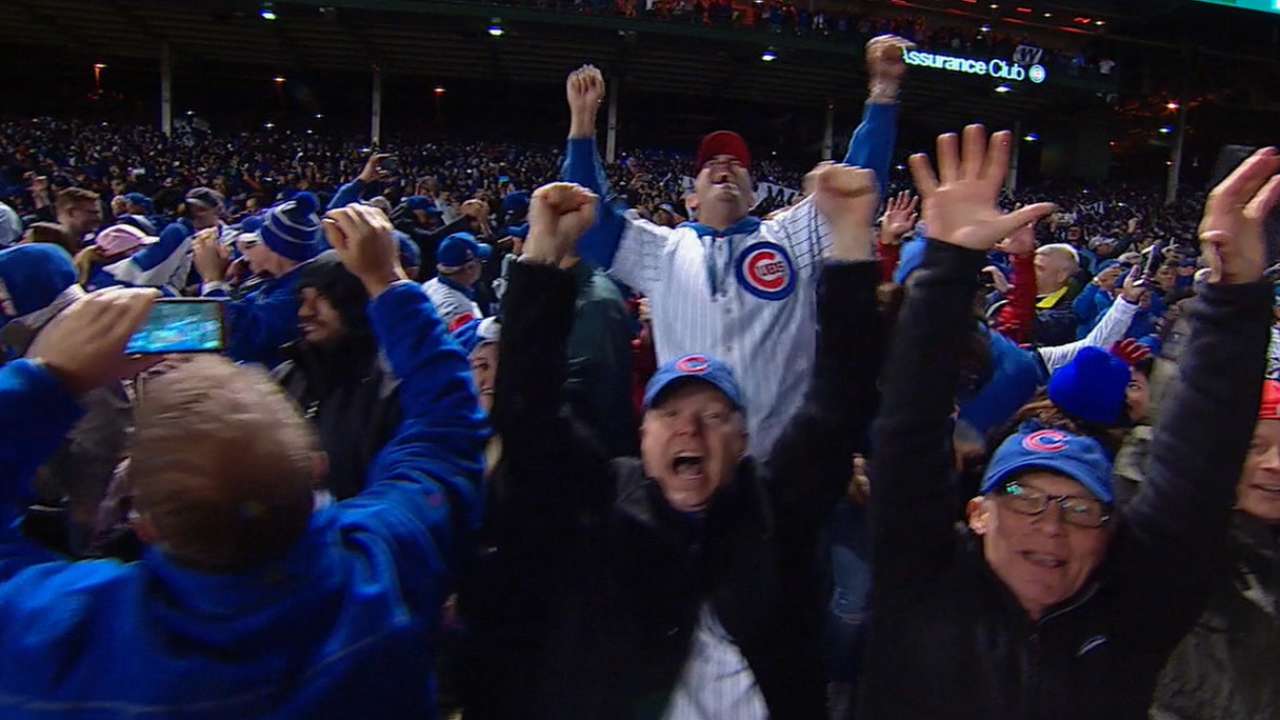 CHICAGO -- Once Brian Dogotch obtained Cubs season tickets last season, he made a decision to move from the River North area near downtown into Wrigleyville.
"I wanted to be close to the ballpark. I knew special things were coming," said Dogotch following the Cubs' 3-2 victory over the Indians on Sunday night at Wrigley Field in Game 5 of the World Series. "We knew Theo [Epstein] was doing his thing. We knew it was going to happen soon, so I said let's get close and be a part of it.
• World Series Game 6: Tuesday, 7:30 ET air time | 8 ET game time on FOX
"What we really wanted to do is be near it when it happens. I've been a Cubs fan my whole life."
"It" on Sunday represented the Cubs' first home World Series victory since 1945. The ultimate "it" Dogotch referred to still sits two tough wins away in Cleveland, beginning Tuesday night at Progressive Field.
But while the crowd on the streets might have been a little less packed than Friday night's overwhelming abundance for the weekend opener at Wrigley, the fans were still lively and not ready to wait until next year. At the corner of Sheffield and Addison, a few hundred fans gathered outside of a bar called Sports Corner and watched the plethora of televisions through the window.
• Shop for Cubs World Series and NL champs gear
Those fans actually had an advantage over the people sitting in the establishment as they heard the Wrigley reaction live, before fans inside saw it play out on the televisions via a slight delay. Aroldis Chapman's final strikeout of Jose Ramirez set off a wild celebration and allowed hope to live on for another few days.
"I definitely believe they can do it," said Tyson Hartnett, who was born in Evanston, Ill., but flew in from New York for a World Series weekend. "I always had faith. I still have faith."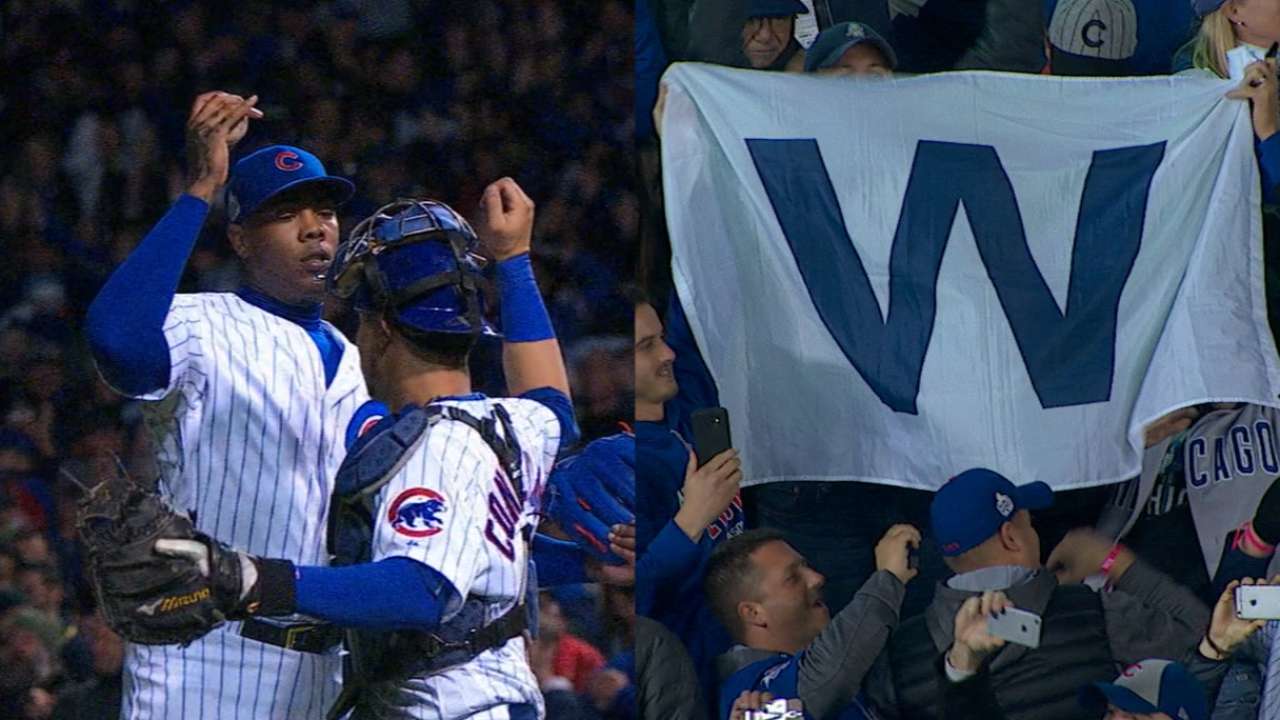 "I'm so excited. I'm so happy," said Paige Dombrowski, who hung out in the Wrigleyville neighborhood while her brother attended the game. "They had to win at least one here at Wrigley."
Frank Whittam and David Murray attended a NEEDTOBREATHE concert at the Aragon Ballroom to begin Sunday evening, but they made their way over to Wrigleyville for the final outs. Murray thought it was a bit of an omen for the Cubs and their fans, who needed to breathe after falling behind, 3-1, in the series to the Tribe and then come back fighting.
Dogotch and his friends will be back home Tuesday night for Game 6. It's a home exactly 480 feet from Wrigley Field, with one of his walls painted ivy to look like the Wrigley outfield. Actually, Dogotch and all of the Cubs' fans are hoping for two more World Series games and two more victories.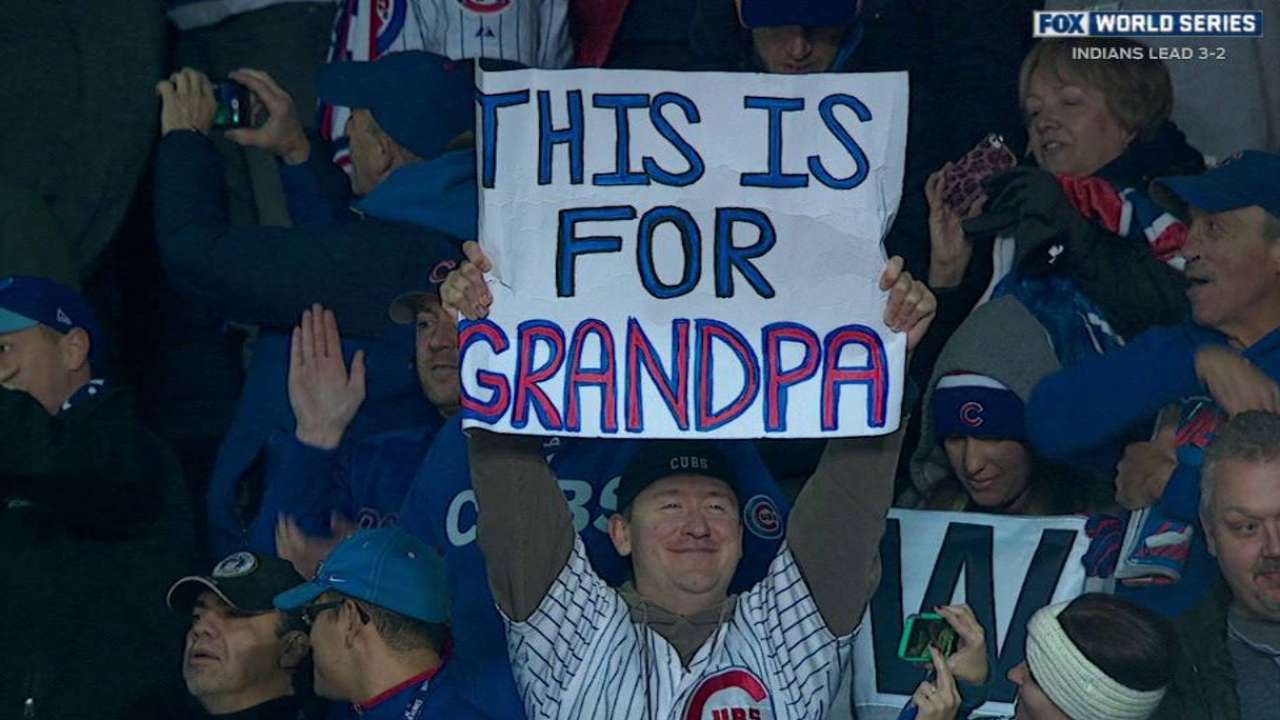 "That's what I'm hoping for, but I'm superstitious so I'm not about to say anything before it happens," Dombrowski said. "But I'm hoping."
"That's the life of a Cubs fan," Hartnett said. "They lift you up and then they bring you down, but we are still in it."
"Every time people say they are done, they are not done," Dogotch said. "They are the best team in baseball for a reason. They have everything it takes to win a long series."
Scott Merkin has covered the White Sox for MLB.com since 2003. Read his blog, Merk's Works, follow him on Twitter @scottmerkin, on Facebook and listen to his podcast. This story was not subject to the approval of Major League Baseball or its clubs.