Tribe gets top-notch relief without using Miller
Clevinger, Shaw and Allen keep Indians in G5 loss, give standout lefty extra rest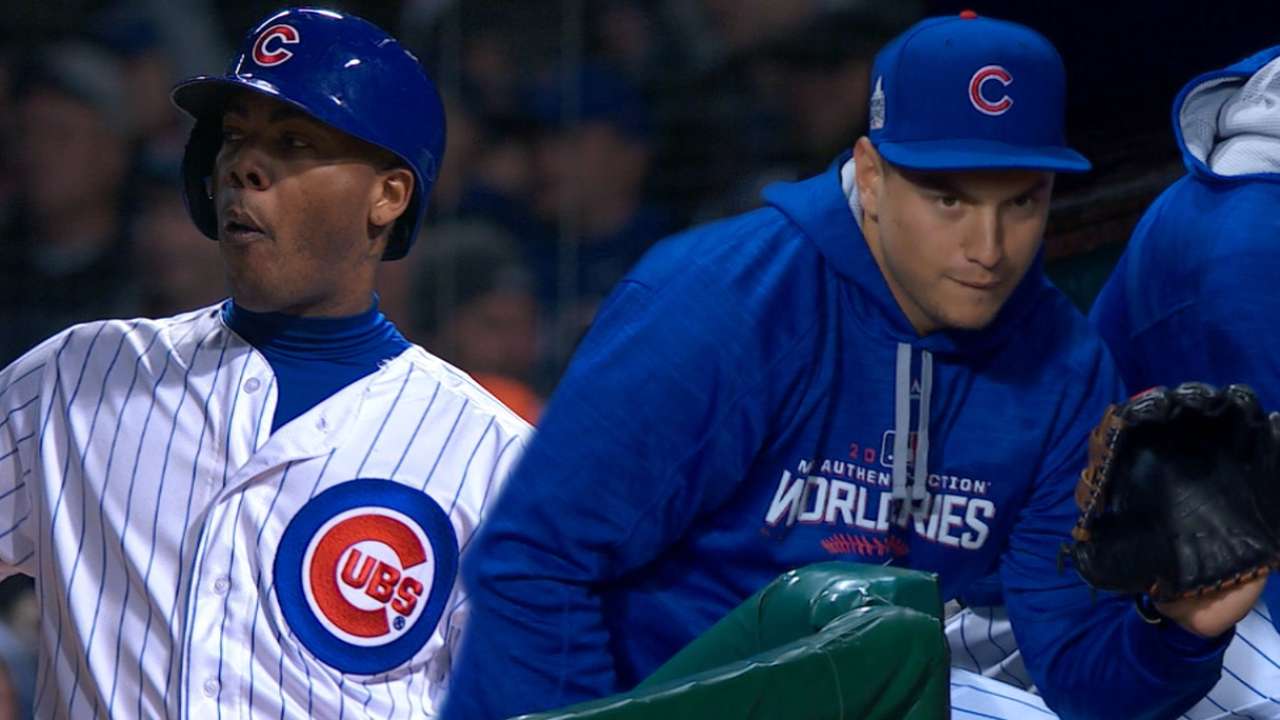 CHICAGO -- The Indians turned to three relievers not named Andrew Miller at Wrigley Field on Sunday evening, collectively replicating his postseason routine of dealing zeros, and a loss to the Cubs could hardly strip their performance of meaning.
The admirable work of Mike Clevinger, Bryan Shaw and Cody Allen, rather, was important for two reasons: it gave the Indians a chance to pull off a comeback and, once that was nixed with a 3-2 Cubs win in Game 5 to send the World Series back to Cleveland, it meant a two-day respite for Miller ahead of Game 6 on Tuesday.
• World Series Game 6: Tuesday, 7:30 ET air time | 8 ET game time on FOX
"He's going to be well-rested for these last two games," Indians pitching coach Mickey Callaway said, "and be ready to go."
The stalwart Miller didn't exactly enjoy a full day off. Despite never officially clocking in, the left-hander was on call at different parts of the game, hurriedly throwing in the bullpen during the eighth inning in case Allen needed an assist. But Allen, the right-handed closer who reversed roles with Miller on this night -- as manager Terry Francona hinted would happen ahead of the game -- managed fine on his own.
• Shop for Indians World Series and AL champs gear
Facing the top of the Cubs' lineup with one out in the seventh following Shaw's departure, Allen hit leadoff man Dexter Fowler and then watched as the outfielder raced for second on a stolen base with Kris Bryant at the plate. Allen buckled down, freezing Bryant on a called third strike, before intentionally walking Anthony Rizzo to face Ben Zobrist, who hit an inning-ending popout.
Allen returned for the eighth and struck out the side to work around a Jason Heyward single and keep his club within one run. Alas, the Indians couldn't rally off flamethrower Aroldis Chapman, who was asked to work 2 2/3 innings, in the ninth.
"Obviously if we would've tied it or gone ahead, [Miller] would've went in," Callaway said. "We had considered if Cody was going to have trouble, we wanted to keep it a one-run game knowing that their closer had to get eight outs. We knew that would be pretty tough. Fortunately we didn't have to use him."
The Indians looked elsewhere, calling on Clevinger for just the third time this postseason. The right-handed rookie was tasked with the heart of the Cubs' order to begin the fifth, after starter Trevor Bauer departed on the heels of a three-run fourth. Clevinger navigated traffic against the backdrop of a raucous crowd, compiling a scoreless inning despite walking a pair.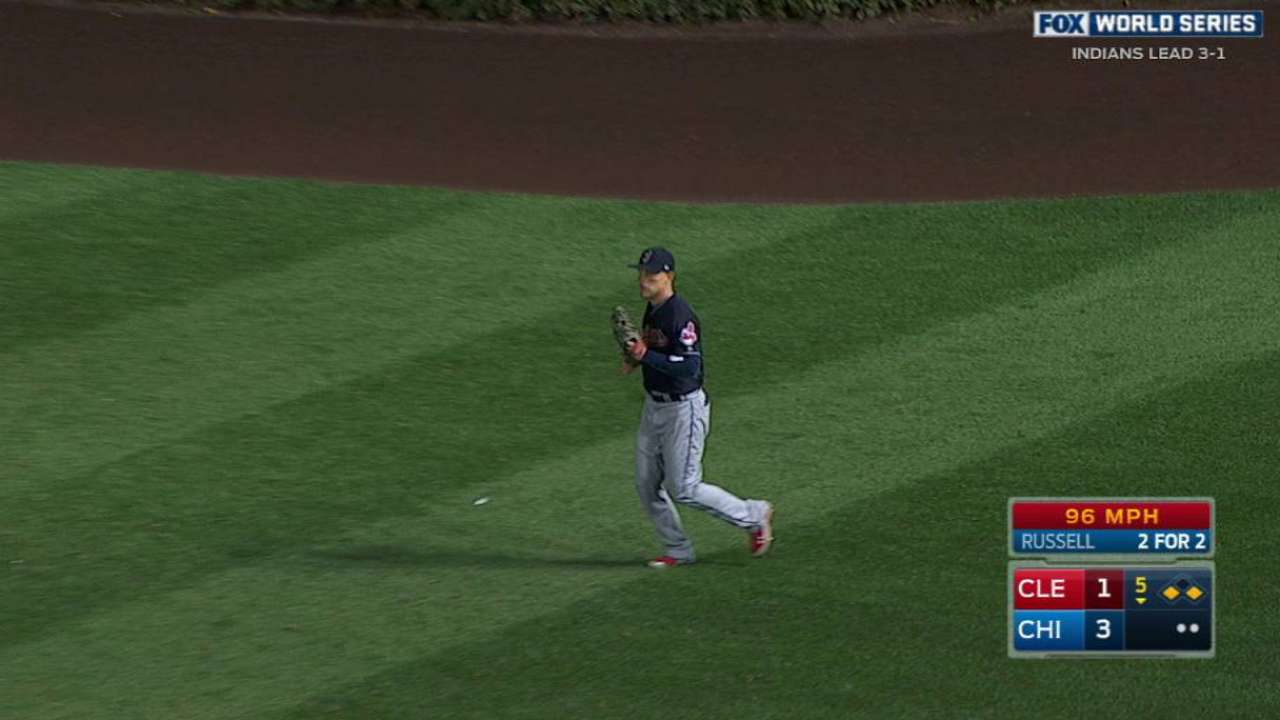 "The bullpen's done a good job all series, and they did another good job tonight," Bauer said. "I gave up three runs, but we still had a chance to win because of them."
Shaw was next in line, and he struck out the side in the sixth. The right-hander gave the Indians one more out ahead of Allen's entrance, helping Cleveland's bullpen lower its postseason ERA to 1.56, with only nine earned runs allowed in 52 innings.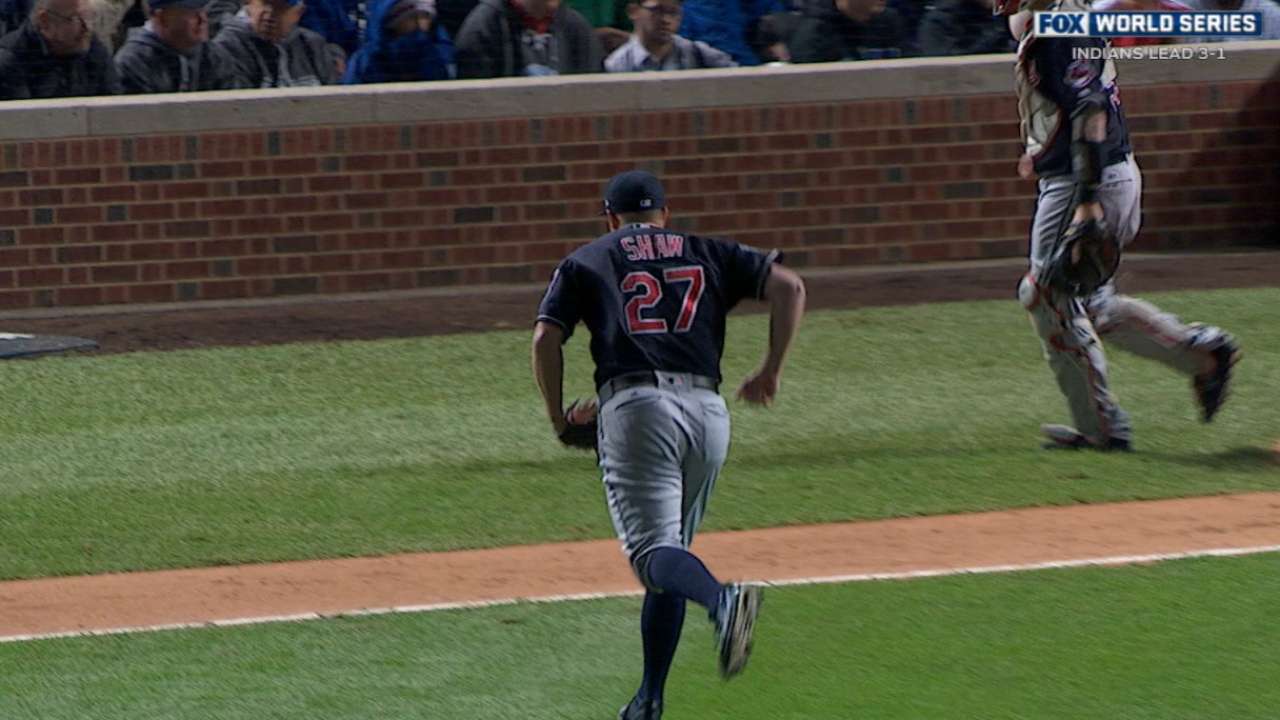 "I thought holding them at bay was really important," Callaway said. "Our bullpen did a fantastic job of coming in after a really tough inning when a very tough lineup had some momentum and kept them where we needed to and gave us a chance to come back and win at some point."
Jane Lee has been a reporter for MLB.com since 2010. This story was not subject to the approval of Major League Baseball or its clubs.