Wrigley faithful revel in 'moment of a lifetime'
Cubs fans celebrate first World Series home victory in 71 years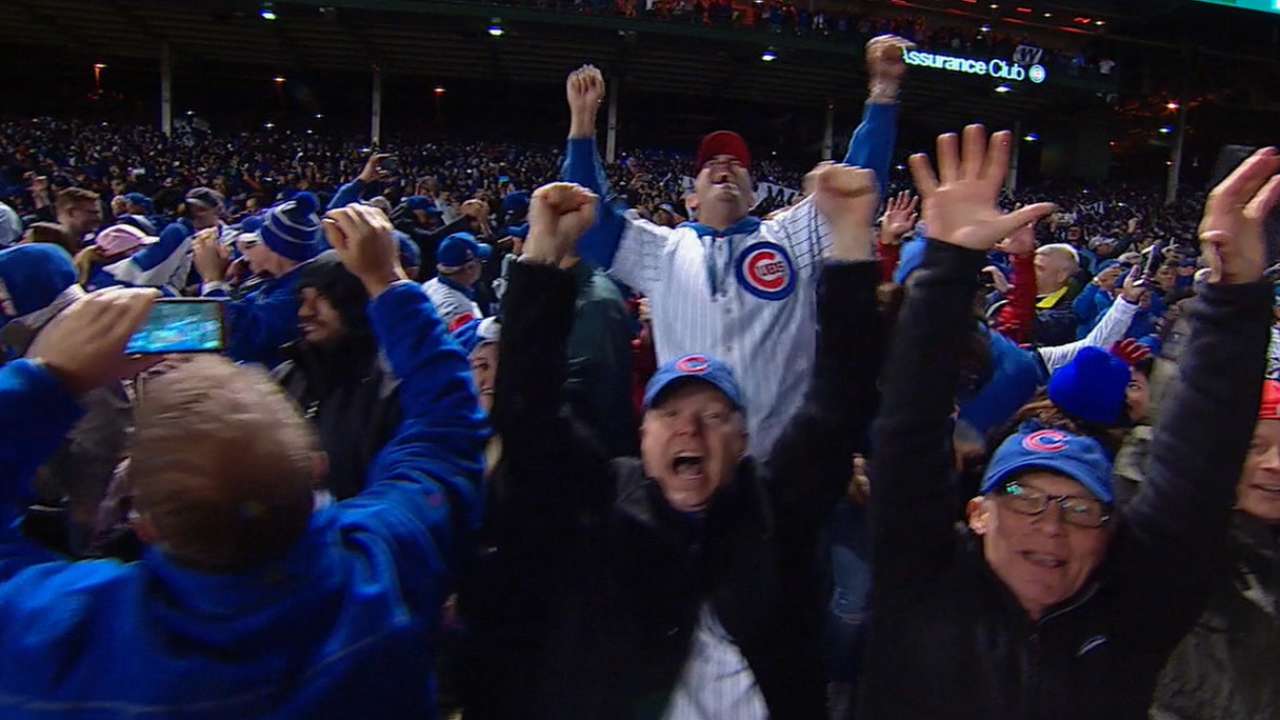 CHICAGO -- It was the last game of the season at Wrigley Field and the first World Series home victory in 71 years, a 3-2 win over the Indians to send the 112th Fall Classic back to Cleveland for Game 6 on Tuesday.
Sarah Graff, a fifth-generation Cubs fan, could not have been at a more perfect place in the world. She is a rabbi at Congregation Kol Emeth in Palo Alto, Calif., and she flew here Sunday morning with friend Scott Roy to be at Game 5, courtesy of a "very generous congregant."
• World Series Game 6: Tuesday, 7:30 ET air time | 8 ET game time on FOX
As they held up a sign that read "Don't Stop Believing," Anthony Rizzo, Kris Bryant and many Cubs came back out of the clubhouse to thank the many fans who refused to leave.
"Unbelievable," said Graff, who grew up in Chicago and whose great-great grandfather owned a convenience store frequented by Mordecai "Three Fingers" Brown, winner of two decisions during the Cubs' last World Series championship in 1908. "I've been giving sermons on the holiest day of the year, Yom Kippur, for 15 years, and every year I mention the Cubs.
• Shop for Cubs World Series and NL champs gear
"I've been preaching that being a Cub fan is not about winning, it is about hope and perseverance and second chances. But it's also fun to win."
Win.
That word felt so good to the people who witnessed history here. It is a word abbreviated by a simple "W" flying all over town. The last game of 2016 at Wrigley simply had to end that way. The only thing left now is a possible first World Series title since that 1908 season, but no one will ever be able to take away the memories that were just made on a chilly mid-autumn evening.
The crowd at Wrigley reveling in the Game Five win! #FlyTheW #WorldSeries pic.twitter.com/GVNRyrZ1Ha

- MLB Network (@MLBNetwork) October 31, 2016
John Raney watched Game 5 in Section 403 and thought about his father who passed the love of the Cubs on to him "at conception." Raney, now 57 and living in Denver, N.C., recalled all the "near-misses, when we always fell short and didn't finish." He looked around the green expanse, realizing the finality of Wrigley Field baseball, happy the home schedule ended with a win.
"I was here for the last 19 consecutive home openers, and I saw the Cubs win on an Addison Russell home run in Game 1," Raney said, flashing back to April 11, a 5-3 victory over the Reds. "This is a pretty good way to end it."
Thank you, Chicago! #FlyTheW pic.twitter.com/EoosBgb7Kl

- Chicago Cubs (@Cubs) October 31, 2016
The only question now is whether the players will be back for a parade like no other.
For now, Bryant was being interviewed on the field and smiling as the fans chanted "MVP! MVP" at him behind the dugout. Right there in that crowd were Daniel Rivas and Iveliss Gonzalez of Chicago, riding a wave of pure joy and standing on the same seats that had gone for five figures over the weekend.
• Wrigley celebrates with epic rendition of "Go, Cubs, Go"
If there was a competition for happiest of the happy Cubs fans on this night, it would be hard to top them. Rivas came to the ballpark with a ringbox made out of an actual Cubs batting-practice baseball he had acquired recently as a season-ticket holder, and before the game, he got down on his knee and held it out and proposed to Gonzalez. She said yes, as you could tell by the sign he held later.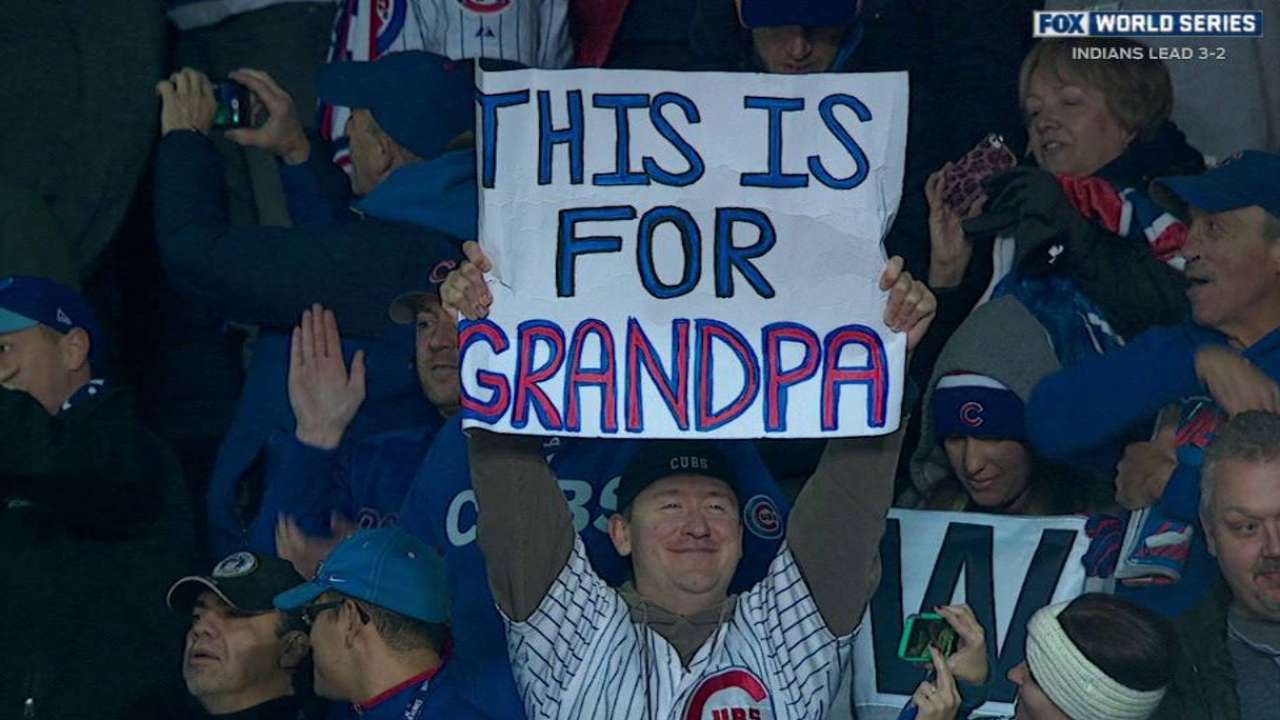 "It was exciting, nerve-wracking and I wasn't really sure what was going on," she said. "It was a really nice surprise, and I'm excited to spend the rest of my life with him."
"We definitely made history over here at Wrigley," he said. "The ring is ours."
Well, at least she has one so far. The Cubs are working on the other.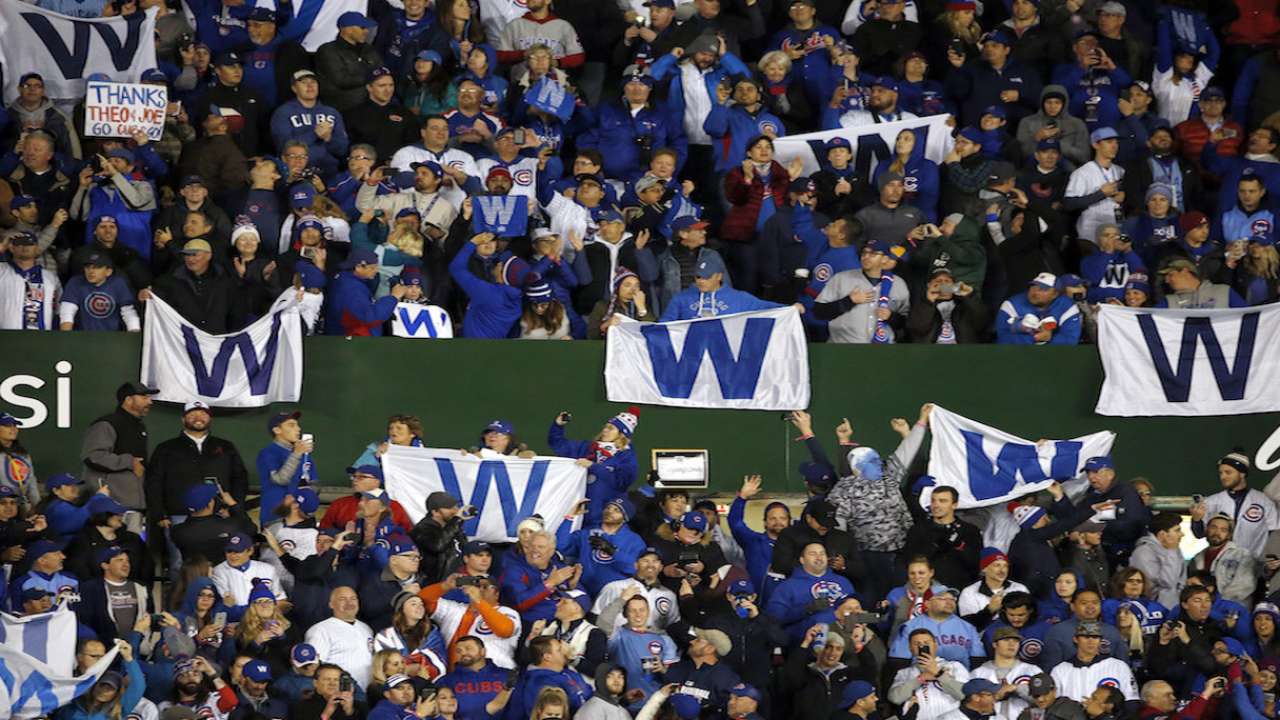 Issac Bobo of Chicago said he can't imagine yet what it would be like if the Cubs can win the next two games and send fans into a state of delirium perhaps never seen before. Perhaps it would be like what Red Sox Nation felt after they reversed the curse in 2004.
"I haven't seen it in my lifetime, so I don't even know," he said. "I'm anxious to see it happen. I'm very excited to see it happen.
"I think we have the momentum right now. When we go over there, all we need to do is [win] this next game, and it's a wrap. After this next game, the momentum is going to take us through."
Roy said whatever happens now, no one can take away the feeling of right now.
"It would be awesome to win the Series, but win or lose, this was a moment of a lifetime," he said. "Hearing the whole place rocking, it's a feeling I'll never forget."
Mark Newman is enterprise editor of MLB.com. Read and join other baseball fans on his MLB.com community blog. This story was not subject to the approval of Major League Baseball or its clubs.