Throw Cub, throw: Chapman gets 8 outs
Maddon turns to closer in seventh inning with Cubs' season on the line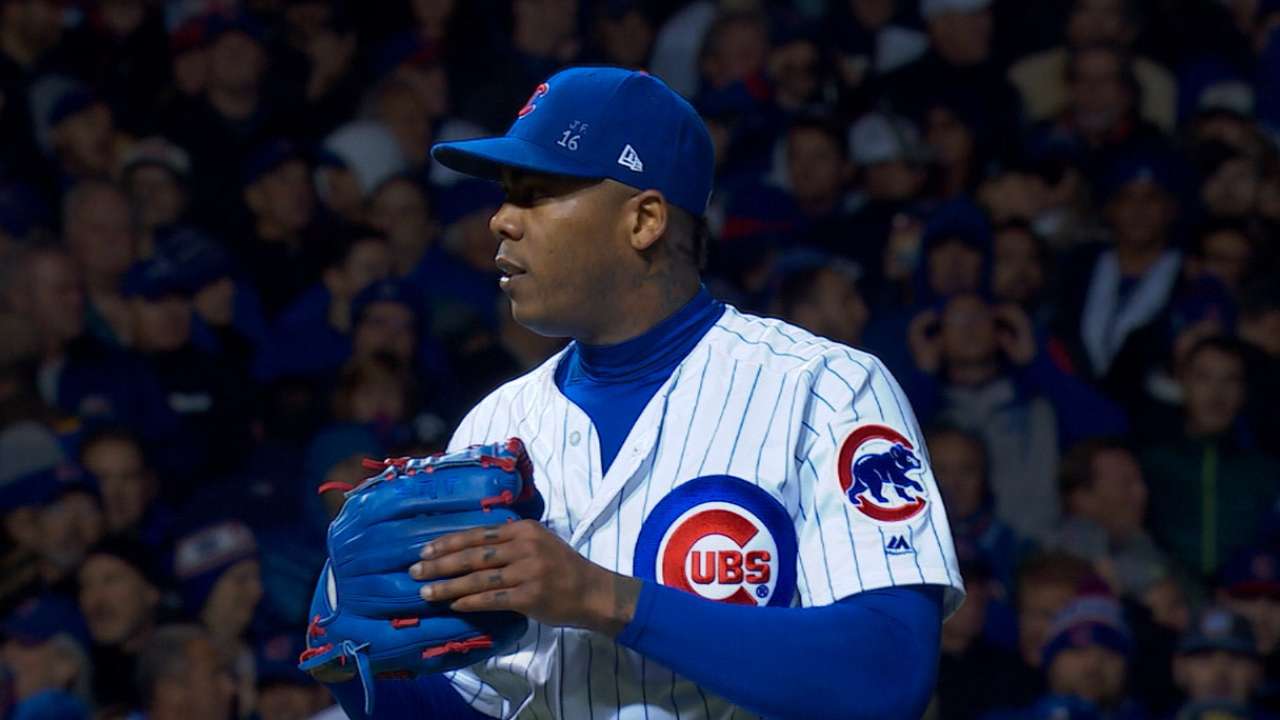 CHICAGO -- Because Wrigley Field's bullpens are so visible, crammed between each foul line and the brick-encased stands, there were no secrets when Aroldis Chapman began warming Sunday in the seventh inning of Game 5 of the World Series. A murmur snaked through the 41,711 in attendance, through each dugout, through the very bones of the National League's oldest ballpark. The Cubs were going to ask their closer for an eight-out save.
Never in his career had Chapman recorded more than seven outs in a game. But there he was in the seventh inning, lifting the Cubs out of a jam. There Chapman was again in the eighth, pitching around his own defensive mistake. And there he was in the ninth, apparently strong as ever, sending the Cubs to a 3-2 win over the Indians and a trip back to Cleveland for Game 6.
• Game 6: Tuesday, 7:30 ET air time | 8 ET game time on FOX
"I kept running in here between innings and telling the security guard, 'My heart can't take much more of this,'" Chicago catcher David Ross said.
Not exactly orthodox, this type of strategy had long since become commonplace in October. The Indians using Andrew Miller in the highest-leverage situations possible. The Dodgers turning to Kenley Jansen in the seventh inning of an elimination game. The rest of baseball is starting to catch on. But Chapman had never really joined the club, recording three or fewer outs in eight of his 10 postseason appearances.
• Shop for Cubs World Series and NL champs gear
Chapman's teammates describe him as the ultimate creature of habit, the ultimate baseball cliché. He arrives at the park at the same time every day. Chapman begins stretching at the same time every day. He begins warming for a ninth-inning appearance in exactly the same manner, at exactly the same moment in each game with a lead. In that fashion, Chapman saved 36 games for the Yankees and Cubs during the regular season, posting a 1.55 ERA.
But if ever there was a time to test Chapman, it was Sunday, in a one-run game, with the Cubs' 103-win season on the brink. As catcher Willson Contreras put it, "Tonight wasn't any other game. Tonight was an important game." Which is why Chicago manager Joe Maddon approached Chapman hours beforehand, asking him if he could be ready as early as the seventh.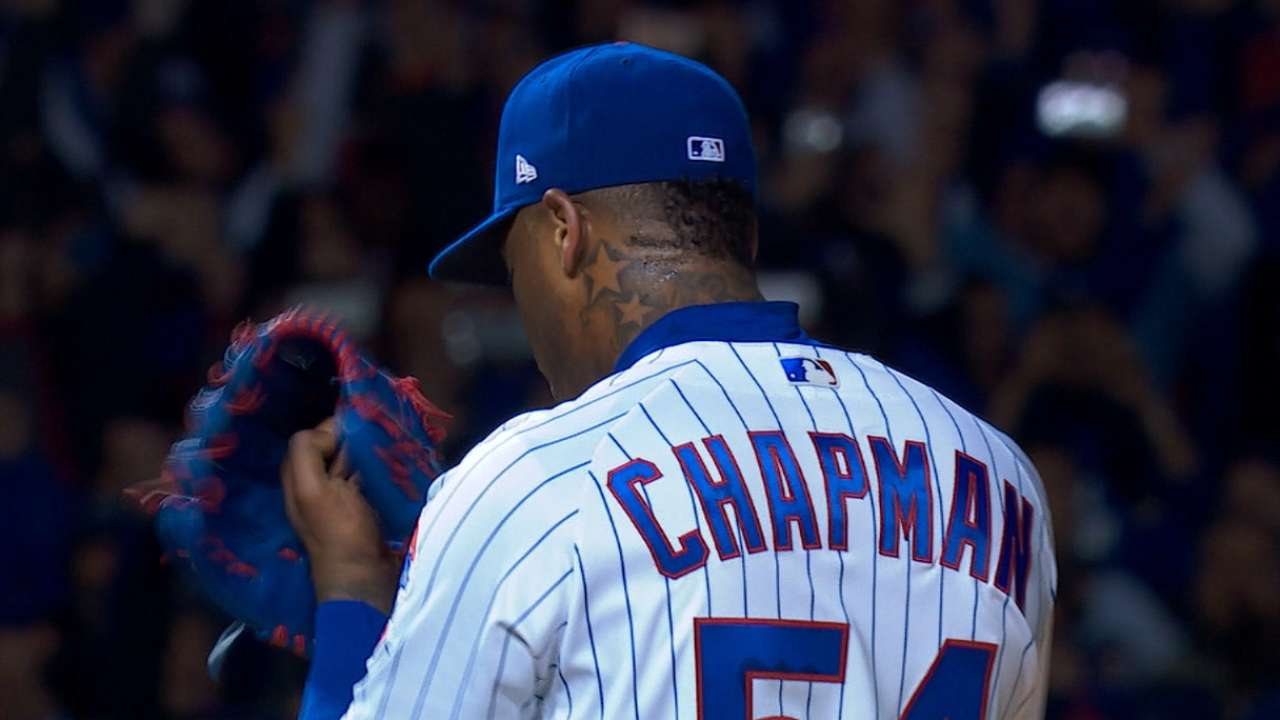 "Obviously, I told him, 'I'm ready. I'm ready to go,'" Chapman said through an interpreter. "And whatever he needs me to do or how long he needs me to pitch for, I'm ready for it."
Thing is, the Cubs didn't know if Chapman could handle the workload, peering from the dugout to see if his triple-digit fastballs would ever stop coming. In the ninth inning, as his pitch count crept over 40, he threw seven fastballs of at least 100 mph -- including his final three of the game. Chapman threw a dozen more in the seventh and eighth, finishing with a Statcast™ postseason record of 19.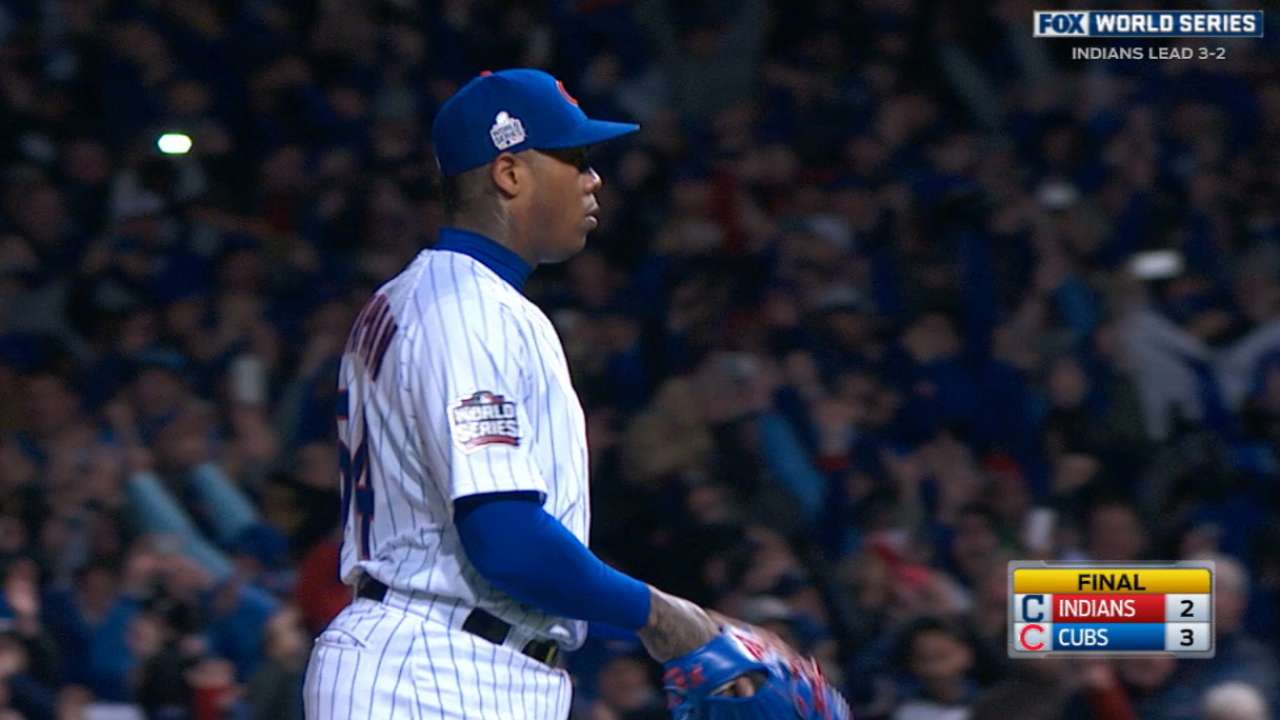 Most of the trouble Chapman faced was of his own making, when he failed to cover first base on a Rajai Davis infield single in the eighth. But Chapman followed with six consecutive pitches wide of the strike zone to Jason Kipnis, who swung at three of them and popped up. Then Chapman painted the outside corner with a 102-mph fastball to Francisco Lindor, ending the inning.
"I didn't think I was capable of hitting any of those pitches he threw me," Lindor said.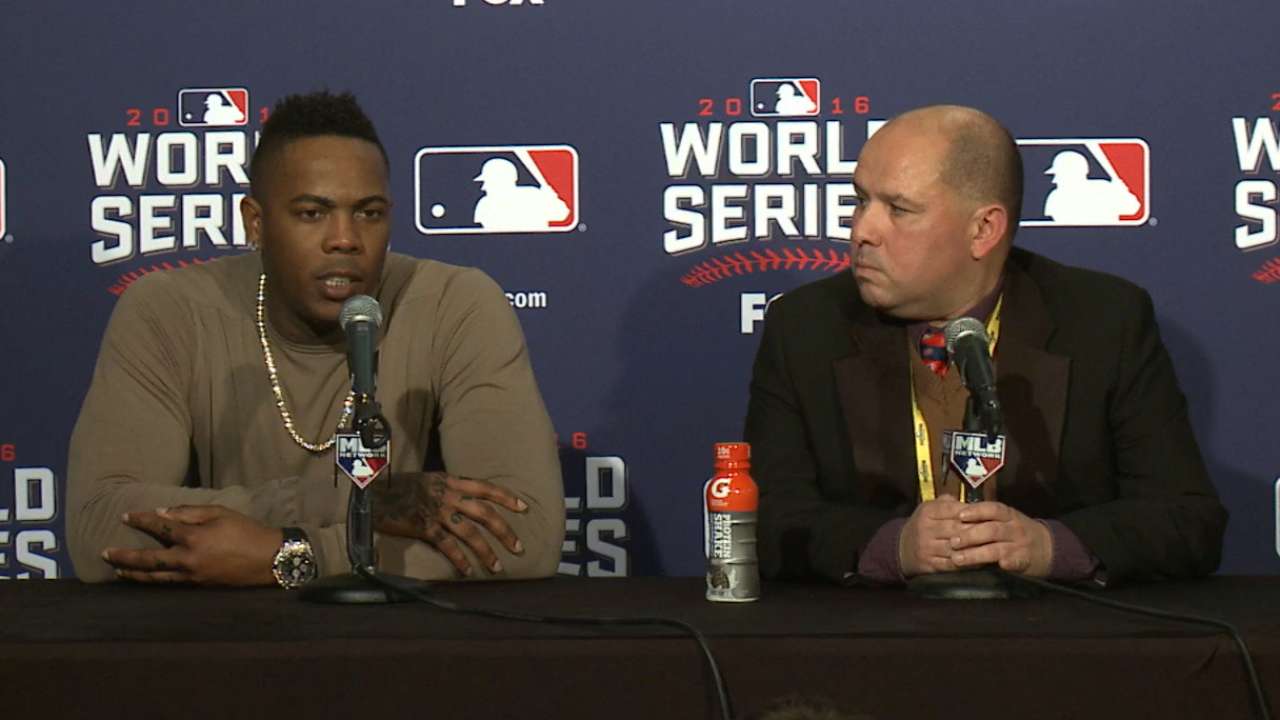 For Chicago, that was the idea. Through four World Series games, Maddon watched the Indians unleash Miller at will, while Chapman appeared only when trailing in the eighth and ninth.
But Game 5 gave the Cubs their best opportunity to dictate the circumstances in which they used their best reliever. Chapman responded with four strikeouts, two popups and two groundouts on 42 pitches, delivering Chicago directly to Cleveland -- where a chance awaits to do it again.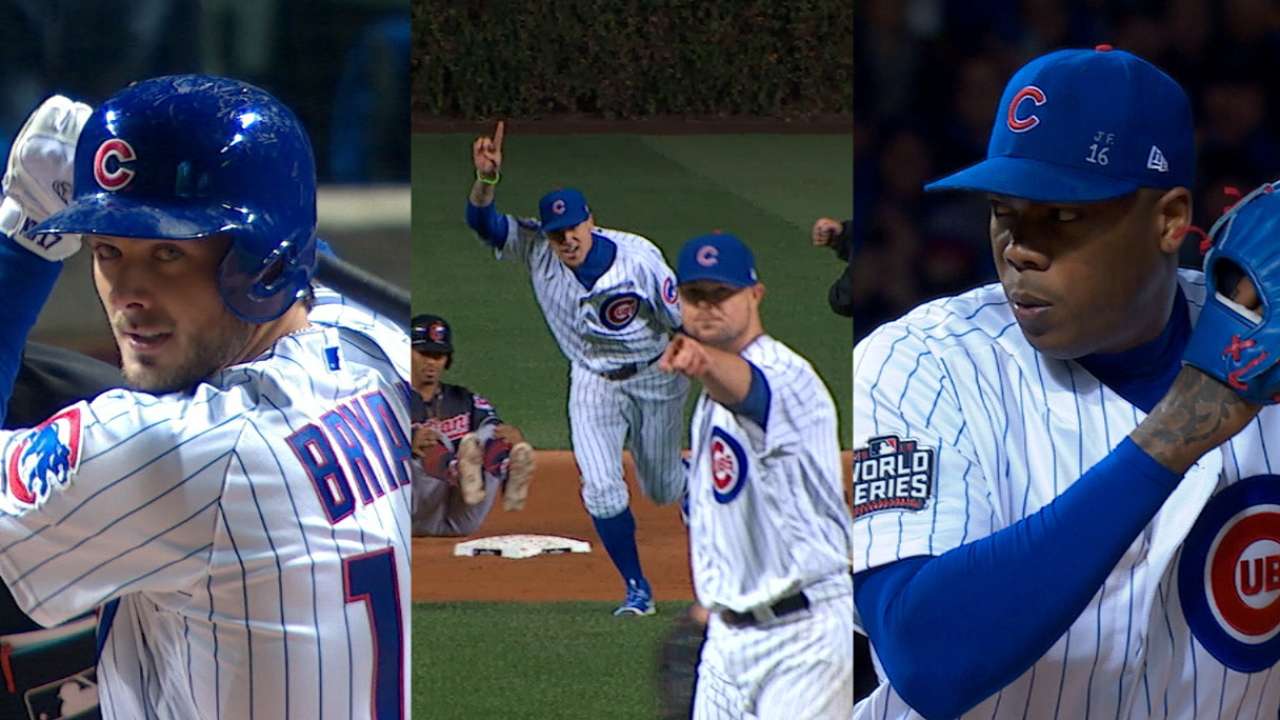 "There's all kinds of drama out there," Maddon said. "When you have a guy like that that can pitch that many significant outs in the latter part of the game, it's pretty cool."
Anthony DiComo has been a reporter for MLB.com since 2008. This story was not subject to the approval of Major League Baseball or its clubs.