MLB.com Columnist
Anthony Castrovince
Indians learn how it feels to be Miller'd
Cubs deploy Chapman like Francona has used Tribe's own relief ace all postseason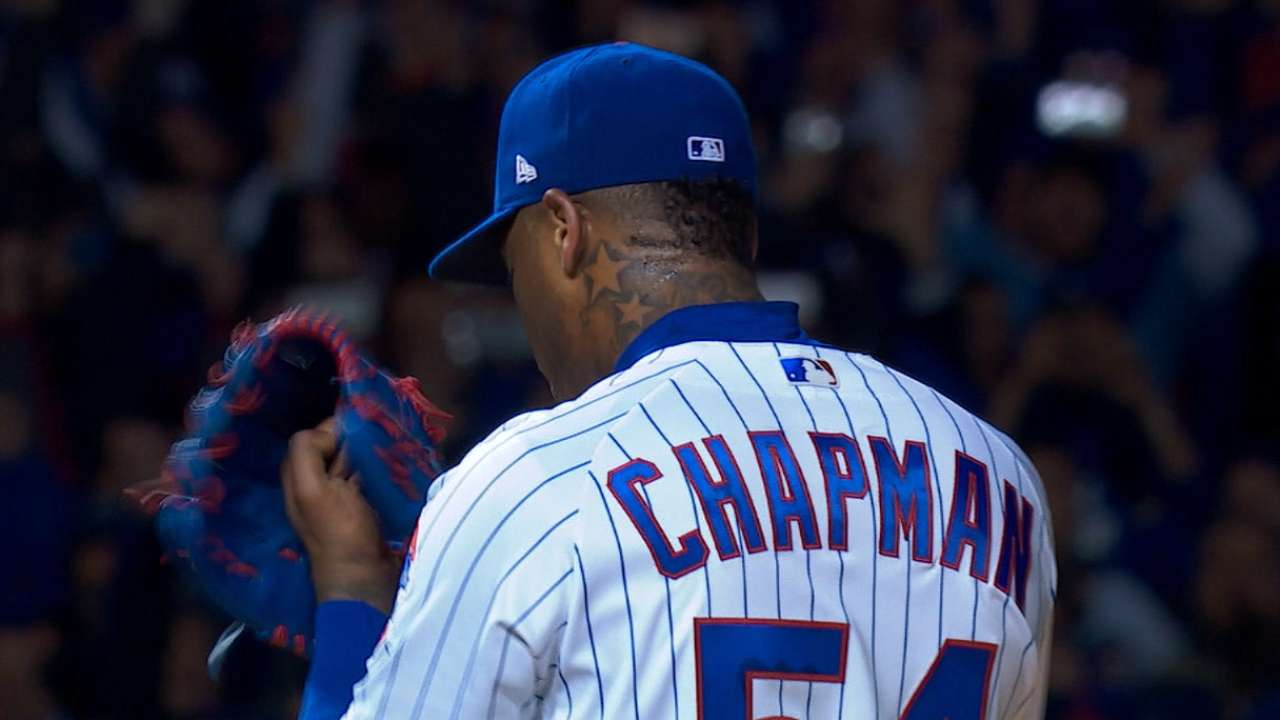 CHICAGO -- Maybe it was karma, emphasis on the "K." Throughout this postseason, this methodical march to within one victory of their first World Series title in 68 years, the Indians have aggressively employed the almost unfair advantage that is high-leverage lefty Andrew Miller in multi-inning stints that can start at just about any time.
It's worked pretty well, as you might have gleaned.
• World Series Game 6: Tuesday, 7:30 ET air time | 8 ET game time on FOX
But on Sunday night at Wrigley Field, on a Game 5 stage that the Tribe hoped would spring them to a bubbly bath, it was the Indians themselves who got Andrew Miller'd in a 3-2 loss to the Cubs. And not by Miller. Cubs manager Joe Maddon brought in Aroldis Chapman for what became the eight-out save, and it was Chapman's execution against two of the Tribe's best hitters in the eighth inning that was essential in the inordinately lengthy conversion that pulled the North Siders to within 3-2 in this best-of-seven set.
"We got a little taste of our own medicine," second baseman Jason Kipnis said. "You see what they can do. Must-win games, late in the year, you don't hold anything back. They took a page out of our book."
• Shop for Indians World Series and AL champs gear
That page was used in the seventh, after the Indians had a runner in scoring position with one out against reliever Carl Edwards Jr. Chapman was brought in to face Jose Ramirez, who struck out swinging on one of what would become a postseason-record 19 fastballs measured by Statcast™ at 100 mph or more. A 99.3-mph fastball would hit human target Brandon Guyer in the thigh, and so the Tribe had runners at first and second. But Roberto Perez's groundout to second ended the inning.
A possibly more prominent -- and equally missed -- opportunity presented itself in the eighth. This time, Rajai Davis sent a single to shallow right to get aboard with one out, and this gave him another chance to do what he had done earlier in the game against Cubs starter Jon Lester -- let his legs do some talking and stalking. Kipnis stepped up for an at-bat that lasted nearly as long as the Cubs' 108-year championship drought, or perhaps it just felt that way.
In any event, with Davis in Chapman's head, prompting pickoff attempt after pickoff attempt in between balls, Kipnis was able to get in a favorable 2-0 count.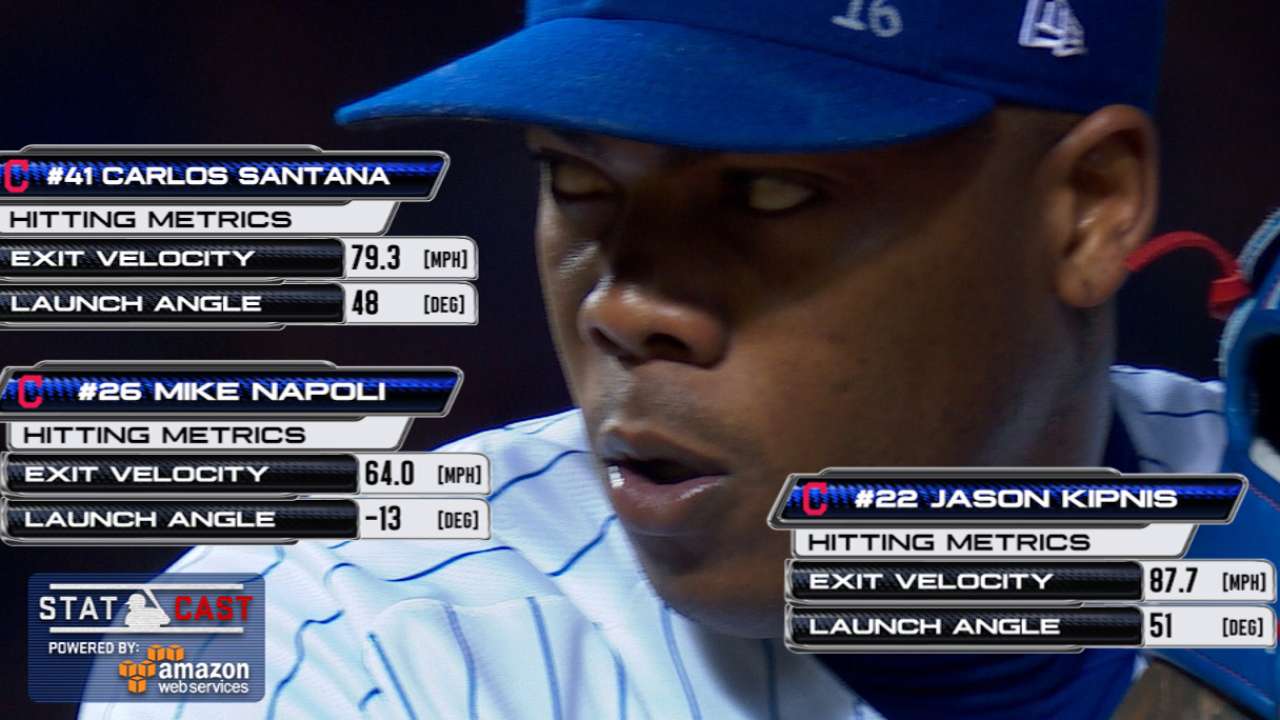 "When he stepped off and kept stepping off," Davis said of Chapman, "it's a sign you're losing your focus."
Alas, Kipnis said he would be guilty of his own focus waning. Chapman was so preoccupied with Davis -- who did, indeed, wind up stealing second -- he lost the strike zone totally. But against fellow lefty Kipnis, it hardly mattered. All you have to do is look at the chart of Kipnis' at-bat (below) to see how far outside the strike zone Chapman's third and fourth pitches, which both resulted in swinging strikes, really were.
And after the count was 3-2, Kipnis swung at another one off the outside edge to fly out to foul territory in left.
"I don't know if I was icing myself with how many times he stepped off and asked for a new ball," Kipnis said. "For me, personally, I had a game plan I wanted to do versus Lester and him the whole time, and I didn't do any of it. I veered away from it, and the results show it. So I'm disappointed in myself. But a guy like Chapman, when he's flinging it 103, there's not much you can do."
Davis would go on to steal third, this time with Francisco Lindor at the plate. But that might have actually had the odd effect of helping Chapman.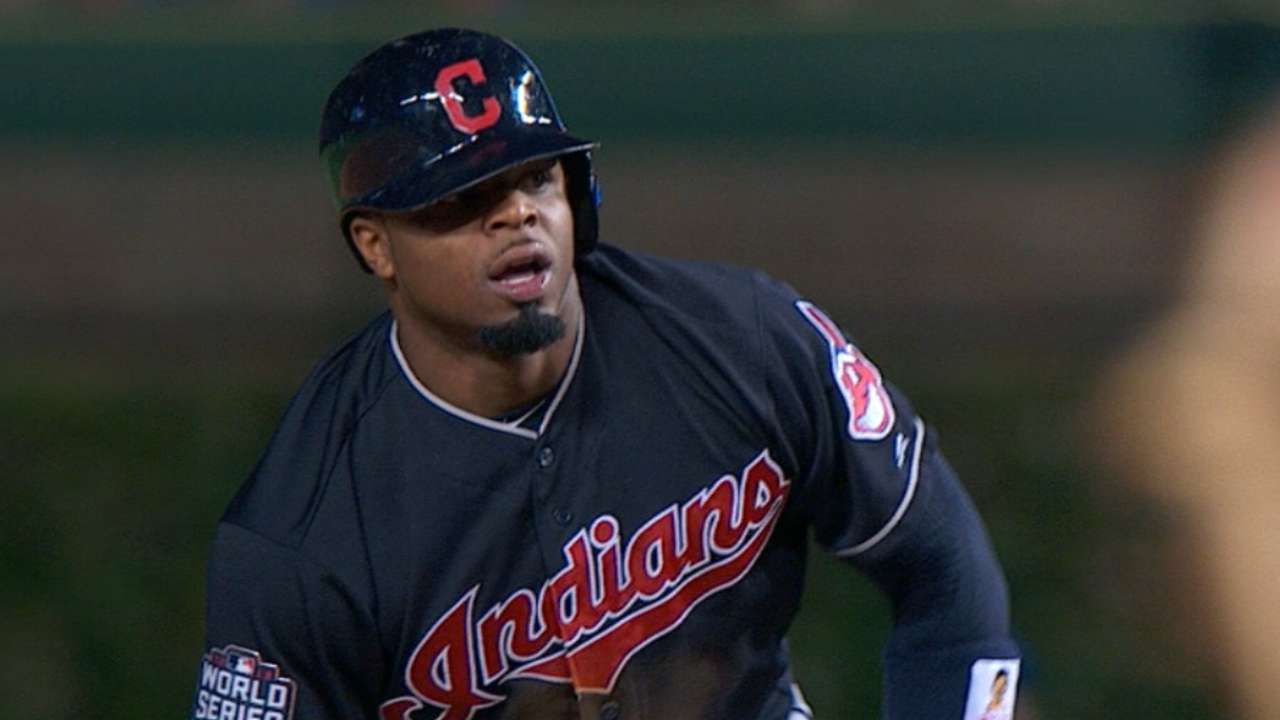 Only four players besides Davis have racked up three steals in a World Series game, including the Cardinals' Lou Brock, who did it twice. The most recent example was the Rays' Melvin Upton Jr. in Game 3 of the 2008 World Series.
"Before the runner got to third," Chapman said through an interpreter, "I was concentrating on making sure if I could see if I had a chance to get him out when he got to third. But once I saw he got to third, I concentrated strictly on Lindor and getting him out at the plate."
Chapman did just that. And this time the error on the part of a prominent Indians hitter was not swinging. Each of the three strikes represented below came with Lindor's bat firmly on his shoulder, and just like that, the inning was over, with Lindor lingering at the plate for a beat in disbelief.
"I didn't think they were good pitches for me to hit," Lindor said with his typical smile. "But [home-plate umpire] Tony [Randazzo] felt comfortable calling it a strike. If he calls it a strike, it's a strike."
The Tribe didn't strike at all in the ninth. Mike Napoli, Carlos Santana and Ramirez went down in succession to send the Series back to Cleveland, where another high-leverage date with Chapman likely looms.
"With a day of rest," Kipnis said, "I wouldn't be surprised if they do it again."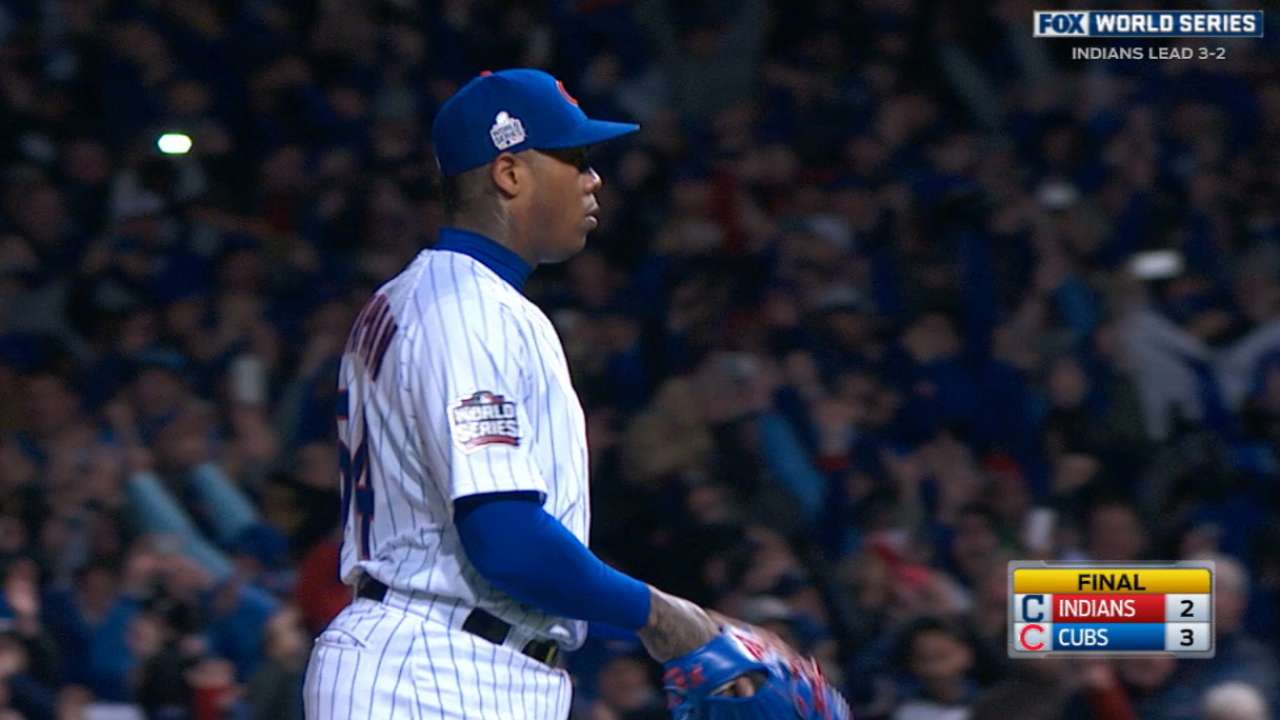 If anybody understands the incentive of using such a key bullpen cog in such an aggressive manner, it's these Indians.
"Chapman, he fell behind, 3-0, and he got a 99 get-me-over," manager Terry Francona joked. "You know, that's pretty impressive. Sometimes you've got to respect what the other team can do, too. Sometimes they beat you. I didn't think we beat ourselves. I thought they beat us."
This is what it feels like to get Miller'd.
Anthony Castrovince has been a reporter for MLB.com since 2004. Read his columns and follow him on Twitter at @Castrovince. This story was not subject to the approval of Major League Baseball or its clubs.