Brief hiccup derails Bauer's otherwise solid start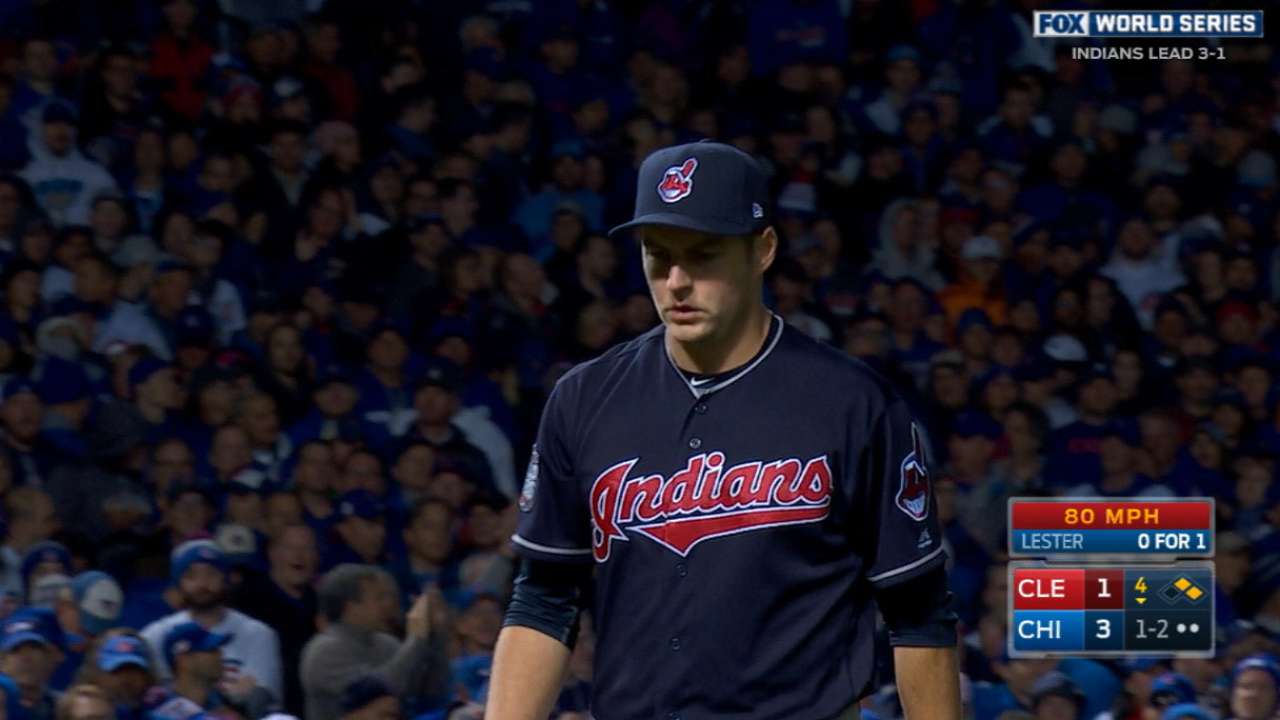 CHICAGO -- Trevor Bauer stood on the warning track in front of the visitors' dugout at Wrigley Field, surrounded by reporters and trying to hear questions amid the ongoing cheers from the lingering crowd. One blue-clad Cubs fan only a few rows away began heckling the Indians' pitcher in an effort to distract him.
Bauer began to speak, but then stopped mid-sentence as the shouting behind him grew in volume. After briefly closing his eyes and pausing for eight seconds to collect himself, Cleveland's starter continued. Much like in that moment, it was an eight-batter disruption within Bauer's outing -- a start that began brilliantly -- that proved to be the difference in a 3-2 loss to the Cubs in Game 5 of the World Series, sending the Tribe home with a three games to two Series lead.
• World Series Game 6: Tuesday, 7:30 ET air time | 8 ET game time on FOX
"I executed pitches, tried to stick to the game plan," Bauer said. "They hit some pitches, and I got unlucky."
"You can pitch the next game, Bauer!"
• Shop for Indians World Series and AL champs gear
"I felt great the whole time," Bauer continued.
"BAU-ER! BAU-ER!"
"I threw the ball really well," said the pitcher.
That last chant from Bauer's postgame tormentor echoed the one that he heard from the entire crowd while he was on the mound in the fourth inning, when Chicago scored all three of its runs. That flurry began with a towering leadoff home run from Cubs slugger Kris Bryant, who drilled an inside two-seamer into the left-field bleacher seats. Anthony Rizzo sent the next pitch -- an elevated four-seamer -- bouncing off the ivy-covered wall in right for a double.
Chicago's offensive onslaught was swift and crushing for a Cleveland club that had its hopes set on clinching its first World Series championship since 1948. After Bryant and Rizzo broke through, Ben Zobrist and Addison Russell followed with consecutive singles. By the time the inning was over, Wrigley was roaring, the Cubs had a 3-1 lead and Bauer's part in the game was complete.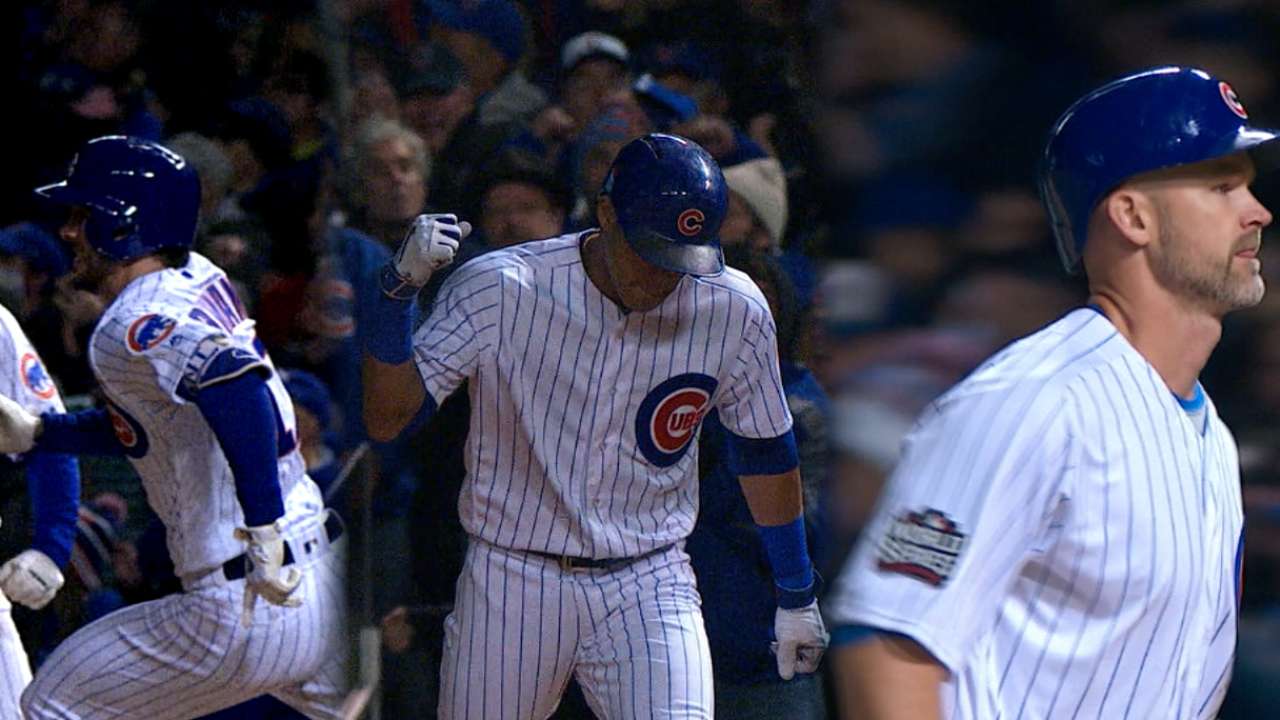 The way Indians pitching coach Mickey Callaway saw it, the "L" next to Bauer's name in the box score did not properly reflect how well the right-hander pitched. The righty struck out seven and issued no walks. Bauer allowed six hits, but two were dribblers that only drifted midway up the third-base line.
"I thought he threw a really good game," Callaway said. "Two mistakes. Two pitches in a row that were mistakes: the double and the homer. Other than that, I thought he battled really well. They had a really good approach against him in the fourth inning when they scored those runs."
Bauer shrugged when asked whether he made mistakes in the decisive frame.
"I executed everything that inning, I thought," Bauer replied. "Except for on the hit that Zobrist got."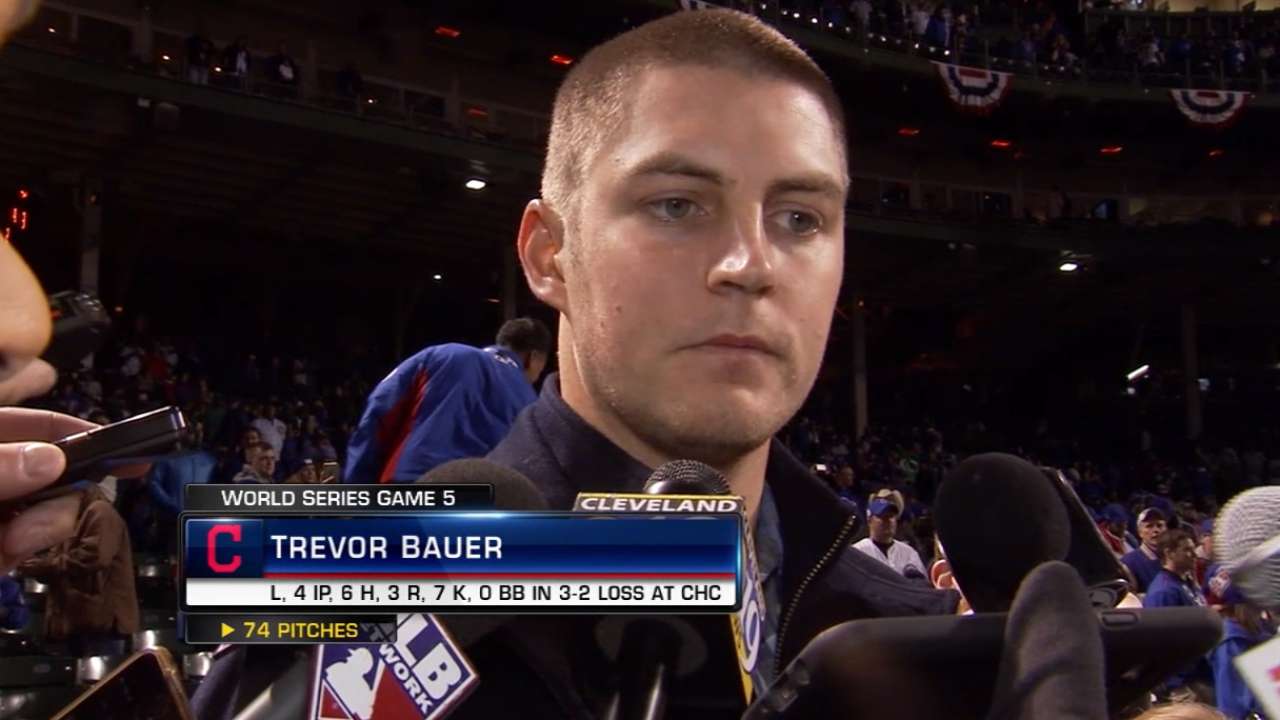 Zobrist's single came on a 3-0 four-seamer that Bauer left over the heart of the plate. The veteran pulled it into right field for a single, moving Rizzo to third as the century-old ballpark shook. Russell then fell behind, 1-2, but worked the count even before rolling over an outside curveball. Third baseman Jose Ramirez charged the chopper, but had no play, as Rizzo scored.
Two batters later, Javier Baez bunted an 0-1 curve up the third-base line. Again, Ramirez charged, and again, he had no play. With the bases loaded, catcher David Ross worked to a 2-2 count and then sent a fly ball to deep left, providing enough wiggle room for Zobrist to tag and score from third.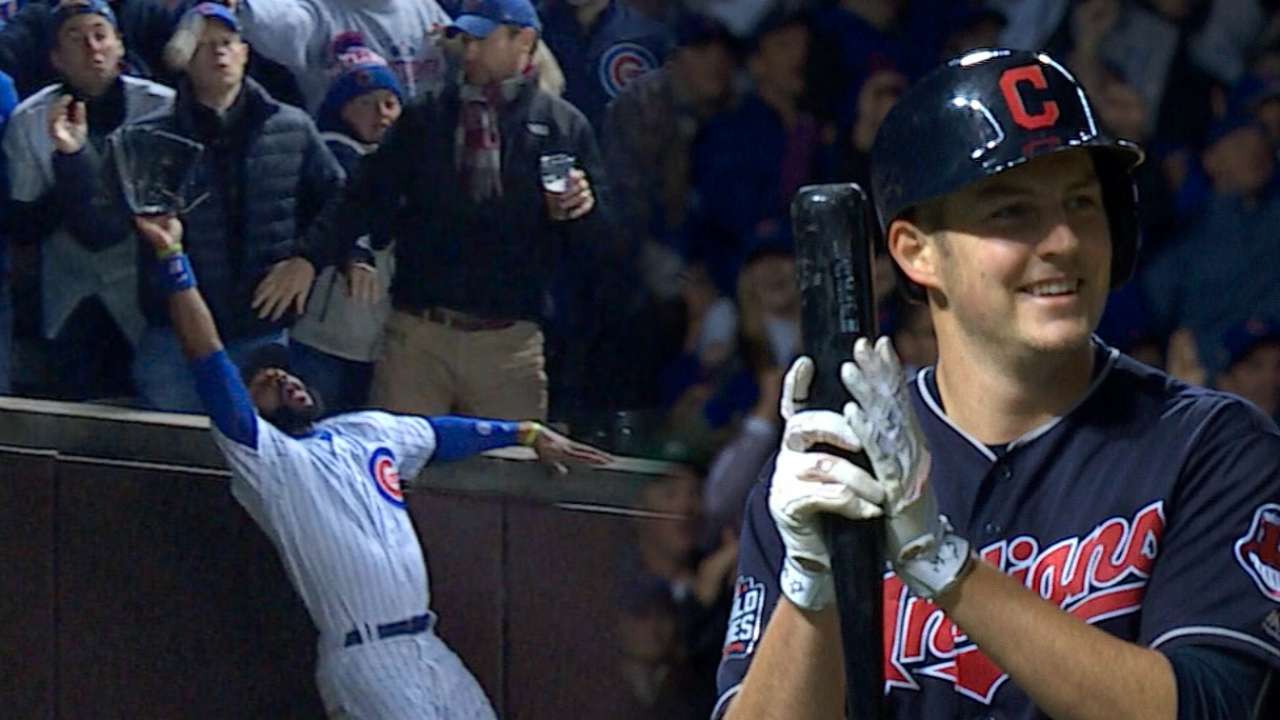 "That was the damage," Indians manager Terry Francona said. "There was a swinging bunt and a bunt. I mean, the bunt was a nice piece of baseball on their part. It's just, they got some fastballs they could handle and they whacked them pretty good."
That overshadowed what had been a strong performance by Bauer.
After his short outing in Toronto in the American League Championship Series -- a lacerated pinkie limited him to 21 pitches in his Game 3 start in that series -- Bauer was rusty in his World Series debut in Game 2. This time around, he came out sharp, holding the Cubs to a 1-for-10 showing with five strikeouts through the first three innings. Bauer buried his curve and froze left-handed hitters with two-seamers that zipped back over the inside edge.
For those first few innings, Bauer was the pitcher Cleveland needed to show up.
"The couple starts before, he was dealing with some pretty big issues," Callaway said. "I like what I saw out of Trevor today: Good breaking ball, really good life to his fastball, getting the ball where he wanted to for the most part. We won't have any hesitation to use him again in this Series."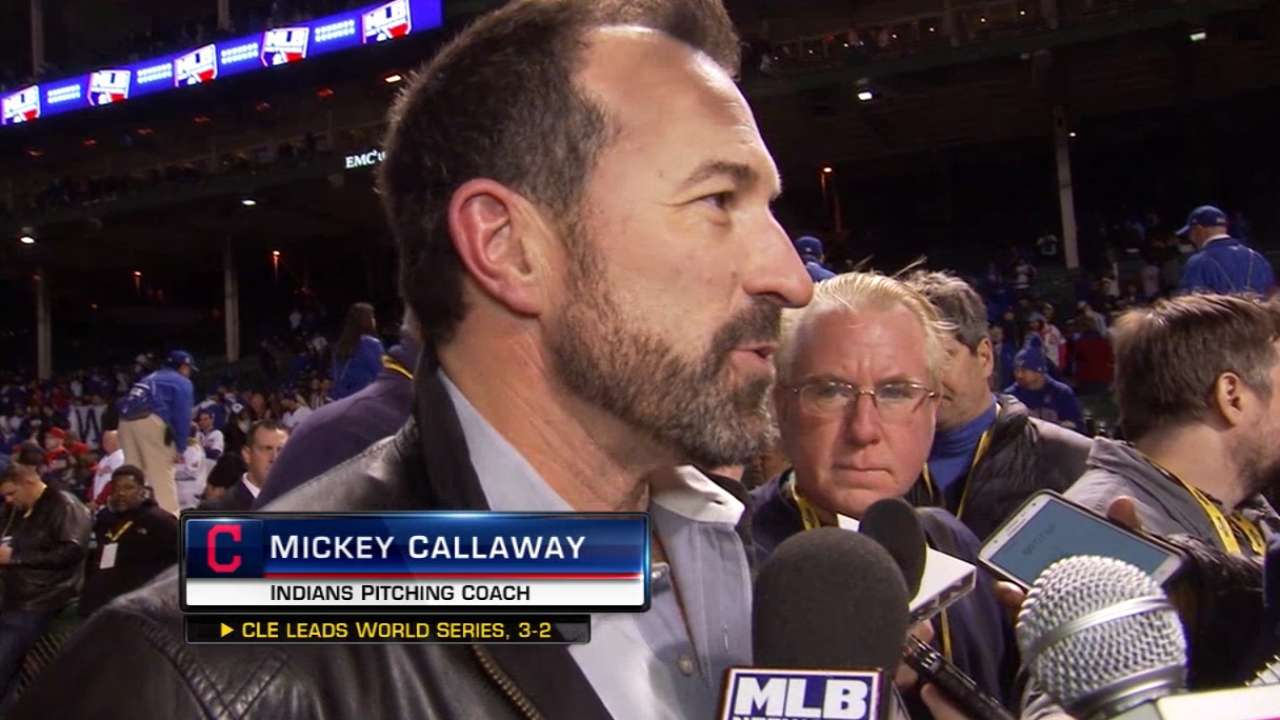 That would not be as a starter, though.
For Game 6 on Tuesday night, the Indians will hand the ball to Josh Tomlin, who has a 1.76 ERA in the postseason. If the World Series goes the distance, ace Corey Kluber (0.89 ERA in the playoffs) would start on short rest for Game 7 on Wednesday. Callaway quipped that Bauer will probably "be begging" Francona to be available out of Cleveland's bullpen the rest of the way.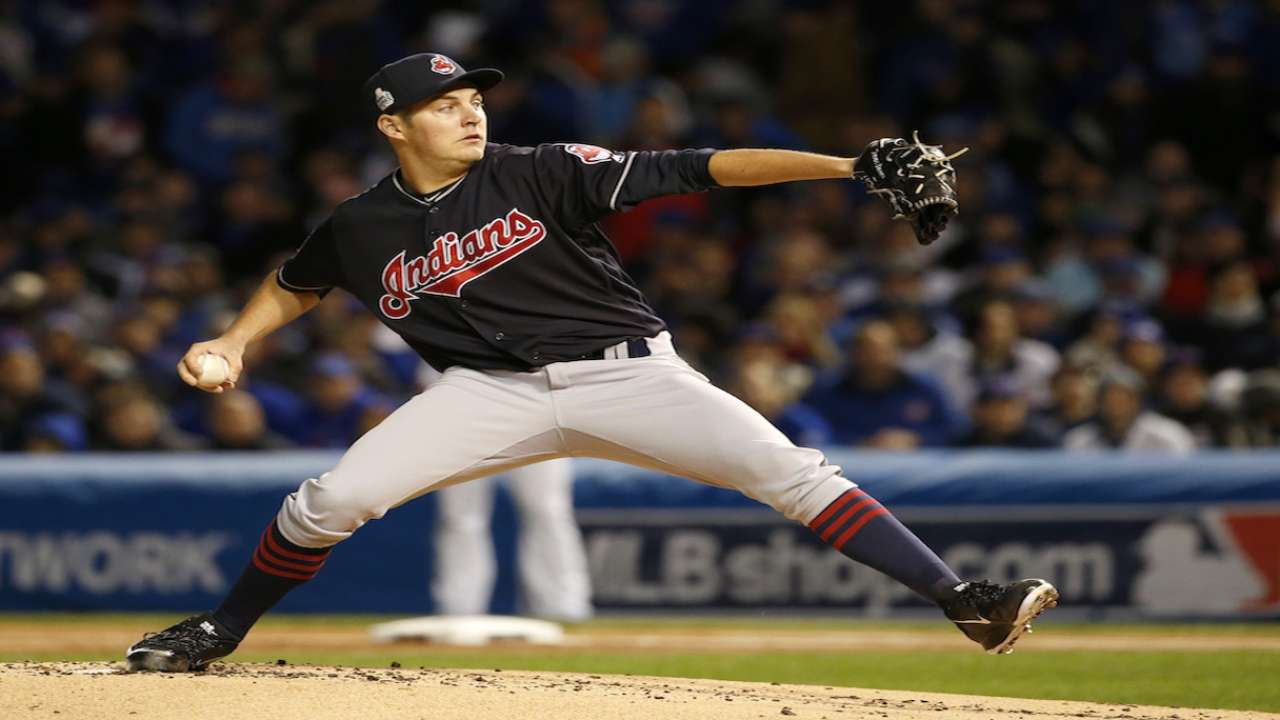 At least Bauer knows the fans will not be heckling him in Cleveland.
"The pressure is still on them," Callaway said of the Cubs. "We get to go home to our great ballpark and great fans and maybe do something special in front of them."
Jordan Bastian has covered the Indians for MLB.com since 2011, and previously covered the Blue Jays from 2006-10. Read his blog, Major League Bastian, follow him on Twitter @MLBastian and listen to his podcast. This story was not subject to the approval of Major League Baseball or its clubs.