Oct. 30 Terry Francona postgame interview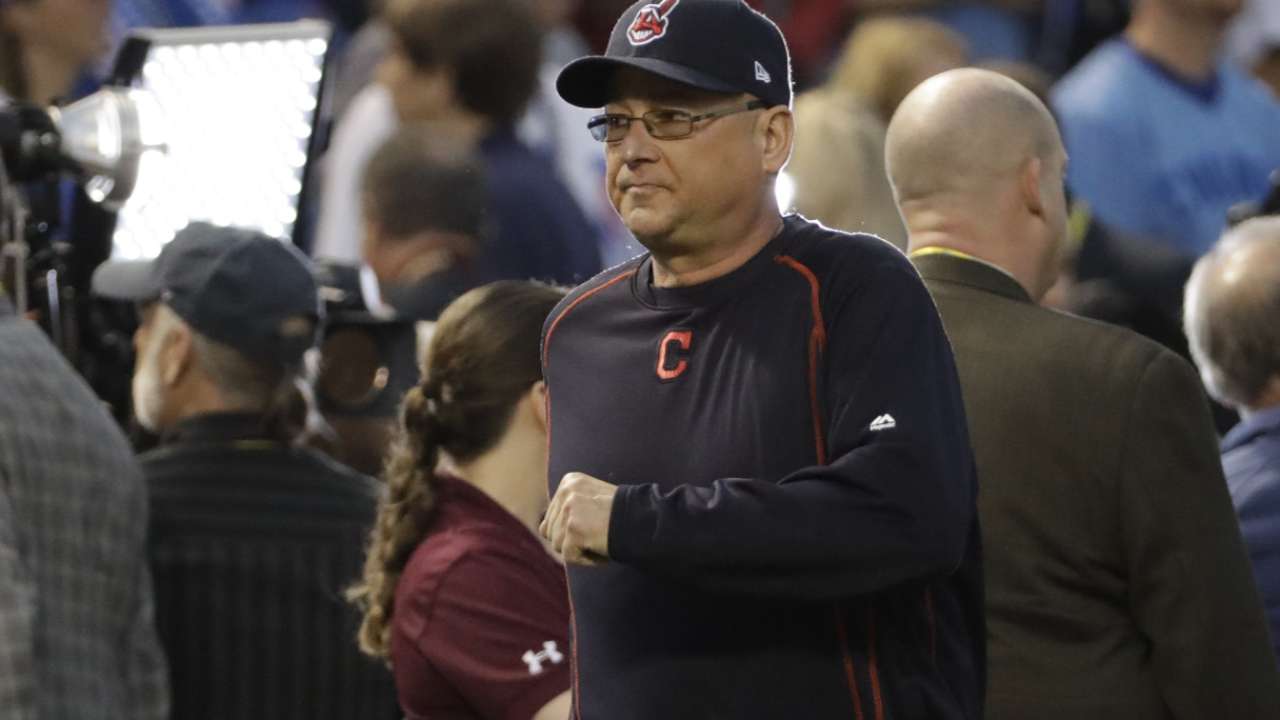 Q. Obviously, you know Jon Lester very well. What did you think of his performance tonight?
TERRY FRANCONA: He was as advertised. I mean, Ramirez had a really good swing, because that's all we had to show for it about four or five innings. And you know, you kind of figured that we'd probably need more. He's really good, and a little bit like we've seen with Kluber, you get late in the year, and he certainly doesn't shy away from competition.

Q. In the 8th with the Kipnis and Lindor at-bats against Chapman with Davis on, did you kind of see that as the main opportunity that you're going to have to come back? And what did you think about their at-bats?
TERRY FRANCONA: Well, I mean, we had another inning, and with Napoli, no. I mean, you take every opportunity you can get. I don't think we ever, you know, if we don't score in the 8th we're just going to sack them up.

I mean, Chapman, that was a big ask and he answered. That was impressive. I mean, kind of like what Andrew's done, he kind of did the same thing.

Q. What do you think going back home now with two chances to do this? What's your big picture look at it?
TERRY FRANCONA: Well, I don't know. I'm not real big picture. I think tomorrow we'll have a 6:00 -- we'll have an optional workout, but I know we need to be there for like media obligations, stuff like that. Guys will get treatments, stuff like that. And we have the good plane again, so we can fly around for a while. I don't care. Then we'll show up whatever day is the next day, and see if we can beat them.

Q. As effective as Bauer was the first time through the order, did you see anything different from him in that 4th inning or good at-bats?
TERRY FRANCONA: Because he was, he came out really good. I mean, really good. And the two pitches, back to back Bryant and Rizzo jumped on fastballs that caught too much of the plate. They were down, but too much of the plate and Zobrist had a really good at-bat.

Other than that -- and that was the damage. There was a swinging bunt and a bunt. I mean, the bunt was a nice piece of baseball on their part. It's just they got some fastballs they could handle and they whacked them pretty good.

Q. You did get a number of runners in scoring position. Was it a matter of just their pitching was so good or do you think your guys were a little jumpy maybe trying to get the big hit, knowing it was going to be a tight game?
TERRY FRANCONA: No, I thought we actually did a pretty good job. That was pretty good pitching right there. Chapman, he fell behind 3-0 and he got a 99 get-me-over. You know, that's pretty impressive. Sometimes you've got to respect what the other team can do, too. Sometimes they beat you. I didn't think we beat ourselves. I thought they beat us.

Q. Any surprise to see Joe go to Chapman for eight outs?
TERRY FRANCONA: I don't ever -- I don't ever try to manage their team. I can tell you that, like I said, it was a big ask. We've done it here, too. Nobody's ever just run into the bat rack when Chapman comes into the game. I can guarantee you that.