Tomlin can deliver Tribe clinch at home in G6
Right-hander held Cubs scoreless in first World Series start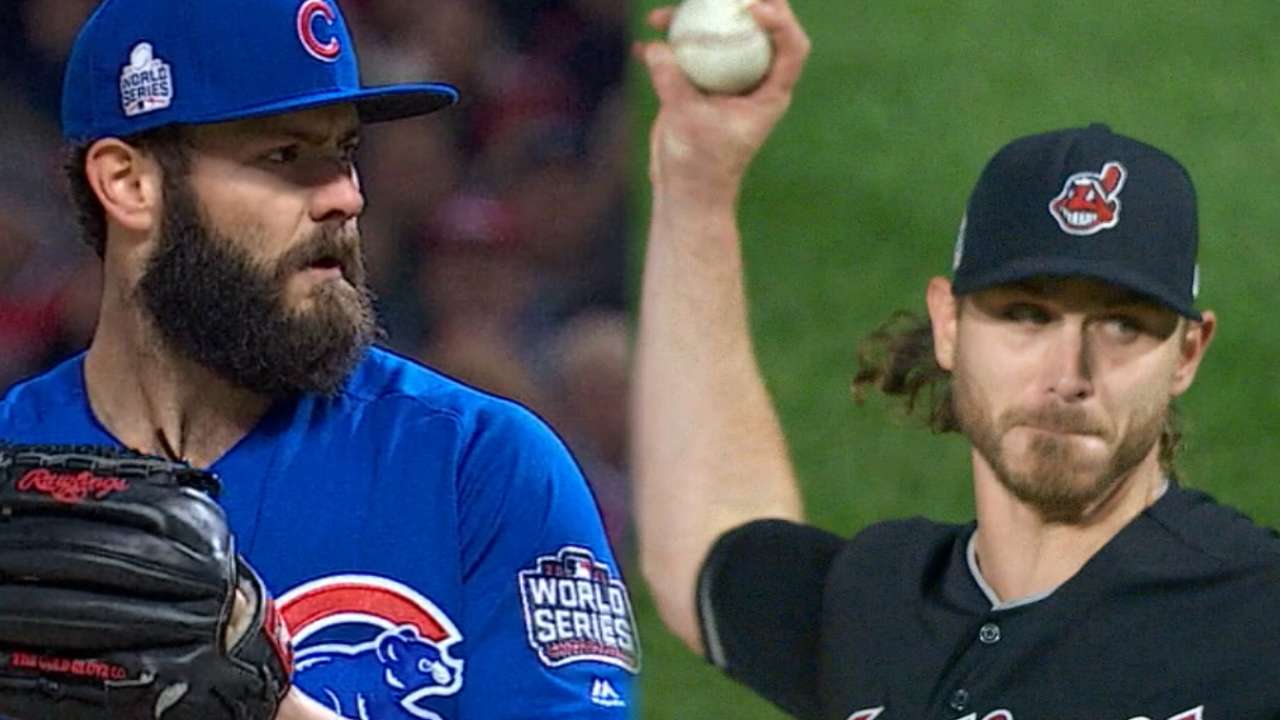 CLEVELAND -- On Tuesday, just four days after he pitched the game of his life in the World Series, Josh Tomlin will be asked to do so again for the Indians in a pivotal Game 6 against the Cubs.
Having dropped Game 5, 3-2, at Wrigley Field on Sunday evening, the Indians, who still lead the series, 3-2, will ask Tomlin to finish the task in front of their home crowd at Progressive Field. Right-hander Jake Arrieta, meanwhile, will attempt to extend Chicago's season another day.
"I know the atmosphere of this game is not the same, but it's still the same game," Tomlin said. "Between the lines, it's still 60 feet, six inches. It's still 90 feet to first base. It's still baseball. So that's how you have to treat it."
This approach has served Tomlin well this October, and his track record certainly bodes well for the Indians, who have won each of his three postseason starts, including Game 3 against the Cubs on Friday.
• Shop for Indians World Series and AL champs gear
Tomlin was terrific, executing pitches against a tough lineup with ease. He gave the Tribe 4 2/3 scoreless innings, limiting Chicago to two hits and a walk and lowering his postseason ERA to 1.76 before exiting at only 58 pitches in favor of lefty Andrew Miller. That was by design, with the Indians wanting to ensure his availability for the Game 6 start that awaits him.
"That's a huge help, especially for him," pitching coach Mickey Callaway said. "I think it probably felt more like a relief outing to him. Three days off is going to be plenty coming off of 58 pitches, and he's been making really good pitches the whole postseason, and I think he's going to go out there and do it again for us."
This Fall Classic has already been special for Tomlin, whose dad, Jerry, was in the stands on Friday for the first World Series game at Wrigley in 71 years. The circumstances surrounding the visit were extraordinary: In August, Jerry suffered an arteriovenous malformation, a knotting of blood vessels that cut off circulation to his back and left him partially paralyzed.
Jerry, who uses a wheelchair and may not walk again, received the green light to travel from Texas just in time. It meant everything to Josh, who exuded calm at the center of commotion with help from his dad through it all.
"It was probably one of my more emotional starts I've ever had in my entire life, career, any situation baseball-related ever," Tomlin said after the game. "I'm fortunate enough for him to even be here. So to have him get to experience a World Series game and obviously my first World Series start, it meant everything.
"I found him before the game, that way I could kind of go to him throughout the course of the game, if the game was speeding up to me, just to find that sense of calm there. What he's gone through, I mean, that's nothing to what we're going through right now. So to be able to find him and see him in the stands, it kind of calmed me down and just let me go out there and settle into the game and try to go out there and do the best that I could for him."
Tomlin has never made excuses, but worry over his father's health could perhaps help explain his August slump. He went 0-5 with an ERA over 11 before rounding back into form in September by way of a 1.75 ERA in the four starts that preceded the postseason.
"We're not surprised in his ability as a pitcher," Miller said, "but he has had a lot going on behind the scenes. For him to have had this storybook outing is incredible."
Tomlin hopes this next chapter is even better.
"We understand it's not just about getting here, it's about trying to win as well," Tomlin said. "There's nobody in that clubhouse that's complacent. It's not like, 'We have a 3-2 lead, it's just going to happen.' That's not the mind-set we take at all. We have a game to play tomorrow, and we're going to try to go out there and try to win that game. If not, we'll come back the next day and try to win that day."
"If Tomlin doesn't win, he won't beat himself, and he won't back down," manager Terry Francona said. "All the things we talk about -- not backing down from a challenge and valuing winning and things like that, being a good teammate -- he embodies all those better or as good as anybody I've ever seen."
Jane Lee has been a reporter for MLB.com since 2010. This story was not subject to the approval of Major League Baseball or its clubs.