MLB.com Columnist
Alyson Footer
Balls-strikes counter a Wrigley Field treasure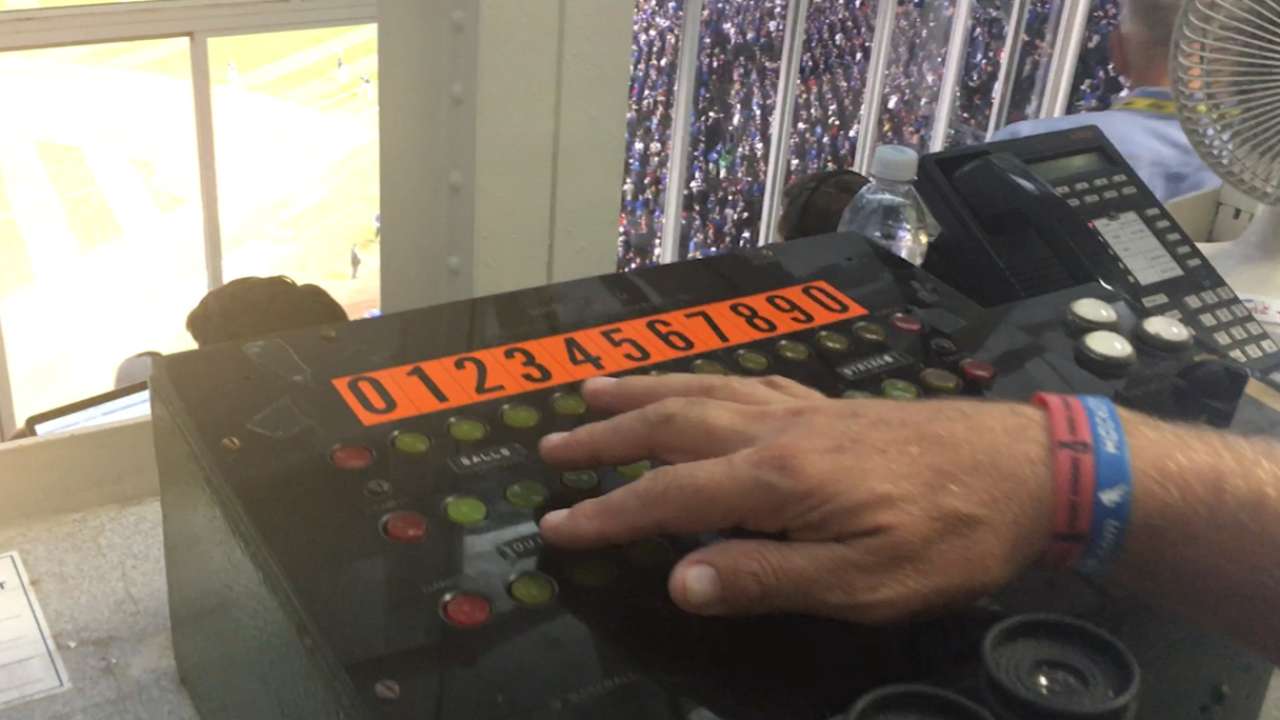 CHICAGO -- Wrigley Field, one of baseball's oldest and most historic stadiums, has undergone some renovations over time, though its charm and historic flavor have remained largely untouched.
One of the lesser-known treasures that has been a part of Wrigley Field since before the Cubs made their last World Series appearance is the balls and strikes counter connected to the scoreboard in center field, a contraption that is operated from the press box.
It's been around since 1937 and is as dependable as any modern-day operation.
• Shop for Cubs World Series and NL champs gear
The metal box is about the size of two toasters. At the top, the words "Wrigley Field, home of the Chicago National League ballclub, 1937" are engraved in white lettering.
Below that are a series of green and red buttons, some to identify the uniform number of the batter, others to signal balls 1 through 4 and others to signal strikes 1 through 3.
There is a section to identify a play as being ruled a hit and an error, and another to separate a hit from an error.
It's simple, yet could be confusing to the untrained eye. It's also lightning-fast -- the time between the umpire calling a ball or a strike and it showing up on the scoreboard is so miniscule it's nearly impossible to assign a number to it.
That's how Rick Fuhs, who has been operating the balls and strikes counter for 27 years, earned the nickname "Quick Rick," though he is the first to acknowledge the wiring should get more credit than his quick fingers.
"A lot of scoreboard operators would be as fast as me," he said.
Once a button is hit, a signal is sent and it flips the target instantly. For instance, if the No. 1 is hit, seven targets are hit, and they all flip at once.
"It's that fast," Fuhs said. "If I get a good read on an umpire, I could post the balls and strikes up pretty quick."
The panel was invented in the 1930s by a 20-year-old Curt Hubertz and his father, who designed the electric portion of the Wrigley scoreboard. Fuhs met Hubertz about five years ago and spoke glowingly about how innovative the father and son were, at a time when electronic operations at ballparks were unheard of at best.
"They were way ahead of their time," Fuhs said.
Alyson Footer is a national correspondent for MLB.com. Follow her on Twitter @alysonfooter. This story was not subject to the approval of Major League Baseball or its clubs.