MLB.com Columnist
Alyson Footer
Sandberg happy to tag along with Cubs' ride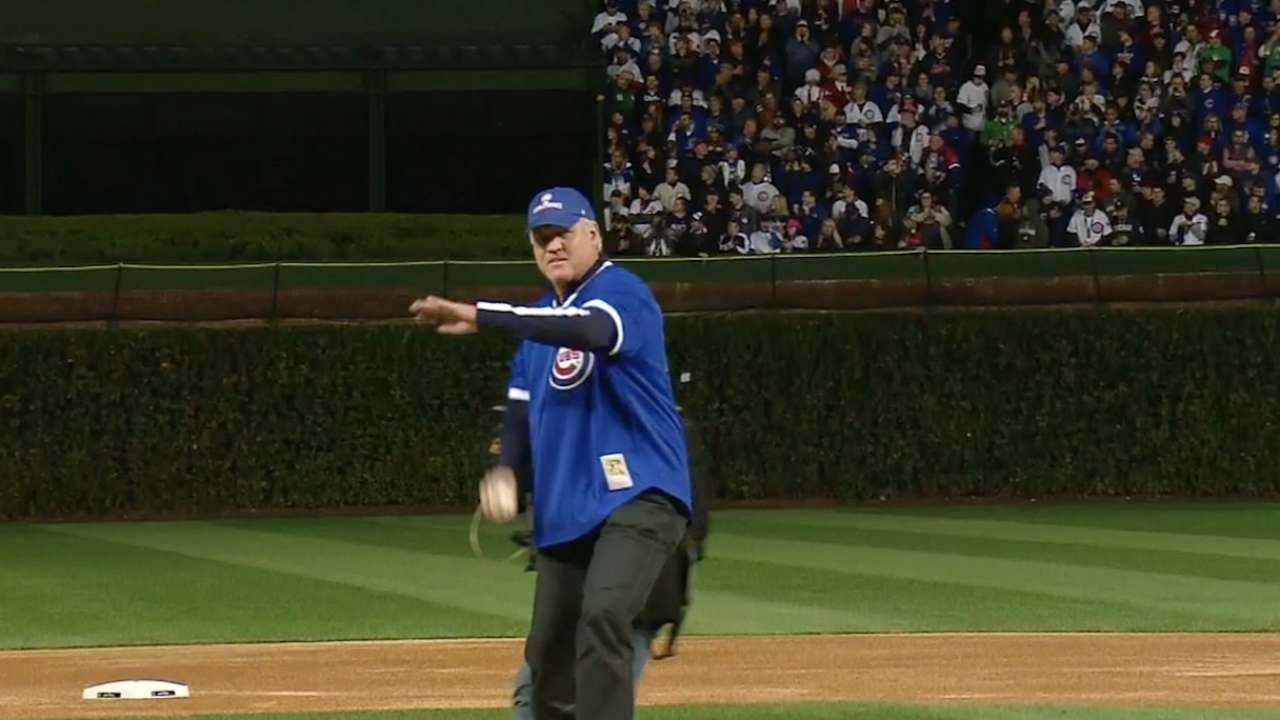 CHICAGO -- Count Ryne Sandberg as one of dozens of former Cubs who are reveling in this year's club getting to do something they never did during their playing careers -- play in the World Series.
Sandberg, who played in the postseason with the Cubs in 1984 and '89 and is currently working for them as an ambassador in their front office, has been with the club throughout its October run. Sandberg, like many past Cubs standouts, sounded like a typical fan when talking about attending World Series games at Wrigley Field this week.
• Game 6: Tuesday, 7:30 p.m. ET air time | 8 p.m. game time on FOX
"Experiencing this is this capacity is off the charts for me," Sandberg said before Game 5.
Sandberg is a member of the National Baseball Hall of Fame, won the National League MVP Award in 1984 and is considered one of the greatest Cubs ever, and, in that respect, it's not surprising that he was asked to throw out the ceremonial pitch before Sunday's game, the last World Series game to be played at Wrigley Field this year.
• Shop for Cubs World Series and NL champs gear
The Cubs won Game 5, defeating the Indians, 3-2, to force Game 6 in Cleveland on Tuesday. The Indians still lead the series, 3-2.
Sandberg has been a part of the postseason pageantry all month. During the NL Championship Series, he led the crowd in "Take Me Out to the Ballgame" during the seventh-inning stretch. Sandberg has also traveled with the Cubs to several postseason road games.
"I wouldn't want to miss this," he said. "I've been associated with the Cubs for 34 years now. For what they've done, and getting further than any other team since '45, to get to a World Series, it allows me to live in a moment and not think back to '84 and '89 and coming up short."
Though Sandberg is one of the Cubs' most recognized former players, he hasn't shied away from being among the people during this postseason. The World Series is unique in that way -- it's not uncommon to spot sports celebrities in the stands and outside the ballpark, especially at Wrigley, an old stadium mostly void of modern-day configurations that separates those working games from those attending as patrons.
Sandberg has enjoyed walking around Wrigley and sitting in the stands, and he's embraced engaging with the fans.
"There have been a lot of waves," he said. "I walk pretty quick -- it's almost a slow run. I'm hard to keep up with."
Sandberg's first pitch highlighted a pregame ceremony that included a duel appearance by former Cubs public address announcer Wayne Messmer, a regular presence at Cubs games, who performed both "God Bless America" and the national anthem.
The colors were presented by the U.S. Coast Guard Marine Safety Unity of Chicago.
Freddie Morales, 16, from the Miguel A. Barreta Branch of Union League Boys & Girls Club in Chicago, delivered the official game ball to the mound with Hall of Famer and Cubs legend Andre Dawson. Morales is a junior at Roberto Clemente High School.
Alyson Footer is a national correspondent for MLB.com. Follow her on Twitter @alysonfooter. This story was not subject to the approval of Major League Baseball or its clubs.