Thome wants title for Tribe coach Alomar Jr.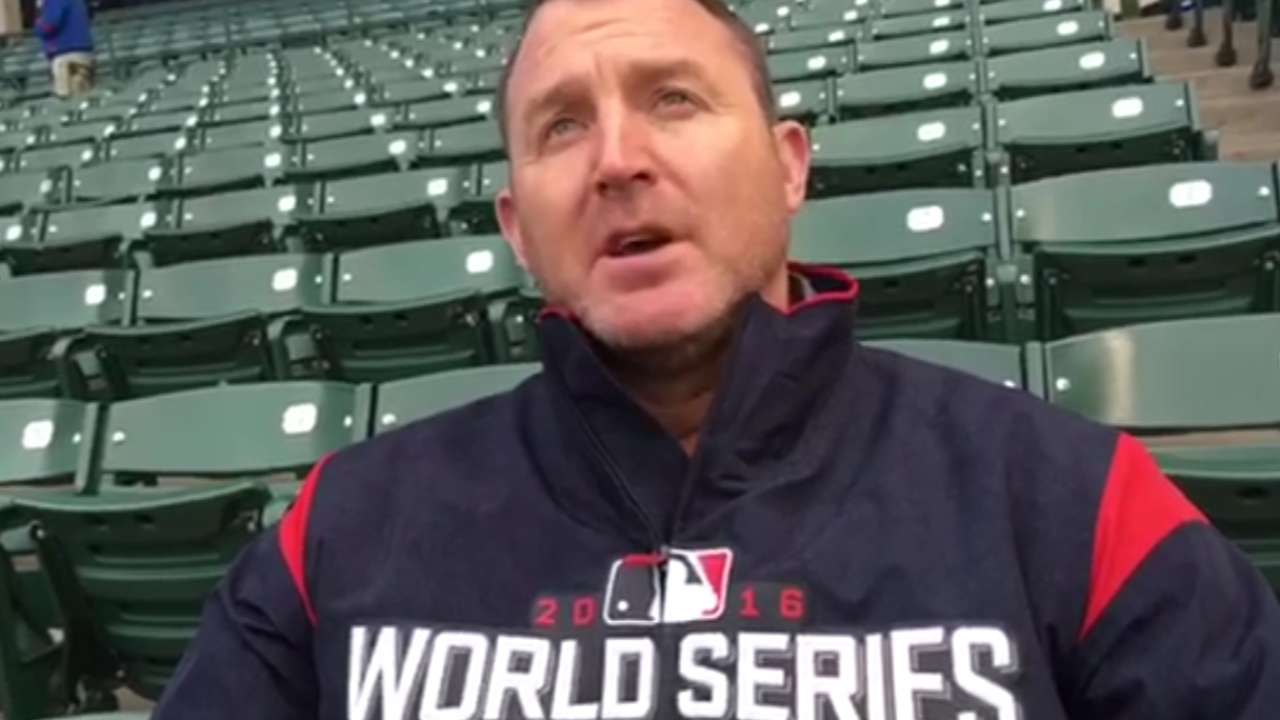 CHICAGO -- Earlier this summer, when Jim Thome went to Progressive Field to discuss being inducted into the Indians' Hall of Fame, he did so wearing a wine-colored polo shirt featuring a Cavaliers logo. Like everyone else in Cleveland, Thome was caught up in the celebration of the Cavs' improbable NBA championship.
On Sunday night, Thome sat in the Wrigley Field stands behind the first-base line, alongside his young son, Landon, watching the Indians take batting practice a few hours before their 3-2 loss in Game 5 of the World Series against the Cubs. This time the former Tribe great was wearing a dark-blue jacket with "World Series" in large letters across his chest.
Thome was hoping to witness the Indians -- up three games to one in the Fall Classic before losing Sunday -- finish the job.
"It would be special for that city -- no doubt about it," Thome said. "The Cavs doing what they did, I think, just was so cool. And this would be just incredible."
• Shop for Indians World Series and AL champs gear
Thome, 46, can appreciate how fans from both Chicago and Cleveland are craving a World Series victory. He grew up in Peoria, Ill., and suited up for the White Sox in parts of four seasons during his Cooperstown-caliber career. Thome also spent parts of 13 years with the Indians, setting franchise records in home runs (337) and walks (1,008).
Thome was also part of the Indians' American League-championship teams in 1995 and '97, but those clubs were unable to complete the job. As this year's Cleveland team captured an AL Central title and then cruised to the AL pennant, Thome has caught himself thinking back to how close he and his former teammates came to winning it all.
"Yeah, you always do. Absolutely," Thome said. "We came close twice and never got there. That's what I think is kind of cool, to see this between both of these cities -- the excitement and the passion and how much both cities genuinely want this to happen."
If the Indians do finish the task at hand, Thome will also be thrilled for Sandy Alomar Jr.
Alomar was also a part of those teams in 1995 and '97, and he spent 11 of his 20 Major League seasons playing for the Indians. Now Alomar is in his seventh season as a member of Cleveland's coaching staff, serving as manager Terry Francona's first-base coach, catching instructor and baserunning guru. Thome would love to see Alomar be a part of a championship.
"He was my roommate. I love him. Sandy's my boy," Thome said. "I would be ecstatic, because it shows you good karma. He's been an ambassador for the Indians for a long time. To see him do this, I personally think he should be a manager, and I hope this leads the way for him maybe to get that opportunity. He's a wonderful baseball man. He's such a leader. He brings so much to the table."
Jordan Bastian has covered the Indians for MLB.com since 2011, and previously covered the Blue Jays from 2006-10. Read his blog, Major League Bastian, follow him on Twitter @MLBastian and listen to his podcast. This story was not subject to the approval of Major League Baseball or its clubs.