Arrieta's turn to help keep Cubs' Series dream alive
Righty to take must-win Game 6 start in Cleveland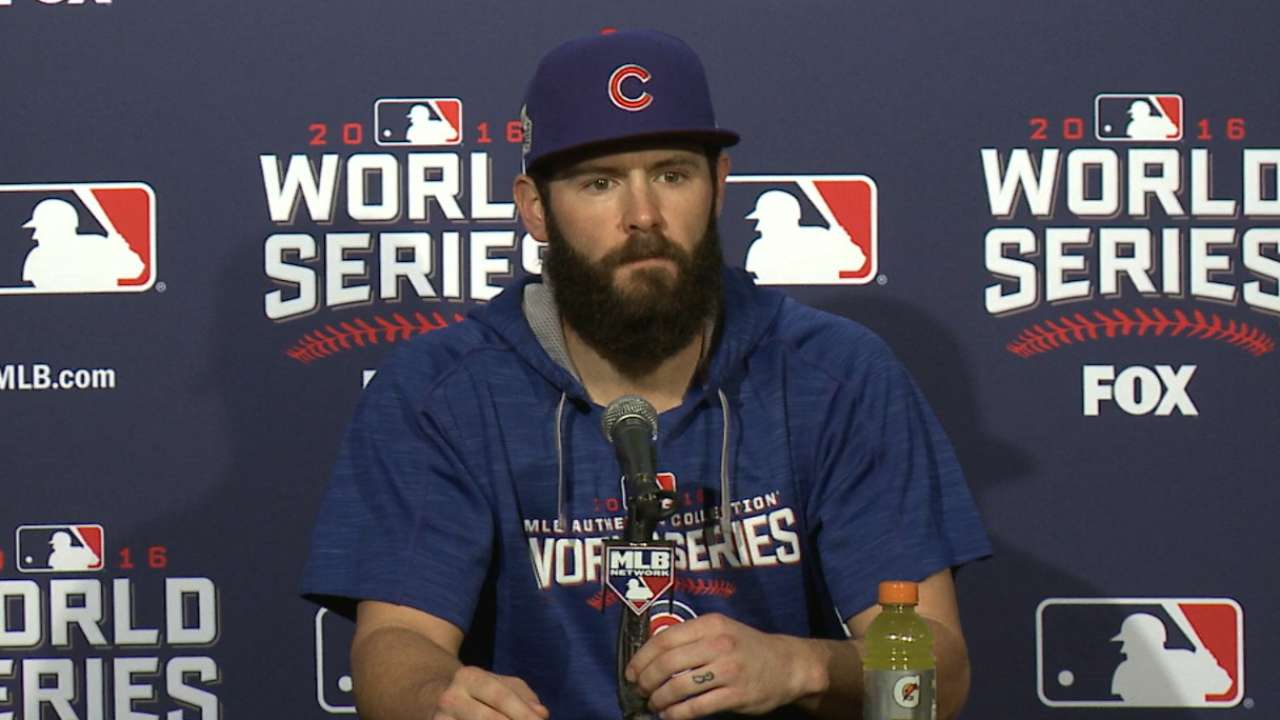 CLEVELAND -- The Cubs feel good heading into tonight's Game 6 of the World Series in Cleveland because they will send Jake Arrieta, the 2015 National League Cy Young Award winner, to the mound in a must-win game to extend their season.
"He's a bulldog man," third baseman Kris Bryant said. "He's going to go out there and give you his best effort every time. We always feel confident with him on the mound."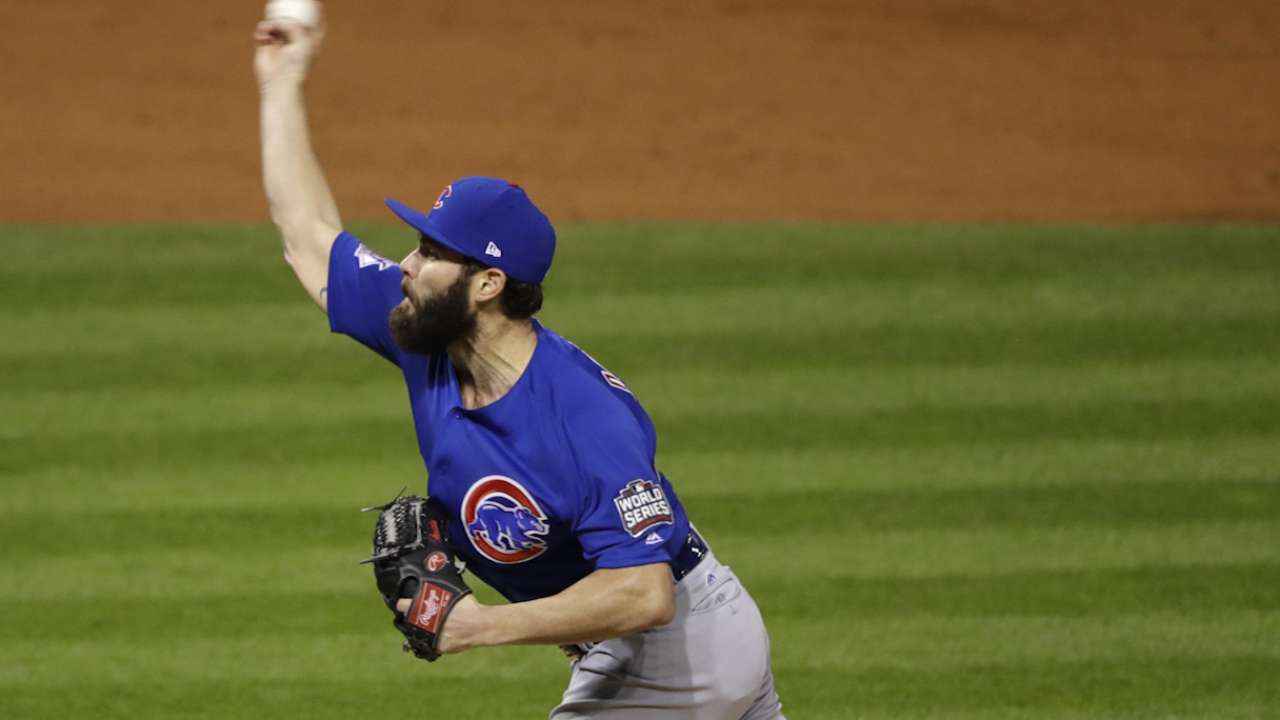 Cleveland owns a 3-2 Series lead and will send Josh Tomlin to the mound on short rest to try and wrap up the Fall Classic. Arrieta will try to build off his impressive performance in Game 2, in which he carried a no-hitter into the sixth inning in Chicago's 5-1 victory.
Chicago is trying to become the first team since 1985 to overcome a 3-1 series deficit to win the World Series. The Cubs have taken solace in the fact that they will have had their three best starting pitchers working those games: Jon Lester in Game 5, Arrieta in Game 6 and Kyle Hendricks ready to go if they force Game 7.
• Shop for Cubs World Series and NL champs gear
"We've won three in a row many times this year, even more than that," Arrieta said. "We like the way this lines up."
The Cubs had 16 regular-season winning streaks of three games or more this past season.
On Sunday afternoon, when there was no certainty the game would be played, Arrieta was going through his normal preparation for a start. He does not play catch very often this late in the season, but plans to throw off the mound in Chicago on Monday for about 10-20 pitches before the team flight heads to Cleveland.
Cubs manager Joe Maddon managed Arrieta's workload this season in order to keep him fresh for starts such as this one. Maddon hopes Arrieta can last into the sixth and possibly the seventh inning, with hopes he can repeat his efforts from Game 2. He held Cleveland to one run on two hits in 5 2/3 innings with six strikeouts and three walks.
"I just want to execute with quality in and out of the strike zone, and try to get ahead in the count as early and as often as I can to open up some more options for myself," Arrieta said. "But you know, it's just like any other game where you feel comfortable with the game plan and you go out there to do your best to follow through on the execution."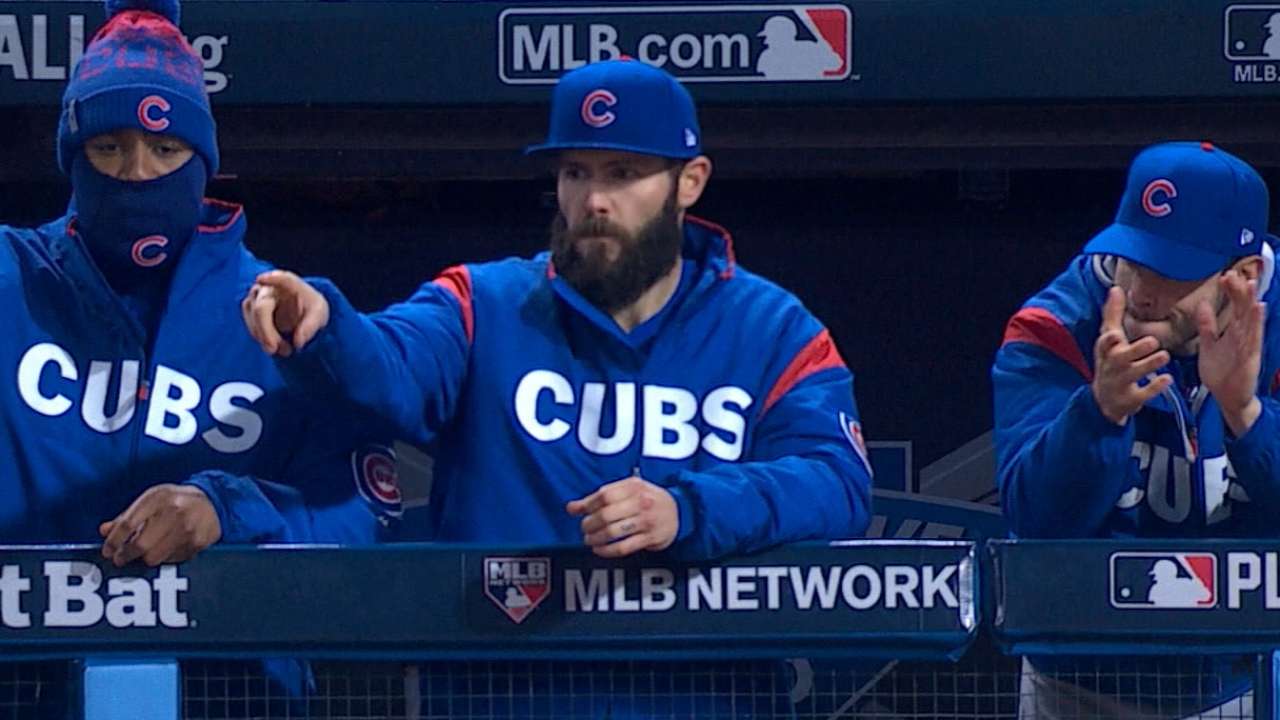 The Cubs can point to Arrieta's shutout in the 2015 NL Wild Card Game against the Pirates as evidence of what he is capable of in a must-win game to save their season.
"World Series and the Wild Card Games are different, but they're the same way, you've got to win to keep going," right-hander Jason Hammel said. "Last year, his performance in the Wild Card Game was pretty exceptional, and I wouldn't expect anything less."
Jamal Collier has been a reporter for MLB.com since 2014. Follow him on Twitter at @jamalcollier. This story was not subject to the approval of Major League Baseball or its clubs.