Maddon: Edwards' outing key in Game 5, and beyond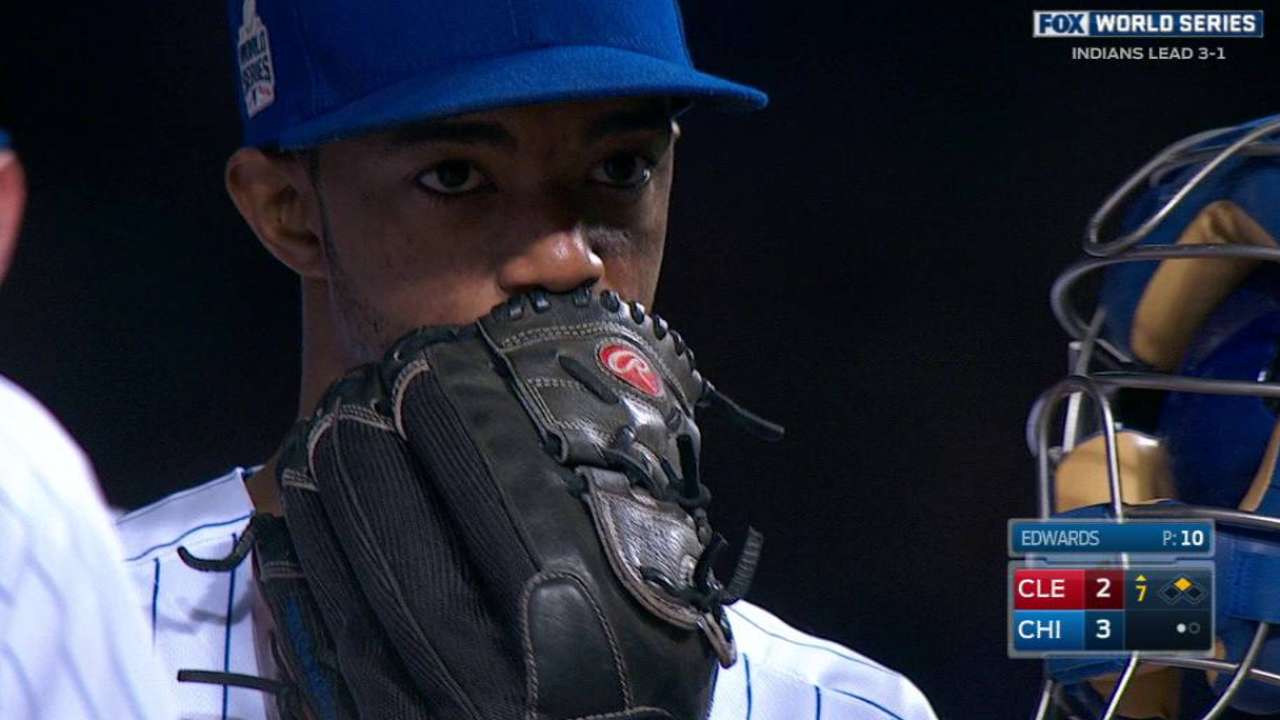 CHICAGO -- In a one-run game with their season on the line, the Cubs used three pitchers to seal a 3-2 victory in Game 5 of the World Series on Sunday night. Two of them won't come as a surprise.
The Cubs started Jon Lester, their ace who threw six brilliant innings, and closed the game with Aroldis Chapman, their hard-throwing closer who got the final eight outs. However, to bridge the gap in between Lester and Chapman, Chicago turned to Carl Edwards Jr., a rookie who had only pitched in 41 career regular-season games but has gained the favor of manager Joe Maddon.
• World Series Game 6: Tuesday, 7:30 p.m. ET air time | 8 ET game time on FOX
"I think Joe has a lot of confidence in me," Edwards said. "It's a situation I've been in all year."
Maddon used Edwards to start the seventh because he liked the matchup against Mike Napoli. Even though Napoli singled and advanced to second on a passed ball, Edwards got Carlos Santana to fly out to left field before turning the game over to Chapman.
• Shop for Cubs World Series and NL champs gear
And if nothing else, Maddon was happy to get Edwards on that stage in a huge situation after he took the loss in Game 3.
"He's done a great job all season," Maddon said. "And again, he was the right guy, and then beyond that, I'm looking down the road. I mean, you get guys into these moments like this, an absolute growth moment for him. I really feel good about the next time we have to bring him out there."
Cleveland still leads the Series, 3-2, in part because the Indians have been able to take advantage of perhaps the biggest gap between the two teams: the bullpens. The Indians have rode their stingy bullpen by shortening games and using unconventional roles, while the Cubs have questions marks on bridging the gap to Chapman at the end of games. Maddon has not shown faith in either Hector Rondon or Pedro Strop in high-leverage situations recently, instead turning to Justin Grimm and Edwards.
Edwards, who was acquired from Texas in 2013 in the Matt Garza trade, has pitched his way into the prominent role. Thanks to a high spin rate on his four-seam fastball -- average of 2,661 RPM compared to league average of 2,264 -- he generated a 11.9 percent whiff rate on the pitch, third-best in MLB among pitchers who threw at least 500 four-seamers.
"Carl Edwards, to me, is a special kid," catcher Willson Contreras said. "He doesn't throw a straight fastball, everything is cutting. He has an amazing curveball and he's been able to slow the game down and pitch aggressively. He has been amazing all season long. I think he's one of the best pitchers in our bullpen."
Jamal Collier has been a reporter for MLB.com since 2014. Follow him on Twitter at @jamalcollier. This story was not subject to the approval of Major League Baseball or its clubs.