Exploits of Miller, Chapman not lost on prospects traded for them
Yankees' Torres, Frazier watching relievers' World Series dominance with particular interest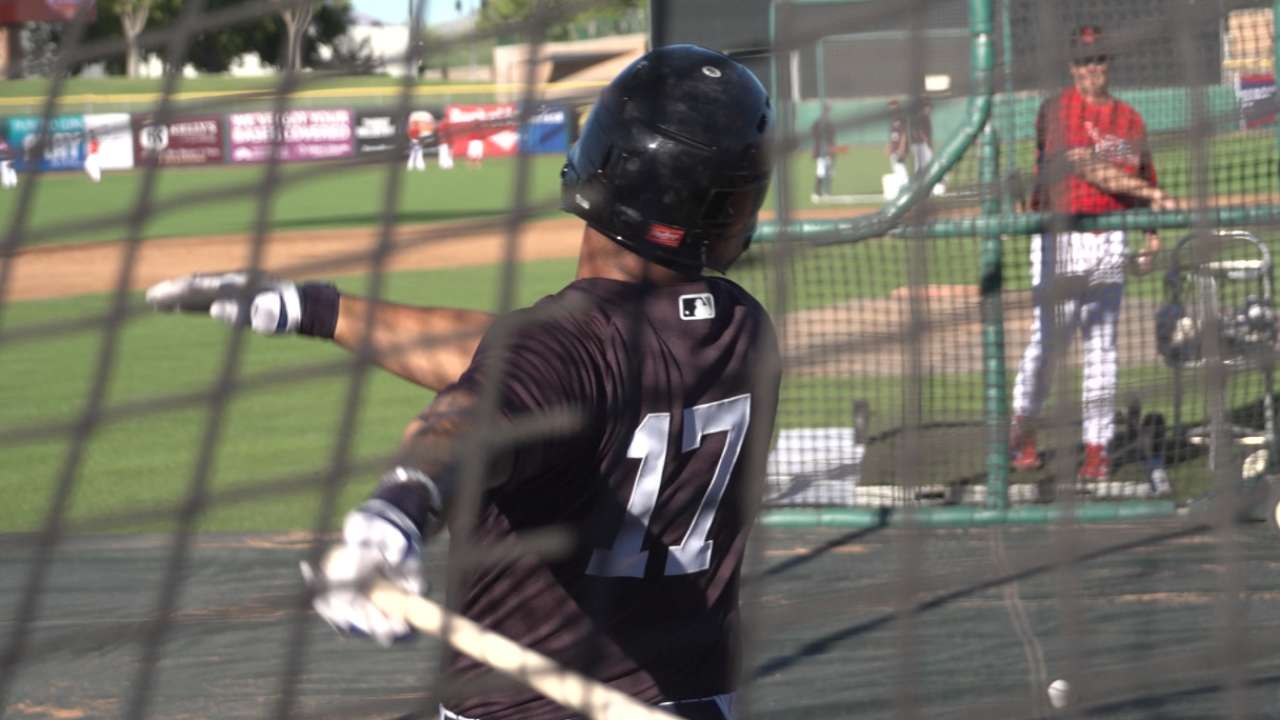 SCOTTSDALE, Ariz. -- The baseball world has marveled at the dominance of two left-handed relievers in the World Series, with Cleveland's Andrew Miller posting zero after zero, and Chicago's Aroldis Chapman consistently humming 100-plus mph fastballs. Everyone is on the edge of their seats every time either one comes out of the bullpen to enter a postseason game.
There are a couple people who have more of a vested interest than most, and they're not part of the Indians or Cubs organizations. Not anymore, anyway. But two prospects, now Yankees, are as responsible for Miller and Chapman being in Cleveland and Chicago as just about anyone.
The Chapman deal went down first, on July 25. The key return for the Yanks in the deal was shortstop Gleyber Torres, a teenager playing well beyond his years in the Carolina League, then the Florida State League, and now the Arizona Fall League. He took over the No. 1 spot on the Yankees' Top 30 Prospects list for just six days, when the Tribe sent Clint Frazier and three more prospects to the Yanks for Miller.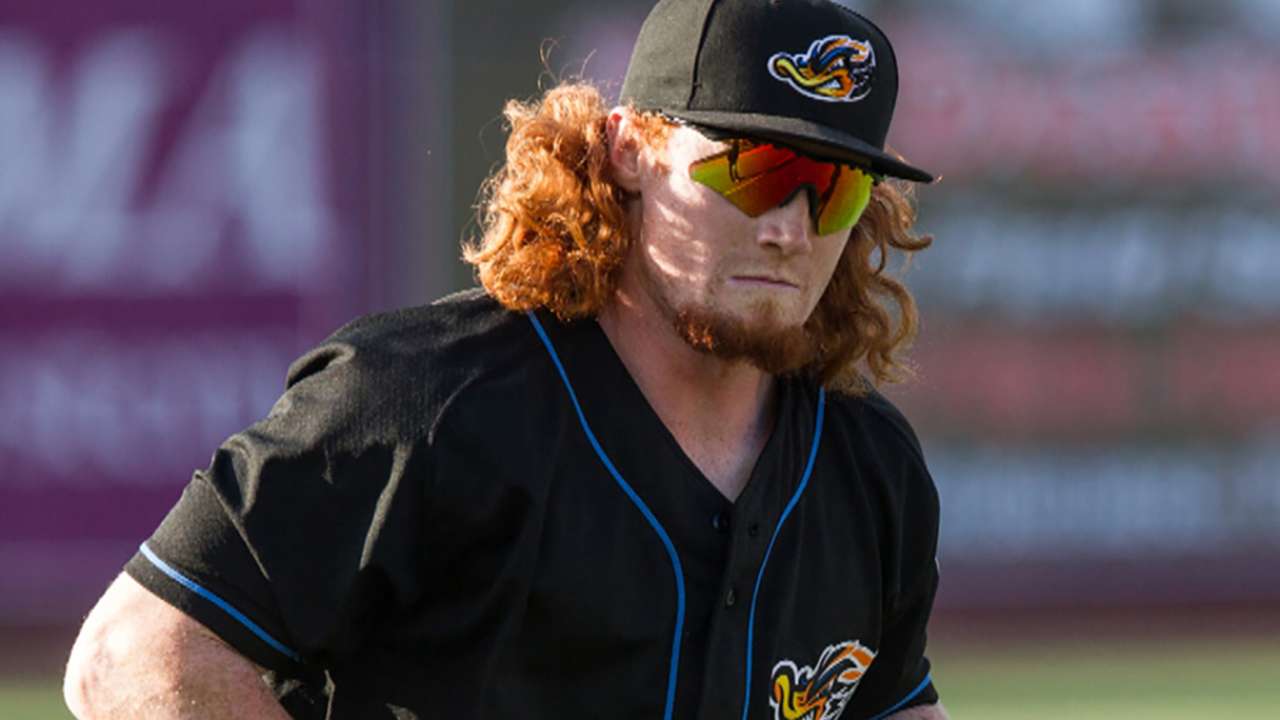 Frazier and Torres, ranked Nos. 15 and 17 on the Top 100 Prospects list, didn't get to play together during the 2016 regular season, with Frazier up in Triple-A, two rungs higher than Torres, but they did meet in the Yankees' instructional league, where there was a bond among the large stable of New York's newly acquired prospects.
"We really didn't talk about the pieces of the trade in particular, but we did talk a lot about each other," said Torres through translator Carlos Mendoza, one of his Scottsdale Scorpions coaches in the Arizona Fall League, and the Yanks' Minor League infield coordinator. "We tried to get to know each other a little bit more."
"I roomed with Rashad Crawford and Justus Sheffield at instructs," said Frazier (Sheffield was traded with Frazier from Cleveland, and Crawford was part of the Chapman haul). "Billy McKinney [also part of the Chapman deal] and Gleyber would come over. All the guys who were traded would come over."
Frazier is finished for the year, back at home in Atlanta, while Torres has been one of the best performers in the Fall League. They've both kept tabs on the postseason, with slightly different perspectives. But both are former members of the organizations competing for a championship and are key to the future of the Yankees, who are trying to flip the switch and build from within.
"I haven't had time to watch all of the games, but the little I'm watching, I'm really happy for them," Torres said of his former Cubs organization mates. "I know a lot of the guys out there. I just want to wish them well. I'm excited for what they're going through right now."
"In the end, I'm always going to root for those guys," Frazier said of the Indians. "They were a big part of getting me to where I am. The staff, players, front-office guys, they did a lot to help me out. I have a lot of respect for guys in that locker room. I'm homegrown in that system. They'll always be a part of me, and I hope I'm always a part of them."
Watching the big league arms they were traded for excel in the postseason has been both a blessing and perhaps a curse for Torres and Frazier. On one hand, every strikeout Miller and Chapman record -- a total of 47 in 30 combined postseason innings --- allows the prospects to realize how much the Yanks valued them to give up these arms.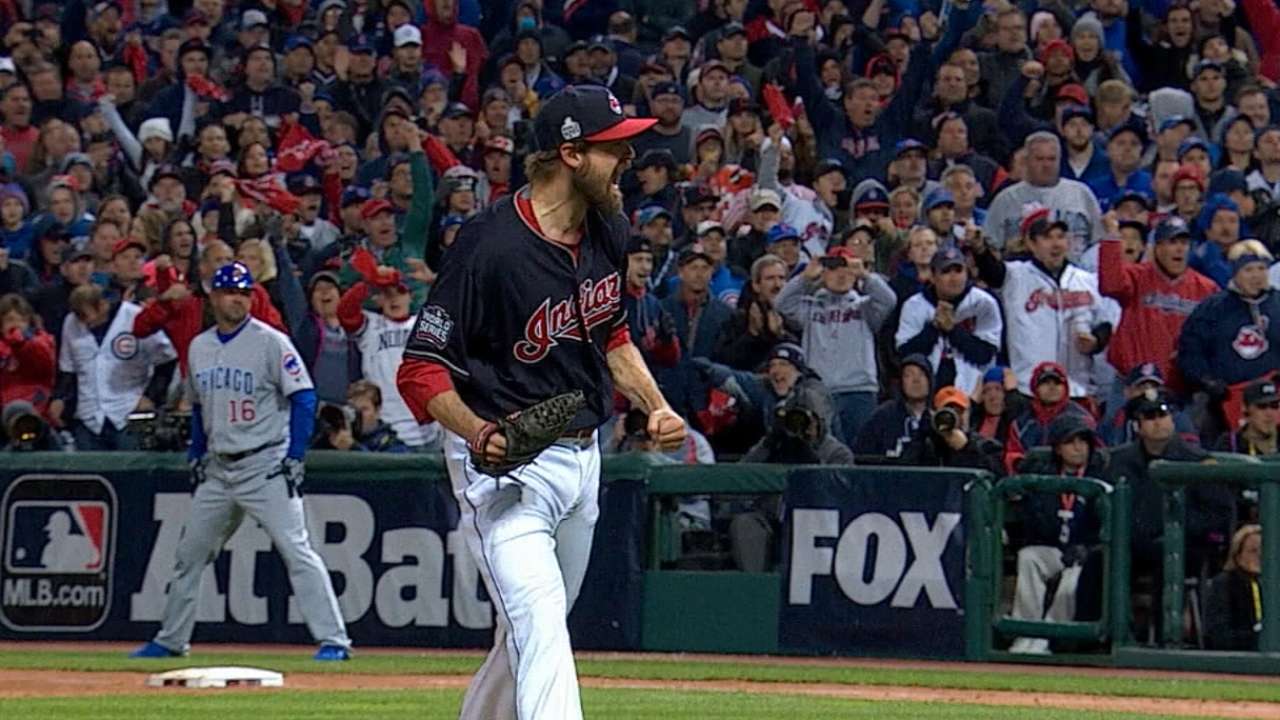 "These are the best pitchers in the game," Frazier said. "No one can touch Aroldis. Andrew is doing what he's doing. It's fun. It shows how good some of us were, to be traded for these guys. To see these guys flourish in the playoffs makes us feel good about ourselves. Those guys are so good, and our team gave up them for us."
my mentions when he comes in to pitch tonight ....

— Clint Frazier (@clintfrazier) October 26, 2016
"It's been exciting, and I'm very proud to have been a part of that trade," Torres said. "I want to thank the Cubs organization for everything they did with me in my career. Now I'm excited and happy to be a part of this great organization. It's an exciting time, and I'm just proud to be a part of it."
Then there's the flip side of that coin. The pressure-filled, living-up-to-lofty-expectations side.
Torres and Frazier have dealt with that weight in different ways, perhaps reflections of their personalities.
Torres, just 19, is mature beyond his years but plays the game with a carefree passion that is captivating on the field. As a result, being the key component in the trade for one of the most dominant closers in the game just kind of rolls off his back.
"Not really, to be honest with you," Torres said about whether the expectations bother him. "I'm just being me. I'm just preparing myself, having fun and sticking to my routine. I don't put too much pressure on myself. I just want to go out there, have fun and show my abilities."
The numbers reflect that. They weren't eye-popping immediately after the trade, but Torres also didn't struggle. Keeping in mind that he was more than three and half years younger than the average position player in the pitcher-friendly FSL and had been dealt from the team that signed him at age 16, his .254/.341/.385 line showed he more than held his own. And Torres has certainly gotten his bearings in the AFL, where, as the youngest player in the league, he's hitting .313 with three homers and seven RBIs over his first nine games.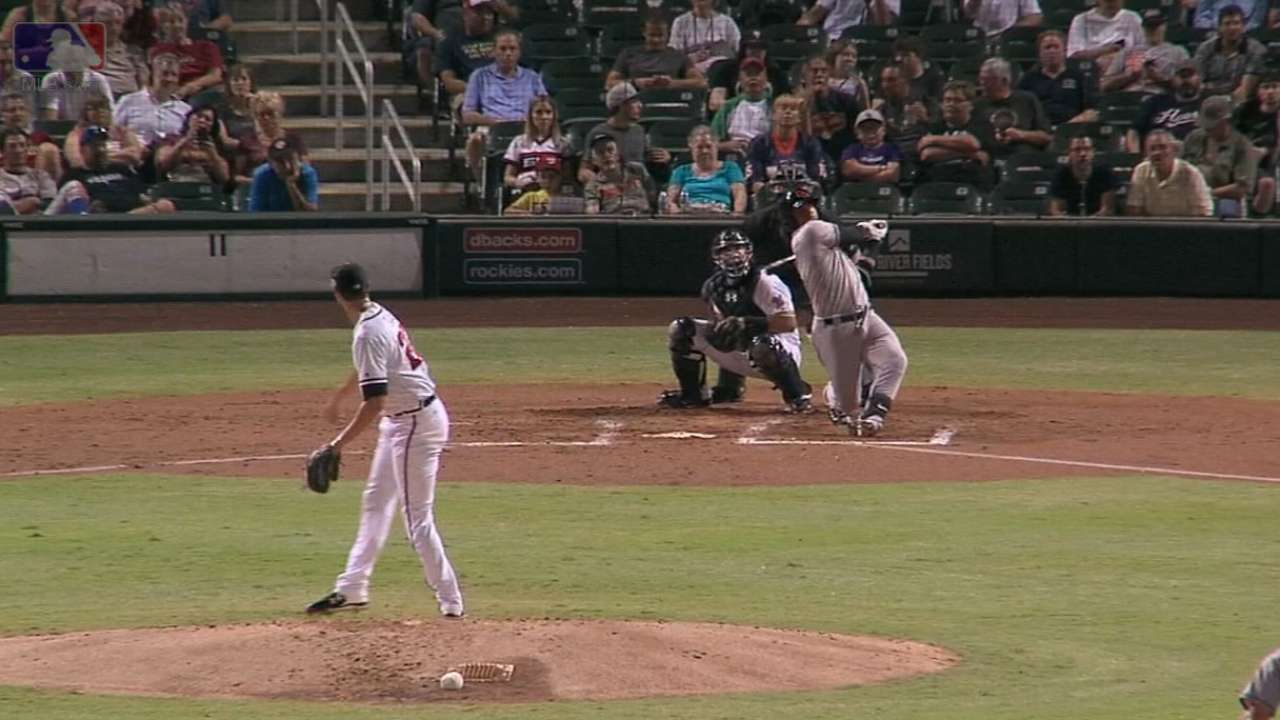 "I was just a little bit nervous, coming in," Torres said. "When I found out I was being traded, and coming to this great organization, I didn't know the expectations. I was just more nervous. But once I got to know everyone, the coaches and players, they made me feel welcome right away."
Frazier, on the other hand, wears his heart on his sleeve. He's learned since he entered pro ball as a first-round pick in 2013 to temper his swing-as-hard-as-you can approach. Frazier really broke out in 2015 and carried his better gameplan into 2016 to eventually earn a promotion to Triple-A right before the trade. He is the first to admit that he unraveled a bit after the trade, trying with every huge swing to prove he was worth the trade.
"Watching Miller dominate those hitters like that has been unreal," Frazier said. "It kind of puts some pressure on you. You want to live up to the expectations. I'm a player that's trying to come up and prove myself. It's something I've tried to work on. When I got traded for him, I kind of went out of my way to prove myself to people. I was trying to impress too many people, show what I can do, when in reality they knew what I can do. I lost myself a little trying to do a little too much."
Now 22 years old, Frazier hit just .229/.282/.375 in August following the trade. He struck out 27 times (vs. seven walks) in 24 games. Frazier admits that he got into some bad mechanical habits (moving his head too much), trying to hit the ball harder, out of frustration, with each failed at-bat. But a stint on the disabled list allowed him to catch his breath and hit the reset button. Frazier went 5-for-12 over his last three postseason games to finish on a more positive note.
"I don't want to put pressure on myself because it makes me not be able to play the way I want to," Frazier said. "I kept thinking to myself, 'They aren't trying to prove themselves to me, so why am I doing that to them?' I thought about what got me to this point, and that I don't want to change from that. As the playoffs went along, those were some of the best at-bats I had in Triple-A."
Eventually, both Frazier and Torres will make names for themselves and not just be asterisks during postseason coverage. For now, though, there is an understanding that they are linked, so rooting for the big leaguers they were traded for makes sense.
"In my own opinion, I want to see the player I got traded for succeed," Frazier said. "It's fun to watch guys handle their business. It makes us feel good about being traded for that guy."
Jonathan Mayo is a reporter for MLBPipeline.com. Follow him on Twitter @JonathanMayo and Facebook, and listen to him on the weekly Pipeline Podcast. This story was not subject to the approval of Major League Baseball or its clubs.