Oct. 30 Joe Maddon pregame interview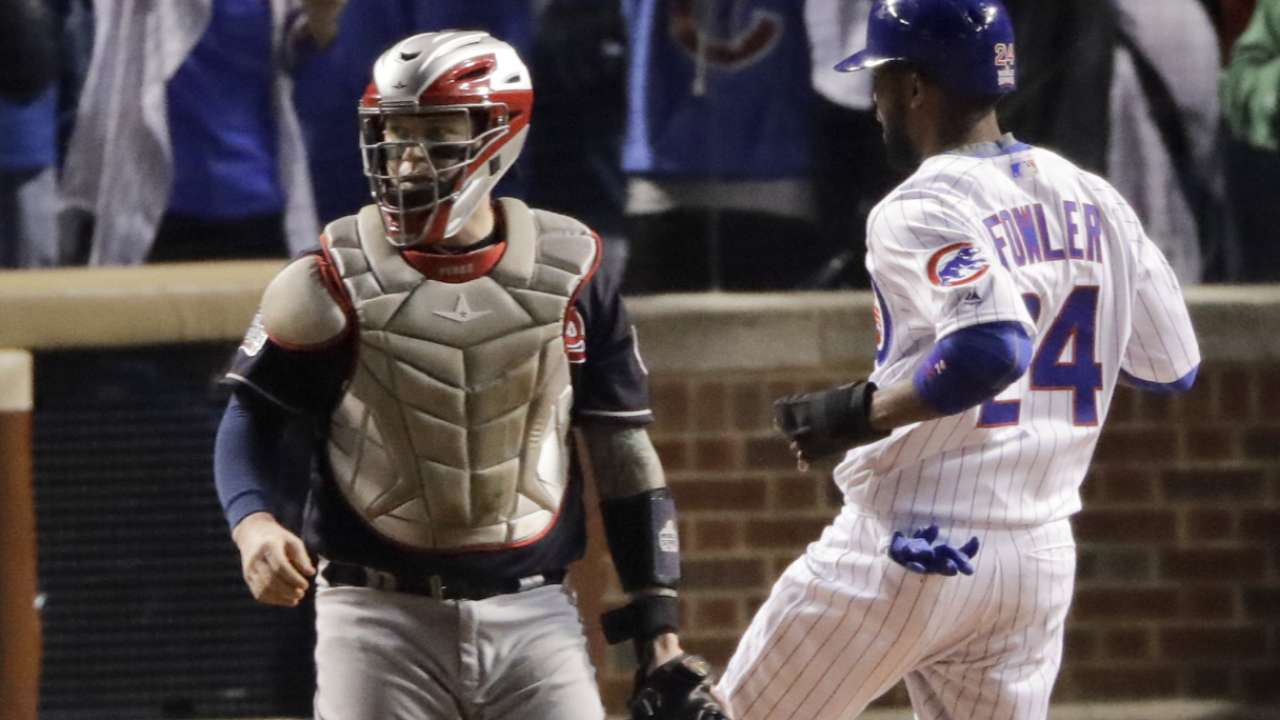 Q. I know you've talked about David Ross all season long and what he's meant to this team, but now that this is definitely his last game at Wrigley Field, and who knows, with regards to his career. What can you say about him now that the end is here and what he's meant to this ballclub?
JOE MADDON: Well, when you ask about David, I think of my first conversation with him. I didn't know him, only worked against him. And then Theo talked about it last year, so I was in Tampa just driving around in my Galaxy, and stopped and gave him a phone call, and was totally impressed with the entire conversation, how upbeat he was, how just motivated to win. His thoughts and ideas about team and team concepts. Everything was like right in that first conversation.
Then you get to know him and he's all of that. I mean, you talk about guys that have influence in the locker room. Everybody talks about veterans, all the time veteran influence. I'm telling you, veteran influence can also be bad if you have the wrong veteran. He's absolutely the right veteran. And he's passionate about the day. He's passionate about his craft, and I think he makes everybody around him a little bit better, honestly he does.
He's just a different cat. He's earned the right to be in these moments. He's going to make a very good scout, coach, manager, Major League manager, whatever he chooses to do. But he has been a huge part of us being successful.
Q. You've already told us about how the hitters cannot chase bad pitches and how with Jon Lester, "We need to field well behind him." What else, what's another aspect of the game tonight that might be key for a Cubs win?
JOE MADDON: Again, with us, I talked about it yesterday. We did it, but it didn't play, is that we need to score first. To score first, win innings, and with their bullpen abilities, we really want to grab a lead and keep it. I mean, that's just common sense. They have been very good. They're pitching at an almost historic rate in this postseason.
So that's it. I mean, just score first, win innings, and then stay out of the meaty part of their bullpen. That's probably the best way.
Offensively, we have to generate more consistent contact. We have to move the ball more consistently to the whole ballpark. All of that. We've talked about it. This is something that it's nothing new for us. We talked about it in Spring Training. Did well about it, slipped, talked about it again, came back. So I'm always counting on if we include it as part of the dialogue, the conversation that our guys normally respond.
Q. Did you talk to your team? And if so, can we have Cliff Notes, that's No. 1?
JOE MADDON: That's all I ever use are the Cliff Notes, man (laughing).
Q. No. 2, what do you tell a whole bunch of nervous Cubs fans tonight?
JOE MADDON: I have not talked to the team. I will talk, like I normally do, individually to different guys. I really don't believe in the speech thing working. I don't. I've sat on the floor and received speeches and I never was really -- it never inspired my performance. I mean, in our game it might get you worked up for a couple minutes. When you go out there and you're facing somebody's slider on the black, that speech goes away very quickly.
So I don't necessarily agree with that. I want us to play with the emotion, but without emotion. In other words, be involved in the moment, but you can't go out there emotionally and win baseball games. So I'm not a big believer in any of that.
I'm sorry, the second part was?
Q. About the nervous Cubs fans.
JOE MADDON: Please be nervous. Absolutely. You should be nervous. We have to win tonight, so go ahead and be nervous. It's up to us to get you beyond that moment and get back to Cleveland.
But, listen, I'm very pleased and proud of our group, period, over the last two years. I think all of our Cub following feels the same way. We are at the doorstep, the precipice of winning a World Series, absolutely. I understand the angst involved with that. But I do believe that our Cub fans, the ones that I've spoken with, are really digging on everything that's happened.
Please go ahead and be nervous. You should be as a fan. From our perspective we've got Jon Lester pitching tonight; we feel really good about that. Then score first, win innings and stay out of the thick part of their bullpen. That's the process part of it. That's what I have to be concerned with right now.
Q. Fascinated to get your take on Lindor, four games into this. Is there a ballplayer from the past that his game reminds you of, and just your appreciation? I know he's on the other side.
JOE MADDON: He's really good. I've already compared Javy to Roberto Alomar, but this guy's actually a switch-hitter. I mean, Roberto Alomar, when he was like really good a couple years ago, that was hard to beat. A combination of everything. I mean, the guy just knew how to play baseball with power at that position.
He's unique. And he's very young, just like our guys. He's quite a talent. I heard about him a lot. I saw him, I think, briefly. Maybe last year, I don't remember, maybe it was Spring Training, but the kid is uniquely good. He's got a lot of positive energy about him. I love the way he interacts.
It's all good. It's good for the game. It's good for him. It's good for Cleveland. That's the kind of guy you need to attract young baseball fans. Not necessarily players, but fans. I think he's wonderful.
So I hope with good health that he stays that way for so many more years to come. Because it's good, like I said, it's good for everybody to have people like him in the game.
Q. Looking at the whole postseason and your difficulty scoring runs, the only thing I can see that's been done differently is positions locked in for Baez, Bryant, and Zobrist instead of using their versatility. Is there any way that that could have impacted -- Bryant would be the guy you'd point to, I guess, but that just any possibility they got stale because of not moving around?
JOE MADDON: No. Never even thought of it. I don't think so. I think we appear to be stale right now based on Cleveland's ability to pitch. That's it. I mean, that's nothing. Our guys are fine. When you run into good pitching, man, it makes everything look a little bit sideways. It just does. I've been involved in these moments in the past and we've run into some really good pitching. We did last year. So I don't know.
I mean, from our guys, having Schwarber more available, you'd be able to do some things differently right now. Absolutely, that kind of a thing. But overall, man, I think our guys are fine. It's just that we're running into a hot pitching staff right now.
Q. It's been more than a year since you woke up needing to win a baseball game.
JOE MADDON: Yep.
Q. Curious, A, Beanie have any advice for you? But also what you woke up thinking about this morning? What music you listened to the car ride over?
JOE MADDON: Yeah, well, Beanie, we were up till 2:00 in the morning having a pizza party last night. And then she had to get up to 4:00 to catch her plane to go back to PA, which she should be back in Hazleton by now.
No advice from Beanie. She was very happy. I guess all she could talk about with my sister is the car ride from the airport with the cops. That's all she's talking about right now. So I love the fact. She's giving me a hard time last night that we haven't sent enough stuff back for our event in December, for the banquet. I'm getting a hard time. Not enough signed stuff being sent. That was the topic of conversation last night, Beanie, and I'm just trying to relax here a bit.
No, she's been wonderful about the whole thing. And I'm really -- it's so cool that she could have been here for the last couple days.
Beyond that, got up this morning, first thing I looked at, it was late, football was on. I just scrambled to get the game on TV. Wasn't good. So watched that, and then coming on out, no, nothing. Came and input my Pandora station on my Shuffle. A lot of Eddie was on, Eddie Vedder was on this morning, so that's kind of cool.
But honestly, I was talking to somebody else, game over last night, I like to drop things. There's not a whole lot to overthink right now, I don't think. I prefer putting things down, and I believe if you do that, then the right thoughts will come to you sometimes. So I did that. When I got up this morning, wrote out the lineup, and as I was writing the lineup down, and I had a couple little, you know, maybe inverting the names a little bit. But part of what you see today is the fact that Jon's pitching, Lester, and we need to play that kind of defense. So a lot of those guys are there. Bauer being a reverse-split kind of guy, those guys are there.
Tried and true, man, we've won a lot of games this year. We've run into a hot pitching staff right now. So it's not complicated. We just have to go out there and have better at-bats. Catch the ball, like we normally do, and get it back to Cleveland. So that was my conclusion.
Q. I understand that you asked some of the players, if not all of the players, to come a little later today. I think the time was 5:30.
JOE MADDON: Yeah, that was a miscommunication. I didn't ask that. I'm sorry. I don't mean to give you the wrong information. That was put up before I had said anything. They're welcome to come that late, but I didn't want them to fight the traffic. I mean, I can't even get here at 2:00, let alone 5:30.
So, no, under the circumstances we'd normally not hit on a day like today, normally, but the abnormal part is I don't want them sitting around inside. I don't want them reporting late and fighting traffic, so we readjusted that. If they don't want to hit, they don't have to, but I did not want them to feel like they have to be here at 5:30 and then have all this other different stuff going on that we're not used to.
Q. This is a team that all season long has really seen a lot of pitches, worked pitchers hard. That hasn't been as evident in the postseason. Is that a product of better postseason pitching or is it something on your end that's not flowing as well?
JOE MADDON: I think a lot of it has to do with postseason pitching. When you're able to focus and drill down into specifics, I mean, five-game series, seven-game series, seven-game series, all the work that goes into it. Obviously, you have your game plan, but then you have to have the guys to perform the game plan. In San Francisco, we saw some really good pitching. In L.A., same thing. Now we're seeing it again. We have not yet made the adjustment, agreed, to Cleveland's. We kind of adjusted in those other series pretty well. We haven't been able to adjust yet here.
If you look at our track record all year, I know we have this wonderful run differential, but a lot of that is based on our pitching staff and defense, I think. We did have some games where we scored lots of runs, but at the end of the day I think that run differential component is a little bit overblown based on other factors, again, pitching and defense.
We've had our struggles offensively during the course of the season, too. Right now we are against a very good pitching staff. We need to adjust back. We have time. We're running out of it, we have time to do that. Needs to start tonight. Obviously we need to get back to Cleveland. This is one time that I will be a fan of an American League lineup designated-hitter situation. It definitely will lengthen our lineup to get Kyle back in there, which I think will present differently to them.
So to get through tonight, obviously, it's oxygen; it's that important. But moving forward, we just have to adjust back to what they're trying to do to us.
Q. You said numerous times during the season, "We're pretty much a home run-hitting team." When you're not able to do that, is that impactful psychologically to your club because of the fact that you have so many guys that can hit the ball out of the ballpark?
JOE MADDON: Yeah, we've been trying all year to swim whenever possible, and that's the word I'd like to use. We kind of did that against the Dodgers a little bit. Even like that first inning, we get the double and the base hit to right by KB.
The ability, again, this is an industry-wide concern, I think a lot of teams, you'll read about a lot of teams that score the majority of their runs via the home run. The strikeout is so prevalent, the ability to move the baseball, all these things I think organically are going to come back, and I think it has to start in the Minor Leagues. I think the approach has to start in the Minor Leagues, where you teach hitters to utilize the whole field, how to work counts, how to have a two-strike approach. It's hard to teach all of that here, especially in this venue, because you really have to rely on tried and true. What have I done for the last five, six, seven years? That's what you do right now.
So all these things we talk about a lot. We want to continually get better at. We have relied on the home run a lot. But we have talked a lot about the other side of it, too. And we show flashes. We show flashes of being really good at the other thing. We need a flash right now, because I don't anticipate their pitching to change a lot. We have to adjust back at them. They've been doing well of getting ahead in the count. And after that, they're really not honoring anything. And we have to do something about that.
Q. Some of the things, the philosophical things you do during the season, such as the players report at 5:30, or show up late. Some of the casual stuff, I know, is in conflict now because of the crowds outside are insane, and that makes things more complicated. I'm wondering how you kind of find the middle line there, and has that affected your philosophy at all or made you do something different or talk to the players differently as you try to work around all these World Series demands?
JOE MADDON: Honestly, I don't think so. Again, it is the World Series. We had to go through the Giants. We had to go through the Dodgers. We had to do a lot of different things to get to this moment. So I don't feel anything from the guys. I don't think we've really changed our patterns a whole lot. The only difference is we've been on the field more. Part of that is just out of respect for what's going on. The fact that we have to be accessible, the fact that you have to be out there to be able to talk to people.
One of the bigger points for me is I don't want them sitting inside. I want them to get outside and feel everything, too. You don't want to insulate yourself. You want to gain feel for what's going on. So that's part of my concept right now. I think that's where it differs from the season. Where it's a regular season game, you might be playing somewhere where it's not that big of a crowd, whatever. And you're just tired. You're just tired in June. Sit down, relax, chill.
I don't think anybody can be tired right now. We've had plenty of days off. You're on that stage where you've worked very hard to get to this particular moment. So I want them -- like I said, they don't have to hit if they don't want to, but I like the idea of being able to go outside right now and not stay insulated in the clubhouse. So that's about the only thing different for me right now. I think it's important to feel what's going on.
But the road trips, dress codes, which we don't have, rules and regulations don't exist. Stuff that I don't believe in, everything's the same.
Q. It seems a little counterintuitive on the surface the way your offense is scuffling that you'd opt for defense today.
JOE MADDON: I love counterintuitive. I love it, man.
Q. Also, how much thought did you give to sitting Baez?
JOE MADDON: Well, just to try to narrow that down. With Jon pitching, we do certain things defensively, and Javy needs to be on the field for that. No. 1.
No. 2, if Javy has his first at-bat tonight's a good one, he could just go off for the rest of the series, too. This kid's just coming off of being the MVP of the last series that we played, and the reason why we're here is because of all the different things he's done over the last two or three weeks.
Furthermore, this guy tonight is better against lefties than righties. So that's not only our best defensive team for tonight, it's also probably the best chance we have offensively against this group, too.
Now you could put Jorge in there, Soler, as a possibility also, right-handed speaking. But taking everything into consideration, I think it was the best way to go for tonight.
We were faced with the same situation in L.A. where we were just stagnant on offense, and all of a sudden, Addie goes over the wall, Riz goes over the wall, and all of a sudden they start hitting line drives all over the place. That's what needs to start happening. And this is a group that does it.
I don't disagree, it may appear on the surface to be counterintuitive, but there are other factors involved in winning the game for me, too.
Q. You were in this situation in the World Series before on the edge. A little colder then. But how does that shape your philosophy, though, on how you are processing all of this going into tonight?
JOE MADDON: Well, I mean, I can only tell you now that -- are you referencing the Rays series?
Q. Yeah, how that experience helps you.
JOE MADDON: Yeah, well, that one there was so awkward. That was like the weather and everything was really over the top. I mean experience-wise, I think like I'm answering the previous question, like the counterintuitive component and still wanting to stay with this thing, I think I'm more certain, maybe, that I think it's the right thing to do. Maybe having not gone through it before, I might not be as certain about it. I'm just thinking that right now.
You know, you guys know me. I feel very strongly about what we do and how we do it. And even if sometimes a thing doesn't work, that doesn't mean it was the wrong thing to do. That doesn't mean it didn't work in that moment. Both teams are professional.
So I try to weigh everything out. I'm always pretty much convicted in my conclusions. So I feel very strongly about the team playing tonight, I do, for us. But always the experience component, it's always wonderful to have that. And that was such an awkward moment. Even going back to 2002 with the Angels. We were down 3-2 going back home in that one and had to beat Giants twice.
So rely on that stuff, and if you've been involved in the series with the Rangers a couple years ago, lose two at home, win two on the road, and eventually lose Game 5 at home, there is just no telling. And this morning, Andy Freed texted me, Andy Freed, the radio announcer for the Rays, big Orioles fan. He was listening to Casey Kasem this morning, and they had 1979 on. And he wanted me to know in 1979 the Orioles were up 3-1 against the Pirates, and the Pirates came back and won. So all these feel a little different.
The synchronicity in the world is always coming together. So I'm taking solace in the fact that Andy gave me that information this morning.