Martinez candidate for Rockies' manager job
CHICAGO -- Cubs bench coach Dave Martinez is a candidate for the Rockies' managerial vacancy. Chicago manager Joe Maddon was encouraged to hear that Martinez would be considered.
"I would hope that Davey does get that opportunity to interview and possibly get the job," Maddon said Sunday.
• Game 6: Tuesday, 7:30 p.m. ET air time | 8 p.m. game time on FOX
Martinez was the only coach Maddon added when he took the Cubs job prior to the 2015 season. Cubs president of baseball operations Theo Epstein and general manager Jed Hoyer were both adamant that they wanted to keep the coaches who were on the staff prior to Maddon's hiring.
"At least I was able to get Davey up here, which definitely helped, because he was able to carry the message," Maddon said. "It is unusual [to not chose your own coaches]. It's unusual to have that many guys stick and to have that kind of success also."
• Shop for Cubs World Series and NL champs gear
The Cubs won Game 5, defeating the Indians, 3-2, to force Game 6 in Cleveland on Tuesday. The Indians still lead the series, 3-2.
Martinez had been Maddon's bench coach with the Rays, and he has interviewed for other managerial openings, including the Dodgers before they hired Dave Roberts.
"Davey's not afraid to have the tough conversation," Maddon said. "The best way I can describe it to you is he should be there to permit the manager to intellectualize the day. If I have to get caught up in all this other stuff, I really won't be able to do my job. That is his job. His job is to be the conduit, liaison -- between this office and the rest of the clubhouse -- and to really put out the fires before they ever get here and beyond that, do his duties."
No biggee: John Lackey was not happy with some of the calls by home-plate umpire Marvin Hudson in Game 4 on Saturday, and Maddon had to intercede, taking some time after the third inning to chat with the umpire. After the chat, Maddon talked to catcher Willson Contreras, and the rest of the game went better for Lackey.
"I wanted to understand what was going on," Maddon said of the conversation. "I was able to understand what his thoughts were on certain pitches. It's not that [Hudson] started giving us pitches. It's something he talked about, and I went back and talked to Willson and he said, 'OK,' and it got better."
Maddon said Lackey's reaction to calls not going his way was "kind of normal behavior" for the right-hander.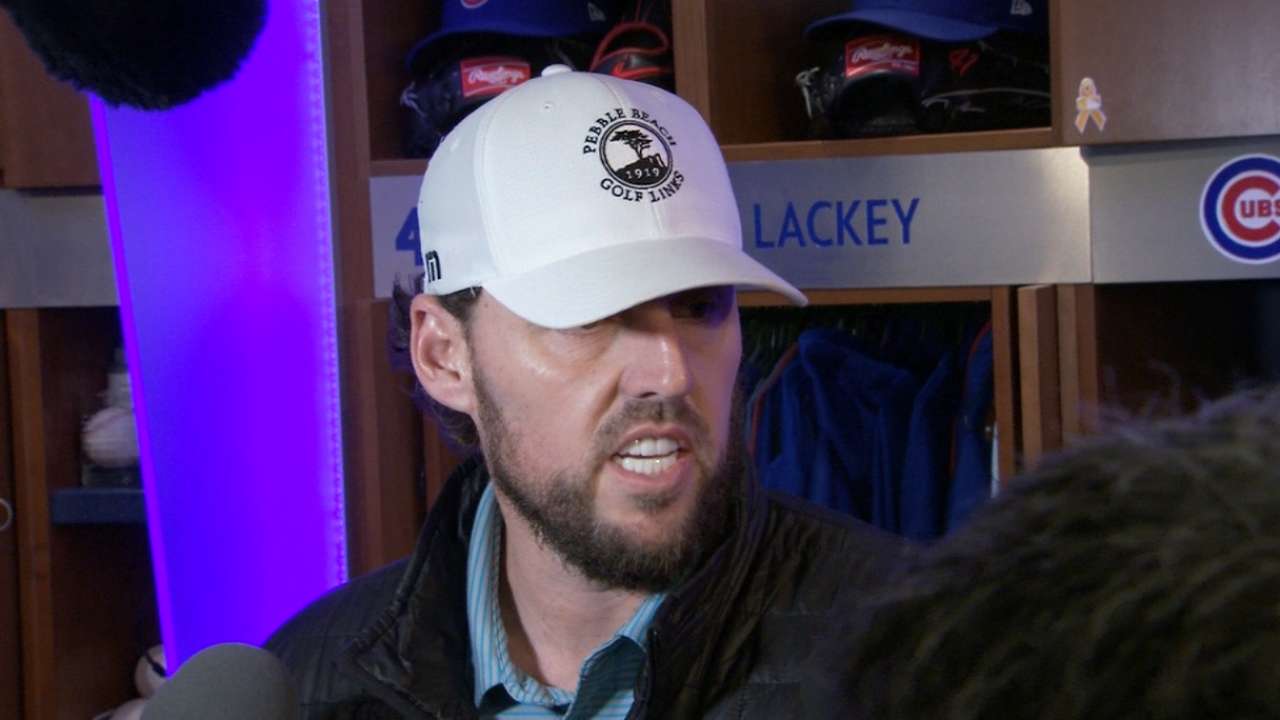 "I had a nice talk with Marvin," Maddon said. "You know, the thing that we try to teach our guys is that we're good enough that even if an umpire misses a pitch, we could work through that. I'd like to believe from a hitter's perspective and also from our pitchers' perspective, you have to anticipate a call's not going to go your way. It happens to everybody. It happens to both sides every night, so you can't necessarily go there mentally. You've just got to keep moving through the moment."
Lackey also seemed upset at Kris Bryant's errant throws but the third baseman said that wasn't the case.
"He wasn't upset with me," Bryant said. "We talked about it. He's a competitor and wants to win. John's one of the best teammates here. We know he's intense, but he's never showing you up. I know that. He's just a competitor."
Family ties: Maddon's 83-year-old mother, Beanie, flew back to Philadelphia on Sunday and didn't have the travel delays that she encountered on Friday. The Maddons did have a pizza party after Saturday's game, which gave everyone a chance to catch up.
Carrie Muskat has covered the Cubs since 1987, and for MLB.com since 2001. She writes a blog, Muskat Ramblings. You can follow her on Twitter @CarrieMuskat and listen to her podcast. This story was not subject to the approval of Major League Baseball or its clubs.