World Series Game 5 starting lineups: Indians, Cubs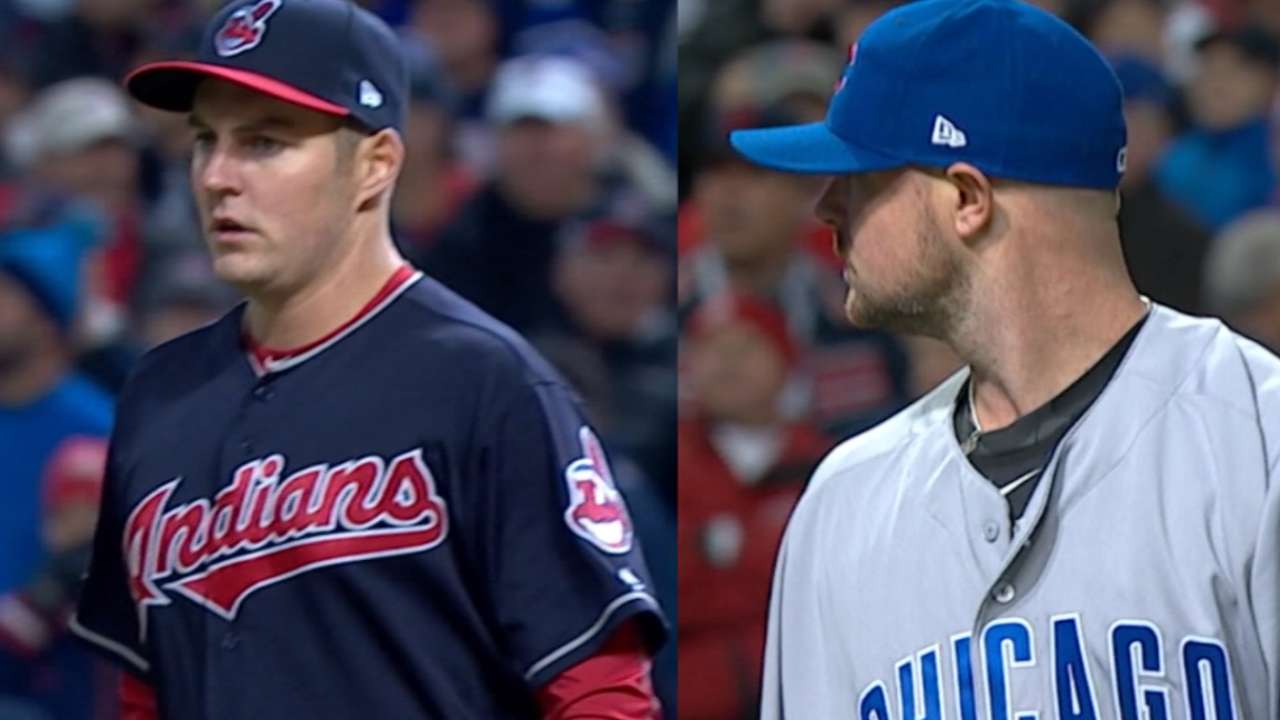 The Cubs need to find some offense, but it'll be tough. Indians pitchers are 3-1 with a 1.50 ERA in the World Series, and 10-2 with a 1.68 ERA in the postseason overall, giving up six home runs over 12 games.
In the Indians' three wins, they've walked four batters and fallen behind in the count, 2-0, just 12 times. The Cubs drew eight walks in Game 2 against Bauer and Co., and four walks total in Games 1, 3 and 4.
This will be Ross' final home game for the Cubs, and may be the last game of his career. He's retiring after this season, and in his regular season farewell on Sept. 25, the veteran backstop hit a solo home run to help the Cubs beat the Cardinals, 3-1. Lester also asked Maddon to come out and take Ross out of the game so he could get a proper sendoff by the fans at Wrigley Field.
Kyle Schwarber, who went 3-for-7 as the designated hitter in the first two games in Cleveland, will be waiting on the bench. Schwarber made an amazing return after tearing two ligaments in his left knee in the third game of the season, but was not given medical clearance to play in the outfield.
For the Indians, behind Bauer will be a lineup almost identical to that of Game 1 in Cleveland, when the Tribe beat Lester. Rajai Davis remains in the leadoff spot as a right-handed hitter against the southpaw Lester. Davis has had more experience against Lester than anyone for the Tribe, batting .286/.352/.531 with three doubles, three triples, a home run and six RBIs against in 54 plate appearances. In Game 1, Davis was 0-for-3 with a strikeout against Lester.
Second baseman Jason Kipnis, who is 3-for-11 lifetime against Lester and went 3-for-5 with a three-run homer in Game 4, will hit second for the Indians. Francisco Lindor is in the third spot in the batting order -- the shortstop was 2-for-3 with two singles against Lester in Game 1 and is 3-for-6 in his career against the left-hander.
With Santana back in left field for Game 5 after playing first base in Game 4, Mike Napoli is back at first base and will hit cleanup after coming off the bench in Game 4. Napoli is 6-for-17 (.353) with two homers and five RBIs against Lester. Santana, coming off a 3-for-4 performance with a solo home run in Game 4, will bat behind Napoli.
Jose Ramirez will hit sixth and play third base; Ramirez had three hits, including a double, in three at-bats against Lester in Game 1. Brandon Guyer gets the nod in right field, batting seventh; he's 2-for-9 lifetime against Lester.
In the eighth slot is catcher Roberto Perez, who had a big Game 1 that included two homers (after he hit three all regular season) -- one off Lester in the fourth inning.
Bauer allowed two runs on six hits over 3 2/3 innings in Game 2. In three starts this postseason, including a start in the American League Championship Series cut short because of a bleeding finger on his pitching hand (after he had cut the finger repairing a drone), Bauer is 0-1 with a 5.00 ERA.
INDIANS
Rajai Davis CF
Jason Kipnis 2B
Francisco Lindor SS
Mike Napoli 1B
Carlos Santana LF
Jose Ramirez 3B
Brandon Guyer RF
Roberto Perez C
Trevor Bauer P
CUBS
Dexter Fowler CF
Kris Bryant 3B
Anthony Rizzo 1B
Ben Zobrist LF
Addison Russell SS
Jason Heyward RF
Javier Baez 2B
David Ross C
Jon Lester P
Carrie Muskat has covered the Cubs since 1987, and for MLB.com since 2001. She writes a blog, Muskat Ramblings. You can follow her on Twitter @CarrieMuskat and listen to her podcast. Manny Randhawa contributed to this story. This story was not subject to the approval of Major League Baseball or its clubs.