MLB.com Columnist
Roger Schlueter
Stats of the Day: Kluber on historic run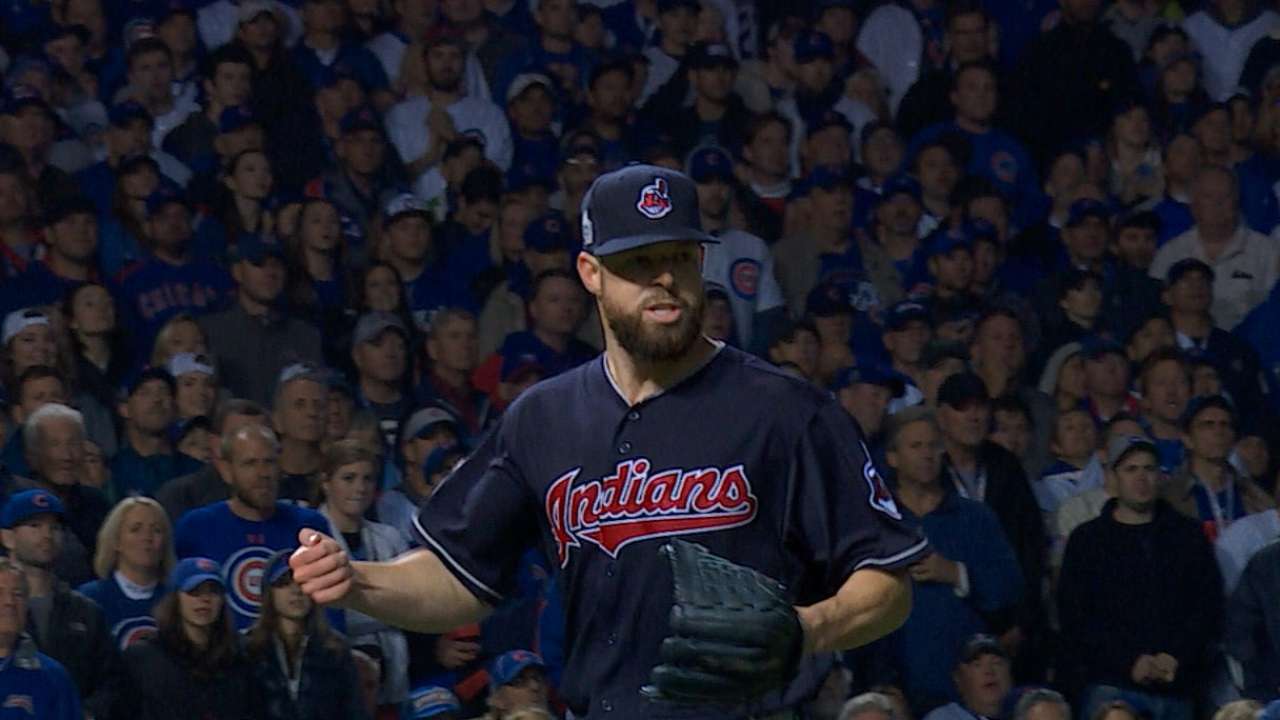 Here are three interesting items from Game 4 of the World Series …
• Cleveland's offense again supported Corey Kluber with a multihomer effort, Kluber again was on the edge of superb and the equation led -- again -- to an Indians victory. The 7-2 win pushed the Tribe to a 3-1 series lead. In winning his second game of the series, Kluber worked six innings, allowing one run on five hits and a walk and fanning six. He is the 24th starting pitcher to record a win in two of the first four games of a World Series.
For the postseason, Kluber has recorded four victories (he also took the loss in Game 4 of the American League Championship Series) and owns a 0.89 ERA in 30 1/3 innings. He is the 20th pitcher with four (or more) victories in a postseason, packed in with 17 others at exactly four. In 2001, the D-backs' Randy Johnson had five, and a year later, Angels reliever Francisco Rodriguez recorded five. Of the 19 previous pitchers to have four or more, there is one other Indian: Orel Hershiser in 1995.
• Shop for World Series gear: Cubs | Indians
• Working in relief of Kluber, Andrew Miller was charged with his first run allowed of the 2016 postseason, but he did strike out a pair in his two innings. With the two K's, Miller has 29 this postseason -- the most for a reliever in one year, one more than Rodriguez's tally from 2002.
• Francisco Lindor went 2-for-4 with a run-scoring single. The line gave the 22-year-old shortstop seven multihit games this postseason (three in the World Series) and a postseason batting average of .370. Lindor's seven multihit games are the most for a player less than 23 years old. He had been tied with the Yankees' Derek Jeter (1996) and the Rangers' Elvis Andrus (2010).
Lindor's three multihit games in the Fall Classic tie him with eight others for players younger than 23:
Jimmy Sebring (Pirates) in 1903
Jimmie Foxx (Athletics) in '29
Dib Williams (Athletics) in '31
Ducky Medwick (Cardinals) in '34
Mickey Mantle (Yankees) in '52
Tony Kubek (Yankees) in '57
Tim McCarver (Cardinals) in '64
Edgar Renteria (Marlins) in '97
Roger Schlueter is a statistical researcher and writes for MLB.com. This story was not subject to the approval of Major League Baseball or its clubs.