White Sox '17 lineup steady, staff uncertain
Anderson poised for dynamic sophomore season amid possible rotation rebuild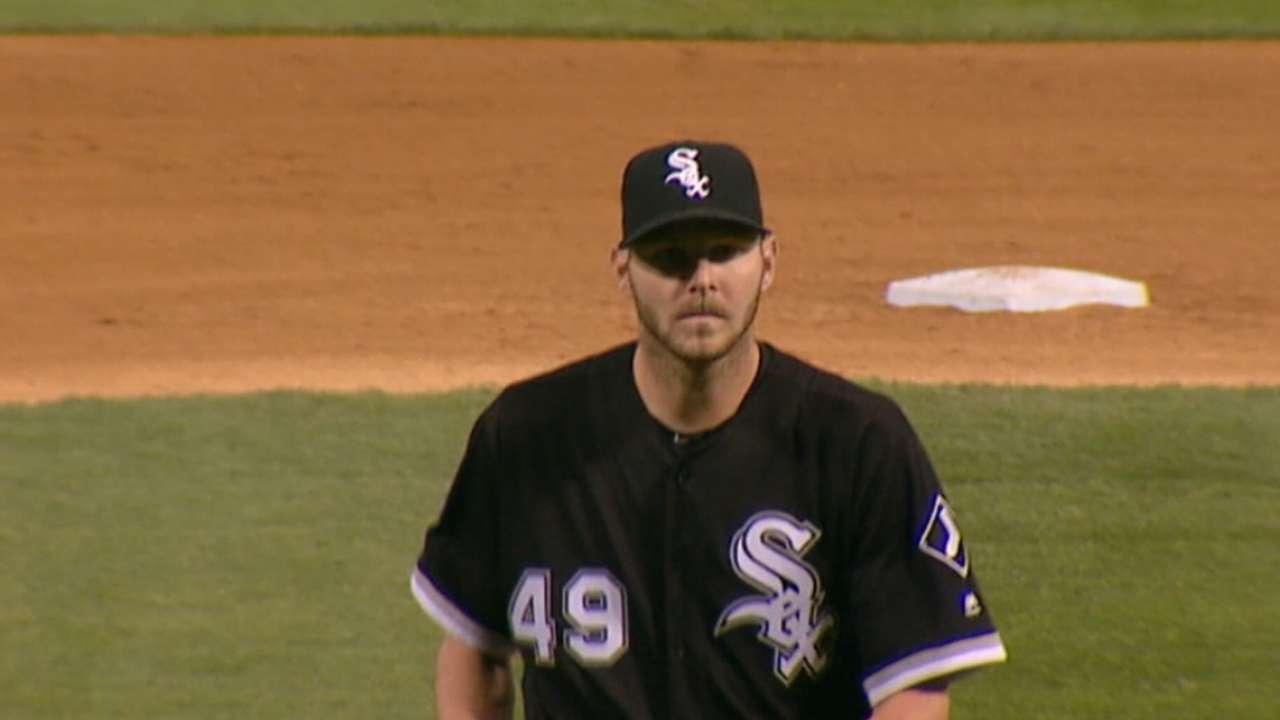 CHICAGO -- Predicting the look of the 2017 White Sox at this point stands as a nearly impossible task for even the most prescient of minds.
After two straight seasons of disappointing finishes, bench coach Rick Renteria replaced Robin Ventura as the South Siders' manager. That fact is certain. It remains to be seen whether the White Sox will go full rebuild, partial rebuild or simply add on to a solid core.
The team could have five-time All-Star Chris Sale and first-time All-Star Jose Quintana at the front of a top-line starting rotation. It also could move both Cy Young candidates and explore a much younger crew. The upcoming offseason should be an interesting one for general manager Rick Hahn and his staff.
Opponent: The White Sox open the season on April 3 at Guaranteed Rate Field against the Tigers. Detroit had a 12-7 record against the White Sox in '16, with an 8-1 mark in Detroit. Justin Verlander figures to get the start for Brad Ausmus' crew, which was in contention for a playoff spot down to the season's final week. But it's uncertain if the Tigers will continue full force down that postseason path or take a step back in '17.
Opening Day starter: If Sale is healthy, he is the White Sox Opening Day starter. If the White Sox somehow move Sale, then Quintana would get the nod. If a rebuild leads to both hurlers getting traded, then the honor would fall to Carlos Rodon in his second full season as part of the rotation.
Opening Day lineup:
1. Adam Eaton, RF
2. Tim Anderson, SS
3. Melky Cabrera, LF
4. Jose Abreu, 1B
5. Todd Frazier, 3B
6. Brett Lawrie, 2B
7. Matt Davidson, DH
8. Omar Narvaez, C
9. Charlie Tilson, CF
Going all-in for a run at the postseason means the White Sox need to go after a center fielder, a catcher and another left-handed bat. Narvaez and a healthy Tilson and Davidson will be part of the plan regardless of the direction. In the case of a full rebuild, pretty much anyone but Anderson is in play, trade-wise.
Three reasons to be excited:
1. The bullpen will be healthy. Playoff baseball throughout October has reinforced the importance of a strong and versatile relief crew. Having Zach Putnam (bone chips in right elbow) and Jake Petricka (hip labrum) back gives the White Sox closers in the middle innings who are capable of also pitching two or three. And don't forget the projected arrival of Zack Burdi, the hard-throwing, 26th overall pick in the 2016 Draft.
2. Anderson will have a full season. The 410 at-bats for Anderson during his rookie campaign were a generous sample of the dynamic presence he provides in the White Sox lineup. Anderson should only get better, plate-discipline-wise, and in regard to base-stealing as he gets more experience. His defense at shortstop was also a first-year plus.
3. Sale, Quintana and Rodon. There may be a front three as good as what the White Sox have, but none who are absolutely better. If Sale and Quintana are moved in a rebuild, then fans can look forward to the arrival of a plethora of high-end prospects.
Scott Merkin has covered the White Sox for MLB.com since 2003. Read his blog, Merk's Works, follow him on Twitter @scottmerkin, on Facebook and listen to his podcast. This story was not subject to the approval of Major League Baseball or its clubs.