Cubs' bullpen unable to keep things close
While Tribe's relief corps has been lights-out, Chicago continues to struggle in late frames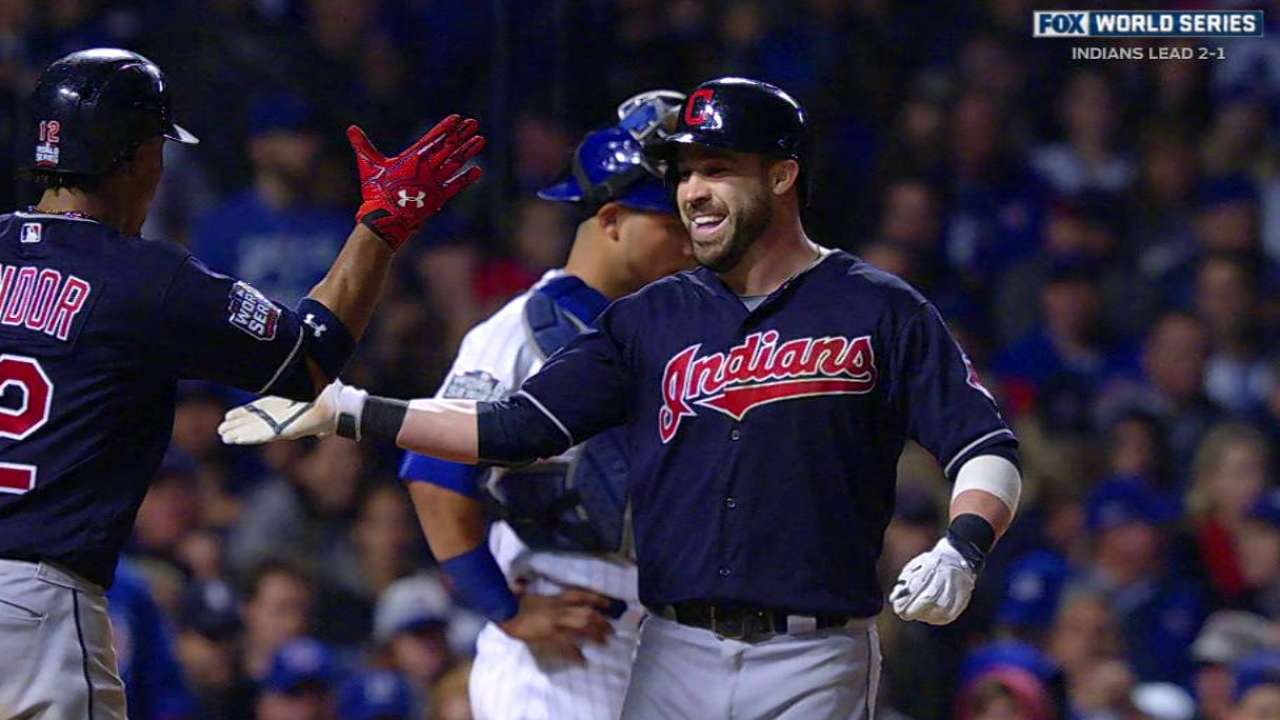 CHICAGO -- Game 4 of the World Series on Saturday night was still a three-run affair when Travis Wood entered in the top of the seventh inning, runners on the corners and no outs. It was anyone's game, in other words, and Wood's job was to keep it that way.
On the mound, Wood told himself that, at worst, he'd induce a double-play ball and allow one run to score. But then he fell behind, 3-1, and leaked a cutter out over the heart of the plate. Indians second baseman Jason Kipnis redirected it into the bleachers for a new worst-case scenario, a three-run homer. And Wrigley Field grew silent as Cubs fans began accepting their fate: a 7-2 loss to the Indians and a 3-1 Series hole.
• Game 5: Tonight, 8 p.m. ET on FOX
"That really made the game awkward," Cubs manager Joe Maddon said.
The momentum swing was like popping a balloon, all air rushing out onto Waveland Avenue. Though Cubs starter John Lackey also struggled for a time on Saturday, giving away an early Cubs lead and allowing three runs over his first three innings, his subsequent run of eight consecutive outs generated plenty of latent energy at Wrigley. When Lackey sawed through the Indians on nine pitches in the fifth, his Cubs trailing by only two runs at that point, the ballpark began buzzing with optimism.
• Shop for Cubs World Series and NL champs gear
But the Indians scored a stray run off Mike Montgomery in the sixth, quieting the murmurs. Then they put two men on base against Justin Grimm in the seventh, leading to Wood's entrance. Pop went the balloon.
"[I] probably can't say the words that were going into my mind," Kipnis said. "To kind of take some pressure off [Indians starter] Corey [Kluber] and the rest of the staff -- that they don't have to win a tight ballgame, that we could give them a cushion -- was a really nice part."
In an otherwise well-matched World Series, one thing the Indians have not needed much of is cushion -- their bullpen has been that good. And it's created a real discrepancy between these two teams. While the Indians have been untouchable from the sixth inning onward, allowing their only run this series on Dexter Fowler's leadoff homer in the eighth inning of Game 4, the Cubs have been beatable in the final four innings.
Through four World Series games, five of their seven relievers have given up at least one run. Only two of Cleveland's relievers have done the same -- and one of them, Andrew Miller, compiled a 16-inning postseason scoreless streak before doing so.
Overall, Chicago's World Series bullpen ERA is 5.02. Cleveland's is 1.72. And while that may be too small a sample from which to draw definitive conclusions, considering the Indians' and Cubs' regular-season relief ERAs were within 0.11 of each other, a best-of-seven contest is all about small sample size.
Wood knows that, which is why he understands how perfect the Cubs' bullpen needs to be the rest of the way. No more worst-case scenarios coming to life.
"That's baseball," Wood said. "Anything can happen. He put a good swing on a bad pitch and hit it out."
Anthony DiComo has been a reporter for MLB.com since 2008. Follow him on Twitter @AnthonyDiComo and Facebook, and listen to his podcast. This story was not subject to the approval of Major League Baseball or its clubs.