MLB.com Columnist
Mike Bauman
Cleveland has historic crown in sight
Underdogs no more, Indians one win from first title since 1948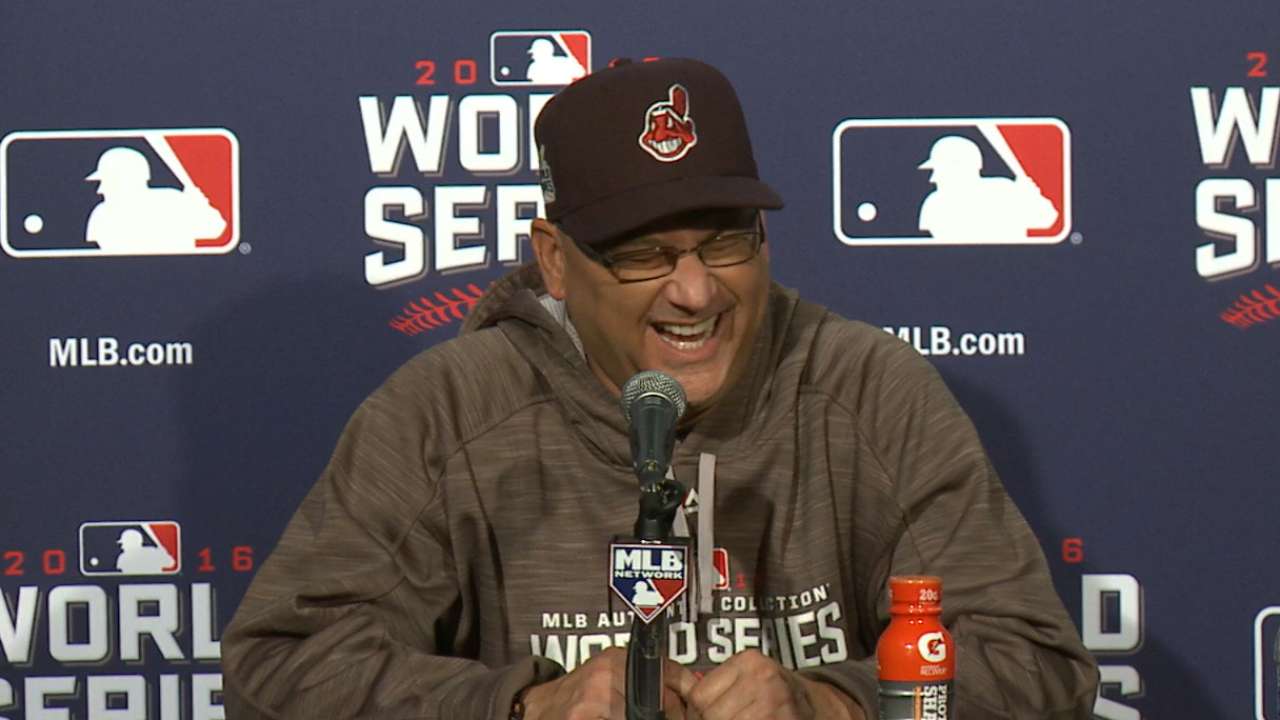 CHICAGO -- To Cubs fans, the Cleveland Indians were going to be like guests at the wedding; necessary props, but not central to the main storyline, which was, of course, the long-delayed triumph of the Cubs.
Now, the Indians are one victory away from winning the 2016 World Series. The Cubs, the actual favorites in this Fall Classic, are down, 3-1. One defeat from epic disappointment.
• Game 5: Tonight, 8 p.m. ET on FOX
What happened here? It wasn't an unheard of postseason set of circumstances, even though it left the denizens of Wrigley Field in shock Saturday night, when Game 4 turned into a 7-2 victory for the Tribe.
Cleveland starter Corey Kluber, pitching on short rest, was not untouchable, but he was tough. Kluber has been so good this postseason that after giving up one run over six gritty innings, his ERA for this postseason actually climbed to 0.89. That is the second-best ERA ever for a pitcher with a minimum of five starts in a single postseason, behind Burt Hooten's 0.82 in 1981 with the Dodgers.
• Shop for Indians World Series and AL champs gear
The Indians' pitching overall has been superb. They have set a record for postseason shutouts with five, two of which have come against the Cubs in this Series, in Games 1 and 3. In their three losses to the Tribe, the Cubs have scored a total of two runs.
"They've been pitching great," said Cubs manager Joe Maddon. "They've been outstanding. And they've been outstanding through the entire postseason. And you can see it. We're obviously having a tough time, like the other teams did.
"It's just a matter of us gaining offensive confidence. ... We just need that offensive epiphany somehow to get us pushing in the right direction."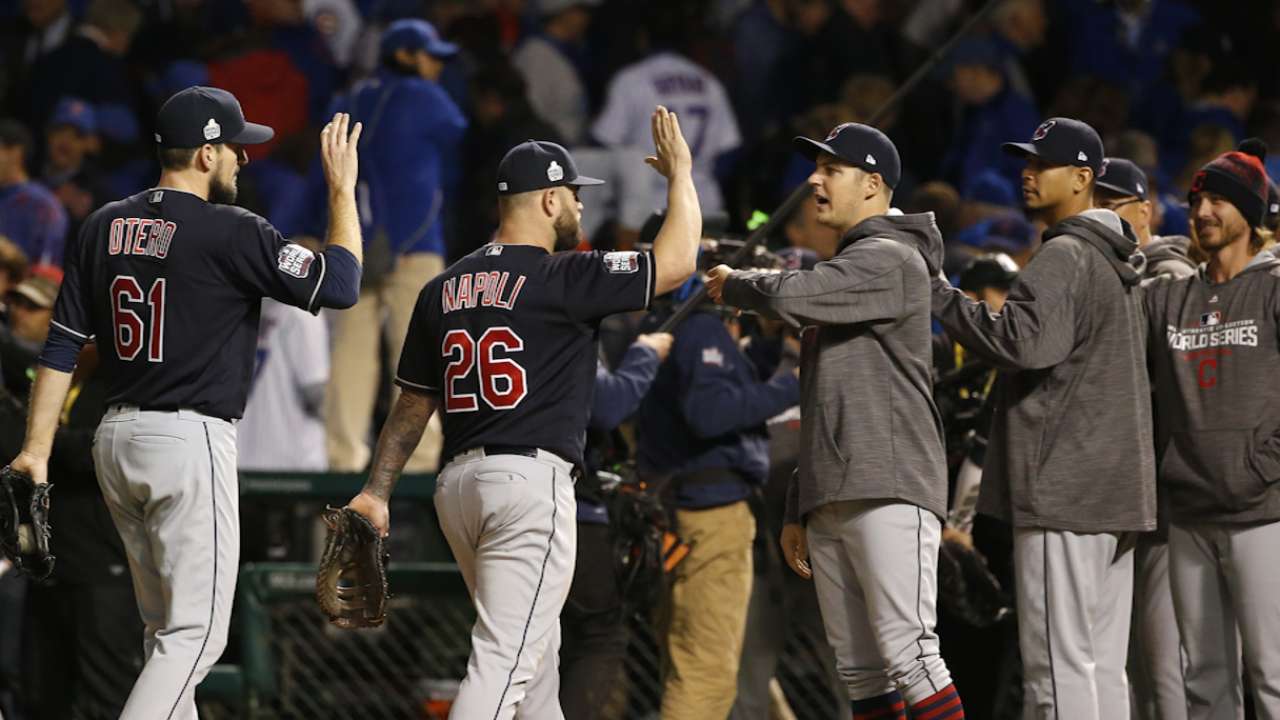 Lefty reliever Andrew Miller has been a tower of postseason strength for the Indians, making nine appearances, pitching 17 innings. In Game 4, for the first time this postseason, he gave up a run, in this case on a solo home run to Dexter Fowler when he had a 7-1 lead.
"Miller gave up a home run," second baseman Jason Kipnis said with a smile. "He must have gotten lazy. He thought he had a big lead."
As the crowd of 41,706 filed out of the ballpark in a silence that varied between stunned and sullen, the one person with Illinois roots who was feeling really good was Kipnis. He is from suburban Northbrook, north of Chicago, and he spent many happy boyhood hours at Wrigley Field.
But there Kipnis was Saturday night, turning a 4-1 lead into a 7-1 advantage with a three-run seventh-inning blast. On his personal checklist, the checks were coming in bunches.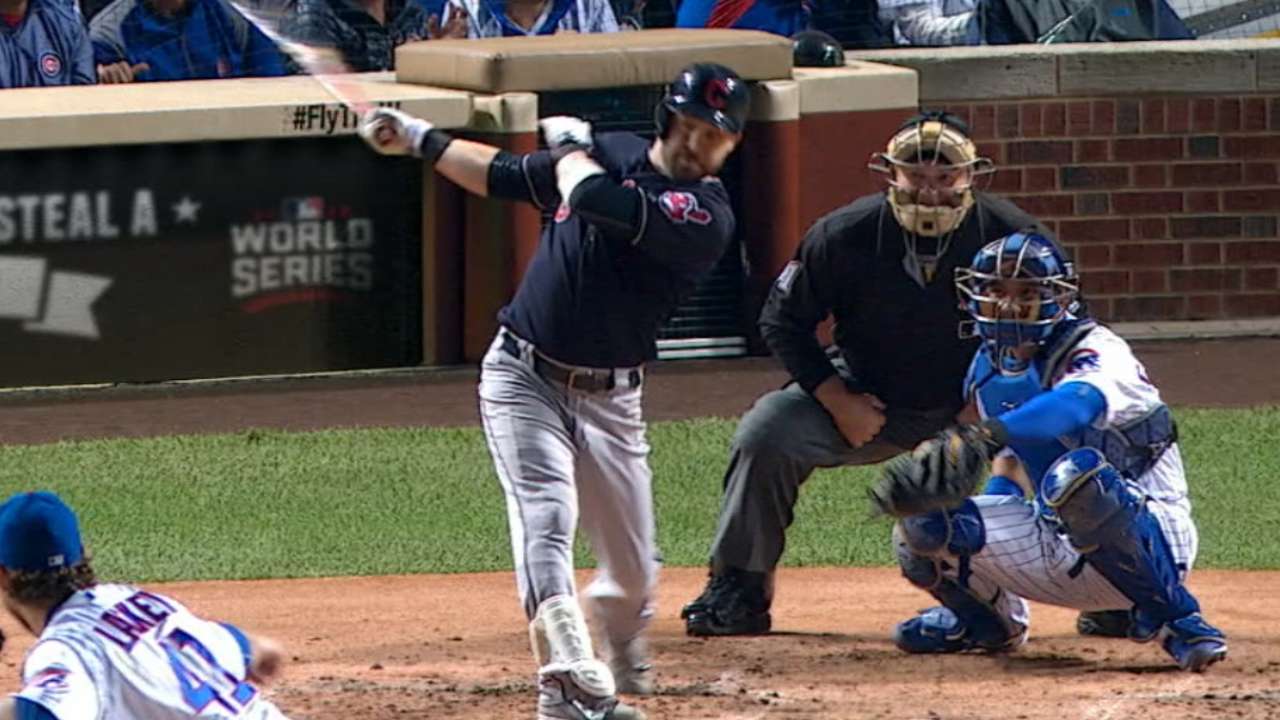 "A Wrigley home run, a World Series home run," Kipnis said, "there are some things I can check off with that one that makes it special."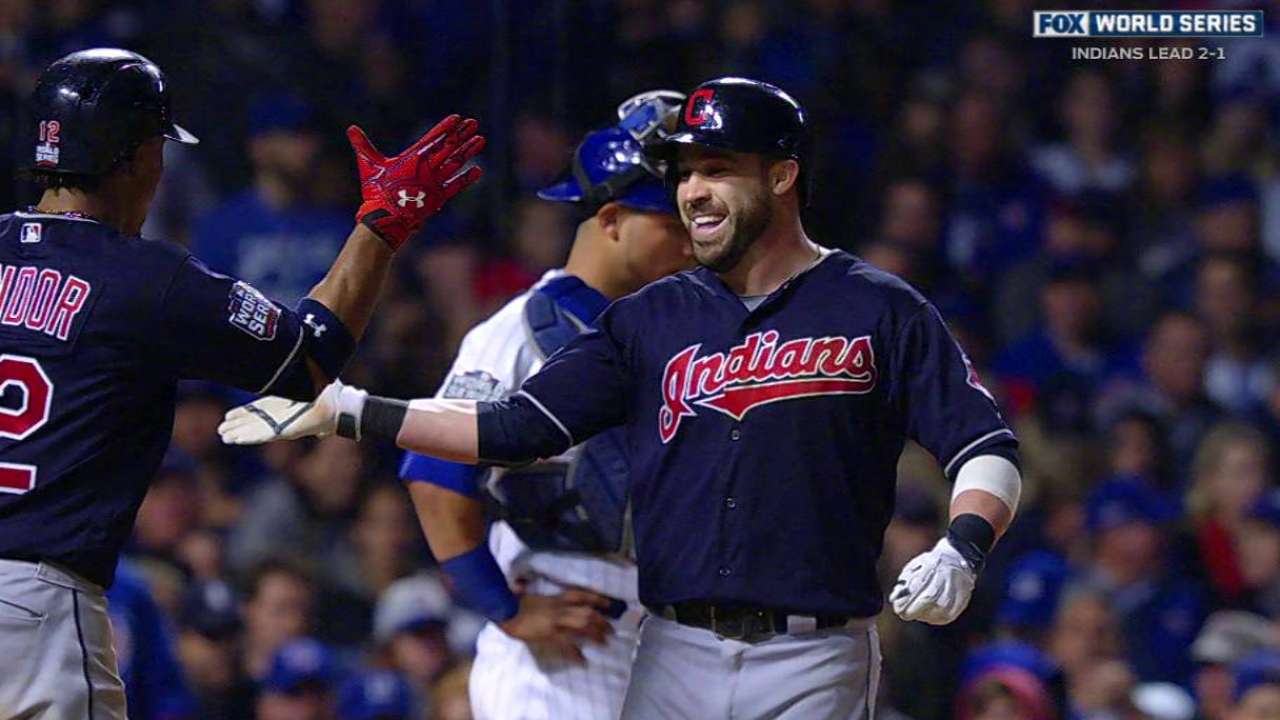 And on the subject of what works for the Indians, manager Terry Francona appears to have the Midas touch. Every decision he makes seems to lead in the direction of another Cleveland victory.
In Game 3, Francona had started Carlos Santana in left, even though Santana's Major League experience at that position consisted of one game. That worked. In Game 4, Francona decided to go with Santana, who was hitting .139 for the postseason, at first base, rather than Mike Napoli.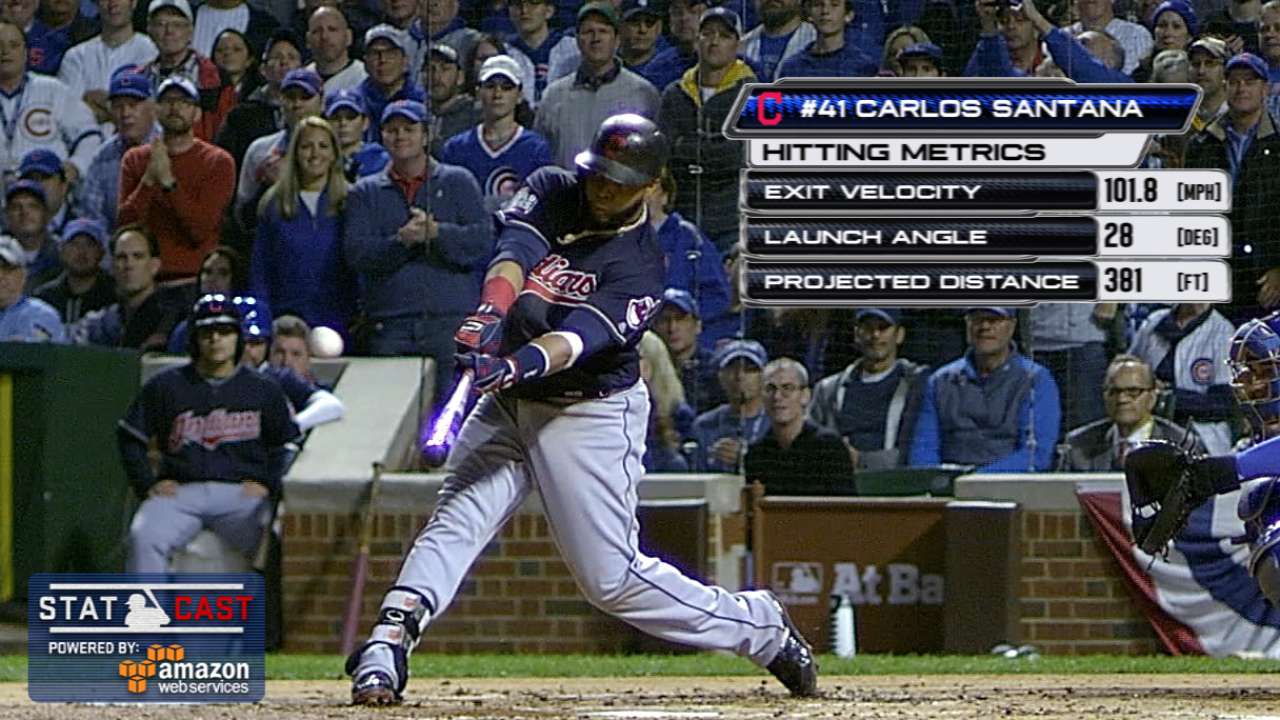 Boom. In the second inning, with the Cubs up, 1-0, Santana clobbered a home run off John Lackey to tie the score. Later, he lined a single that took reliever Mike Montgomery's glove off, helping the Tribe to another run. Santana finished with three hits.
"I labored back and forth on our first baseman," Francona said. "I hated like crazy not playing Napoli. I physically hate it. But Nap's going to play tomorrow against the lefty [Jon Lester], and we may put Santana back in the outfield tomorrow again.
"I thought Carlos swung the bat really well. I still wasn't pleased that Nap didn't play, because like the things we talked about before the game, he's kind of the heart and soul of our team. His one at-bat, he took a really good swing that, I think, should help make him feel a little better going into tomorrow."
The Indians can no longer be viewed by anybody as anything less than likely 2016 World Series champions. They need one more victory, but the Game 5 matchup of Lester vs. Trevor Bauer seems to favor the Cubs.
Still, the Cubs were heavy favorites at the beginning of this Series. A combination of stellar starting pitching, terrific relief work, timely hitting and astute managing have put the Tribe on the doorstep of a championship for the first time since 1948.
At this point, the surprise would occur only if the Indians do not win this World Series.
Mike Bauman is a columnist for MLB.com. This story was not subject to the approval of Major League Baseball or its clubs.