Oct. 29 Corey Kluber, Jason Kipnis postgame interview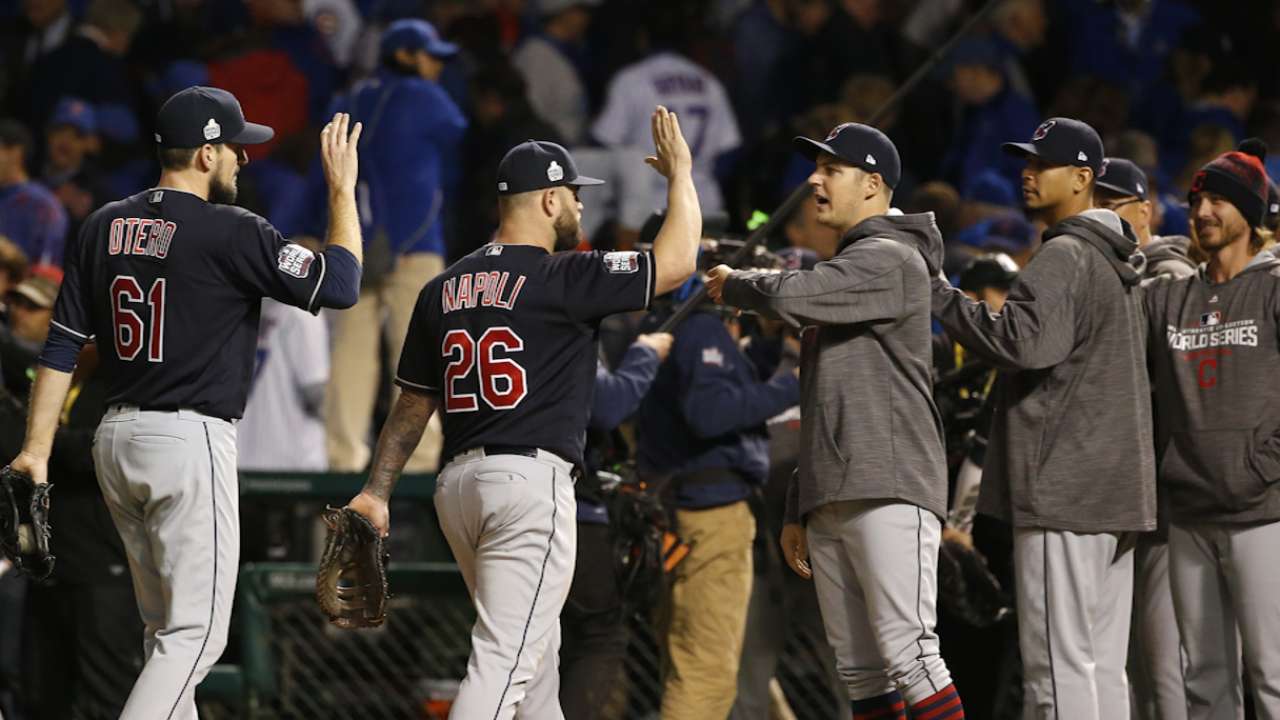 Q. I know you know you have to win four. At the same time, can you talk about how you must feel right now? You're one game away. You're very close. Three-games-to-one lead, only four teams have not won a series when they've had a three-games-to-one lead. Talk about how you're feeling right now.
COREY KLUBER: I think it's business as usual. I think we have to take tomorrow with the same approach we've taken every game to this point. I think that if we relax or take our foot off the gas pedal, that's just inviting them to get momentum and come back into the series.

JASON KIPNIS: I mean, he said it. You said it's been done before, it can happen. So there's no reason to stop now the things that we've been doing. The last couple of series we've kind of jumped out to leads and we've talked about the same things, not letting them in because we've probably faced three of the tougher lineups in baseball. They're not lineups you want to give momentum. They're not teams who want to start feeling good about themselves. So the best thing to do is kind of put them away before they can do that.

Q. Corey, first inning was a little bit rocky. After that really settled in and didn't allow a whole lot. What changed for you after that first inning?
COREY KLUBER: Not much, really. The first inning they hit two balls pretty softly that just happened to find holes. But really didn't try to change too much after that. Just tried to keep going out there and make pitches and stick to our game plan. Obviously they scored a run, which we didn't want. But in retrospect, it wasn't because they were hitting the ball over the yard or anything.

Q. Can you describe what was going through your mind there when you're rounding the bases and hit a three-run home run in your hometown in a World Series? It's pretty hard to top something like that.
JASON KIPNIS: Probably can't say the words that were going into my mind. Kids are watching this channel, but it's just excitement. I had a lot of joy in playing this game, and to be put into a situation like this and actually have something happen like that is, for lack of a better term, it's a dream come true, like they say.

To have my family in the stands, friends in the stands, but to be able more importantly to help this offense, which I've been struggling to do up until this point, I think that was one of the bigger enjoyments for me, is that I finally contributed, and to kind of take some pressure off Corey and the rest of the staff, that they don't have to win a tight ballgame, that we could give them a cushion, was a really nice part.

Q. Corey, you were asked yesterday if you would need to make any adjustments tonight facing this team for the second time in four days. Did you make any adjustments? And could you tell if they made any adjustments against you?
COREY KLUBER: They were definitely more aggressive this time around. But that's how most lineups approach me, so it wasn't anything that was really -- we had to really figure out on the fly. We just kind of stuck with our game plan that we usually stay with when that's the case. It's pretty easy to recognize early on that that was what they were doing tonight. So, like I said, we just kind of adjusted to it.

Q. Did pitching on three days' rest in the ALCS help you prepare and succeed tonight?
COREY KLUBER: Yeah, I think it helped with the in-between from the last one to this one. Tonight, I don't know. But I think the recovering and all that sort of stuff, having one fewer day and that, I kind of had an idea of what I needed to do. So in that sense, probably.

Q. Jason, you alluded to this in your earlier answer, but can you describe what the last couple of days have been like for you coming home in this unique situation, playing against the team you grew up rooting for? Have you heard from a lot of friends who maybe you haven't heard from in a while? Just what have the last few days been like?
JASON KIPNIS: Yeah, but it's been all positive. I got to have dinner with my family the first night we got in. And all of it has just been positive reinforcement from people. Just go out, have fun. Enjoy yourself. Take it in. They're all like, "This is something special, so appreciate it. Don't put too much pressure on it and stuff."

This whole playoff run because of the team and the guys we've got in here, it's just been easier on us, and easier on guys like me, where the situations never got too big because the guys were having too much fun in the dugout, and everyone's at ease and playing loose. So there's no real any reason to tighten up. I think that's actually helped me the most.

Q. Kind of following up on what you said about how you felt good about giving your pitcher some cushion with the home run, pretty much all the games in the postseason have been pretty tight. What's that say about your pitching staff that they've been able to do what they do game after game, and especially with little margin for error?
JASON KIPNIS: I mean, they deserve all the credit in the world. They're the reason we've got to this point and the reason we'll get to where we're going, hopefully. So you look at probably batting averages and you look at our lineup, you're not going to see anybody except Frankie or someone jumping off the page. That means it's the pitching staff that's done the dirty work and the hard part.

So you win 1-0 games and you look no further than the staff. Guys like him coming back on short rest, they're the reasons we're in these games and allow us -- they take the pressure off the offense. So it was nice to finally return the favor and let him go into cruise control and tighten up and pitch with a nice lead.