Kluber Klinic crashes party at Wrigley Field
Indians ace stifles Cubs for second time in World Series
CHICAGO -- They leaned over the brick wall down the right-field line. They shouted his name and were hurling insults. Corey Kluber did not flinch. The Indians ace continued to work through his pregame warmups on the mound in foul territory at Wrigley Field, never cracking a smile, but internally amused by the Cubs fans who loomed only a few feet behind him.
"It's almost comical, because they think it has an effect on you," Kluber said, smiling after Cleveland's 7-2 victory over the Cubs in Game 4 of the World Series on Saturday. "You can't write what they were yelling at me."
• Game 5: Tonight, 8 p.m. ET on FOX
They were probably also cursing Kluber's name as they left Wrigley.
Once again, Kluber stifled a Chicago lineup that was one of baseball's best this year. The Indians' ace did not fall prey to the Cubs' aggressive swings in the early innings, continuing to fire early-count cutters in on their hands and two-seamers across the zone. Chicago broke through for one first-inning run, but Kluber locked in and powered his team to another win with six stellar frames.
• Shop for Indians World Series and AL champs gear
This victory pushed the Indians to the precipice of baseball's promised land. The Indians arrived at Wrigley Field two days ago as the underdogs, and left the famous ballpark on Saturday night with a 3-1 edge in the best-of-seven Fall Classic. Kluber is responsible for two of those wins, putting on a historic performance that has Cleveland one win shy of its first World Series crown since 1948.
When the Indians punched their ticket to the Series, this is precisely what they needed from Kluber.
"He's shouldering a lot of load right now. He has been for a long time," Indians reliever Andrew Miller said. "That's what an ace does. I think he's that guy. He's proven that."
Miller earned MVP honors for his work in the American League Championship Series. Kluber might very well earn the award for the World Series, if the Indians finish off the Cubs. In two starts, the right-hander has allowed one run over 12 innings, piling up a franchise-record 15 strikeouts for one World Series. For the entire postseason, Kluber has yielded only three runs over 30 1/3 innings.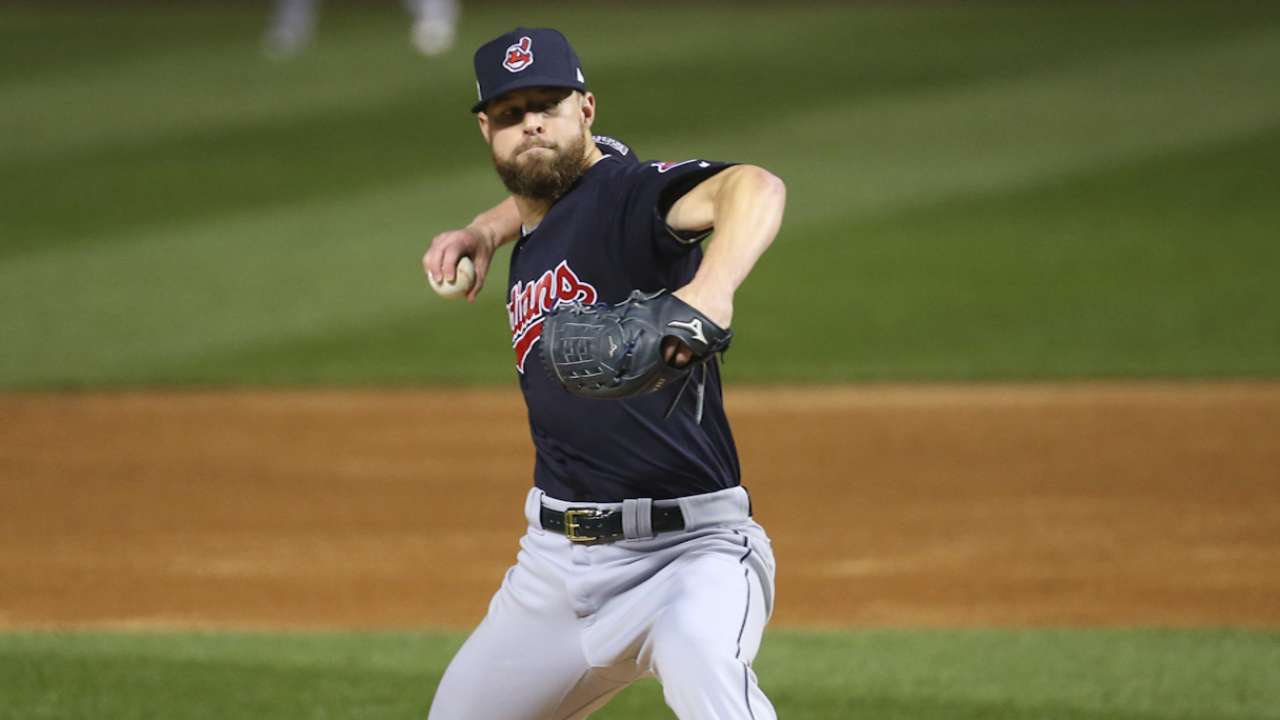 Kluber's 0.89 ERA this postseason represents the second-lowest mark in baseball history among pitchers with at least 30 innings. The top slot belongs to Burt Hooton, who turned in a pristine 0.82 ERA in 33 innings for the Dodgers in 1981. Should this World Series extend to a seventh game, Kluber would get a chance to trim his ERA even more.
That is because the Indians asked Kluber to pitch Games 1, 4 and 7, if necessary.
Kluber was surprised they asked.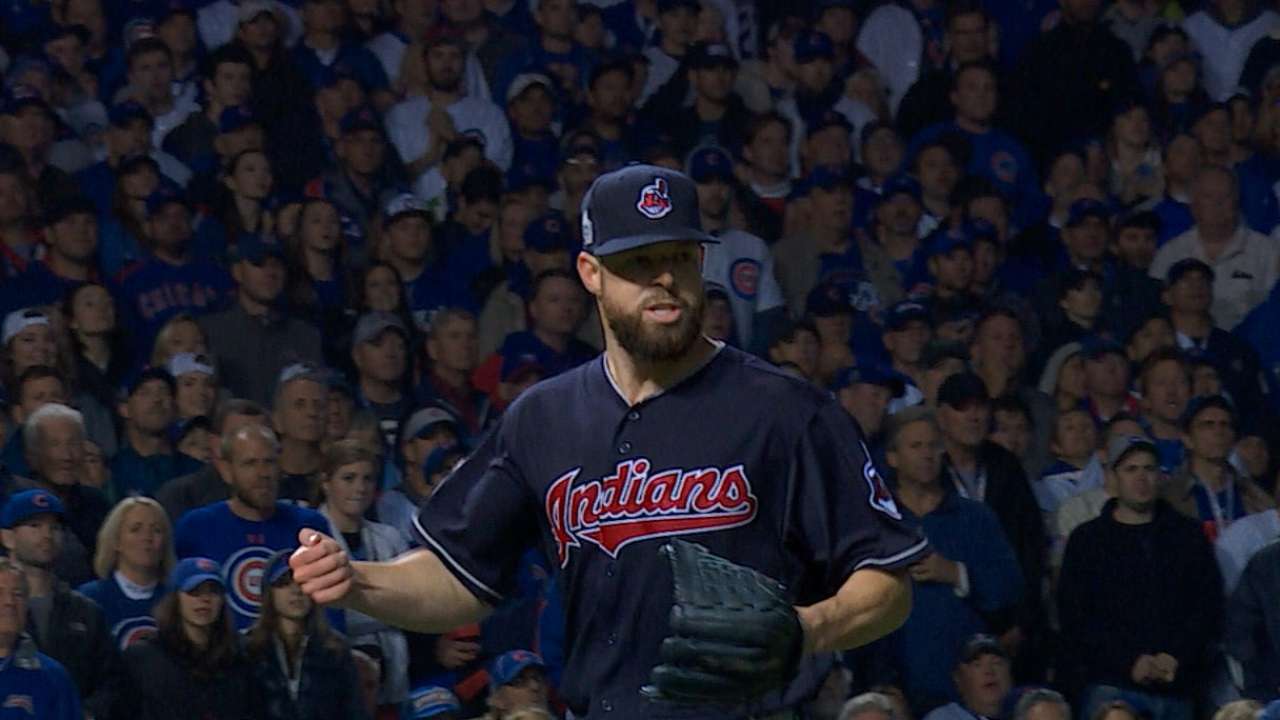 "That's what I was planning on doing," Kluber said. "It wasn't really ever much of a question. That was kind of what I was prepared to do."
Willingness does not always align with effectiveness, though.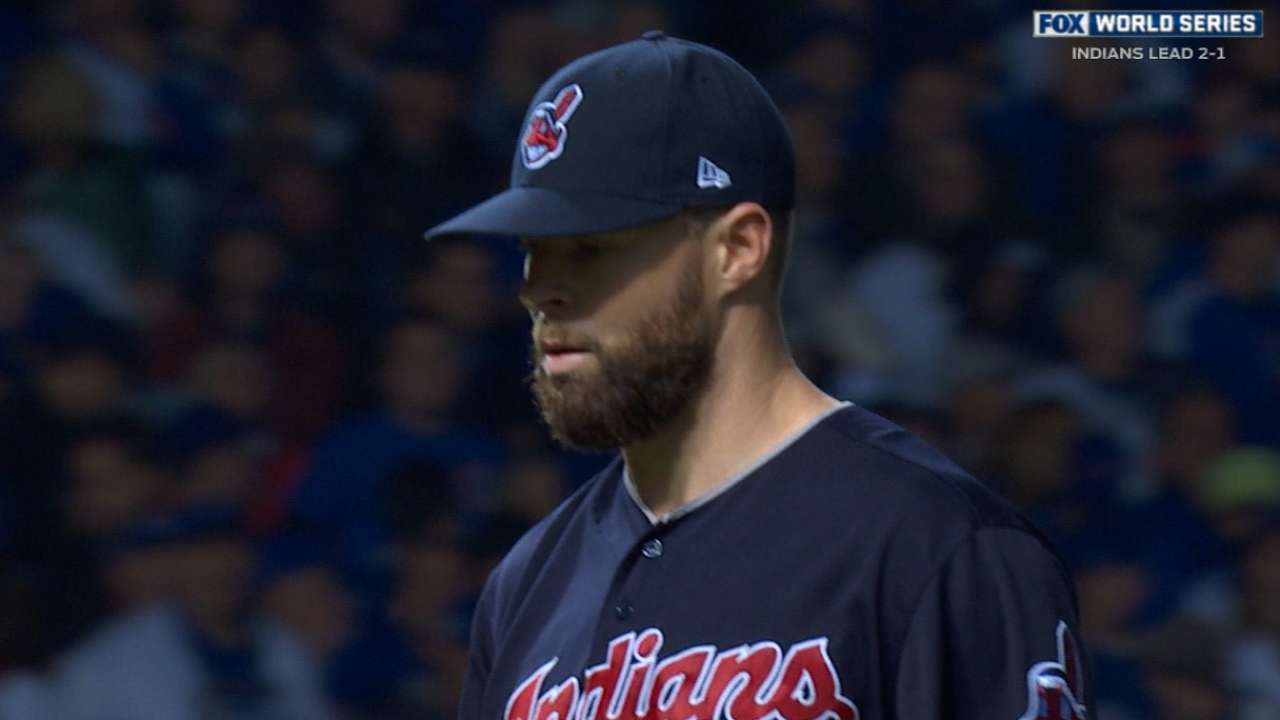 Working on three days' rest can be a lot for a starter, especially one so meticulous about routine as Kluber. Right now, that is the least of his concerns. The Indians headed into the postseason without Carlos Carrasco and Danny Salazar, leaving a couple of large holes in Cleveland's starting staff. That essentially put the onus on Kluber to hoist this team on his back for the journey to the top of baseball's mountain.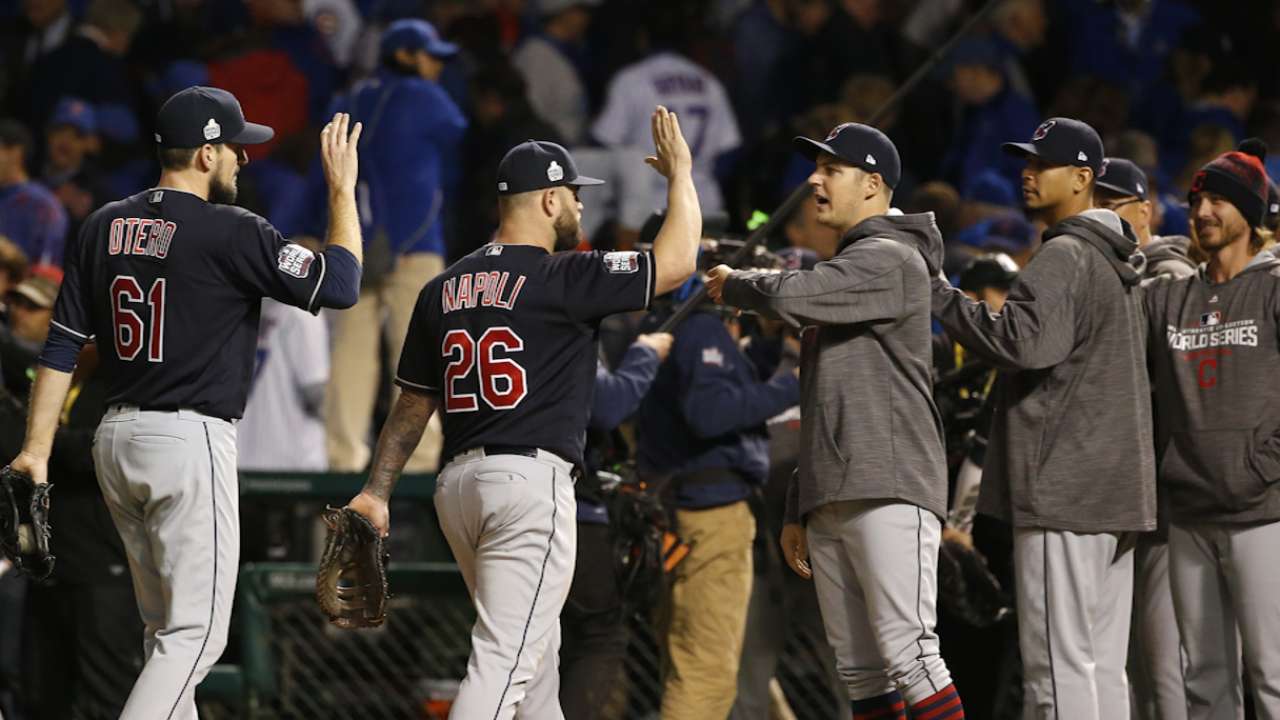 "We knew that Kluber had to win his starts," Indians pitching coach Mickey Callaway said. "We didn't express that to him, but when we're sitting down, looking at everything, Kluber's starts were going to be the most important starts. We knew if he could win his, then these other guys could come through, and we'd have a good chance at accomplishing what we want to accomplish."
Before Saturday's game, Callaway left Kluber alone.
There was no need to go over the game plan. Kluber had it down pat. There was no need to remind the pitcher of scouting reports. Kluber knows those like the back of his hand. The only thing Callaway did was watch Kluber go through his pregame mound workout -- amid the mocking shouts from Cubs fans -- and pat the ace on the back before he headed to the hill.
"I never talk to him," Callaway said. "Not until I hand him his towel and I say, 'Have fun today.'"
Kluber did have fun, too.
"It's like a party here," he said with a grin.
A party that Kluber crashed.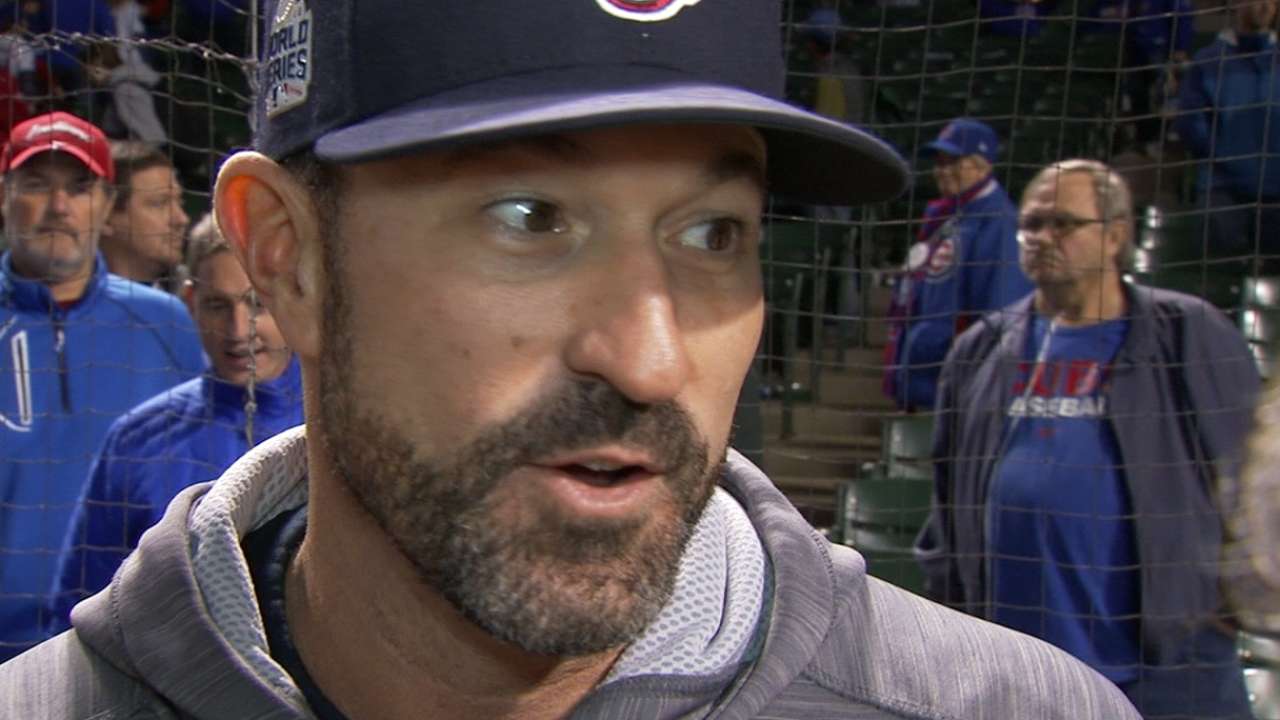 Over his outing, Kluber struck out six, walked one and allowed one run on five hits. The lone misstep came in the first inning, when Dexter Fowler flicked a curveball into left field, where it eluded the glove of a diving Rajai Davis. Anthony Rizzo then tucked in his hands and shot an inside pitch into center for a run-scoring single. The crowd roared with approval, while Kluber remained stoic on the mound.
He did not allow Chicago to get anything else.
"It's just fun to watch," Miller said. "It's something that everybody can appreciate."
Miller caught himself and smirked.
"Except for maybe Cubs fans right now," he added.
Jordan Bastian has covered the Indians for MLB.com since 2011, and previously covered the Blue Jays from 2006-10. Read his blog, Major League Bastian, follow him on Twitter @MLBastian and listen to his podcast. This story was not subject to the approval of Major League Baseball or its clubs.