Wood proud to host Play Ball at field he built
CHICAGO -- On the morning of Game 4 of the 112th World Series, Chicago mayor Rahm Emanuel was speaking to a crowd of kids at Major League Baseball's Play Ball event when he said, "To Kerry Wood, I want to thank him for not just being a great baseball player, but then realizing to invest in another generation of players, and to invest in this field."
Yes, the power pitcher from Texas who once played such a key role in the hopes and dreams of Cubs fans was a presence in his own unique way in this Cubs-Indians Fall Classic. The event on Saturday, which was attended by dignitaries including Commissioner Rob Manfred, Emanuel, Cubs chairman Tom Ricketts, Hall of Famers Ferguson Jenkins and Ken Griffey Jr., Mets All-Star Curtis Granderson and Cubs legends, was being held at "Kerry Wood Cubs Field" on the city's North Side.
Wood, the two-time All-Star right-hander who spent almost all of his 14-year career with the Cubs from 1998-2012, busily attended to kids who moved from one baseball skills station to another. He felt a sense of pride that all of this was happening at the place he built.
"This was almost 10 or 11 years in the making, since my wife and I talked to the Cubs about making something happen," Wood said. "Trying to find the spot for it, trying to get the land, negotiate things. We broke ground and there were contaminants in the ground, so we had to clean that up. It was a long process. But you see what the finished product is. They did a beautiful job with it. I was just talking about how all the kids tag me in their tweets from all the games played here, so I get to see how they do in their games. The use of this field has been awesome."
Wood said MLB's Play Ball initiative is "huge for our game."
"Internationally, we're great," he said. "We can go into the Dominican Republic, and youth baseball is life. We had a little downtick in the interest in baseball, but for our game, events like this are huge. You see the mayors coming out and giving their support and their time, and I saw Tom Ricketts was out here. It's great for these kids to see everybody else having fun. When you have Curtis Granderson, Ken Griffey Jr., myself, Matt Clement, Fergie Jenkins is here, so you have support. It's what's going to push our game to the next level, keeping the interest of the youth."
In 2003, Wood was the Cubs' starting pitcher for Game 7 in the National League Championship Series, unable to pitch them into the World Series a night after blowing a lead against the Marlins in Game 6. But that is all in the distant past now. Wood said he has been watching the Cubs' run from just about every possible angle he can find.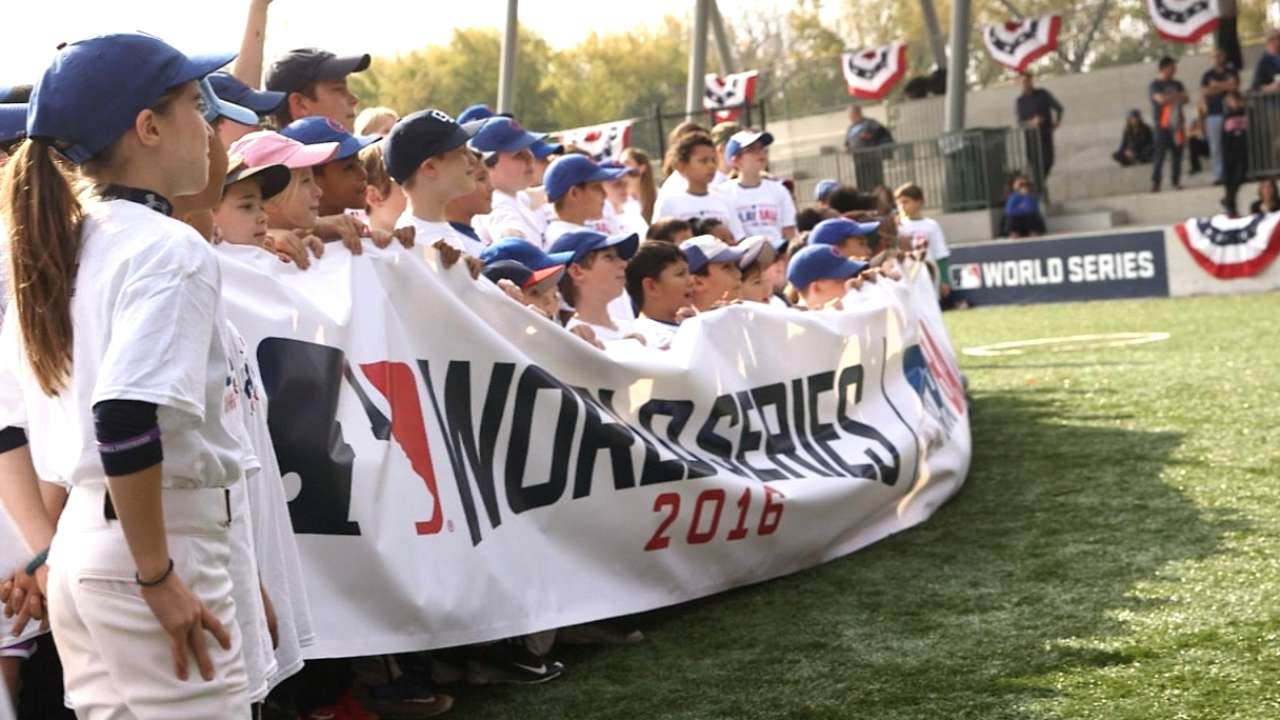 "I've been all over the stadium throughout the playoffs," he said. "I've been up in the suite, I've been down low, I was in the family section last night, got to go to Cleveland for the games there, so I've seen it from all different angles. But honestly, minus the atmosphere, the best place to watch is the TV -- you get the best vantage point in my opinion. For me, it's hard to see the strike zone and depth and the way balls are moving and stuff, because you're too far back."
Mark Newman is enterprise editor of MLB.com. Read and join other baseball fans on his MLB.com community blog. This story was not subject to the approval of Major League Baseball or its clubs.