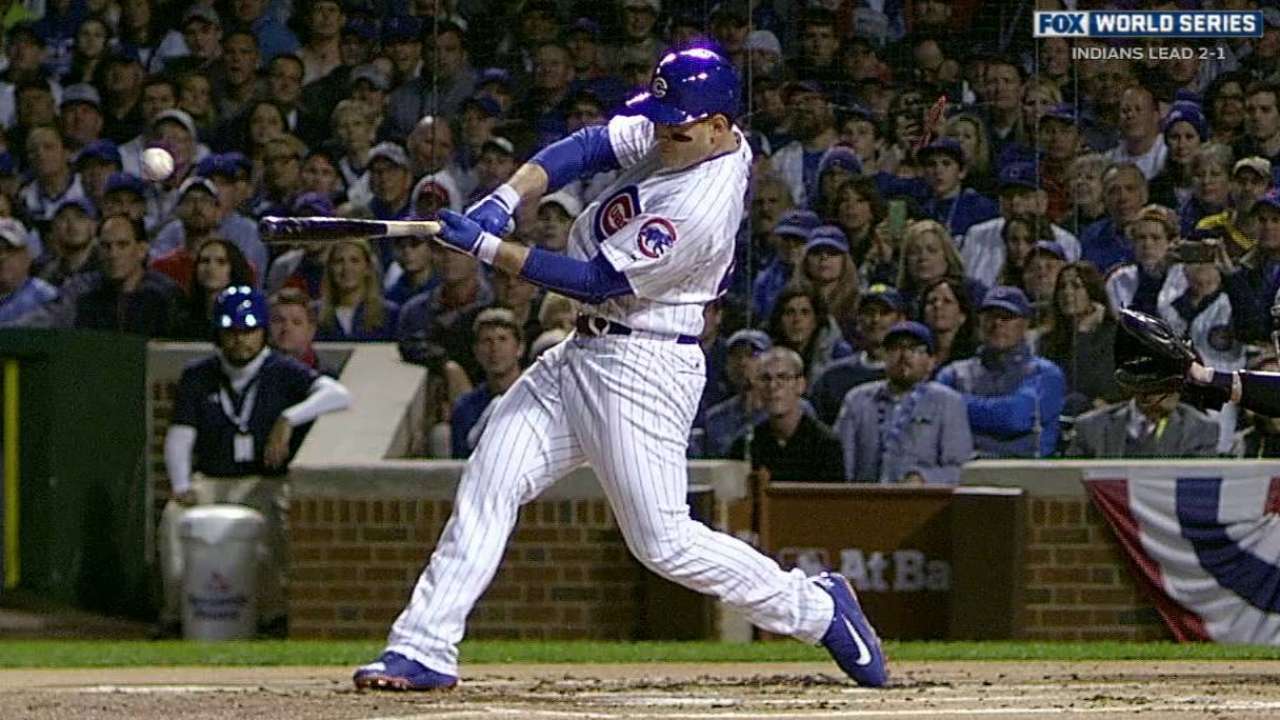 The Indians cruised to a 7-2 win in Game 4 of the World Series at Wrigley Field, taking a 3-1 series lead over the Cubs.
Corey Kluber rebounded from allowing a first-inning run to hold the Cubs to five hits over six innings, while Jason Kipnis and Carlos Santana fueled the Tribe's offense, combining for six hits and each hitting a home run. Game 5 is set for Sunday night at Wrigley Field (8 p.m. ET game time on FOX).
• World Series gear: Cubs | Indians
We were on the scene in Chicago for Game 4:
11:23: Miller K's way to record books
With two strikeouts in the eighth inning of Game 4 of the World Series, Indians reliever Andrew Miller has the most strikeouts in a single postseason, with 29. Miller, who fanned Anthony Rizzo and Ben Zobrist for the final outs of the inning, surpassed Francisco Rodriguez, who compiled 28 strikeouts in the postseason for Anaheim in 2002.
10:47: Vaughn tries to rally Wrigley
After the Indians took a 7-1 lead on Jason Kipnis' three-run homer in the seventh, actor Vince Vaughn aimed to rally the Wrigley faithful with his rendition of "Take Me Out to the Ball Game."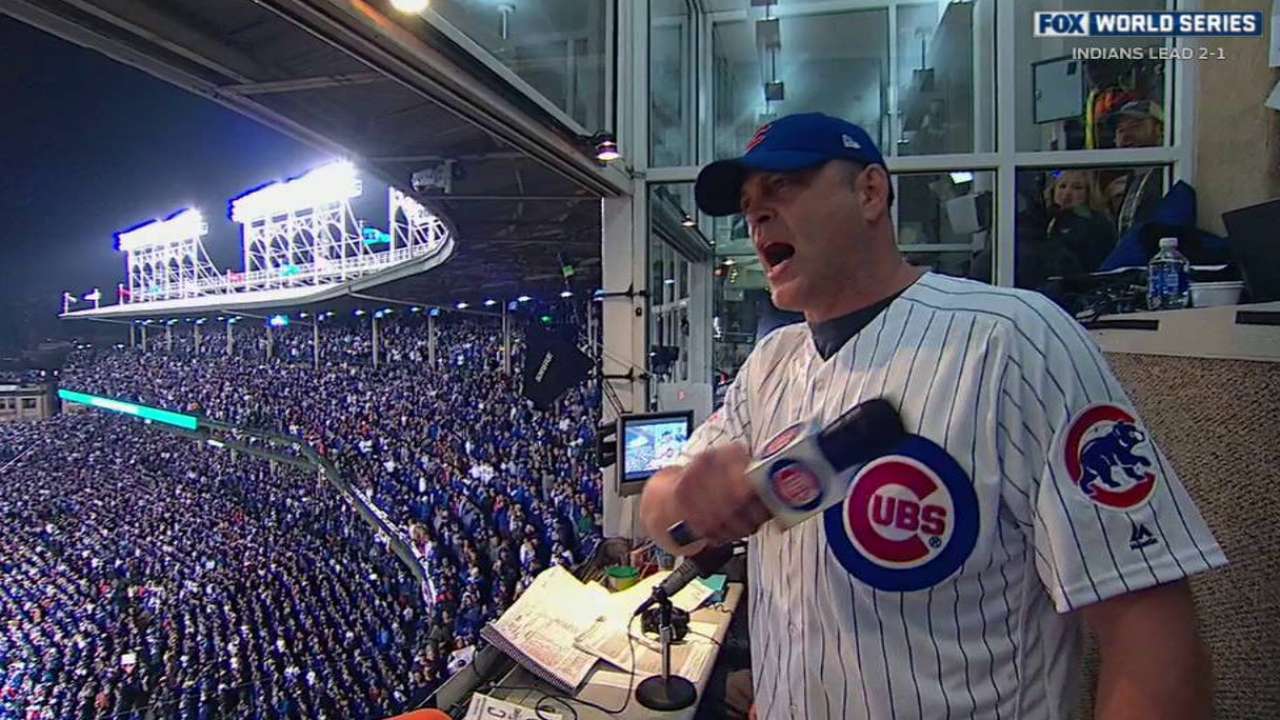 The hometown kid ruining his fellow Chicagoans' evening. #RallyTogether pic.twitter.com/KDTot9pqml

- Cleveland Indians (@Indians) October 30, 2016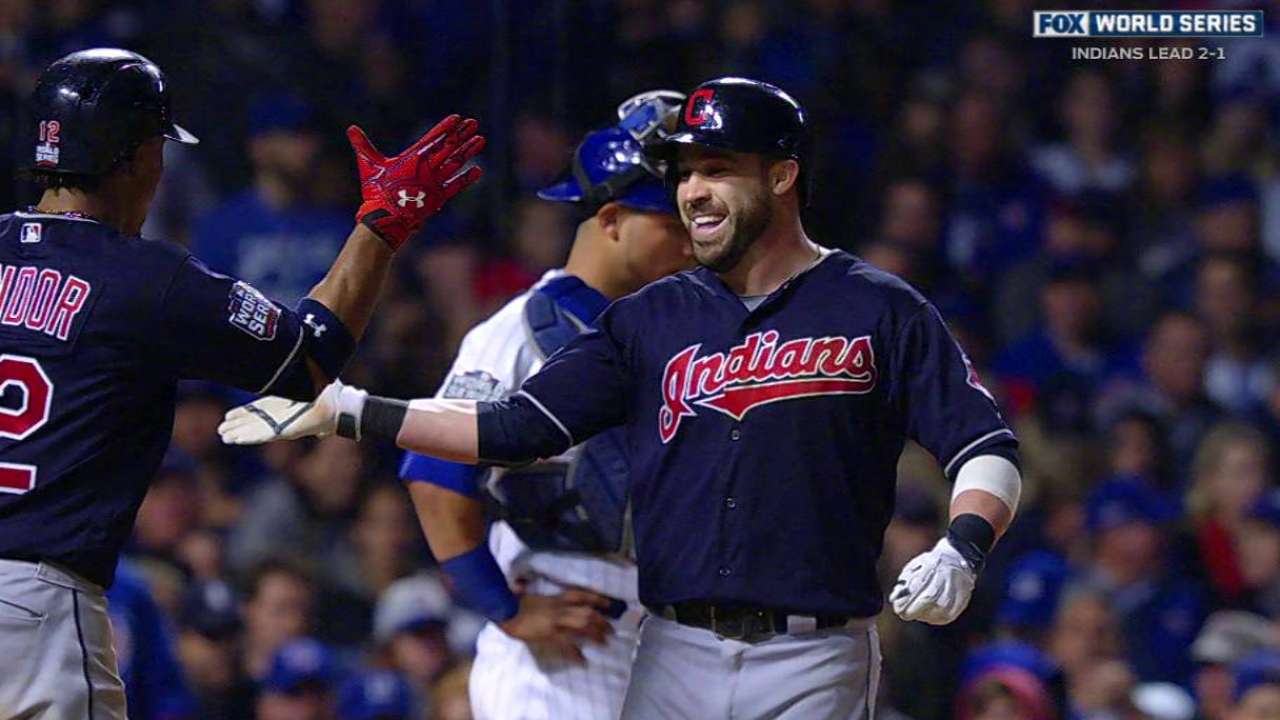 10:08 p.m. ET: World Series fans Stand Up to Cancer
Fans throughout Wrigley Field stand before the sixth inning in support of the Stand Up to Cancer program, which aims to raise money for cancer research.
We stand up at Wrigley against cancer. @SU2C https://t.co/C2ExoaDeYu pic.twitter.com/20JnvNkpQP

- MLB (@MLB) October 30, 2016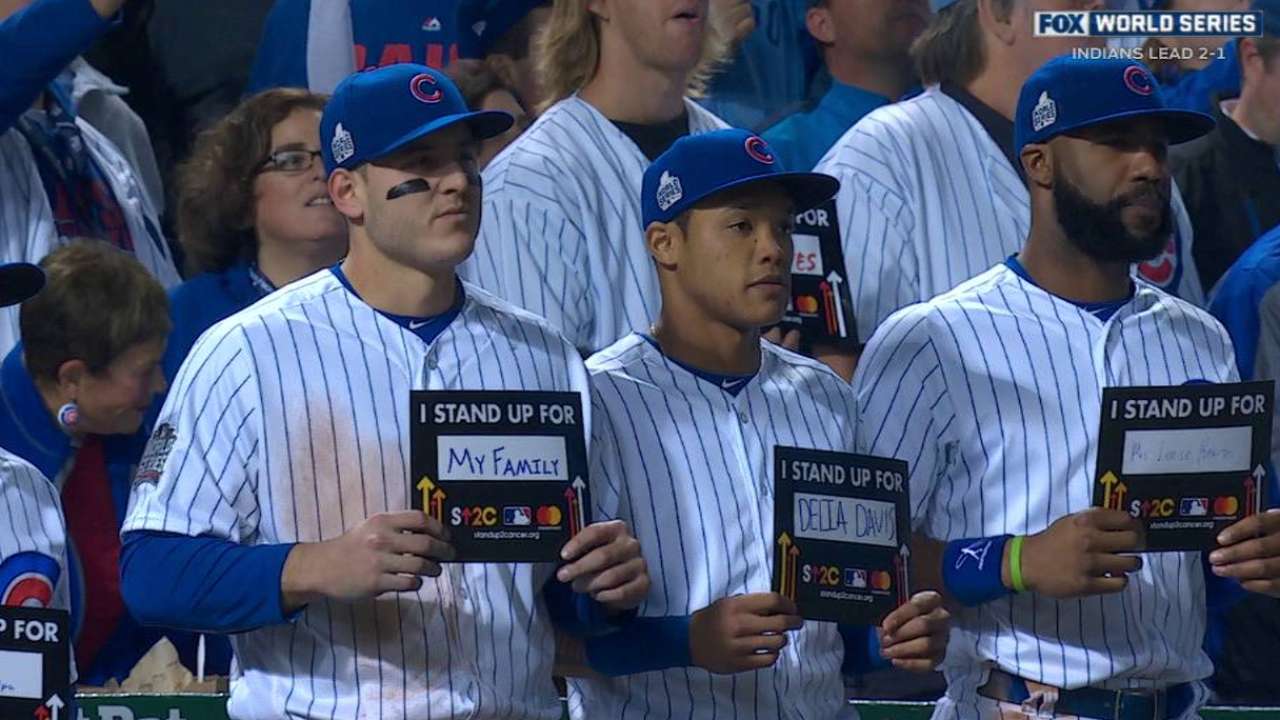 10 p.m. ET: Wrigleyville jammed
The streets surrounding Wrigley Field are filled with fans eager to see their team knot the series at 2-2 with a win.
9:55 p.m. ET: Famous fans all around Wrigley
Wrigley Field has drawn plenty of celebrities for the World Series, even a couple of fans who channeled the King himself to help give their team an edge in Game 4.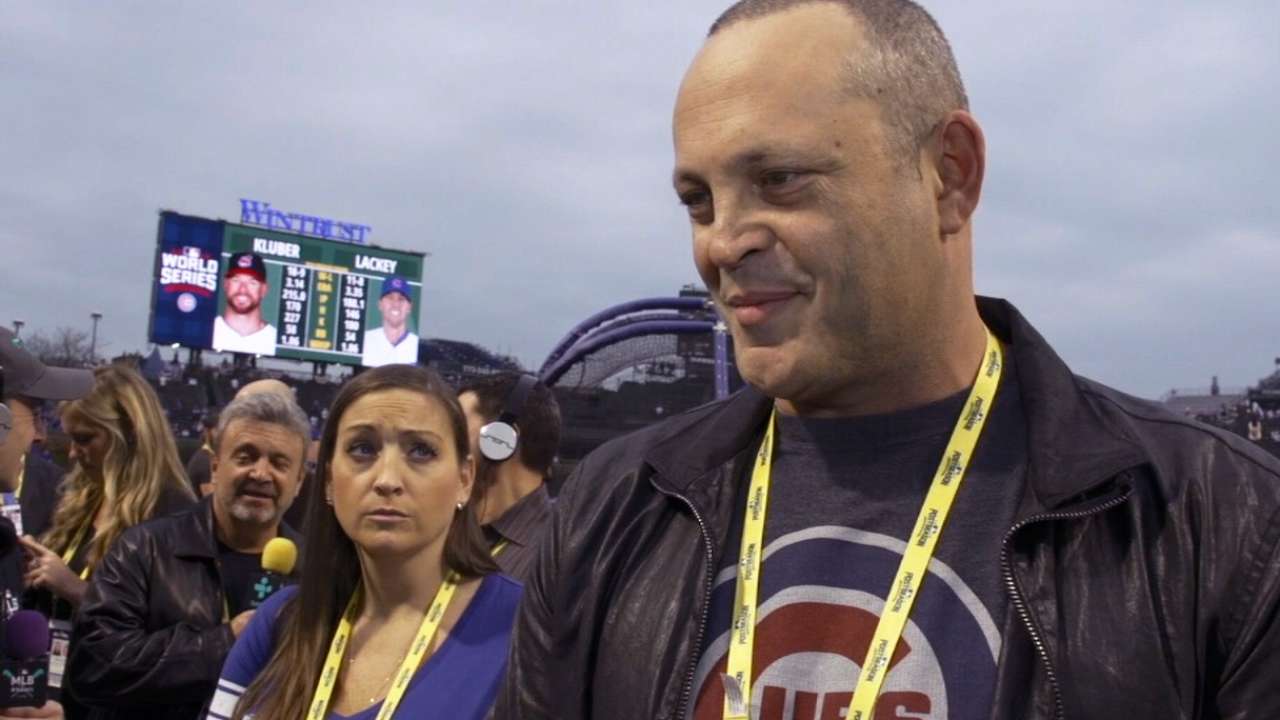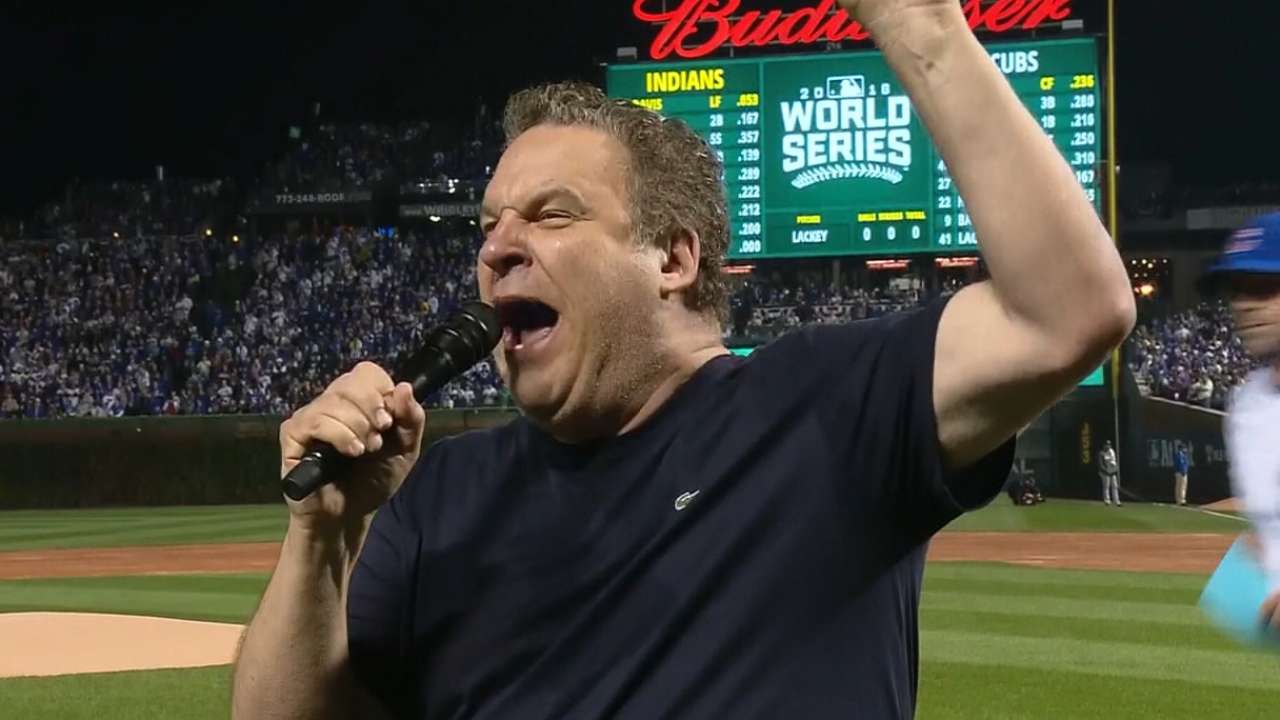 9:28 p.m. ET: Stevens roots for Cubs
Justice John Paul Stevens, retired associate justice of the Supreme Court and a lifelong Cubs fan, takes in Game 4 in a seat behind the Cubs' dugout. At 96, Stevens, like many older Cubs fans, waited a long time to see his beloved team in the Fall Classic.
9:07 p.m. ET: Meanwhile, in Cleveland ...
LeBron James and several of his Cavs teammates were on hand at Progressive Field for Game 2, but tonight they're understandably focused on beating the Magic. Regardless, King James couldn't help but stop and check the score of Game 4 at halftime on the big screen, with the Indians holding a 2-1 lead in the second inning after Carlos Santana's home run and Corey Kluber's single and an error.
We're (keeping tabs and) holding it down for you in #TheLand, @indians. #RallyTogether pic.twitter.com/U2ZPRn07Va

- Cleveland Cavaliers (@cavs) October 30, 2016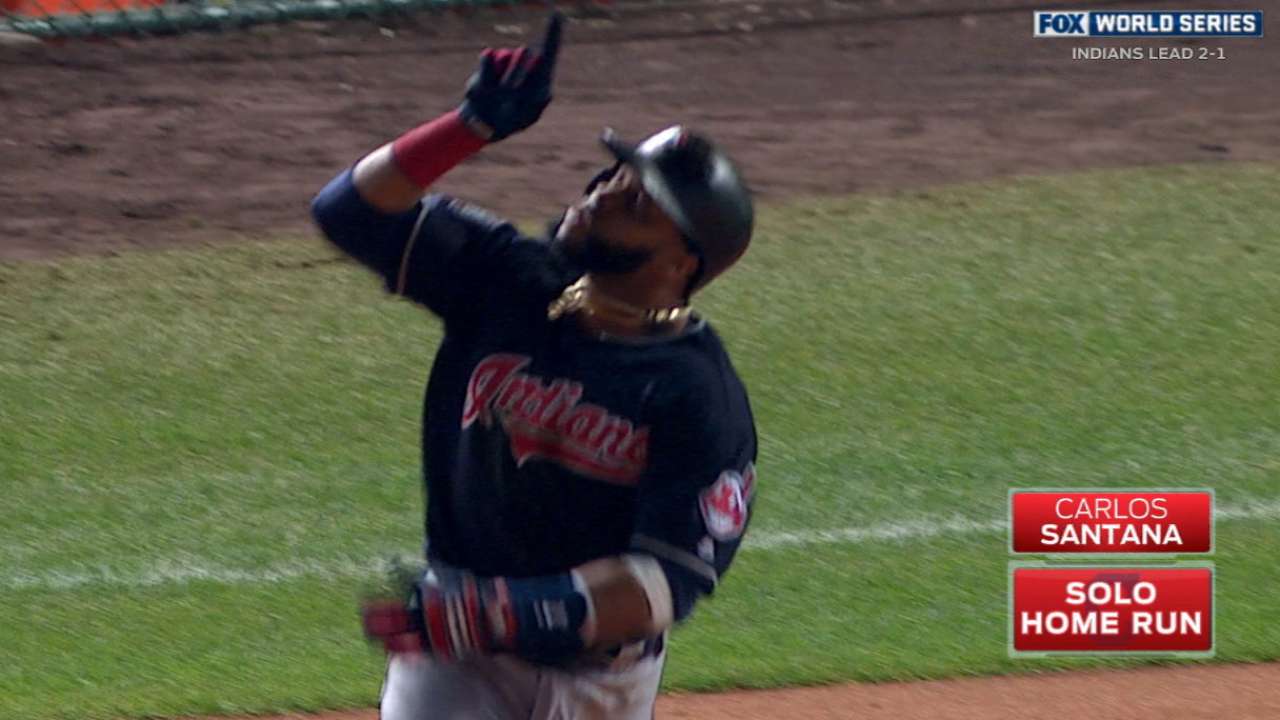 8:31 p.m. ET: Wrigley gets rolling early as Cubs strike first
Indians starter Corey Kluber fanned six of the first eight batters he faced in Game 1, but Dexter Fowler made sure that didn't happen in Game 4. He led off the game with bloop double and scored the first run on Anthony Rizzo's line-drive single to center field as a packed Wrigley Field erupted in cheers.
Dexter Fowler is the first Cubs player to score a run in a World Series game at Wrigley Field since Peanuts Lowrey in Game 7 in 1945.

- Jordan Bastian (@MLBastian) October 30, 2016
7:45 p.m. ET: Mayor ready to Play Ball
What does Chicago mayor Rahm Emanuel think of the World Series being at Wrigley Field?

"It's unbelievable. It was a great experience for the city," he said at Major League Baseball's Play Ball event during the day on Saturday. "This is a tribute to the team, the members of the team. They have a pure love and joy of just playing baseball. That's what baseball is supposed to be."