Goals for Bauer: Silence Wrigley, clinch title
Indians right-hander hopes for better results in his 2nd start of Fall Classic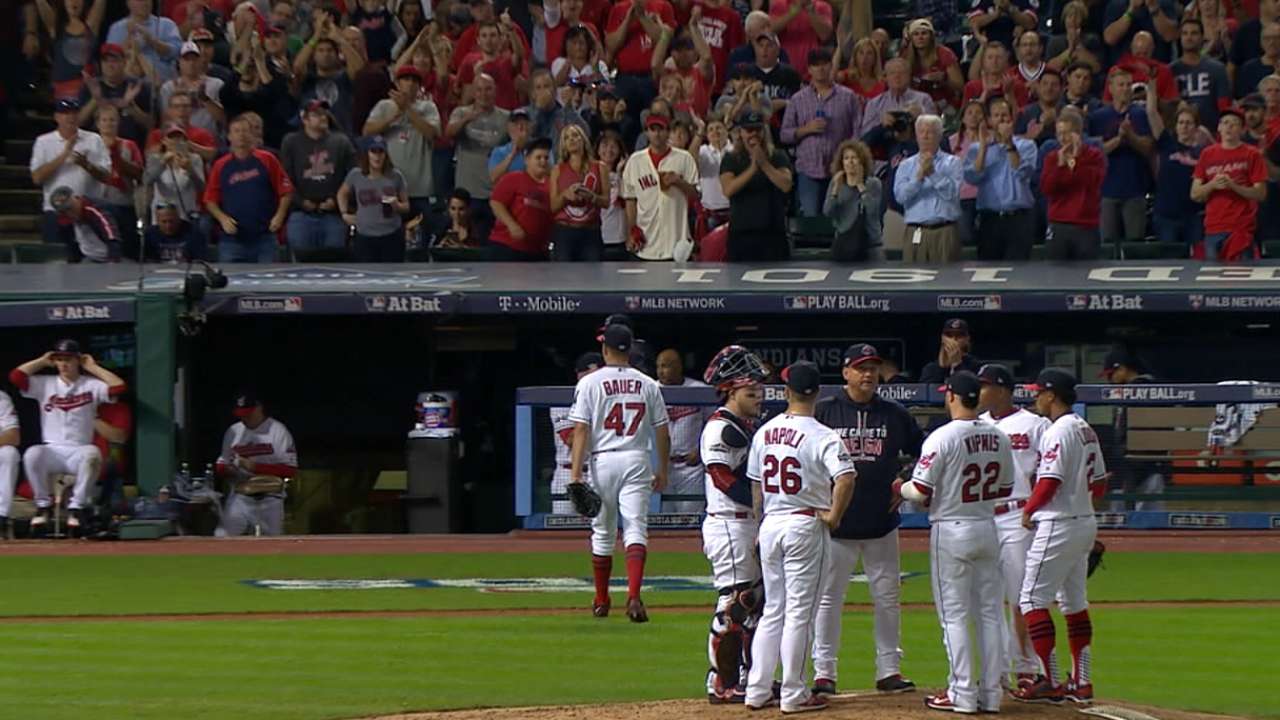 CHICAGO -- Indians right-hander Trevor Bauer is staring down what's likely to be his final pitching assignment of the year, a Game 5 start against the Cubs in the World Series on Sunday. Staged within the confines of Wrigley Field, it will double as the biggest outing of his career.
After Cleveland's 7-2 victory in Game 4, Bauer has a chance to pitch the Indians, who have a 3-1 lead in hand, to their first World Series title since 1948, magnifying the need for Bauer to step up and keep the Cubs from extending this series another day.
• Game 5: Tonight, 8 p.m. ET on FOX
"He's a competitor, don't let him fool you," Indians second baseman Jason Kipnis said. "There's not one person on this staff we don't feel confident in getting us a win."
Bauer's counterpart is no easy chore for the Indians: Jon Lester, though the losing pitcher in Game 1 of the Fall Classic, has a 2.60 ERA in 20 career postseason appearances. He also will have an electric crowd on his side.
"The best part of it is hearing them all leave silent," Bauer said Saturday. "There's a great crowd here. There have been great crowds on the road during all the playoffs. Being able to overcome that and win is a very rewarding feeling."
• Shop for Indians World Series and AL champs gear
Bauer, 25, took the loss in Game 2, a laborious effort that was cut short after just 3 2/3 innings on Wednesday. His drone-damaged pinkie finger -- lacerated ahead of the American League Championship Series -- wasn't the culprit this go-around. Bauer simply couldn't locate.
Bauer, who acknowledged as much Saturday, was forced to throw 87 pitches in the outing. The Cubs are known to do that to opponents, but they worked extra hard opposite Bauer, who will start Game 5 on short rest.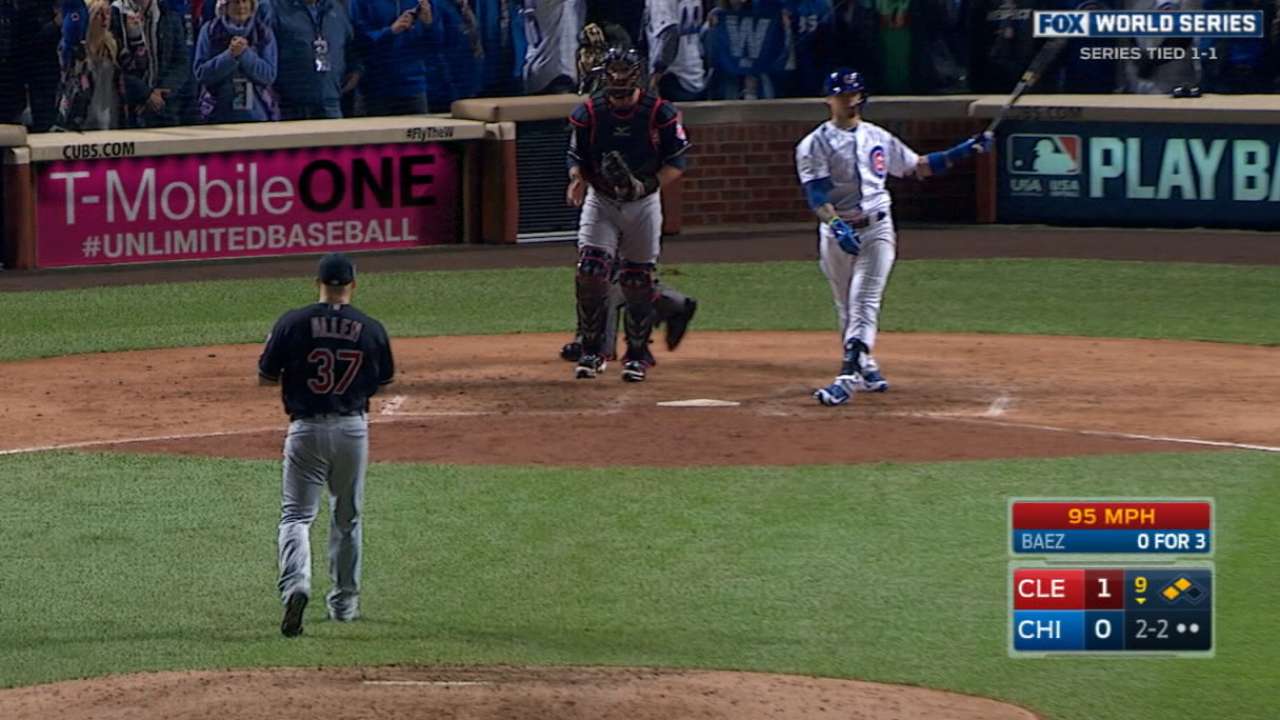 Asked Saturday if he debated an alternative to a three-man rotation of Corey Kluber, Josh Tomlin and Bauer in this Fall Classic, particularly considering Bauer's abbreviated start Wednesday, Indians manager Terry Francona said no, citing the track record of Bauer's career, not just this postseason.
Lefty Ryan Merritt and right-hander Danny Salazar, who could have potentially piggy-backed a start, subsequently remain on hold.
"Trevor's been a really good pitcher for us for four years," Francona said. "If we thought that the finger was getting in the way, I understand it. But he's come so far and battled this thing so much that I think his better game is ahead of him."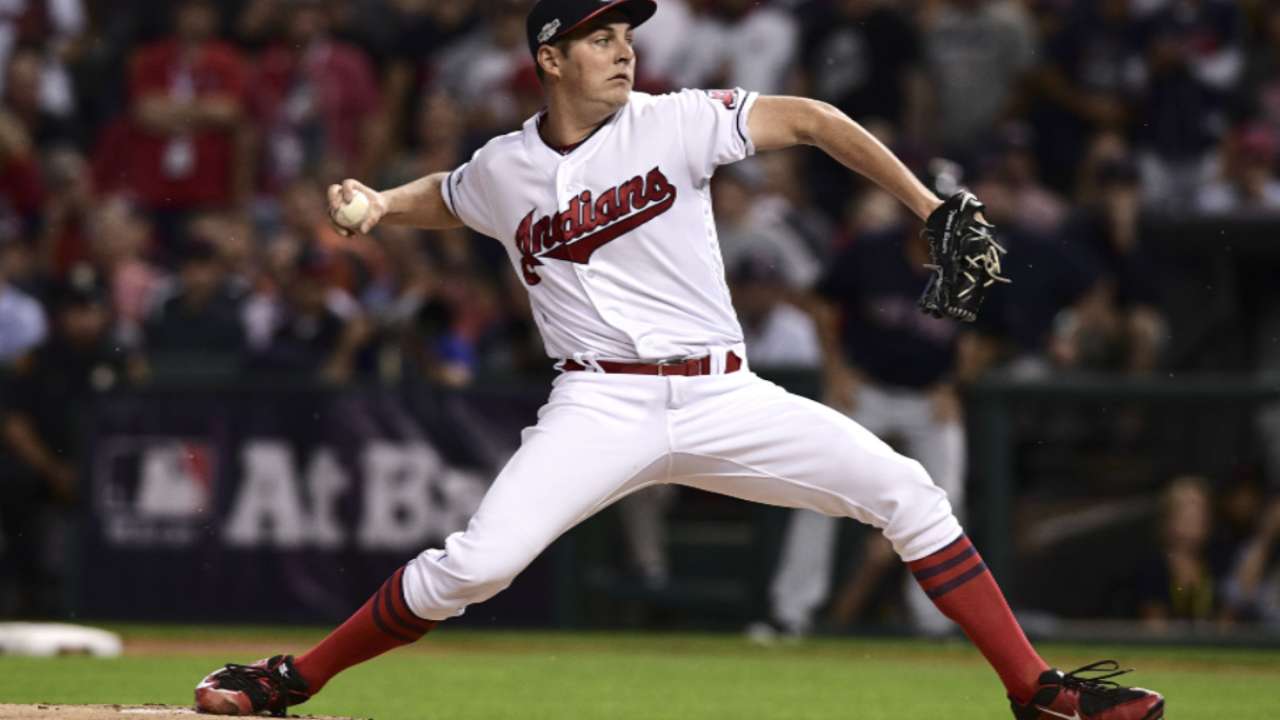 Bauer had logged only 21 pitches in the 19 days leading up to his Game 2 start against the Cubs, all of them coming in a span of just two-thirds of an inning in Game 3 of the ALCS, when he was forced out after his pinkie opened and bled profusely.
The young pitcher, who posted a 4.26 ERA during the regular season, has since yearned for any attention pointed his way to focus on his pitching, not his finger; but Bauer, who will have to further test it with a bat Sunday, still has work to do on his end to shift the conversation, and he said his preparation has remain unchanged, despite the disruption in his schedule earlier this month.
His ability to follow through will be pivotal.
"You prepare for the game the same way, and some games you go out there and you have a feel right away, and some games you go out there and you don't," Bauer said. "So, for whatever time I'm in the game, I do the same thing. I try to go with what's working and find a feel for what's not. Sometimes you do, sometimes you don't. So it's very similar to a regular-season game in that regard."
Jane Lee has been a reporter for MLB.com since 2010. This story was not subject to the approval of Major League Baseball or its clubs.