Francona's G3 lineup card takes a licking
Manager relies on 17 of 25 players on roster in 1-0 win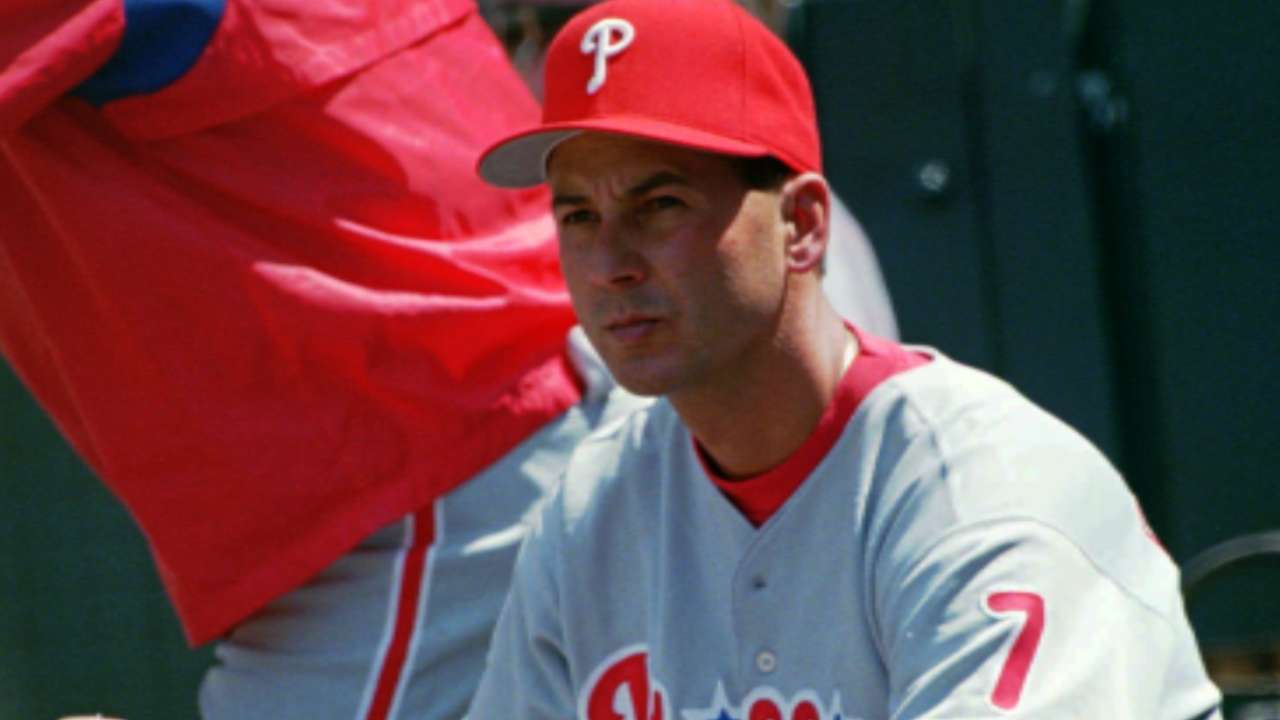 CHICAGO -- There is a brown dirt stain in the lower right corner. Dark ink scribbles have blackened out the names of more than a dozen players. There are a few notes in red, and the blue border at the top is smeared. The lineup card used by Indians manager Terry Francona on Friday night is a complete mess.
One day after Francona's manic managing in Cleveland's 1-0 win over the Cubs in Game 3 of the World Series, even he admitted that he had trouble reading the small sheet of paper by the end of the night. There might as well have been blood, sweat and tears on that card.
"When I went out there the last time," Francona said before Game 4 on Saturday, "on the way back I stopped, because my card was so mixed up. I just wanted to make sure I didn't do something stupid."
Francona's work on Friday night was far from that.
• Shop for Indians World Series and AL champs gear
"He's the mastermind," Indians outfielder Rajai Davis said.
During a game that had steam coming out of Francona's ears, he used 17 of his 25 players. A designated hitter started in left, the starting pitcher was pulled after 58 pitches, and relief ace Andrew Miller was standing in the on-deck circle at one point. Utility man Michael Martinez entered as a pinch-runner, scored the only run and then appeared in center field and third base.
There were double-switches and multiple position changes. Francona used three left fielders, three center fielders, two third basemen and two catchers. His bench was empty, as evidenced by the five black blotches that covered the names of Coco Crisp, Yan Gomes, Brandon Guyer, Martinez and Davis on the lineup card.
"He almost used some guys that weren't even on the roster," Indians pitching coach Mickey Callaway quipped.
The dirt-stained lineup card used by manager Terry Francona in 1-0 win over Cubs in Game 3 of the World Series. He used 17 players. pic.twitter.com/ruHePXvpdU

- Jordan Bastian (@MLBastian) October 29, 2016
In the wake of the win, Francona called the game an "agonizing" one to manage. In the hours leading up to Saturday's game against the Cubs, the manager echoed as much. He said his stress level rose when Francisco Lindor was picked off in the first inning and continued to climb when Chicago slugger Kris Bryant sent a fly ball to left field in the bottom of the opening frame.
When Santana -- a first baseman and DH -- caught the ball, Francona raised a fist and shouted in the dugout.
"I was going crazy in the dugout," Francona said with a laugh. "Then, I thought I better cool it, because there might be another one that finds him."
In the end, the Indians found the win column.
"I'm confident in anything he does, because it seems to work out every time," Indians first baseman Mike Napoli said of Francona's managing. "No one questions anything in our dugout. When he does something, everyone's for it. We've fallen in line and we do what he calls for. We're all confident in everybody that gets a chance."
Jordan Bastian has covered the Indians for MLB.com since 2011, and previously covered the Blue Jays from 2006-10. Read his blog, Major League Bastian, follow him on Twitter @MLBastian and listen to his podcast. This story was not subject to the approval of Major League Baseball or its clubs.