MLB.com Columnist
Phil Rogers
Comeback Cubs? Don't count 'em out
Chicago looks to 1979 Pirates for inspiration to rally from 3-1 deficit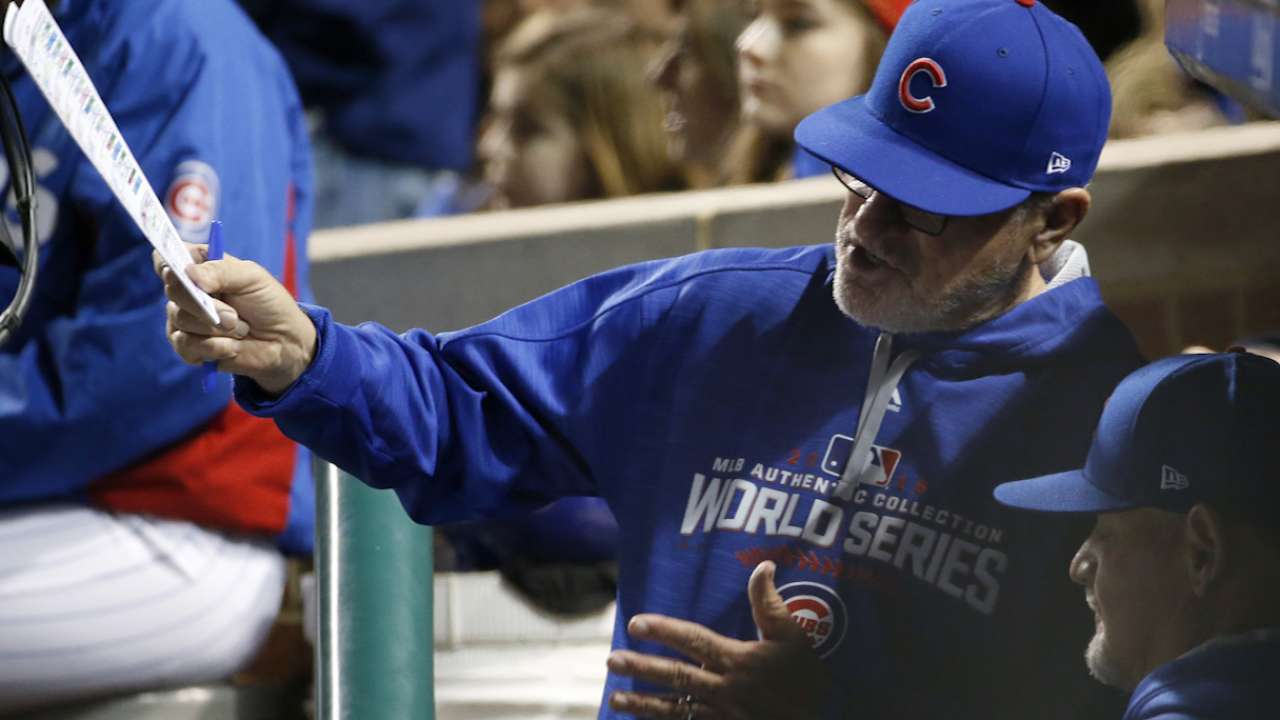 CHICAGO -- So you think this is bad? Of course you do if you're a Cubs fan. But hang in there. Don't touch that dial.
As dark as this looks, the 3-1 deficit to the Indians is nothing compared to what Theo Epstein, Terry Francona and the Red Sox faced en route to breaking the Curse of the Bambino in 2004.
If you thought Wrigley Field was quiet in the late innings of Cleveland's 7-2 victory in Game 4 on Saturday night, you should have been at Fenway Park with the Yankees on the verge of an American League Championship Series sweep in 2004.
You could have held a quarterly shareholder's meeting in the box seats in the seventh and eighth innings after the Yankees -- who had won, 19-8, the day before to go up 3-0 in the series -- scored two runs in the sixth to take a lead in Game 4.
• Shop for Cubs World Series and NL champs gear
Dave Roberts, of course, stole second base in the ninth inning, the Red Sox won in 12 innings, and Boston wouldn't lose again until 2005.
Hey, if you're going to win your first championship in forever, you might as well do it in style. Like they say, go big or go home. The Cubs would rather this be simpler, for sure, but now they have a chance to double down on epic.
It isn't farfetched to think the Cubs can still come back to win their first World Series since 1908.
"We have to have a one-game winning streak tomorrow,'' manager Joe Maddon said. "And if we do that, I really would be feeling pretty good about going back to Cleveland.''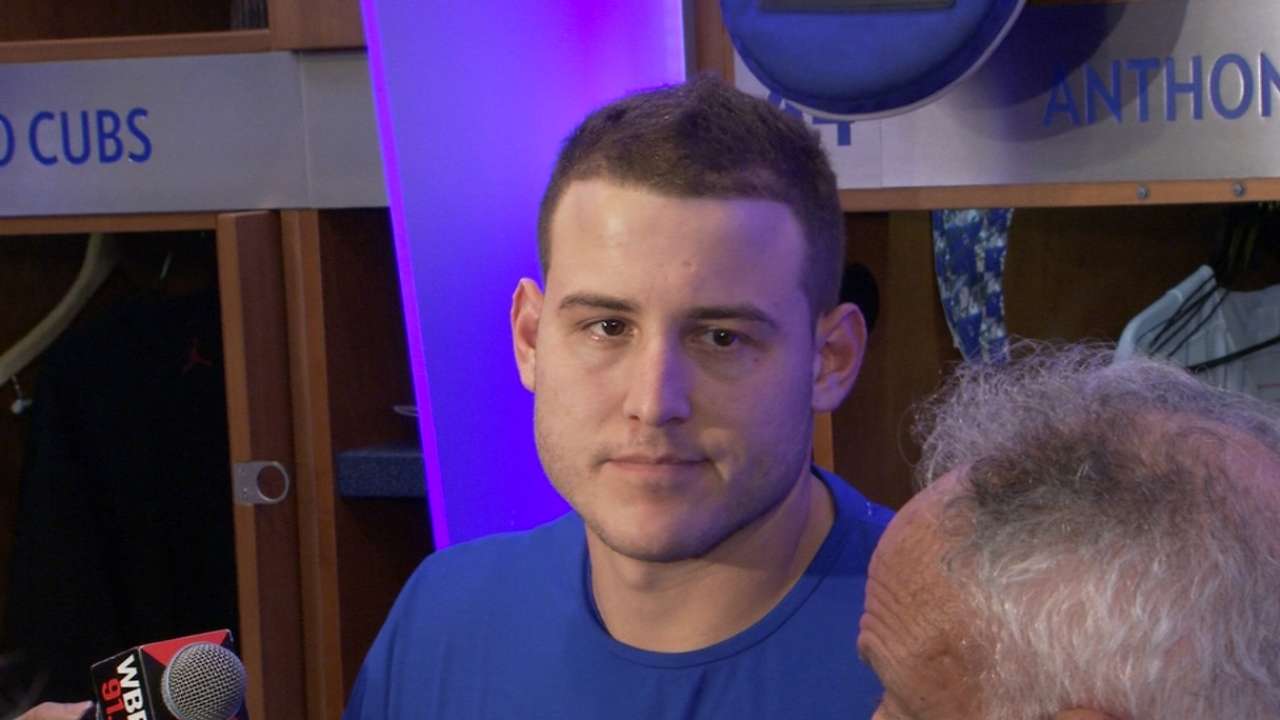 No team since the 1979 Pirates has done what the Cubs are now forced to do -- win Game 5 at home and then go to the visiting park to grab Games 6 and 7.
But the Cubs are set up do something special, provided they can get a few big hits somewhere along the way. They're 5-for-37 with runners in scoring position through four games, and that .135 average in the biggest spots isn't going to get anyone organizing a parade down Michigan Avenue.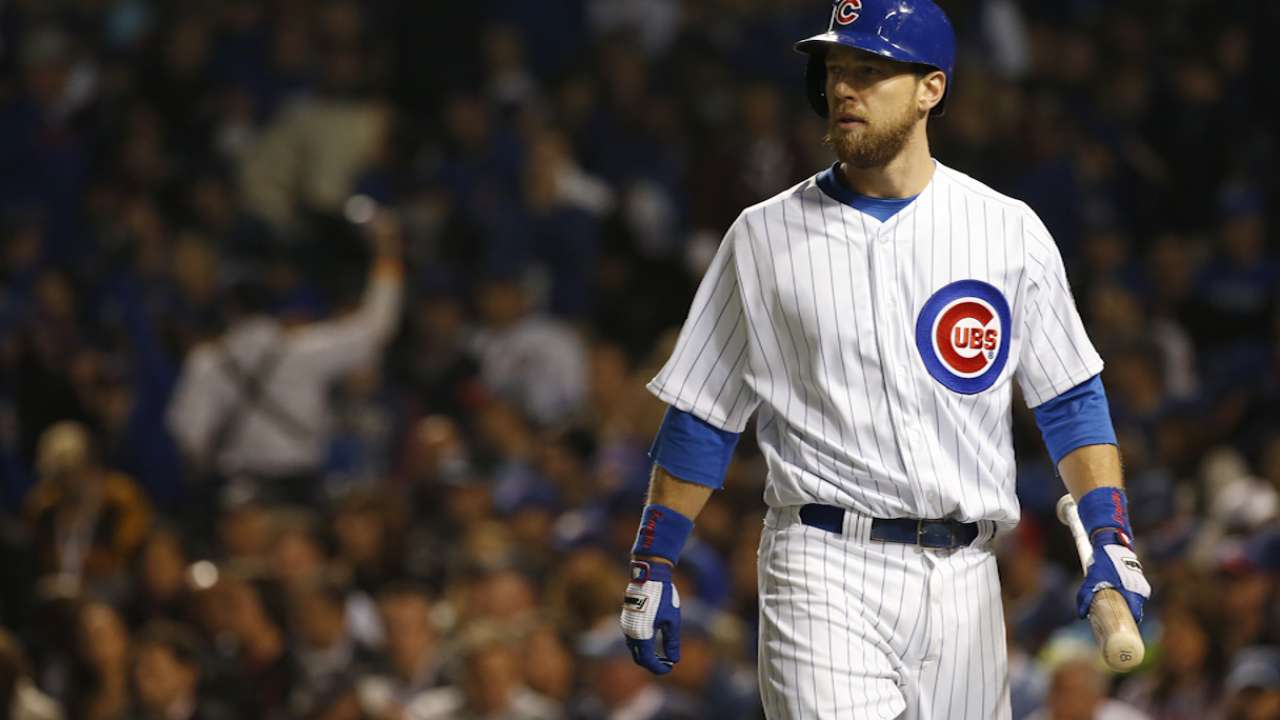 Maddon simply wants his hitters to relax. The first step on the road back, to quote Miguel Montero, could be a seeing-eye single delivered at the right time in Game 5. No team that has hit like this Cubs team stays cold forever.
"They're all trying to hit a grand slam with nobody on,'' Montero said of the Cubs' young hitters. "It's not going to happen. We need to take our walks. We need to be a little bit more patient at the plate. We need to play small ball. … We're all trying to launch the ball 110 miles per hour off the bat, launch angle, whatever. No, we need to get a freaking ground ball through a hole. As simple as that.''
After leading the non-Colorado portion of the National League in scoring during their 103-win season, the Cubs have been held to 53 runs in 14 postseason games. You're not going to win the World Series scoring runs like the Braves or Phillies. But Maddon's hitters got hot in a hurry in the NL Championship Series against the Dodgers. It can happen again.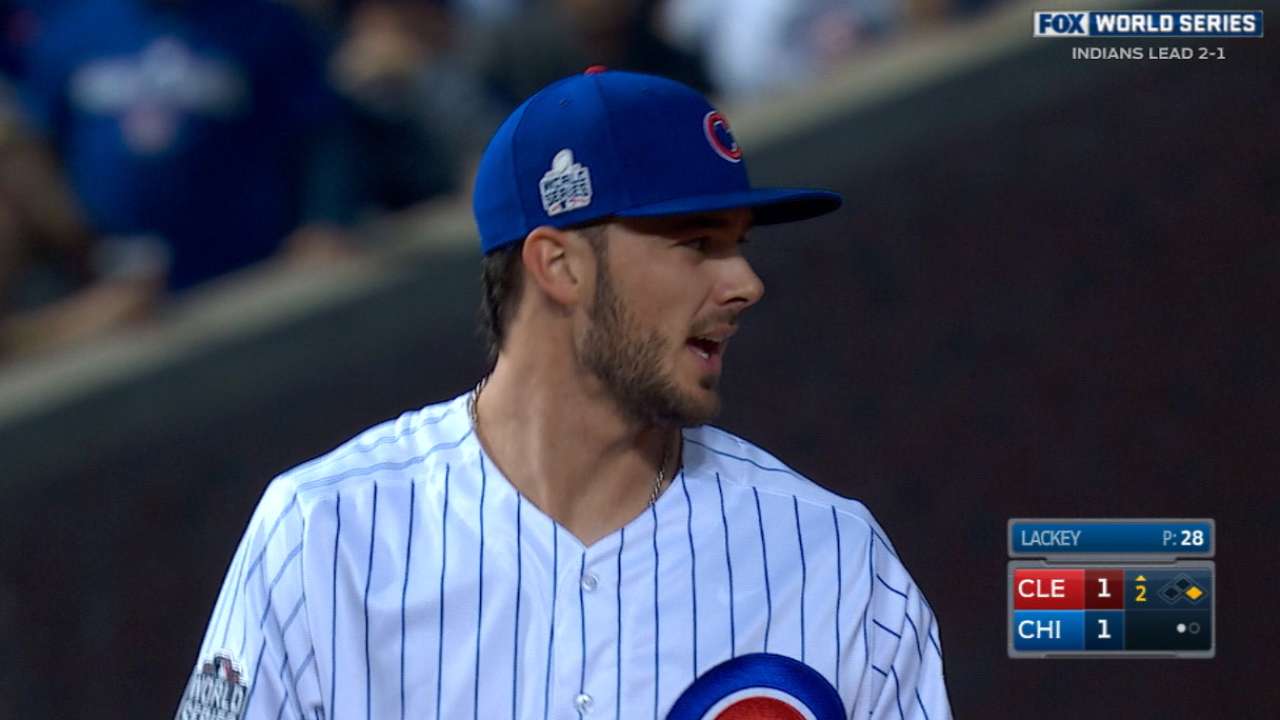 If it does, three wins in a row is nothing. The Cubs had 16 winning streaks of three or more games during the season, and had a 17th in the NLCS. It begins with Jon Lester, Jake Arrieta and Kyle Hendricks, all starting on regular rest, while the Indians' starters from here on out all will be on short rest.
Here, game by game, is how they can pull this off:
Game 5
It's Lester and his 1.69 ERA over 26 2/3 innings in these playoffs against Trevor Bauer, who has worked nine innings in three starts, compiling a 5.00 ERA. The Indians twice pulled rabbits out of their hats to win Bauer starts against the Red Sox and Blue Jays, but the Cubs beat Bauer in Game 2.
Oh, and as a degree of difficulty working against the Tribe in its push for a sweep, Bauer will be starting on three days' rest. While Kluber won Game 4 on short rest, it's worth noting that since 1995, teams using a starter on short rest in the postseason against a fully rested pitcher are 19-36.
Injuries to Danny Salazar and Carlos Carrasco have given the Indians little choice but to push their healthy starters, but it's a highly volatile proposition in October.
Game 6
If the Cubs get the Series back to Cleveland, they'll have 2015 NL Cy Young Award winner Arrieta on the mound and Kyle Schwarber back in the lineup as the designated hitter. Arrieta held the Tribe to two hits over 5 2/3 innings at Progressive Field in Game 2, beating Bauer.
The Indians plan on starting Game 3 winner Josh Tomlin, who like Kluber and Bauer would be working on three days' rest. Maybe the ultra-reliable work of relievers Andrew Miller, Cody Allen, Bryan Shaw and Dan Otero (1.10 ERA in 41 combined innings in the postseason) can make this a winning formula for Cleveland, but it sure looks like advantage, Cubs.
Game 7
Imagine the angst in Cleveland if the Cubs can force a Game 7 against the Indians, who when last seen in the World Series, lost a deciding seventh game after leading in the ninth inning. The pitching matchup would be Hendricks, the NL ERA leader, versus Kluber, who would be making his sixth start this October, and for the third time on three days' rest.
And the Cubs would be getting their third look at Kluber. Eleven pitchers faced the Cubs three or more times this season, and in those starts -- with the Cubs having seen them three times or more -- they posted a 6.64 ERA. The best of that bunch was Adam Wainwright, who allowed six earned runs over 12 2/3 innings in his first two starts vs. the Cubs and then seven earned runs in two innings in his third. So yeah, that third look might just give the Cubs the edge they need to pull this off.
This is why Maddon says he'd feel "pretty good'' if the Cubs can get the series back to Ohio.
"Going back over there, having those two guys ready to pitch, it's just a matter of us gaining offensive confidence,'' Maddon said. "That's what we need right now. More than anything, when you're not hitting like that, the whole vibe's very difficult to push in that real positive direction. … We just need that offensive epiphany somehow to get us pushing in the right direction. If we do that, I really think based on what they have left pitching-wise, going back over there and what we have, I kind of like our chances.''
It's elimination games the rest of the way for the Cubs. They only need one thing. They need to find their Dave Roberts.
Phil Rogers is a columnist for MLB.com. This story was not subject to the approval of Major League Baseball or its clubs.