Sitting Napoli tough decision for Francona
Manager prioritizes defense behind Kluber while considering opposing pitcher Lackey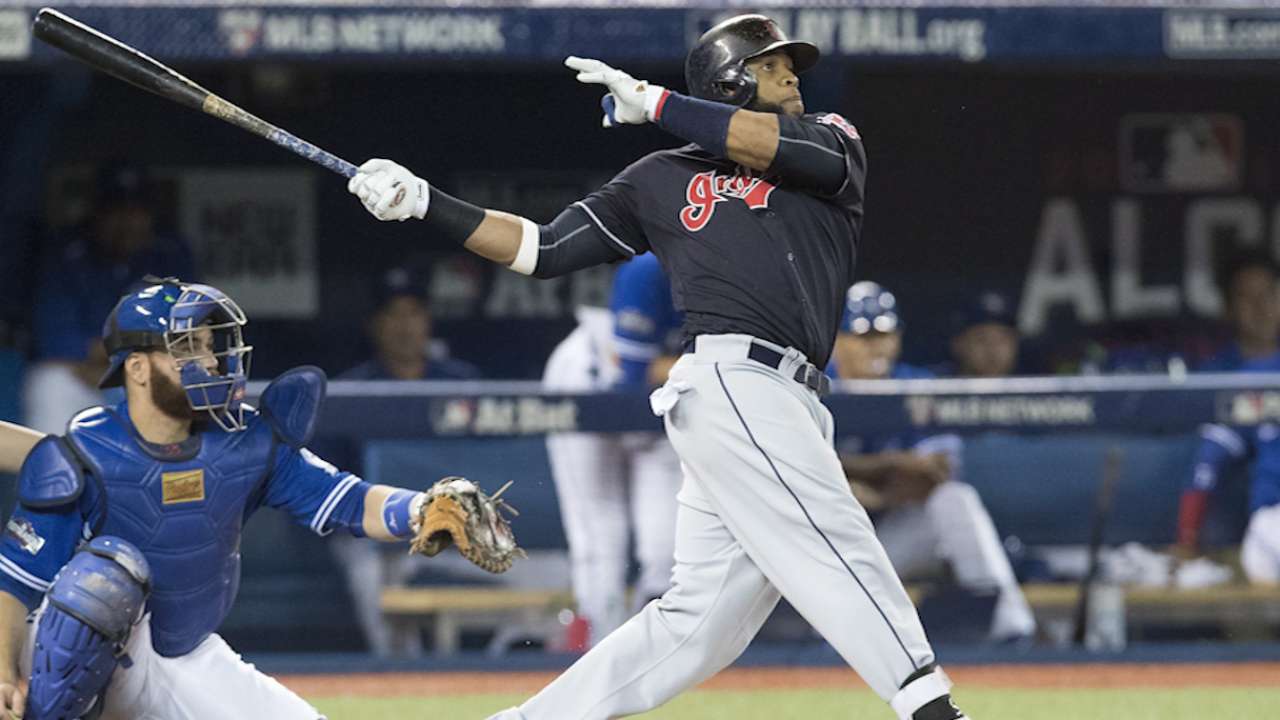 CHICAGO -- It was not a decision that Indians manager Terry Francona was happy about making, but somebody had to sit on the bench. After weighing every factor, first baseman Mike Napoli's name was not in Cleveland's starting lineup for Game 4 of the World Series against the Cubs on Saturday night.
"Man, I don't like it," Francona said before the game.
The manager's discontent over the move stemmed from the fact that there is no designated hitter allowed under National League rules at Wrigley Field. All season long, Napoli and Carlos Santana have split their time between first and DH, but Francona is unable to have them both in the lineup unless he gets creative. For Game 3 on Friday, Santana started in left field.
While working through Saturday's plans, Francona decided to prioritize the defensive alignment behind ace Corey Kluber, while also considering that Cubs righty John Lackey was on the mound. Rajai Davis got the nod in left due to his extensive history against Lackey, and Napoli found himself on the bench because Chicago's starter is tough on right-handed batters. Santana started at first and assumed the cleanup duties.
• Shop for Indians World Series and AL champs gear
"I'm not happy about it," Francona said. "This is the World Series, and [Napoli] is like the heart and soul of our team. It bothers me to sit him -- a lot. Again, when it comes down to it, I don't think you can let personal feelings [get in the way]. You just do what you think is right. But I don't like it."
During regular-season play, Davis has hit .343 (12-for-35) with four extra-base hits in his career against Lackey. Napoli was just 2-for-9 all time against the Cubs' starter, and the first baseman was just 2-for-10 in the World Series entering Saturday. Overall this postseason, Napoli has hit .184 (7-for-38).
Francona went with Davis in left, Tyler Naquin in center and Lonnie Chisenhall in right field behind Kluber.
"To play Carlos out of position, there needs to be a really compelling reason," Francona said. "I wanted Raj to play. Raj has got probably the most history against Lackey, and he's had success. Plus, Kluber's on the mound. I just wanted to make sure we're in position to catch the ball. Nap's going to for sure play [Sunday]. We might let Santana go out [to left field] again [Sunday]."
Francona said the decision was not based on Napoli's recent slump at the plate.
"We've got a lot of guys who aren't really swinging the bat," Francona said. "Part of it is this time of year, when you're facing really good pitching. We're fortunate that we've won a lot of close games, because we really haven't swung it very well."
Jordan Bastian has covered the Indians for MLB.com since 2011, and previously covered the Blue Jays from 2006-10. Read his blog, Major League Bastian, follow him on Twitter @MLBastian and listen to his podcast. This story was not subject to the approval of Major League Baseball or its clubs.